Storage ideas to declutter and organise the home
Make the most of the space you've got with clever storage solutions. Our tips, tricks and hacks can help you to turn even the smallest of spaces into an organised haven!
Wall mounted shelving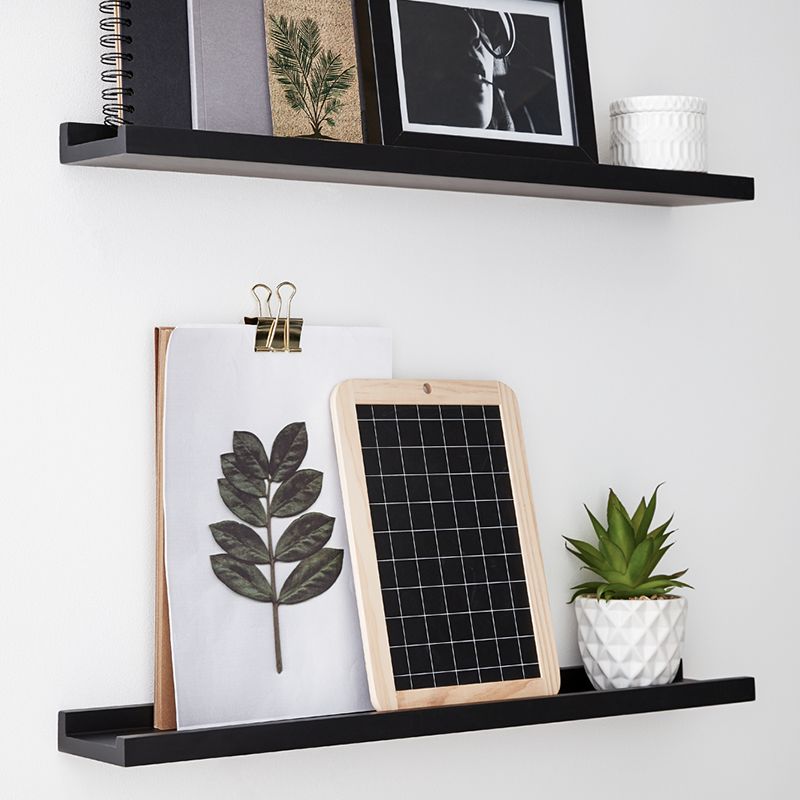 Wall-mounted shelving units provide great storage for books, files, folders and stationary. High up, open shelving provides storage whilst giving the illusion of space.
By lifting your shelving off the ground you'll maximise your floor space.
You can even turn previously unused space into handy storage areas. Why not try putting a shelf up above wall mounted kitchen cabinets to make a great space for cook books? Or maybe a shelf above a doorway in a living room as an extra space for DVDs or photo frames.
Freestanding shelving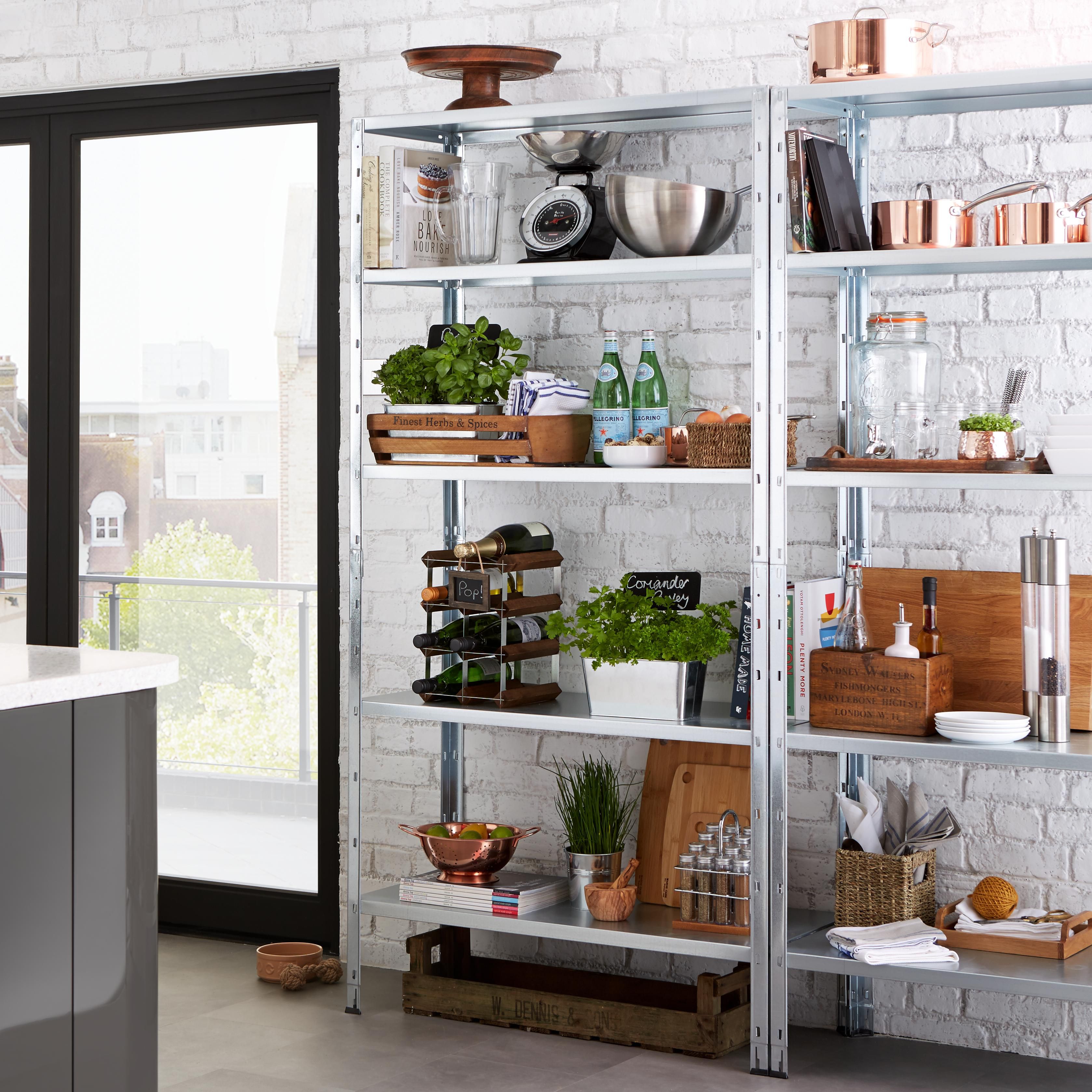 Freestanding shelving units and bookcases are a great way to tidy up clutter.
If you have recesses in a room, freestanding shelving is a clever way to use the space.
Our bookcases come in lots of different sizes to suit your space. Don't forget that bookcases aren't just for books. Use them to display DVDs, photo frames, ornaments, and any other items that need a home.
If you want to be extra organised, you could use boxes and baskets on the shelves to separate your clutter into categories so it's easy to find what you're looking for.
Top tip
Bookcases can be personalised to fit in with the style of your room. Line the inside panels with wallpaper or sticky back plastic in any design you like.
Be creative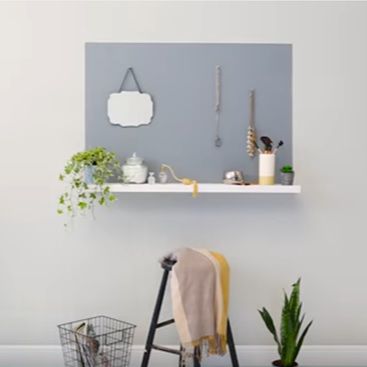 Why not try something a bit different with your shelving? Where space is at a minimum, you can find clever ways to make shelves into something innovative and practical.
You can turn shelving into a furniture substitute. For example, if you don't have space for a dressing table, try making a dressing area with a floating shelf.
This is a lot narrower than a standard dressing table and makes use of wall space. Fix the shelf at sitting height, hang a mirror over the top, add a few hooks and low level shelves for extra storage and you will have a great, space-saving dressing area.
Bathroom and kitchen storage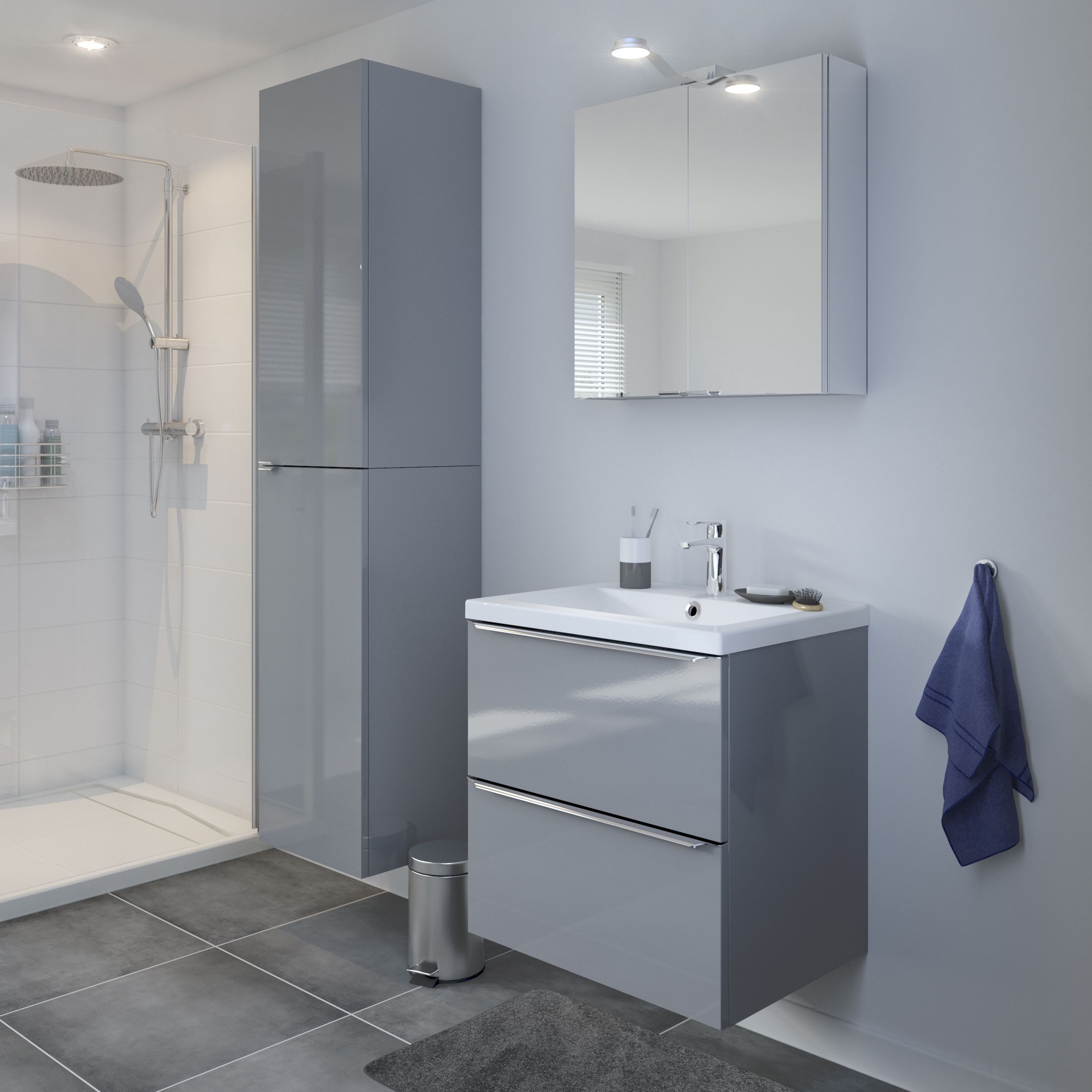 Mounting storage accessories on the wall is a great way to save space in your kitchen or bathroom. Why not try a magnetic knife holder for storing kitchen utensils? This will help to free up space in crowded kitchen drawers.
With bathrooms being one of the smallest areas in the house, space is always at a premium in this room.
Opt for wall-mounted bathroom accessories, (pictured), instead of freestanding ones to save precious bathroom floor space.
For more ideas and advice on how to optimise space in these busy rooms, check out our articles on making the most of space in your kitchen or bathroom.
Kitchen storage ideas Bathroom storage ideas
Top tip
Photo frames and pictures can take up lots of space on top of dressers and chests of drawers. A wall-mounted picture shelf is a handy way to have your photos on display whilst freeing up valuable surface space.
Hang it up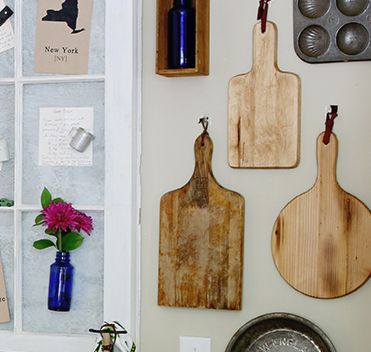 Hooks and hangers can be used in lots of different ways to help you maximise your storage space. Hooks behind doors or on the back of doors are a handy way to get dressing gowns and coats out of the way. Go for multiple hooks so no-one fights over hanging space.
Hooks are perfect for bag or hat storage. Put hooks at different levels on a wall and hang your things on them. This storage hack is ideal for hallways, it gets stuff up off the floor and, if planned out carefully, can look really stylish.
Baskets, chests and ottomans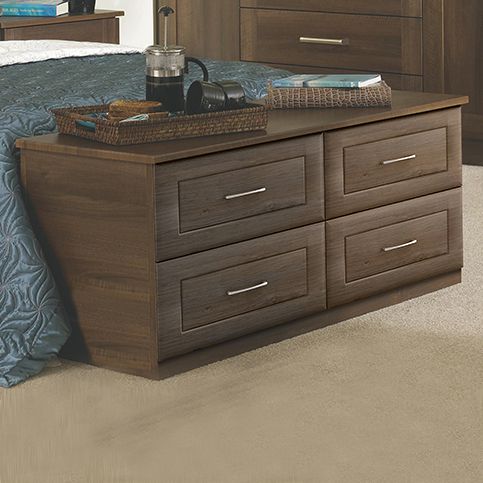 Baskets, chests and ottomans make brilliant ad hock storage. Use them to tidy away blankets, throws and cushions in your living room, or in bedrooms as additional storage space for towels and bedding. Ottomans fit well at the end of a bed or under a window sill.
Some of the more robust ottomans can double as storage and extra seating. Simply pop a cushion on top and accommodate an extra guest with ease.
Under the bed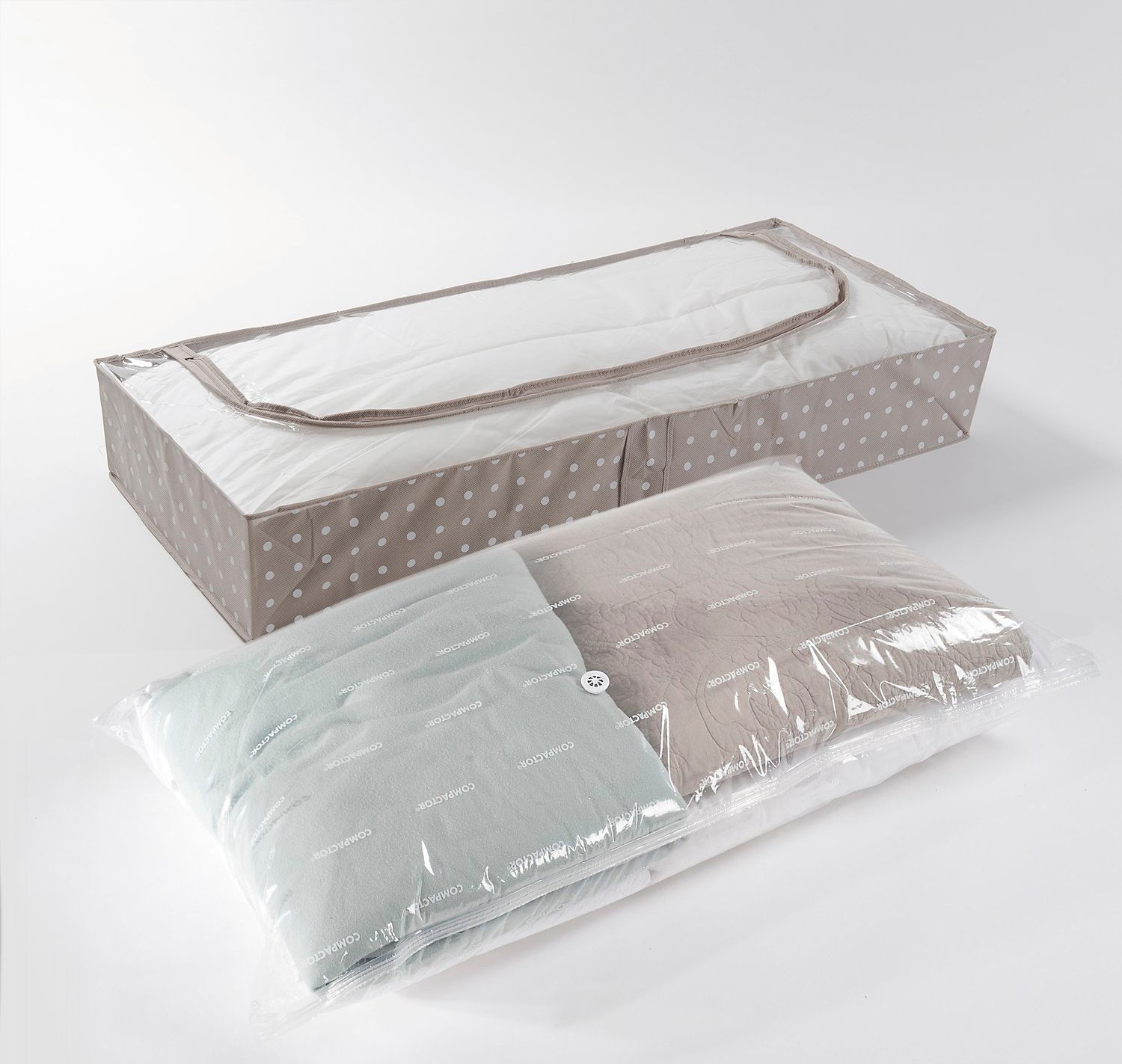 If you have space under your bed, you can turn it into a handy, discreet storage area. We have plastic boxes like this Vintage white 42 litre storage box (pictured), that you can slide under the bed and use as extra storage space – great for shoes and trainers.
Our range of vacuum compact storage bags are an ingenious was to store seasonal clothes, or spare bedding. You can pack lots of items into these clever storage bags and when you suck the air out, it compacts right down. Pop the bags under the bed, out of the way, ready for when you next need them.
Top tip
Why not try adding scented laundry sheets into the bags so that when you unpack it, your items smell fresh and clean?
Kid's bedrooms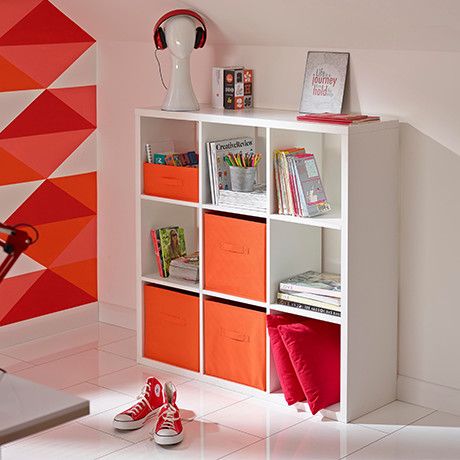 If you have kids at home, you know how much mess they can make. Getting them to tidy up can be a bit of a challenge, but you can make it as easy with our fun range of children's storage solutions.
Pick your little one's favourite colour and create helpful storage for all their toys, games, books and clothes. They might even be exciting enough to encourage your children to tidy up their stuff - but we can't promise anything!
Offices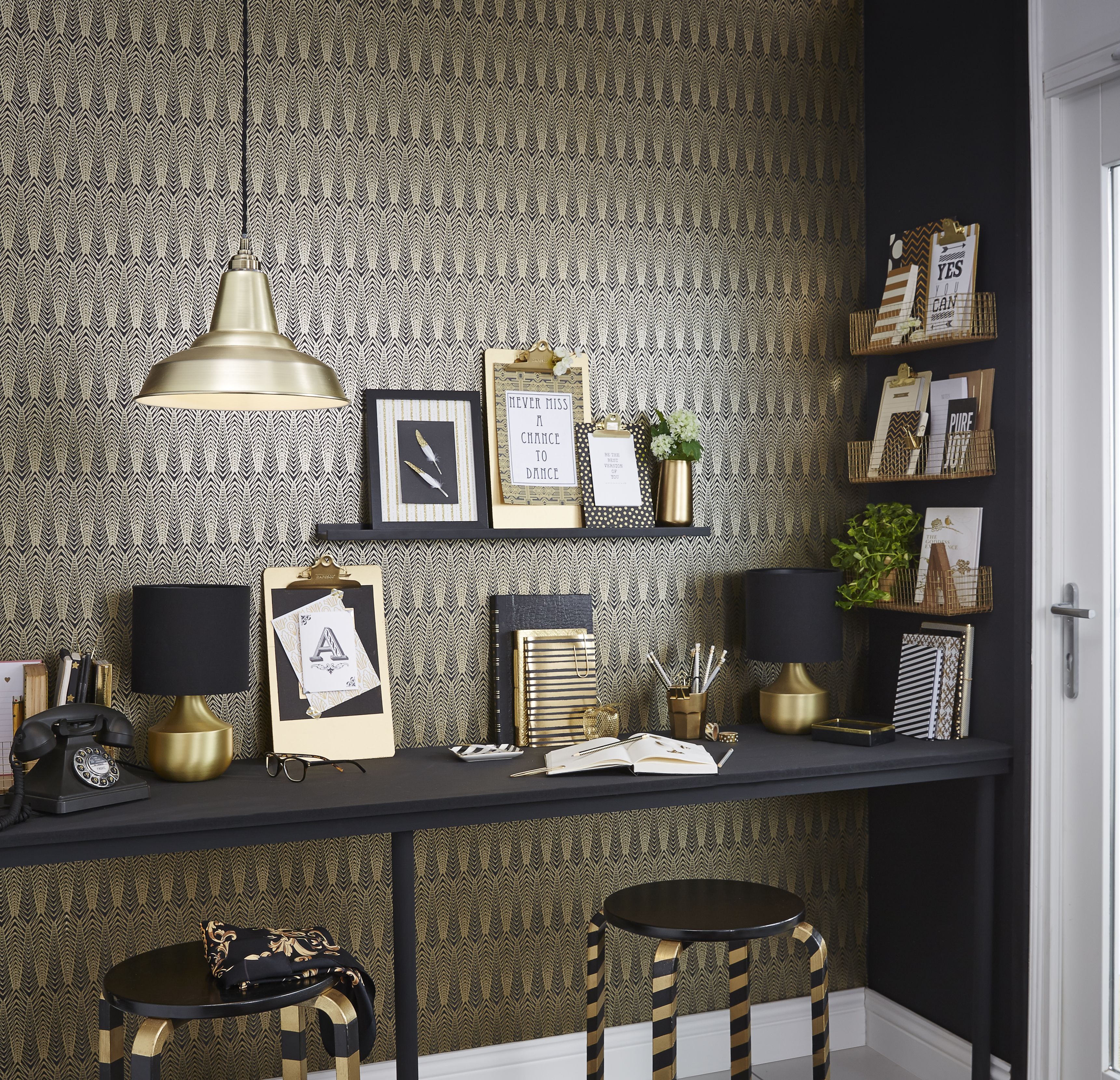 Most home office spaces are fairly small, or maybe even part of another room. Keeping your home work space tidy and organised will help you make the most of this space as well as improve productivity.
Our range of office storage includes desktop letter trays, desk and pen organisers, and storage cube boxes. We also have magazine file holders which you can place on your desk or mount to the wall with a bracket to keep your desk space free.
Top tip
Clothes organisers are brilliant for making everything easy to find and help you to make the most of shelves in a wardrobe.
Wardrobe hacks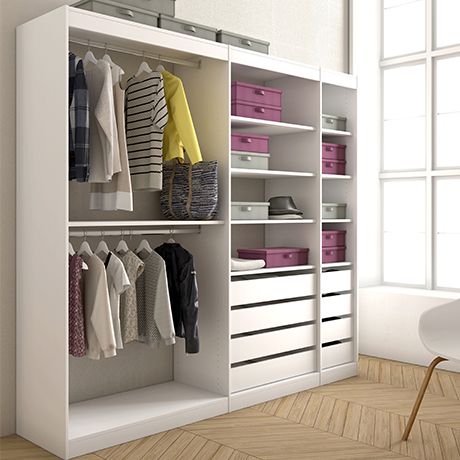 Wardrobes are a great way to hide all sorts of items that you can't find homes for. It's very tempting to open the door, squeeze something in, and then shut the door. By tidying and organising your wardrobe, you will create lots of extra space.
Make sure you have enough hangers for all your hanging items. Replace broken hangers to stop your favourite shirt falling to the bottom of the wardrobe and getting lost.
Articles