upgrade your bedroom for optimal comfort
It's where we can switch off, dream of faraway places and press snooze one time too many. Making sure your bedroom is cosy and relaxing helps to get that good night's sleep. By adding warming tones to the walls and floors, and following this through into the en-suite, you can help create a place of calm and serenity.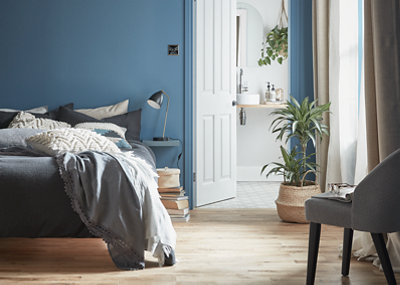 Outdated bedroom
In an older home, it can sometimes be quite easy to forget about the features that give your home its character. Does yours look quite dated? How about walls and floors, are they looking a little worn? If your home is guilty of this there's no need to worry. There are more than a few ways to keep the charm of your century period home and give it a modern upgrade.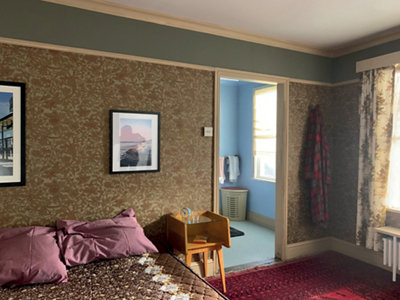 Project checklist
This paint is great if you're after a super hardwearing finish for longer lasting colour.
We love this solid wood flooring as it adds character and warmth to your room which can be enhanced with a matt finish oil.
The perfect tile for adding a little colour to a bathroom. It's suitable for use with underfloor heating too so you can warm up in the mornings.
Create a dramatic look with this simple corrugated tear drop design.
This lamp is easy to turn on and off with the foot switch, perfect when you're getting into bed.
Create a tranquil bedroom
Just because you have an older home it doesn't mean you can't be bold, stylish and modern. If you have a modern outtake on life, there are so many ways you can project this into your decoration.
We've added a bold, strong blue onto the walls of this bedroom for a moody, tranquil look. It's actually the same blue from the tiles in our bathroom that we colour matched in-store - so the colour flows from one room to the other.
As the walls are dark, we've left the ceiling white to reflect natural light and we've played around with different layers of window dressings. After complete tranquillity and nothing to disturb your slumber? There's the black-out blind. Feeling a little chilly in winter? Pull the curtains across. Getting changed and need privacy? The voile curtain is there to protect your modesty. You can control it all.
There are also different options for lighting too, so whether you're reading in bed or getting ready you can switch between the main ceiling light or a floor lamp.
Does your property have dado rails? They're the sticky-out things that run along the middle of your wall. How do you like them? If you want to show them off, paint up to them one way and keep the rest of the walls and your skirting boards white. If you'd rather keep them hidden away, paint these as well as your skirting boards and the walls the same colour so you almost make them disappear.
Use our colour matching service to get the same paint colour for your walls and ceilings, and then for your woodwork too.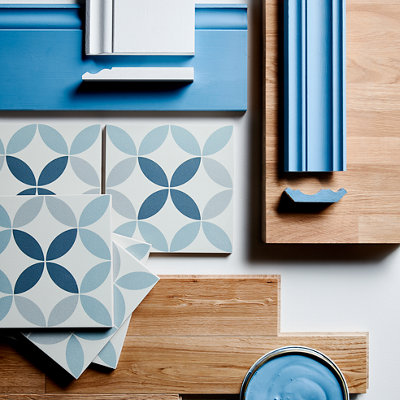 A bedroom to be proud of
We've reversed the balance of colour in the en-suite, hints of blue from the bedroom can be seen in the tiles and we've kept the walls a fresh and clean white.
Walking between the two rooms appears seamless with the threshold separating the hydraulic tiles and solid wood flooring in the bedroom.
We chose these flooring types as they're typical of the period of the home, and the wood flooring adds a warming finish to create a pleasant and peaceful bedroom.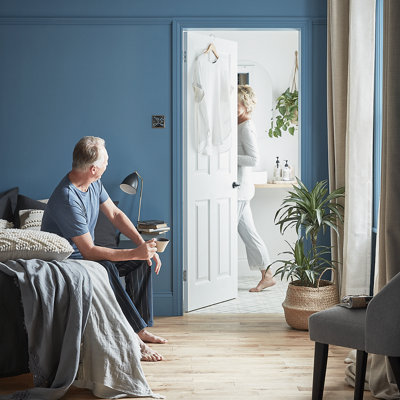 Articles