Tidying after tiling and painting
Give your brushes, tools and surfaces a proper clean and get them ready for your next project
We know it's probably not the most exciting part of your project, but it's still pretty important to spare a little time for the clean-up afterwards.
Tiling
Before you take that satisfying sigh of relief after you've grouted your last tile, there's still a little bit left to do to make sure the finished look is one you'll be proud of.
Wait a day for the grout to properly set and wash the floor with water and a microfibre floor mop to get any extra residue off the tiles and grout. Leave to dry and polish with a microfibre cloth to smooth out the joints and buff up the tiles to leave a neat finish.
Painting
Top tips
Always check the bottom of your shoes – the last thing you'll want to find is a trail of footsteps around your home!
If you're decorating over a couple of days, or are taking regular breaks, place your brushes and rollers in a plastic bag or cling film to avoid the paint drying on your tools. If the paint has completely dried on your brushes and rollers, boil white vinegar and dip your brush into the mixture to remove the dried paint.
While the furniture is out of the way, take the opportunity to dust or mop the floor, as it may be a while before you move them again. Watch out for the freshly painted walls.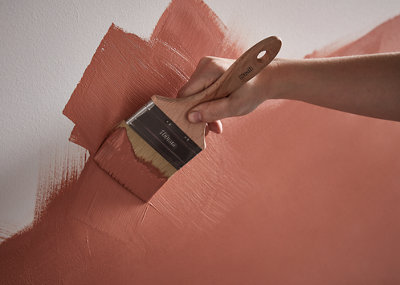 If you find any paint splashes on your walls or furniture, wipe these off with a damp cloth whilst the paint is wet. For those stubborn spots, try scraping away gently with a scraping knife to avoid scratching delicate surfaces.
Fold protective sheets towards the middle to avoid any spills or drips on your floor. Take them outside and shake to get rid of dust and dried paint before storing.
Put the lid back on your paint pot and follow the instructions on the back to see how you should store it. Make sure you don't empty paint into drains, watercourses or access routes to septic tanks. Contact local authorities for advice and special facilities on the recycling or disposal of excess product and waste.
Cleaning & storing brushes
Take a scrap piece of card or paper and brush any leftover paint onto it. If you've used water-based paints, wash the brushes with water. Work a little soap into the bristles, rinse them clean and pat them on a clean rag or paper towel before leaving it to dry flat. You can store clean, dry brushes, rollers and pads by wrapping them in lint-free cloth, plastic bags, foil or brown paper. If your brushes are covered in oil or solvent-based paint, put the bristles in an appropriate cleaner or solvent such as white spirit. Make sure you're wearing gloves and are in a well-ventilated room when working with solvents. Resting the bristles on the bottom of a jar for any length of time is likely to ruin them, so suspend your brushes or use a specially designed cleaning tub. Leave your brushes to dry.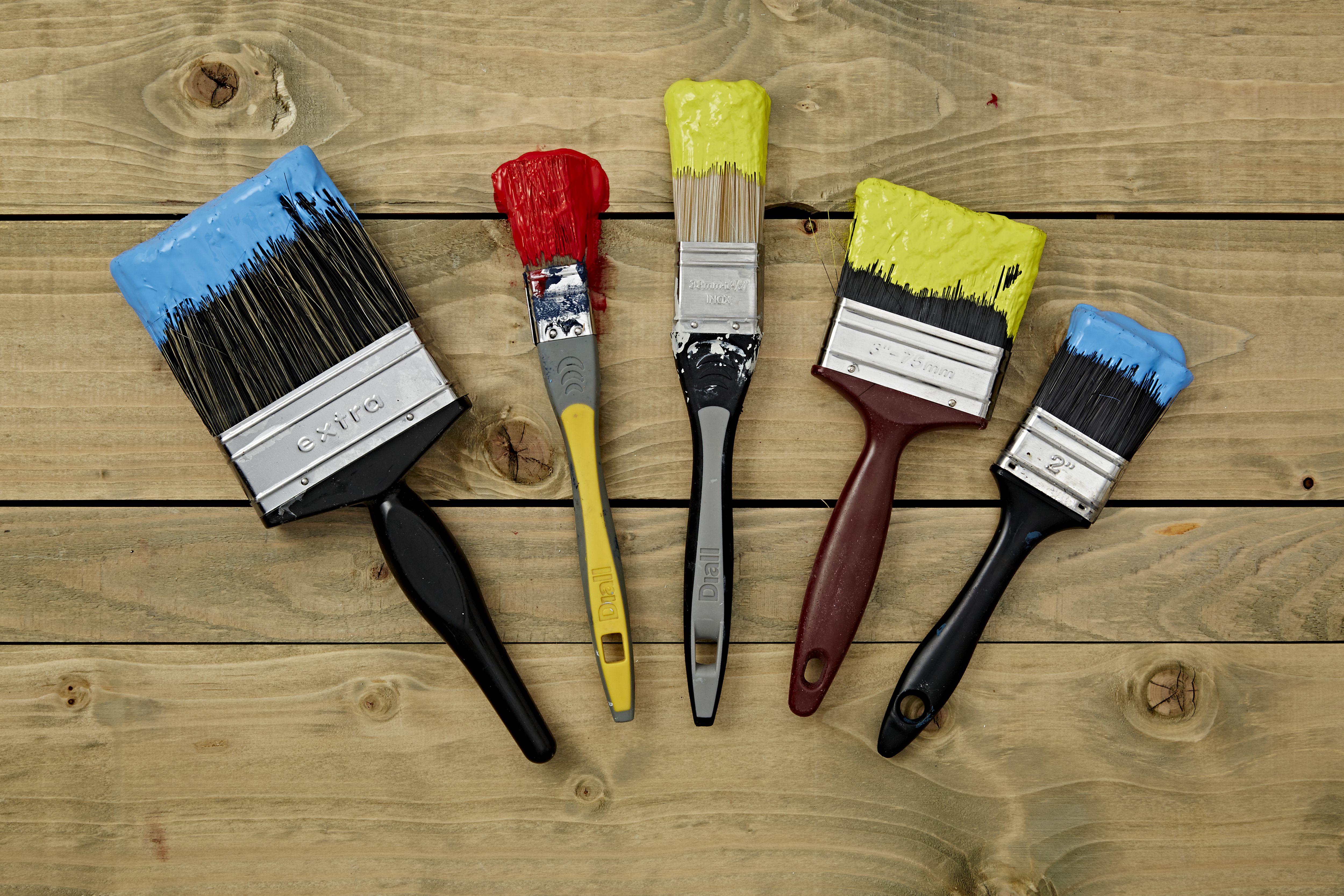 For your rollers, roll as much of the remaining paint onto a piece of paper or card. Next, place the sleeve under warm running water until the water almost runs clear. Running a roller cleaner over the sleeve with a twisting motion can help to make this easier. Add a dab of washing up liquid to the roller and thoroughly wash in warm water. Pat dry with a clean rag or paper towel and leave to dry standing vertically on one end.
A cleaning tub is perfect for storing and cleaning brushes that you've used with oil and solvent-based paints. First, snap your brushes into position then add enough cleaning fluid to just cover the bristles. Fasten and rock the container backwards and forwards several times to clean the brushes. Dispose of the fluid according to the manufacturer's instructions and replace it with fresh fluid up to the mark. Make sure you keep the lid on while you're storing brushes.
Once your tools are cleaned and dry, wrap them in newspaper then put your brushes upside down and your rollers flat.
Articles