Create walls and floors to be noticed
Unleash your creativity in your home with tiles. Choose your combinations and lay them in your own way to make truly unique looks that won't break the bank.
Great on walls or floors (or both if you'd like to match your look), tiles don't have to be limited to kitchens, bathrooms or en-suites – you can experiment by making different and interesting looks in any room of the house. They can be laid without the need for professional help and make a hard-wearing and low-maintenance choice that complement a multitude of spaces.
All our tile options come in a wide range of sizes, colours and finishes, allowing you to create both traditional and more contemporary looks. So let us help you find the right tiles for you and your home.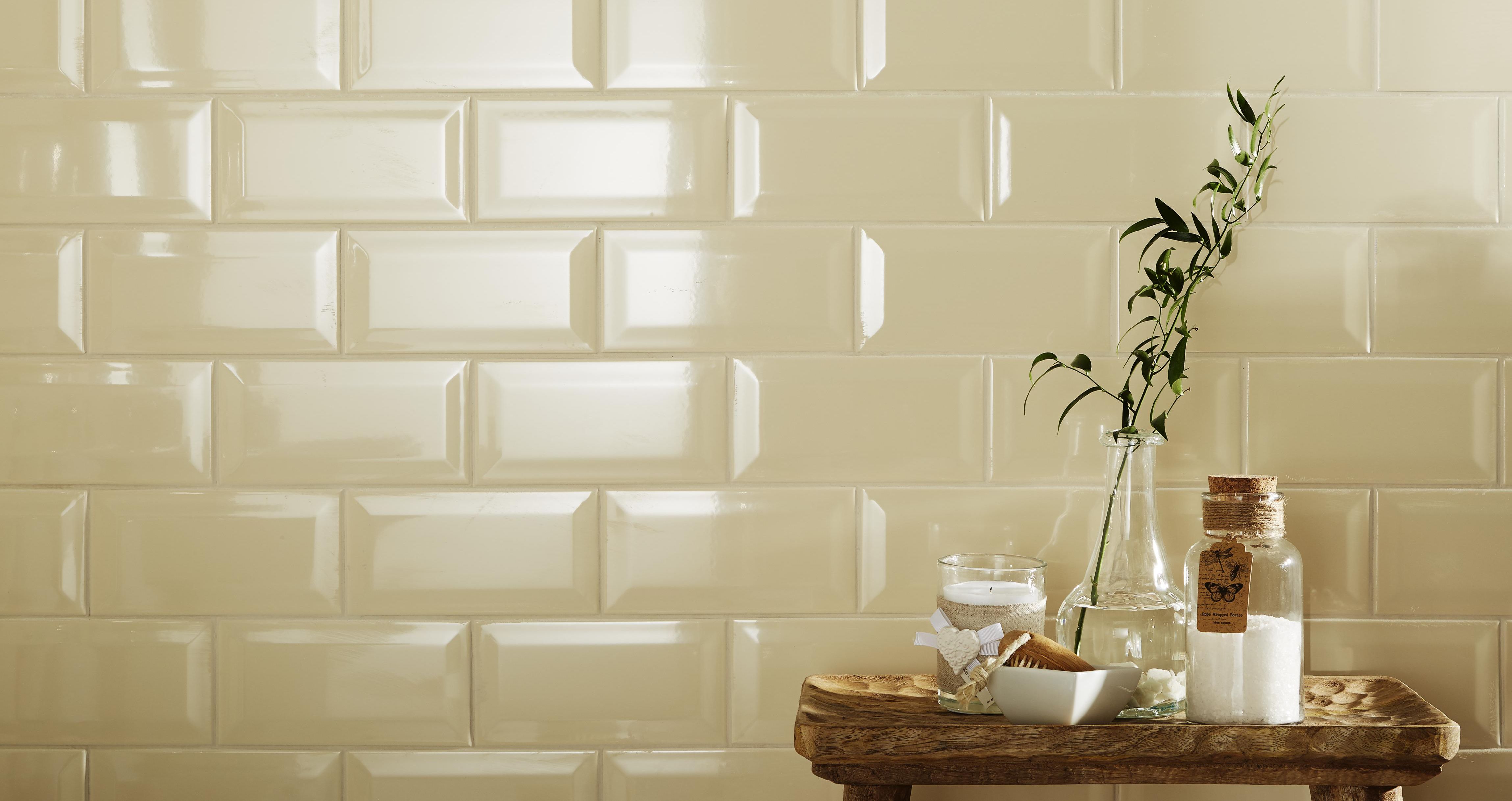 Before you begin
Where are going to use your tiles?
Wall tiles
These are not only great in your bathroom, or as a splashback in your kitchen, but they can also help make an amazing feature in any room of the house. Choosing lighter tiles can help create the illusion of space, plus any tile you choose will bring texture into your room.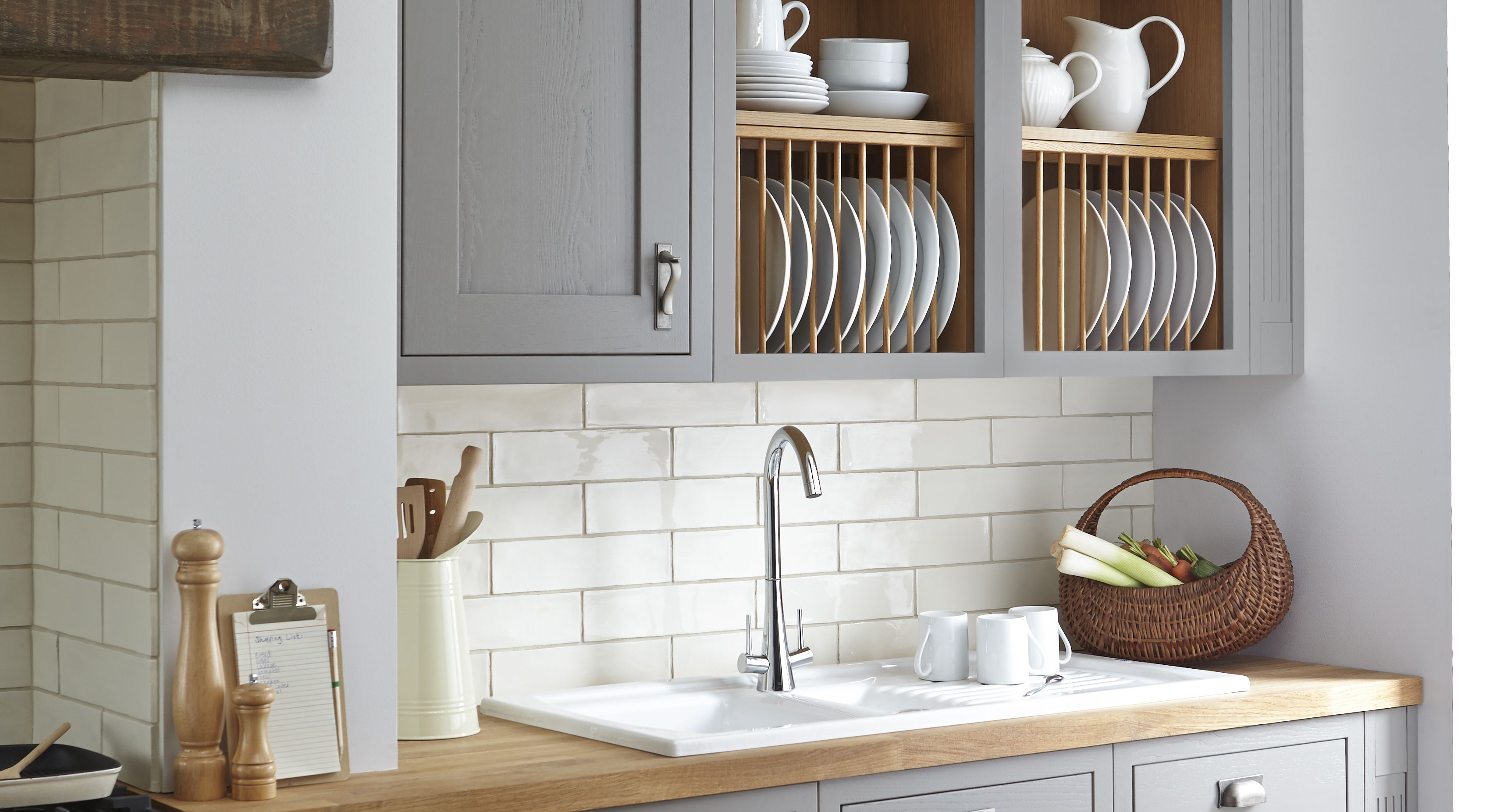 Floor tiles
The thickest, heaviest and most durable of tiles, floor tiles make a great alternative to solid wood or laminate flooring. Tiled flooring is a great choice if you have allergies, or pets, as dust and hair is easily cleaned away – just sweep or use a vacuum cleaner.
Wall and floor tiles
And if you're looking to create a streamlined and stylish look, opt for matching tiles on your walls and floor. In bathrooms this can create the feeling of a wet room or a spa.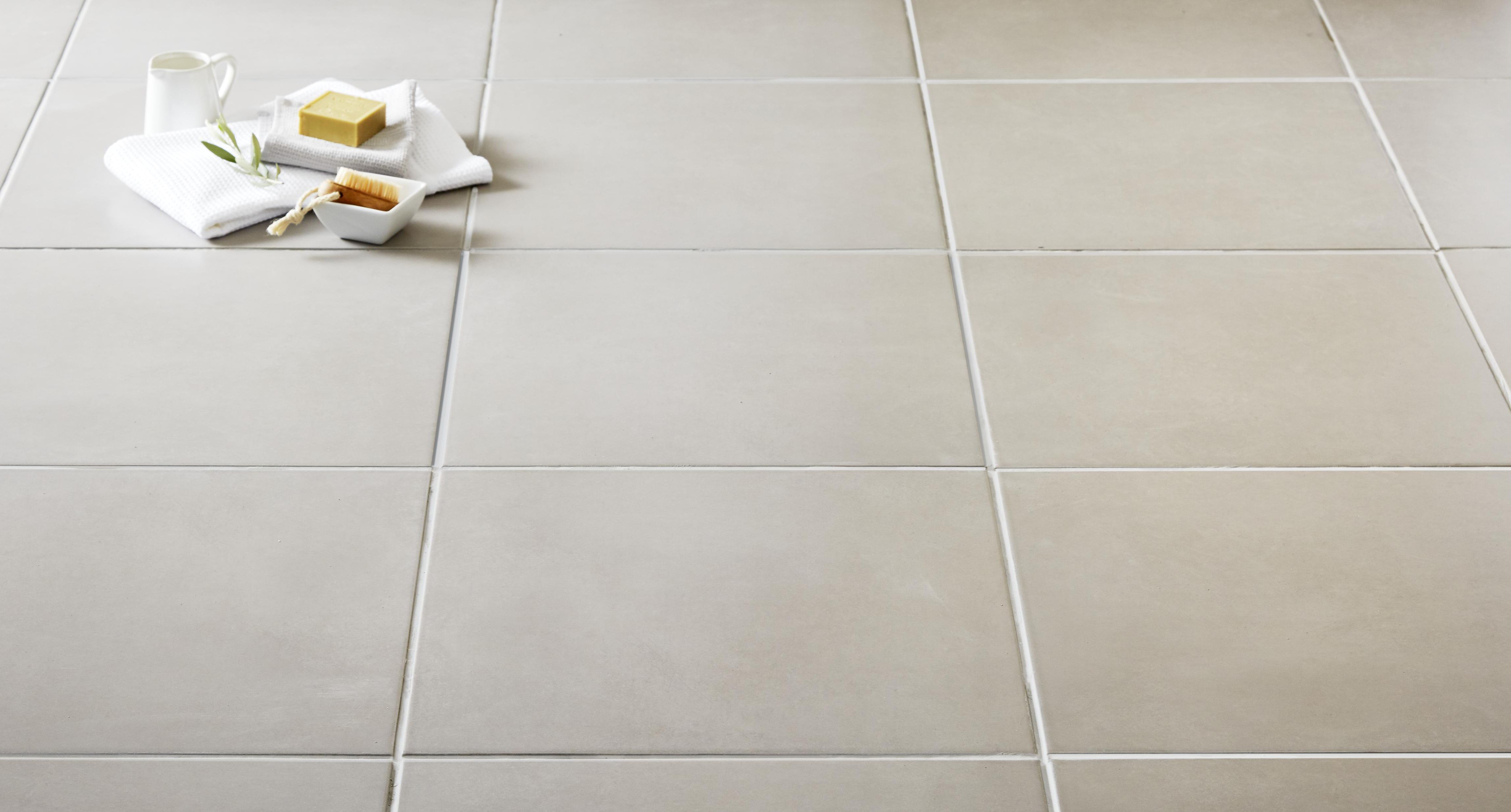 What size of tile are you looking for?
Once you've decide where you want your tiles, it's time to think about the style and size of tile you're looking for. Explore how different sizes of tile look together. Our square, rectangular and mosaic tiles can be placed in an infinite number of ways, ensuring that you create a truly unique look, whatever your style.
Tile sizes available

| Tile type | Tile width | Tile length |
| --- | --- | --- |
| Wall tile | 75mm - 820mm | 97mm - 610mm |
| Floor tile | 150mm - 600mm | 200mm - 900mm |
| Wall and floor tile | 150mm - 600mm | 300mm - 610mm |
Mosaic tiles
Don't be put off at the thought of having to tile each small piece individually – mosaic tiles are either fixed to a larger piece of material so that you can lay them in larger groups, or you can get large tiles built to look as though they are made up of smaller ones. Either way, mosaic tiles are just as easy to lay as our larger options.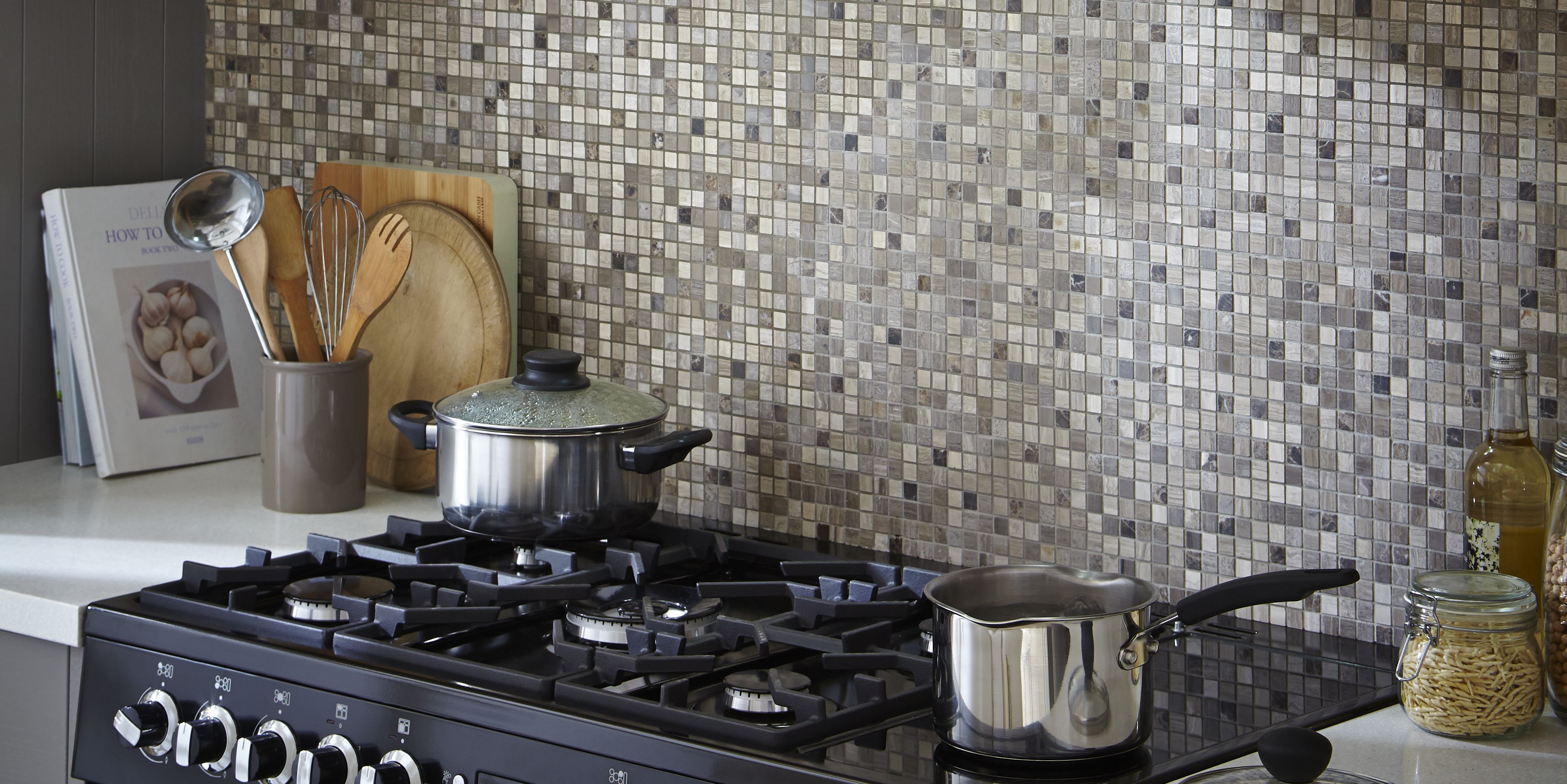 Have a play with colour and texture
Whatever look you're going for in your home, our wide range of tiles can help you achieve it. We have glossy, brightly coloured tiles to more natural, matt options, and everything in between.
If you're looking to make a style statement, go for on-trend tiles such as these Underground tiles. Inspired by the look of the London underground, these glossy, rectangular tiles make a striking addition to any room.
For a natural look, we have options that replicate marble and stone. Opt for a wooden look without the fuss of the real thing with our wood effect tiles or go for an industrial edge with our concrete tiles. Take a look at our Illusion range - for more inspirational looks.
Border and feature tiles
Effortlessly mix around with the colour, size and texture of your tiles with border and features tiles.
Add a decorative border tile around the furthest edges of your tiled area, breaking up the uniformity with a different but complementary tile. Border tiling can also be used to mark the end of wall tiling, or to create 'zones' on the floor (in a kitchen-diner, for example). It can be textured or patterned, with some border tiling designed to match co-ordinating features or inset tiles.
Feature, or inset tiles, create a focal point - add them to your design in a regular sequence for neat uniformity or sprinkle randomly, depending on the effect you're looking for.
Make sure you've done your prep
Ensure that you buy the right amount of tiles and don't have lots of wastage by checking out our Help & Advice articles on tiling. These offer support on how to plan and execute your project – wherever you've chosen to lay your tiles.
Read Help & Advice on tiling Shop all tiles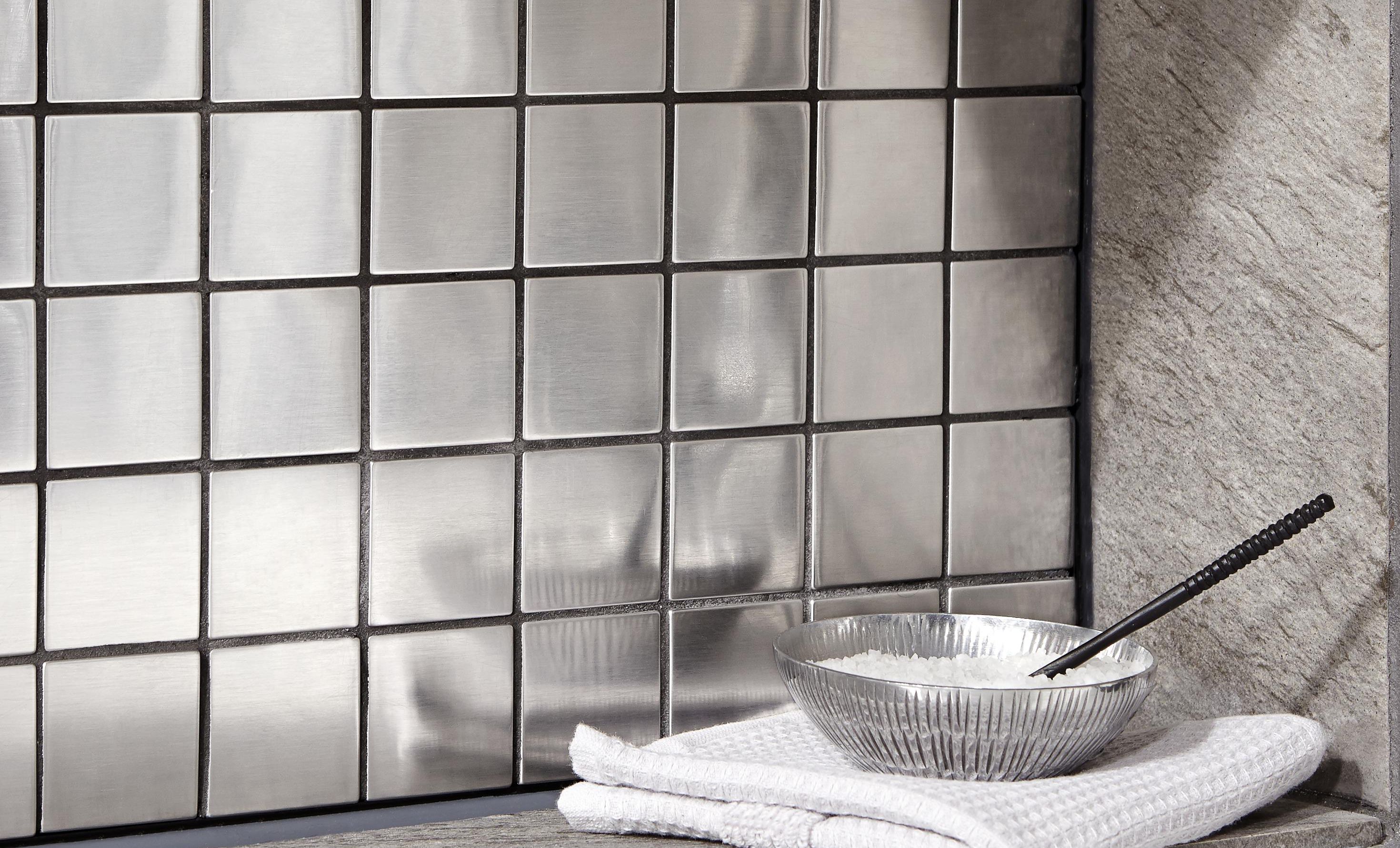 Tile materials
Tiles come in two distinct types - man-made and natural stone. Both are durable and long-lasting, and all floor tiles work with underfloor heating except for slate floor tiles.
Man-made tiles
Man-made tiles are ideal if you're looking for a wide range of colours and textures at an affordable price. We stock ceramic and porcelain tiles in this range.
Ceramic
The most popular of all tiles, ceramic tiles are both affordable and low maintenance. They're easy to cut and fix, are waterproof after grouting and don't need sealing.
Thanks to advances in technology, ceramic tiles can be made to look just like other natural materials, like marble or stone. They also come in a large range of colours, patterns and textures to complement all styles.
Ceramic tiles can be used on your floor or walls.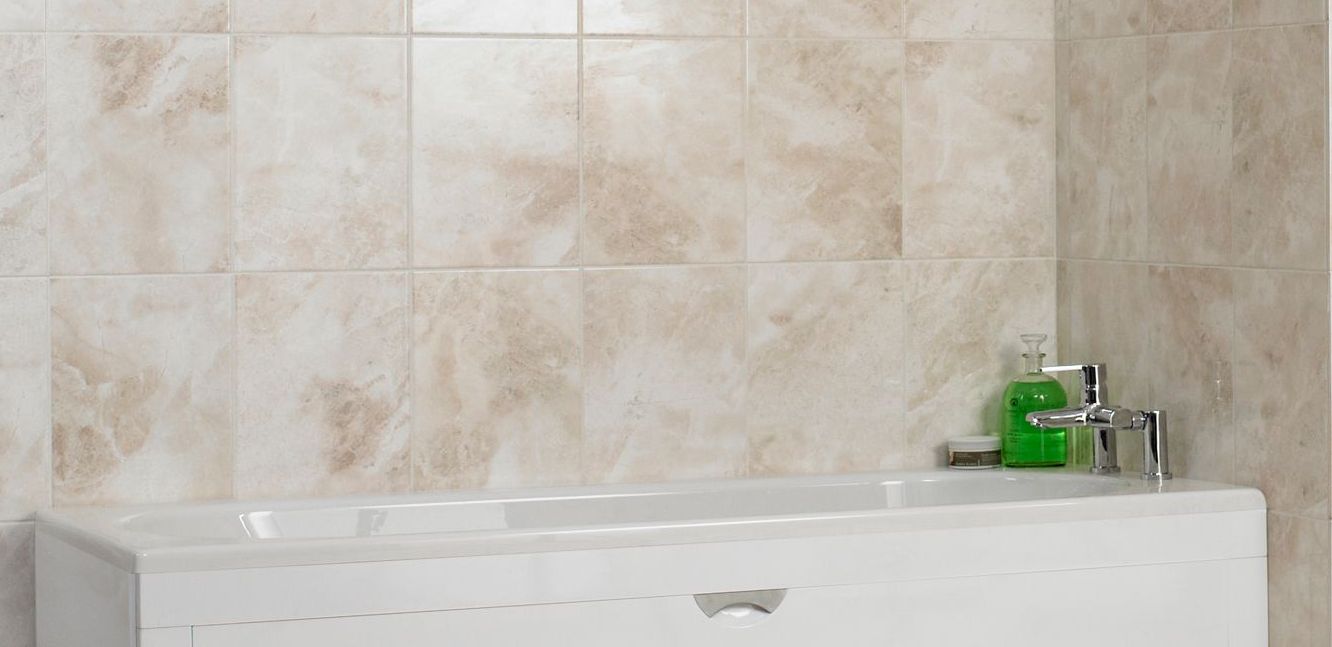 Porcelain
Known for its strength and durability, porcelain tiles are available in a range of stone effects that will look great in any room. Plus you can choose from satin or matt finishes.
They can be glazed or unglazed, but unglazed will need regular cleaning and sealing. Above all, porcelain is hard-wearing and durable, and looks great polished.
Choose porcelain tiles for your walls or floor.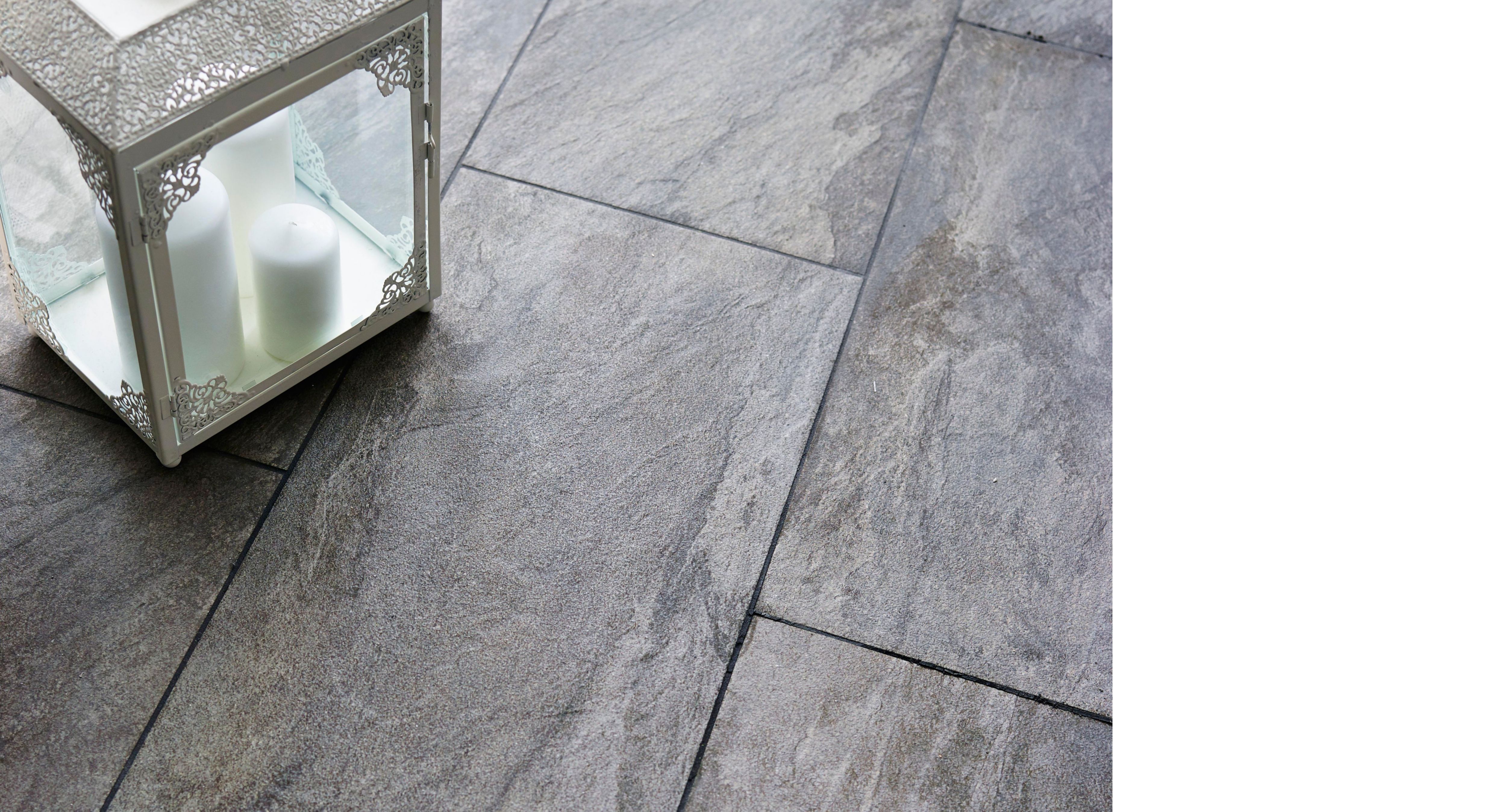 Natural Stone
For a non-uniform look, choose from our large range of natural stone tiles where no two tiles are the same.
Granite
For a dramatic look in darker colours that don't fade, choose granite tiles. It's hard-wearing and, once sealed and grouted, is water-resistant and easy to look after – making it a great choice for any room of your house.
Granite tiles will need to be resealed from time to time.
Marble
With their fine natural detailing, marble tiles add luxury and glamour to any room. They're a durable tile that's popular in hallways and bathrooms, but be careful – highly polished marble can be extremely slippery when wet.
Marble tiles need to be sealed before and after fixing and then polished with a gloss finish.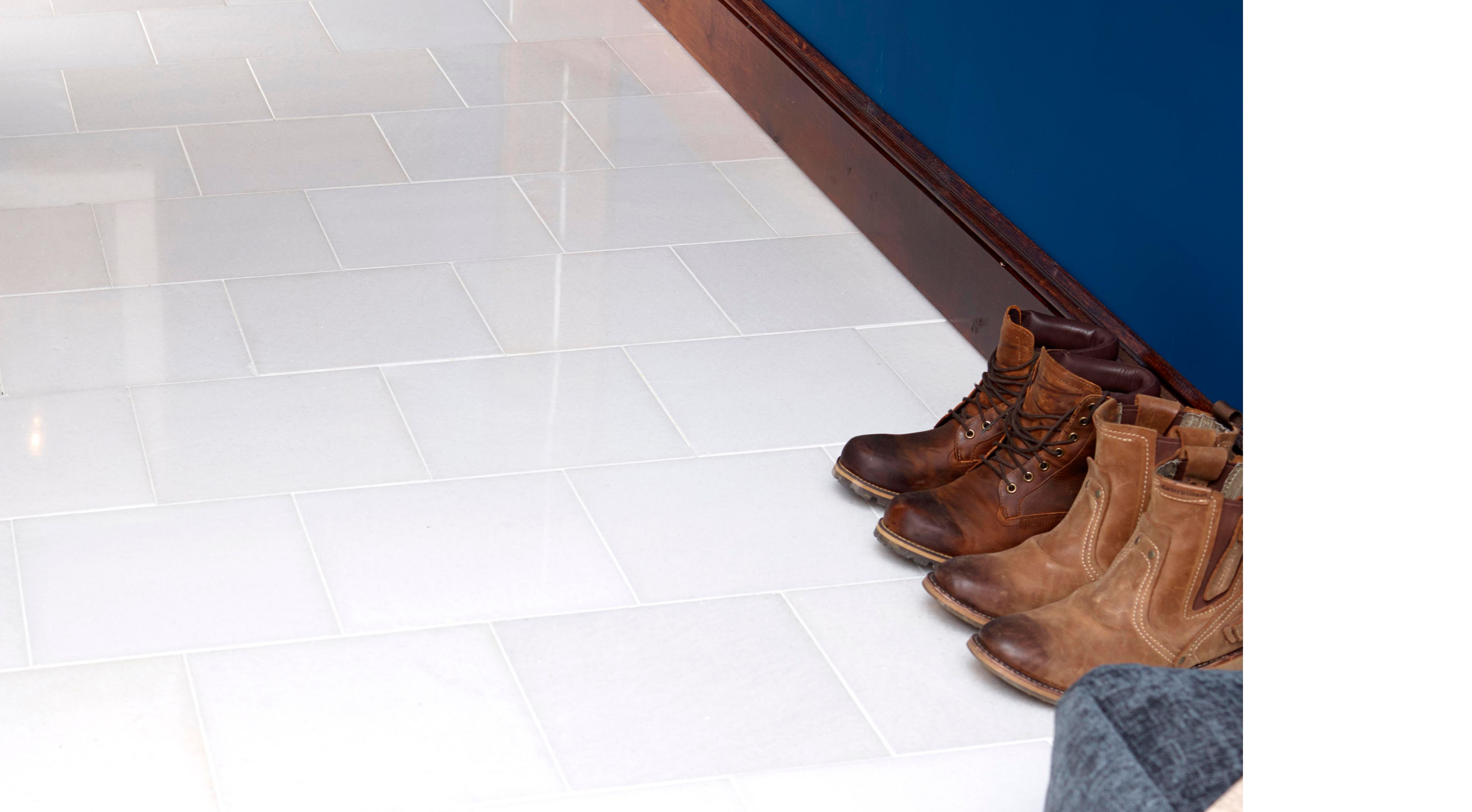 Travertine
A form of limestone, travertine tiles have natural holes and voids in their surface, and come in a range of warm colours that look great in any room.
While it is stone, and a heavy one at that, travertine can be prone to chipping, is porous and will stain. As such, it's better suited for walls, not for floors or splashbacks, and you will need to clean and seal it regularly.
Slate
Versatile and durable, slate tiles resist scratches and stains so well that they work both indoors and outside. Slate complements both rustic and contemporary styles and is strong, hard-wearing and easy to clean. These tiles can be used in any room, and on either the floor or the wall – they just need to be sealed.
Quarry
Made from natural clay, quarry tiles have a matt finish and are exceptionally durable. With their warm, terracotta colouring, they work well in hallways, kitchens or even conservatories.
As they're unpolished and unglazed, quarry tiles are ideal as flooring as they offer good traction, but also work well on walls.
Shop quarry tiles Shop quarry tiles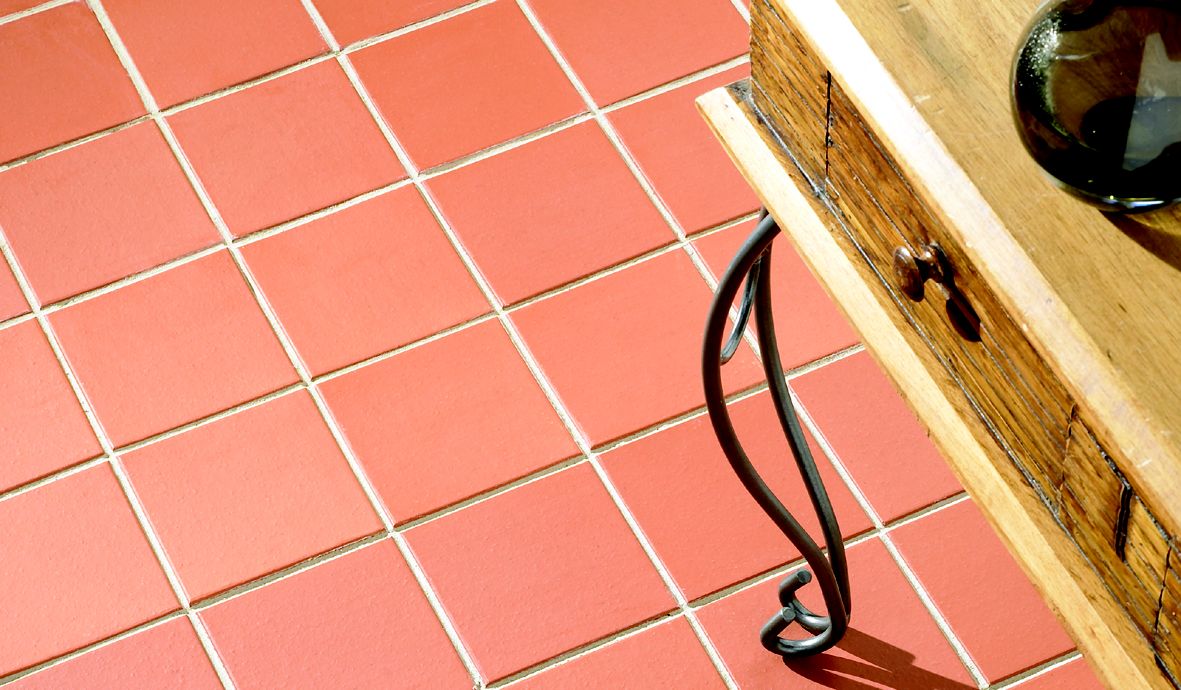 You might need
Once you've selected your tiles and know where and how you want to place them, it's time to pick up some of the extras you'll need to complete your tiling project.
Tile adhesives
Tile adhesives are used to firmly secure tiles to the wall or floor and are available as either a powder to be made up by you or ready-mixed for easy usage. There are many varieties available so do check before buying that you've got the right sort for your tiles.
Waterproof sealants
Waterproof sealant is used to create a protective barrier in places where the end of the tiling scheme comes into contact with surfaces like the edges of basins, baths and kitchen worktops. Be sure to read our Adhesives and sealants buying guide if you need more help.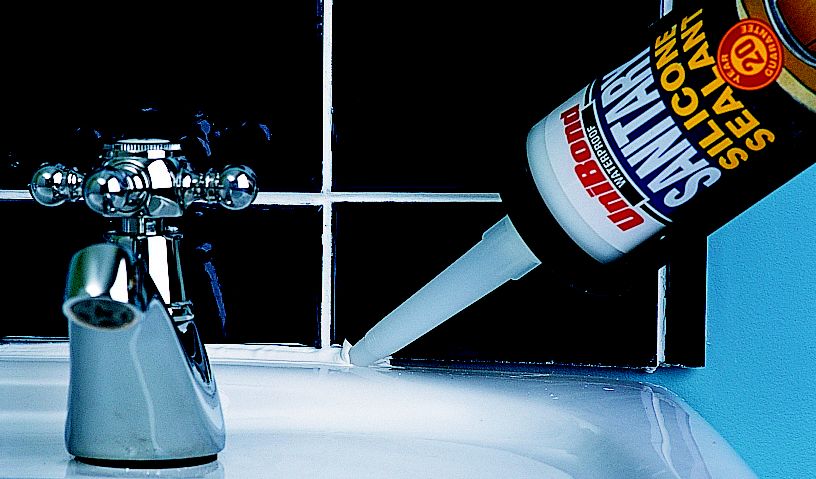 Tile sealants
Porous tiles will need to be sealed before they're laid – whether they're at risk of getting wet regularly or not. This prevents staining from anything that may come into contact with the tile, and should be reapplied occasionally for as long as the tile is in place.
Tile grout
Tile grout is used to fill in the gaps between tiles, and like tile adhesives is also available as a powder or ready mixed. As well as general purpose grouts, there are many grouts specially formulated for tiling over different type of surface and working with different kinds of tile. These can both improve the durability of the tiled surface and make the job easier.
Why not inject some style into your grouting by looking for coloured versions that contrast dramatically against pale tiles?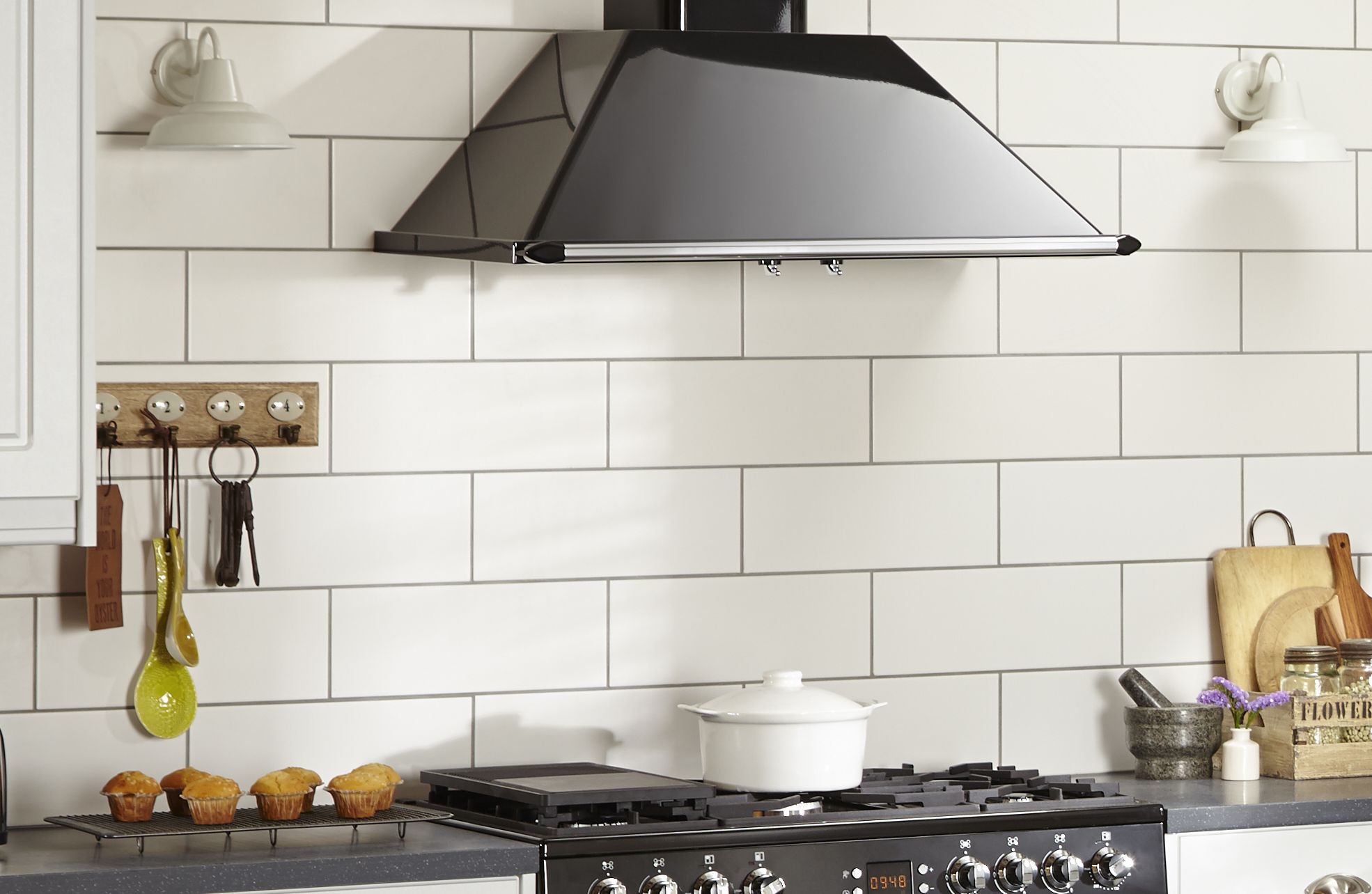 Tile trims
When tiling corners, tile trims hide the edges. Not only does this lead to a more attractive result, it also smoothes any rough edges – stopping clothes or skin catching as people brush past, as well as preventing damage to the tiles.
The depth of trim you need to buy depends on the tile thickness you're using. Use the table below to check which tile trim to use with your chosen tiles.
| Tile thickness | Recommended trim depth |
| --- | --- |
| 6mm | 6mm |
| 7mm | 6 or 8 mm |
| 8mm | 8mm or 9mm |
| 9mm | 9mm or 10mm |
| 10mm | 9mm or 10mm |
| 11mm | 10mm |
| 12mm | 12.5mm |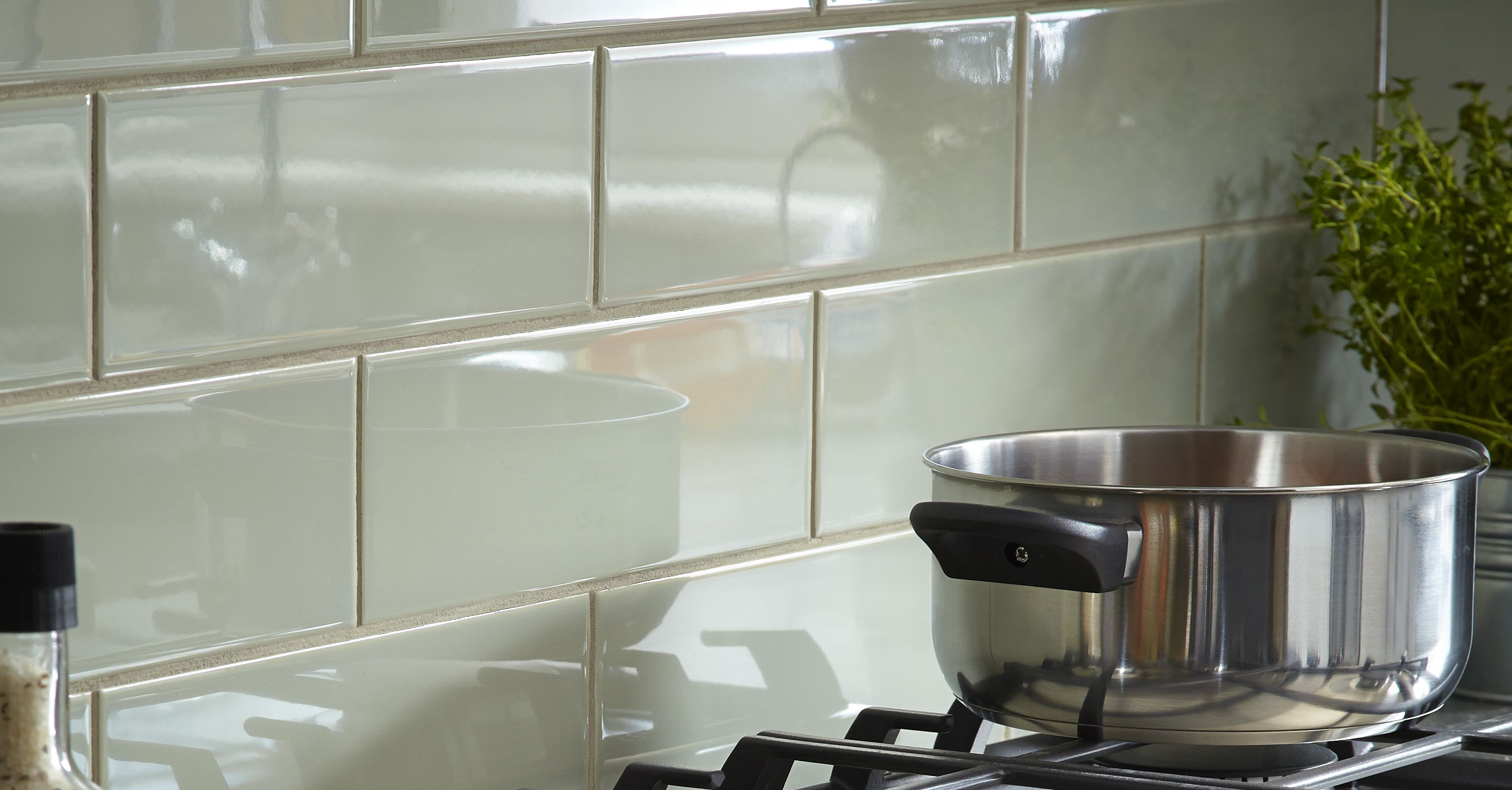 Articles