Tiling and painting essentials
Prepare yourself for your next decorating project
You can't start your decorating project without the right tools for the jobs. If you don't know where to start, follow our handy guide below to find out about the tools you might need to buy (or borrow) for your painting or tiling project.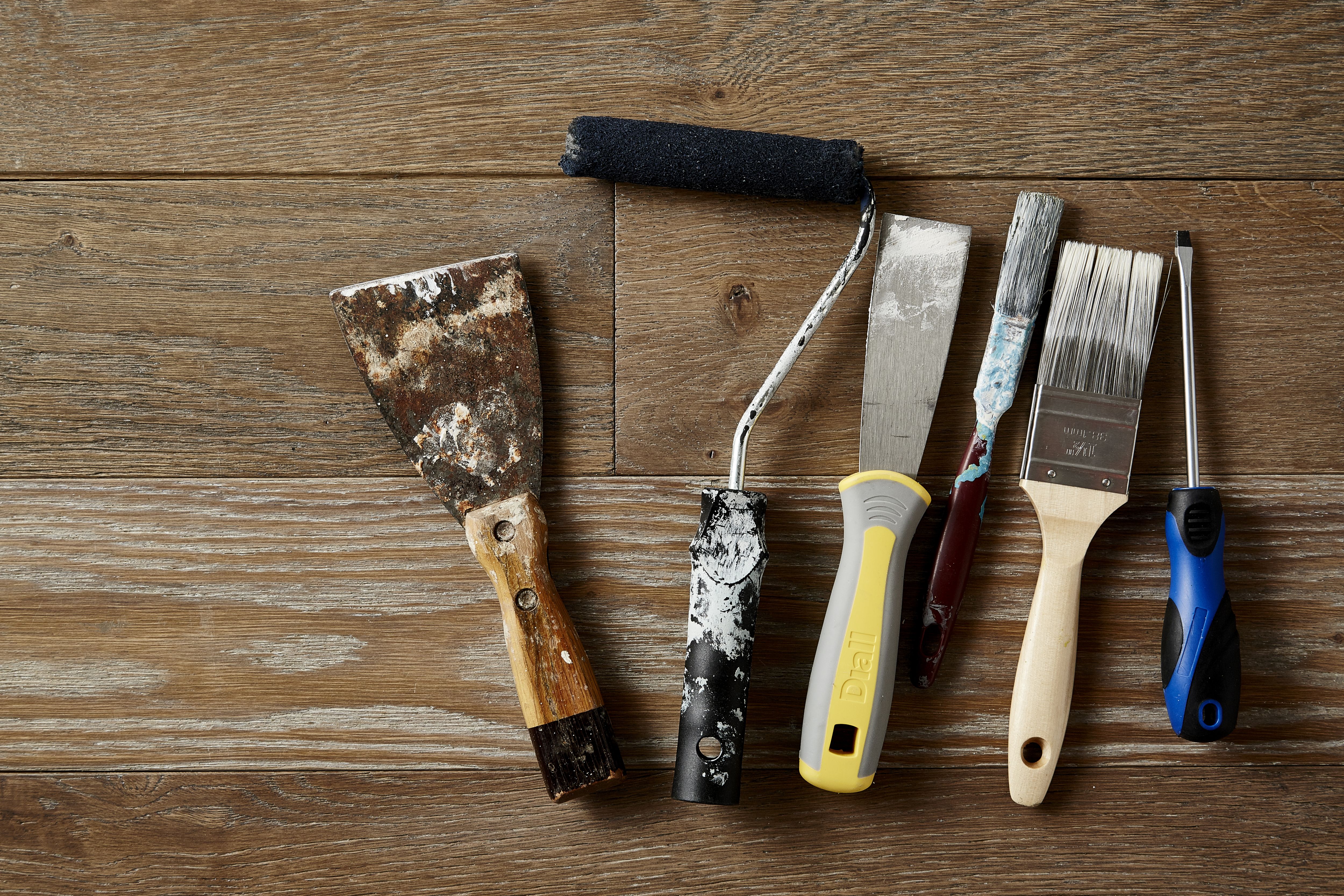 Tiling tools
Tile scorer - Get clean breaks in your tiles by scoring through the glaze first using a tile scorer. You can use one with either a tungsten carbide tip or a steel wheel
Tile nippers or nibblers - For very narrow cuts, score first and then nibble to the line with these tungsten carbide-edged pincers. They're also perfect for cutting mosaic tiles
Diamond-wheel tile cutter - The rotary blade on this machine will cut through all types of tile. If you're redecorating or renovating a large area, it's worth buying one
Grout spreader - This tool is specifically designed to spread grout across tiles and into the joints. You can buy different sizes of spreader for your walls and floor
Notched spreader - A notched spreader will give you the right depth of evenly spread adhesive, every time. You can buy one for either wall or floor tiles, or choose a multi-toothed tool that works on both surfaces
Tile saw - This saw is ideal when you want to cut curved lines through a tile. You can also use a jigsaw with a ceramic blade for clean shaping
Tile file - Use this file to smooth down rough edges from a cut tile
Tile snapper - This handy tool makes it simple to snap a tile in two after you've scored it by squeezing the marked lines. Some also come with a scoring blade
Sponge - Synthetic and strong, a decorator's sponge is handy for wiping and cleaning up any spillages and grout excess when laying tiles
Profile gauge - A profile gauge will help you fit your tiles perfect around objects like pipes. Just mould the profile of the object onto it, and then transfer the pattern to your tile or other floor covering
Flat-bed tile cutter - These cutters are superb for scoring and snapping tiles. You can get different models especially for wall tiles and thicker floor tiles
Paint brushes
With lots of different types of brushes, it can be difficult to find the one which is right for your project, here are some things you might want to consider first
Size
Start by looking at the size brush you may need, this all depends on your project:
Caption describing table

| Brush width | Ideal for |
| --- | --- |
| 25 mm | Cutting around glass or window frames |
| 50 mm | Skirting boards, architraves, door frames and panel doors |
| 75 mm | Large flush panel doors |
| 100 mm – 150 mm | Walls and ceilings |
Bristle
Paint brushes have either a synthetic, natural or a mixture of both types of bristles.
Synthetic bristles are great for achieving a fine finish with water-based paints. They're very hard-wearing and won't absorb large amounts of water – meaning they won't swell up and cause tramlines to appear in the paint. If you're using a solvent-based paint, use a natural bristle brush. Paint will be easily brushed on with few brush marks and are ideal for skirting boards, doors and wall surfaces.
Natural bristles take and hold paint within the brush, and the split ends help produce a fine finish.
A mixed blend of synthetic and natural bristles leaves a good finish with all types of paint.
Design
Angle sash brush - Ideal for cutting in corners and hard-to-reach areas, giving you that perfect line finish

Masonry brush - Perfect for block work or rough-cast dashing
No-loss brush - Each bristle is wrapped around the block, so strands don't come loose and get left in the paint
Radiator brush - Great for those hard-to-reach places as it's angled and has a long handle
Round brush - The decorator's choice, this superbly crafted brush has a unique head with high-quality bristles to give a consistent finish. Ideal for painting sash windows or cutting in or round curved objects with any type of paint, its long handle means easier control during use

Shed and fence brush - A chunky brush which holds lots of paint, making it great for covering large fencing areas
Paint rollers
Buy your rollers according to the type of paint you'll be using and the surface you'll be covering. Rollers are an ideal way of getting a large surface job done quickly and easily, and they come in short, medium or long pile:
Short pile – for fine and flat surfaces
Medium pile – for smooth surfaces (but can be used on most walls)
Long pile – for textured surfaces, or even surfaces outside the home
Other types of roller
Foam roller - These rollers are ideal for when you're using gloss finish paint or varnish

Radiator roller - For those hard-to-reach places or small areas of a wall, they're also handy for areas where there's fixed furniture
Articles