Towel warmer buying guide
All you need to know about buying the right towel warmer for your bathroom
Stepping out of the shower into a warm towel is one of life's little luxuries. Not only does a towel radiator make this a reality in your home, but they're also stylish multi-functional addition to your bathroom. They're ideal for drying towels, plus they add extra warmth to your bathroom, helping to create a comfortable bathroom. Contemporary, space-saving designs can also help create an attractive focal feature that takes up minimal room in your space.
Towel radiators can also be called towel warmers, but it's worth knowing that they work in a slightly different way to conventional radiators. Whilst they can efficiently heat a small en-suite bathroom or cloakroom, you'll want to place an additional radiator as your main source of heat in a larger room. Steel panel radiators are an ideal choice for bathrooms as they have a high heat output to keep you warm when stepping in and out of the shower.
1. Power source: plumbed or electric?
2. Consider the size of your towel warmer
3. Where are you hanging your towel warmer?
4. How much heat will it give out?
5. Don't forget radiator valves for your towel warmer
6. Choose your style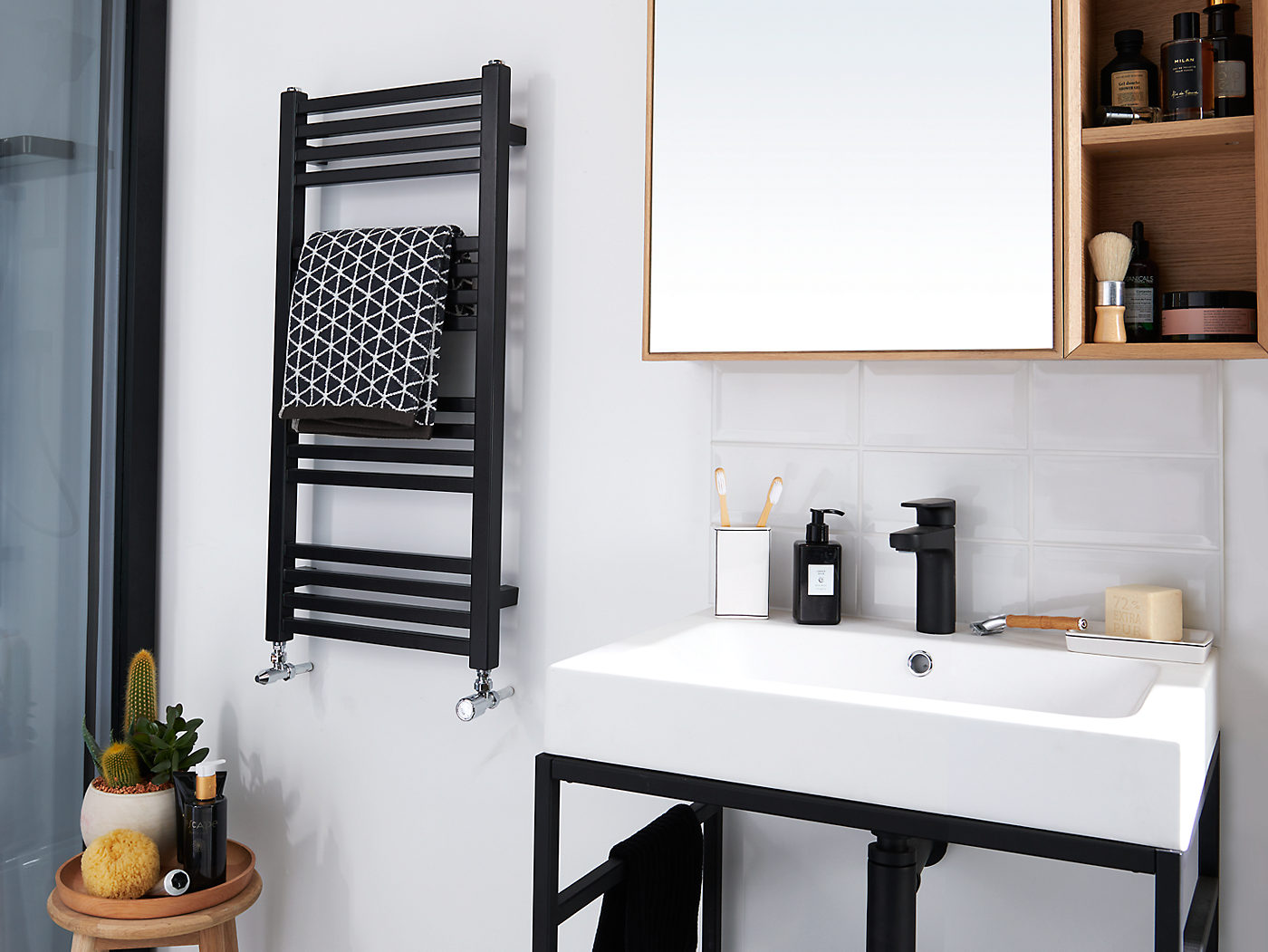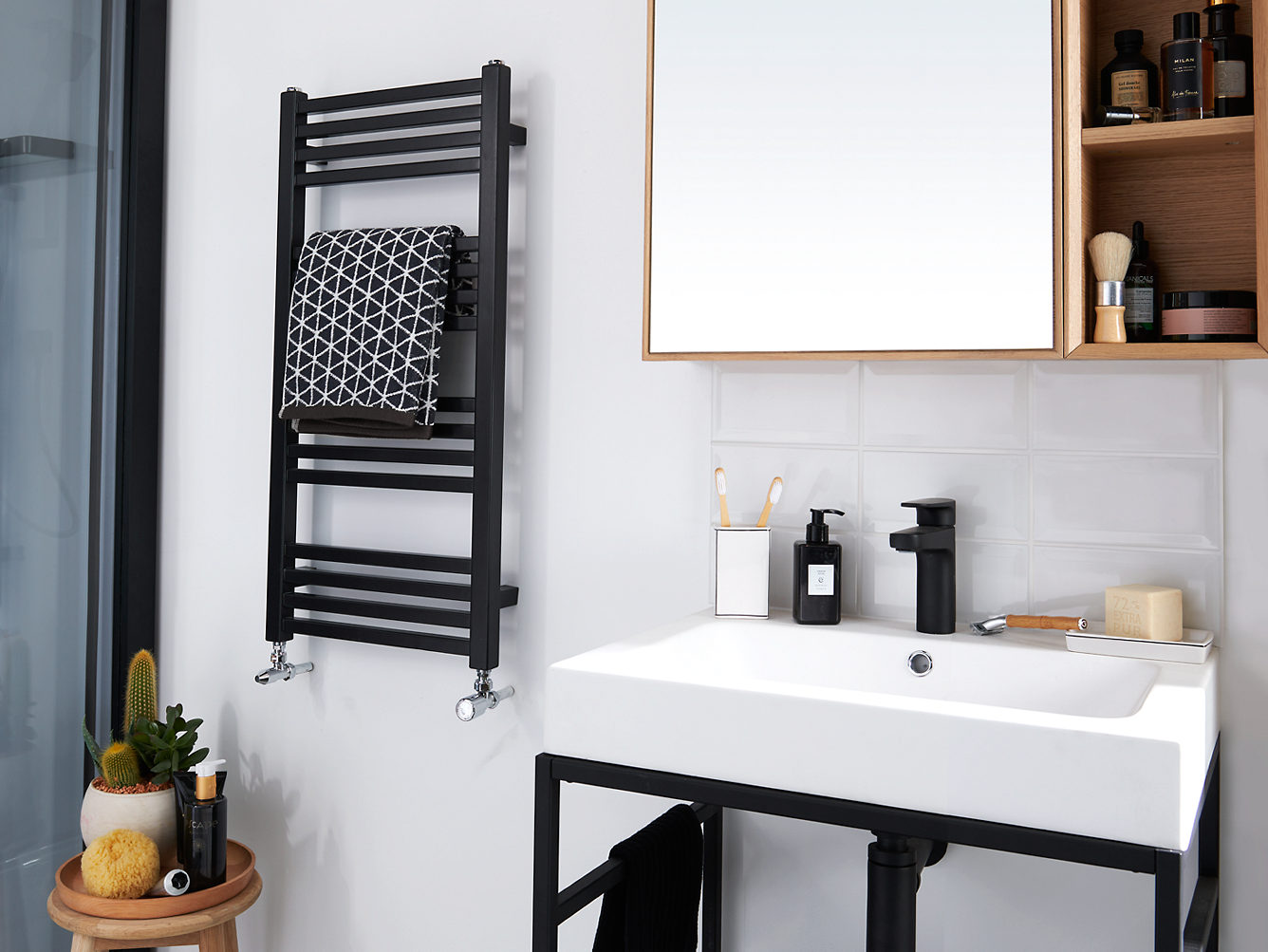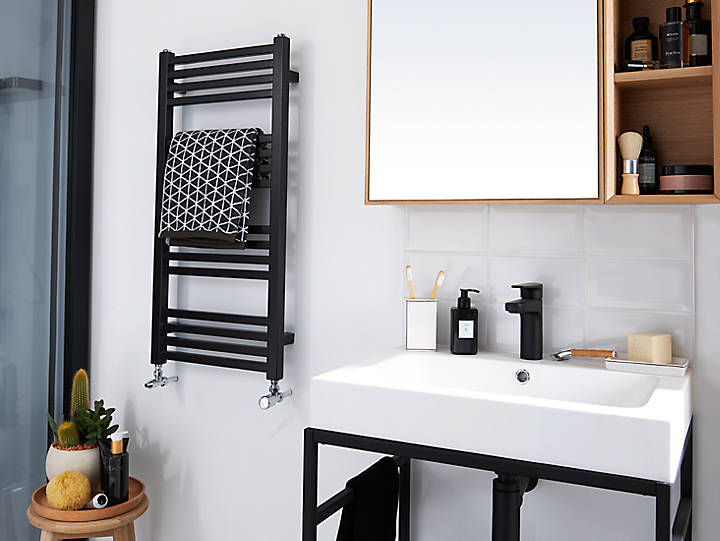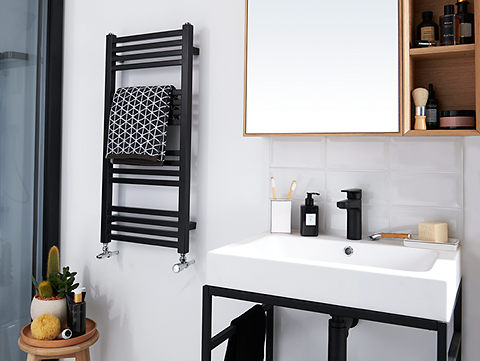 1. Power source: plumbed or electric?
Your home probably already has a hot water or electric heating system installed. However you aren't limited to using your existing system when installing a new towel warmer.
Plumbed
If you have a central heating system, you can choose either a plumbed or electric towel radiator. The easiest way to replace a small radiator or a towel warmer is to choose one with identical pipe centres and similar sizes. Turning off the central heating system will stop the flow of water to the towel warmer so you won't need to remember to switch it on.
Dual fuel
Dual fuel offers the best of both worlds. These are plumbed towel warmers with an electric heating element installed, making it 'dual fuel'. This means that the towel warmer will heat up when your central heating is on in the winter, and also give you the option to use the heating element independently when the central heating is off. The electric element is controlled with a switch and a thermostat so you can turn it on and off to give a boost of extra warmth when needed - ideal for use during the summer months.
Look for heating elements with timer functions so that you can set your towel warmer to run at times when the central heating is not on. Bear in mind that while dual fuel options offer great flexibility you'll require both plumbing and a mains electricity supply where you plan to install your towel warmer.
Electric
Electric towel warmers are a good option if you don't want to extend your existing hot water heating system or worry about moving pipework. Electric towel warmers work with your existing mains electric system and are double insulated for safety. They also come pre-filled with a water treatment to protect against corrosion and limescale. Just like a plumbed radiator, they're mounted onto the wall but will need to be installed by a qualified electrician.
Some electric towel radiators come with thermostatic controls, rather than standard on/off controls. These allow you to set the temperature of your radiator to suit your needs, or pre-set the temperature you would like your room to be heated to. The radiator intelligently controls its heat output to maintain your desired room temperature by cycling on and off, helping to reduce energy usage. Premium options also offer the ability to set a time schedule, so that the radiator comes on a preferred times of day, similar to your central heating system.
Thermostatically controlled electric towel radiators also offer anti-freeze functions which will automatically turn on if the temperature in the room drops low enough for the pipes to potentially freeze (usually around 7ºC) helping to prevent damage from frozen pipes. You'll need to leave the radiator switched on, but it won't generate any heat until it becomes very cold. It's ideal for when you're away from home.
2. Consider the size of your towel warmer
One of the great things about towel radiators is that they are excellent space savers. They are generally smaller than standard radiators - plus, they are extra stylish! You will, however, need to consider the size of the towel warmer depending on the size of your bathroom.
There's a wide variety of sizes available when it comes to towel warmers, ranging from 200mm wide up to 900mm wide and 590mm high to 1800mm high. The larger your bathroom, the larger towel warmer you'll need in order for it to not only heat the towels but heat the space in the room. Talk to one of our experts in store to find out which towel radiator size you need in your home.
3. Where to hang your towel radiator
Take some time to consider the wall where you would like to mount your towel warmer. Top tip: if you're redecorating or refitting your bathroom, paint or tile behind your towel warmer before you fit it, as you'll find this easier.
For plumbed towel warmers, think about the existing pipework. If you're replacing an existing radiator, measure your space and current towel warmer dimensions to keep plumbing changes to a minimum. A narrower towel warmer may require more changes to the existing plumbing, particularly if the pipes rise out of the floor rather than run along the wall. 
---
Standard ladder style
As the name suggests, ladder towel warmers are based on a ladder shape with the rungs of the ladder allowing you to hang multiple towels. They're mounted to the wall and have either a flat or curved profile.
Ladder towel warmers are available in a wide range of sizes to suit many bathrooms and come with either a white or chrome-effect finish. Opt for white to blend in with existing décor, or chrome to make a stylish statement.
Traditional towel warmers
Traditional-style towel warmers can be a beautiful feature in your bathroom, capturing all the charm of old-fashioned column radiators but with all the benefits of modern technology. They're ideal for period homes, with a ball-joint design that complements traditional heating systems and adds character to your home.
Choose from a traditional style column radiator with metal bars to the side and top that can be used as towel rails. The white finish of the radiator optimises heat output whilst the chrome finish rails above and to the side add classic style.
Designer towel warmers
Designer towel warmers are perfect if you want a radiator which will blend into the décor of your room. They're available in a greater range of colours, shapes and sizes than most other towel warmers.
Consider a flat profile if you'd like to use as little space as possible. Alternatively, curved rails are great for bigger spaces as they're easier to hang towels on. Our designer towel radiators are also available in on-trend grey and stainless-steel finishes which look stunning in modern settings. 
---