When two spaces become one
Open plan living made simple
Okay, creating one large room from two smaller rooms doesn't seem like the simplest of projects at first glance. But actually, if you apply some simple rules when painting and furnishing the space – it's a lot easier than you might think.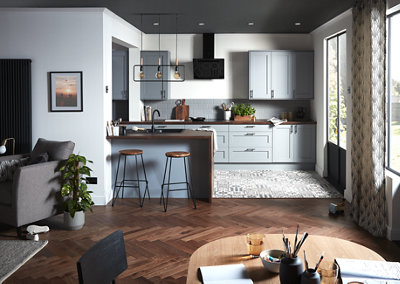 Get in the zone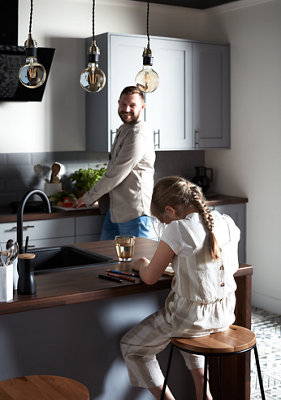 The main thing to focus on is creating one room with two functional areas.
Transitioning between the two areas should feel beautifully seamless. Using the same colour palette throughout will help blend the space. Or by using a consistent visual link – such as one bold colour will blend zones. A bright blue living area wall could be complemented by the using a vase in the same shade in the kitchen.
Flooring is the only exception to the rule. Functionally wins here, and each floor style should be suitable for the area – for example, vinyl or tiles for the kitchen area and wooden flooring in the living space. The two can still complement each other and look amazing.
To zone an area such as the dining space you could use a rug, and low-hanging ceiling lights above the dining table.
Tips when you're planning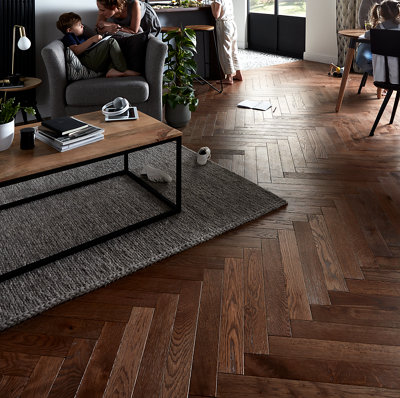 A space without walls means you may have to consider multipurpose spaces – like your home office or children's play area. Include this area within your colour scheme. And invest in some closed storage to keep chaos to a minimum.
Also consider integrated kitchen appliances for a sleeker look. Invest in a high-powered extractor. And look out for quieter models of washing machines.
If your space is long and narrow with windows and doors at opposite ends, invest in some great lighting for the middle of the room. A striking ceiling light would work perfectly.
The really fun bit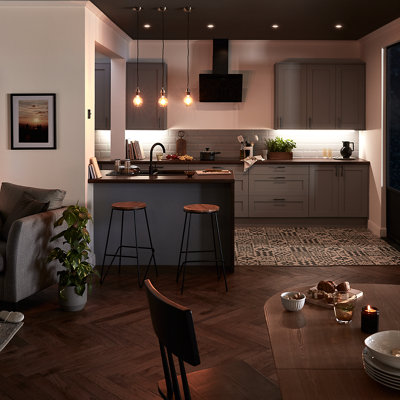 Then it's time to have fun dressing your open plan area and making it feel like home. A space you can feel proud of. As the heart of your house, it deserves your time and creativity to make full use of the feeling of space and freedom.
When you're choosing the soft furnishings, remember that large, open spaces can feel stark and unwelcoming.
Layer up with textures, sofa cushions and a fluffy rug to give your open plan room a cosy feel.
An open plan room can become a busy space with lots of people coming and going. Keep walkways clear by mounting your TV on the wall, choosing wall shelving over bulky furniture and place either keep your sofa area central or pushed against the wall to allow passage. Choosing furniture with wheels is a good idea for large spaces!
The beauty of open plan is the space it creates. Plan wisely and simply enjoy.
Articles