Green pallets
B&Q's Green Pallet Scheme offers returnable pallets in bespoke sizes.
The introduction of the Green Pallet scheme is another important and innovative step on B&Q's One Planet Home journey.
Globally, around 60,000,000 cubic metres of wood is used annually to make pallets and packaging. Unfortunately this is frequently not from sustainable sources. One-way white pallets are variable in quality and performance, and as a consequence they often have to be disposed of after first use.
B&Q has already maximised the use of standard reusable pallets, insisting on suppliers using them where possible.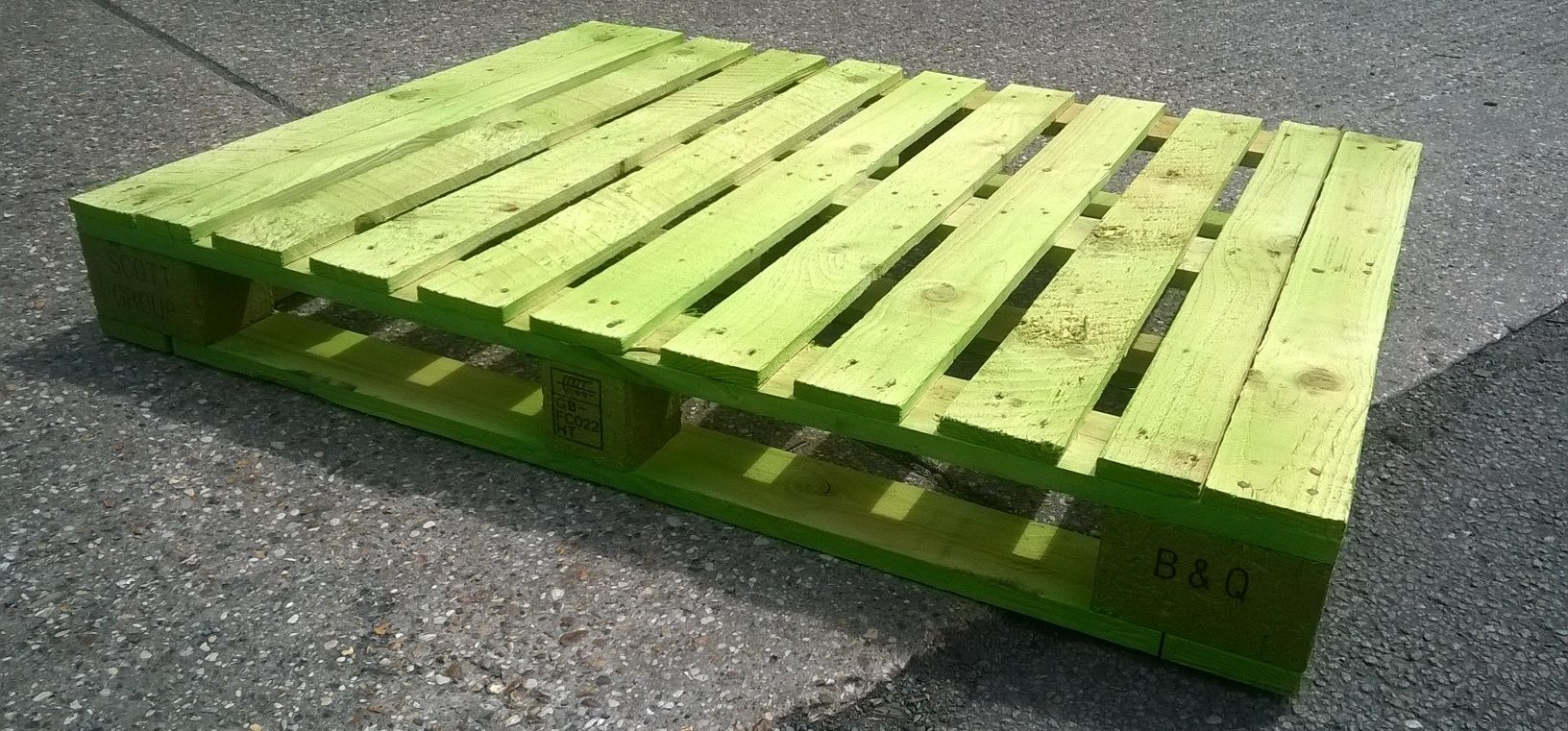 But this still left us with a big problem. Returnable pallet schemes offer a one-size-fits–all pallet. Unfortunately the diverse shape and size of the products we sell, and global nature of our sourcing meant that suitable reusable pallets just didn't exist for every product. So we had to create an entire supply chain to make it happen.
In partnership with Scotts we have a developed a ground breaking Green Pallet Scheme. Offering returnable pallets in bespoke sizes; made only of responsibly sourced timber and operating globally the Green Pallet Scheme is for suppliers whose only option previously was single use, white pallets. The Green Pallet Scheme targets areas of the global pallet market unsupported by existing providers.
The programme involves stakeholders from across our business and throughout our supply chain: from the people at store segregating waste into even more streams, to the teams at our Distribution Centres ensuring the Green Pallets don't get lost through our processes. Our partner, Scott in creating high quality returnable Green Pallets in bespoke sizes at no additional cost and the teams at customs identifying that our Green Pallets don't need to be fumigated with methyl bromide when exported back from China to the UK.
This is a sustainability initiative that delivers against all three of the pillars – better from the environment, better financially and better for people. It moves us closer to our One Planet Goal.
Initially, 4 suppliers joined the Green Pallet scheme, covering 10 product types and 3 countries, resulting in 100,000 sustainably sourced pallets being repatriated and at least 5,000 fewer tonnes of virgin wood used in a matter of months. Fewer products are damaged in transit as the pallets are more robust than their single use predecessors. As the size is now known in advance, transport can be planned more efficiently.
Established returnable pallet suppliers have demonstrated the case for equipment to be re-used. This helps to address cost, sustainability and efficiency criteria The Green Pallet Scheme can be both set up with new suppliers or introduced with existing suppliers. The delivery and success of this relies on the engagement with supply chain and commercial teams, which can provide challenges, but learnings are taken and improvements made with every supplier brought onto the scheme.
One Planet Home