5 ways we are helping to protect the world's forests
All B&Q timber products must comply with our rigorous Timber Policy, plus we have full chain of custody with FSC® and PEFC.
At B&Q, we recognise how important forests are to our climate, to wildlife and to the people who depend on them for their livelihood. We require high standards for the wood that we buy, whether sourced from a rainforest or a softwood plantation. If wood is sourced responsibly, it can be regarded as renewable as new trees will thrive where an older tree has been felled. If wood is used in the fabric of our buildings or in furniture, the carbon the tree has captured is locked up for the long term. A forest can be carefully managed sustainably for the long term, providing income for local people as well as habitats for wildlife.
Illegal and irresponsible logging can cause immeasurable damage. When rainforests are cleared, the land may be used for palm oil production or for cattle ranching, often employing far fewer people and, in the case of palm oil, fires can pollute the air over a massive area. In cooler climates, irresponsible logging may damage local wildlife.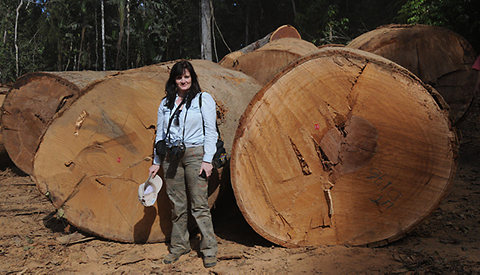 Every product we sell that contains any paper, card or wood must comply to our Timber Policy. This includes products where is may not be immediately obvious - for example, some plastic paint brushes have a wooden ferrule inside. There are over 17,000 products which we apply our timber policy to – and we are very proud of having achieved 100% compliance.
Our Timber Policy includes rigorous checks to ensure that the wood does not damage ancient forests, harm wildlife or jeopardise the future of communities who depend on the forest. Because we know where our timber comes from, we know that the trees have been felled legally. We use independent expert organisations to police this process.
Respecting the rights of indigenous people is an important requirement for B&Q's Forest Friendly programme.
B&Q has full chain of custody with both FSC® and PEFC. Look for our chain of custody number on the till receipt. It's the only way we at B&Q can give assurance to our customers that our products can be bought with full confidence that they've not contributed to deforestation.
If it is claimed that a product is made from recycled materials, we must have 3rd party independent verification to prove that the material is genuine recycled waste.