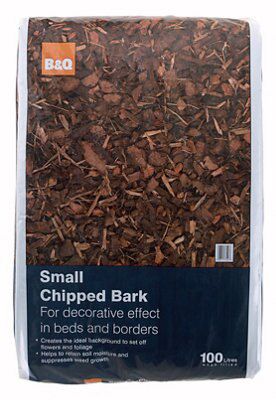 Our stores do not stock this product
Product details
Product information
This bark chipping is suitable use in ornamental garden areas.
Features and benefits
Apply a mulch to bare soil to conserve moisture
Protect plant roots from extreme weather conditions
Good for decorative effect
Bought these for my fairly large borders to supress weeds and give decorative effect. These are heavy so I used a wheelbarrow to get them from the boot of my car into the garden. A sturdy young B&Q assistant had put them in the boot for me. I was rather dissappointed with the bark as the pieces were bigger than expected and there was a high percentagage of wood chippings, some 6 or eight inches long . Like kindle wood, spread over the borders. They started out brownish but after some rain turned white and stood out spoiling the overall brown carpet I was hoping for . I have spent some time picking out the largest sticks but too many smaller ones remain. So its a mixture of chipped bark and chipped wood!
I did put weed supressant fabric down first which is essential and so far the borders have remained practically weed free. Which is good.
Definitely not small bark
diggerjules - 5 years ago
Having read previous reviews I wanted to ensure I bought the correct size and sure enough the photos on the pack showed small bark chips.
What you actually get are huge chunks, twigs and strips. Some 15 cm long. Hardly small and definitely not as advertised.
However for our application they did the job. They just don't look ornamental.
large bark
We bought some of the large bark and have to say that we are very pleased. I do not know what your previous reviewer bought but there was nothing wrong with the 8 bags that we bought. With the present deal, it was excellent value for money.
Was fine
Bought 4 bags, although it should be called wood chippings because it's not 100% bark it was what I expected. it did the job & was cheaper @ 4 for £20 than many others. You get what U pay for plus a bit more this time
Not as described
When opened this product was mainly pieces of wood and twigs. It was not chipped bark and in no way matched the picture on the bag.