HBXL Estimating Service
HBXL and TradePoint have joined forces to make stressful estimating a thing of the past. To help relieve the estimating headache there are two options to choose from.

Estimating Service
With HBXL's estimating service at TradePoint, you can get professional estimates produced easily, quickly and accurately from your plans. To find out more call HBXL today on 0845 1234 053 or email estimatingservice@hbxl.co.uk
What your estimate includes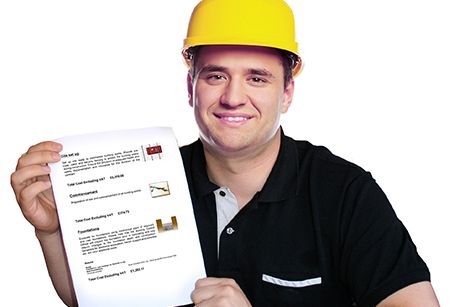 Unlike other estimating services on the market, HBXL go that extra mile - using award-winning EstimatorXpress® software to ensure total accuracy. They never miss a deadline.

You'll receive a comprehensive estimating pack with a complete cost report, a suggested build program, detailed materials schedule with TradePoint product codes where possible, and an impressive quotation that you can give direct to your customer to help you win the job.You'll also receive a schedule of estimate assumptions that have been made so you're absolutely clear on what's been included in your estimate. Click here to view an example quote

Professional reports are supplied as Microsoft Excel files, including:
✔ Detailed cost reports by build phase and by resource type - includes building material prices from TradePoint.

✔ Estimates that include your labour rates - added in without charge! Not got time for this? HBXL can also use the national average labour rate

✔ Tell us your typical mark up and client address and HBXL will provide a quotation in a word document format – ready to give straight to your customer!

✔ Includes a schedule of estimate assumptions – so you're clear what's in your estimate

✔ And if you are an EstimatorXpress user we'll supply the EstimatorXpress file for you to import into your software too.


How long does it take?
The Estimating Service is fast and friendly, and guarantees a quick turnaround.

Standard Service:

✔ Small projects within 3-5 working days
✔ Larger projects within 7-10 working days
How much does it cost?
The service pricing is highly competitive and worth every penny when you win your next project. Recent HBXL research shows customers winning over 56% of the jobs estimated for them.

You can order and pay in-store at the TradePoint counter or pay HBXL directly via credit card, debit card or BACS transfer. Call 0845 1234 053
Find out more
1.) Call today on 0845 1234 053
2.) Or email your plans (PDF, Jpeg or BMP format) to estimatingservice@hbxl.co.uk
Services