Prepare for severe wet weather or flooding
Extreme wet weather conditions can cause serious disruption and damage to your home and in turn create unexpected costs and hassle.
We're here to help with simple steps that can be taken to avoid problems like these.
Current Promotions
Invest in flood protection

How to prepare your home for rain

Keep safe in unpredictable weather

Looking after yourself and your family

Useful services you may need

Dealing with rain and flooding

How to prepare your garden
Simple things you can do to prepare
If you live in an area that's likely to flood, it's important to be prepared. Floodwaters can rise very quickly, so don't wait until a flood warning is issued - this may not give you enough time to get things ready.
Here are some simple things you can do to prepare:
Make sure your buildings and contents insurance covers you for flood damage and keep the details of your insurance policies somewhere safe and handy.
Keep valuable items and documents in waterproof bags and store them upstairs or in high places.
Make sure you know how to turn off the gas, electricity and water at the mains - remember, you may have to do this in the dark, so make sure you know where your torch is kept and always make sure you have some spare batteries handy too.
Protect your home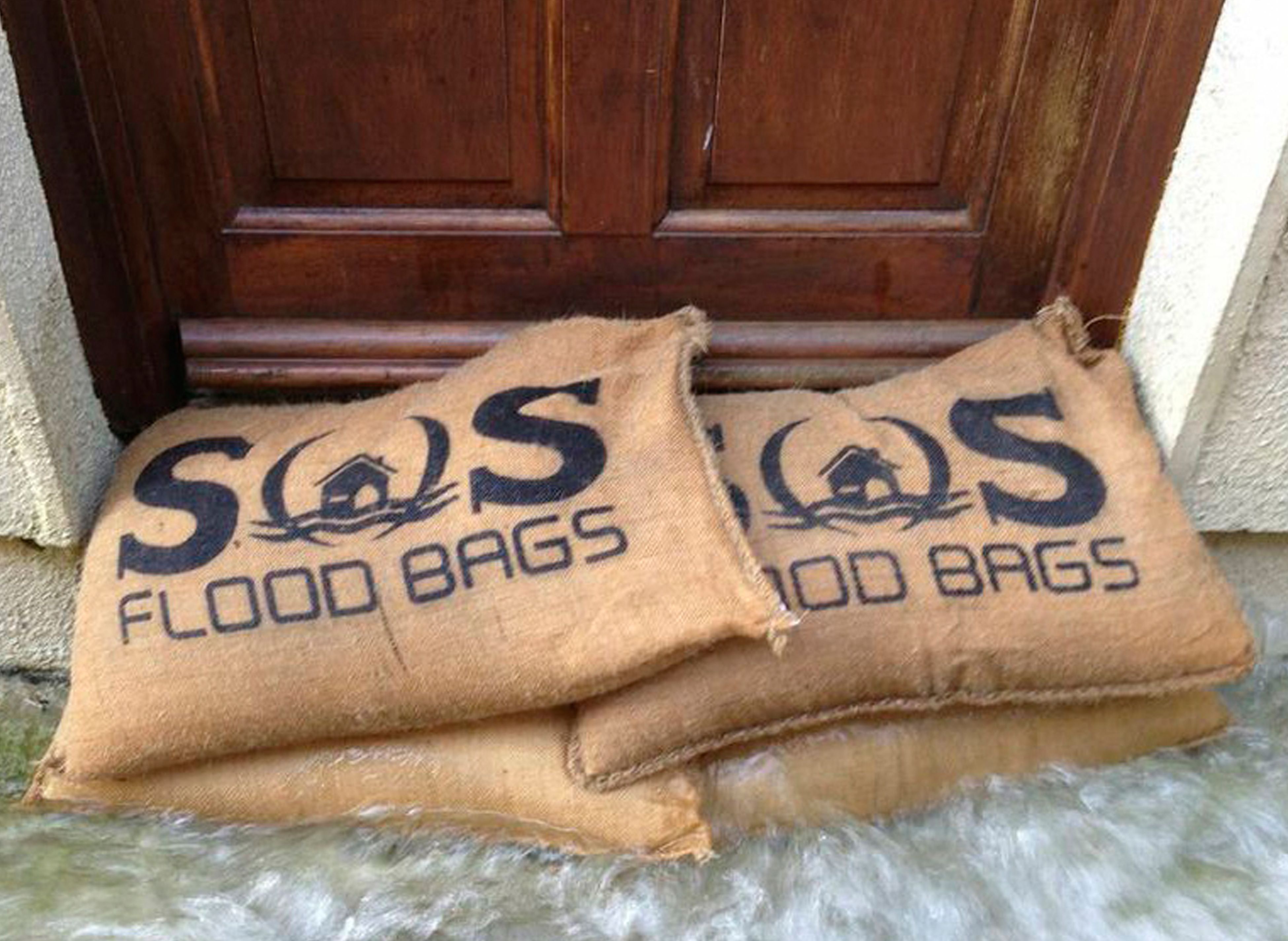 Sandbags
Sandbags have long been used to block doorways, drains and other openings into properties as well as to weigh-down manhole covers, garden furniture and to block sinks, toilet and bath drains to prevent water backing up.


Safety first: Filling classic sandbags and building a wall is a physically demanding activity so it is important that all those involved are fit enough to carry out the work.
Placing Sandbags:
Clear any debris from the area where the bags are to be placed. If you can, put a large sheet of heavy-duty plastic or tarpaulin between the sandbags and the wall of your house. Place the bags lengthways, and position pointing into the direction of water flow. Place bags in layers. Like a brick wall, make sure that in the next layer each bag overlaps the one below by half. Stamp bags firmly into place to eliminate gaps and create a tight seal. In areas prone to flooding, your local council may even issue you with sandbags. Don't forget that in an emergency you can make your own sandbags by filling pillowcases with sand or earth.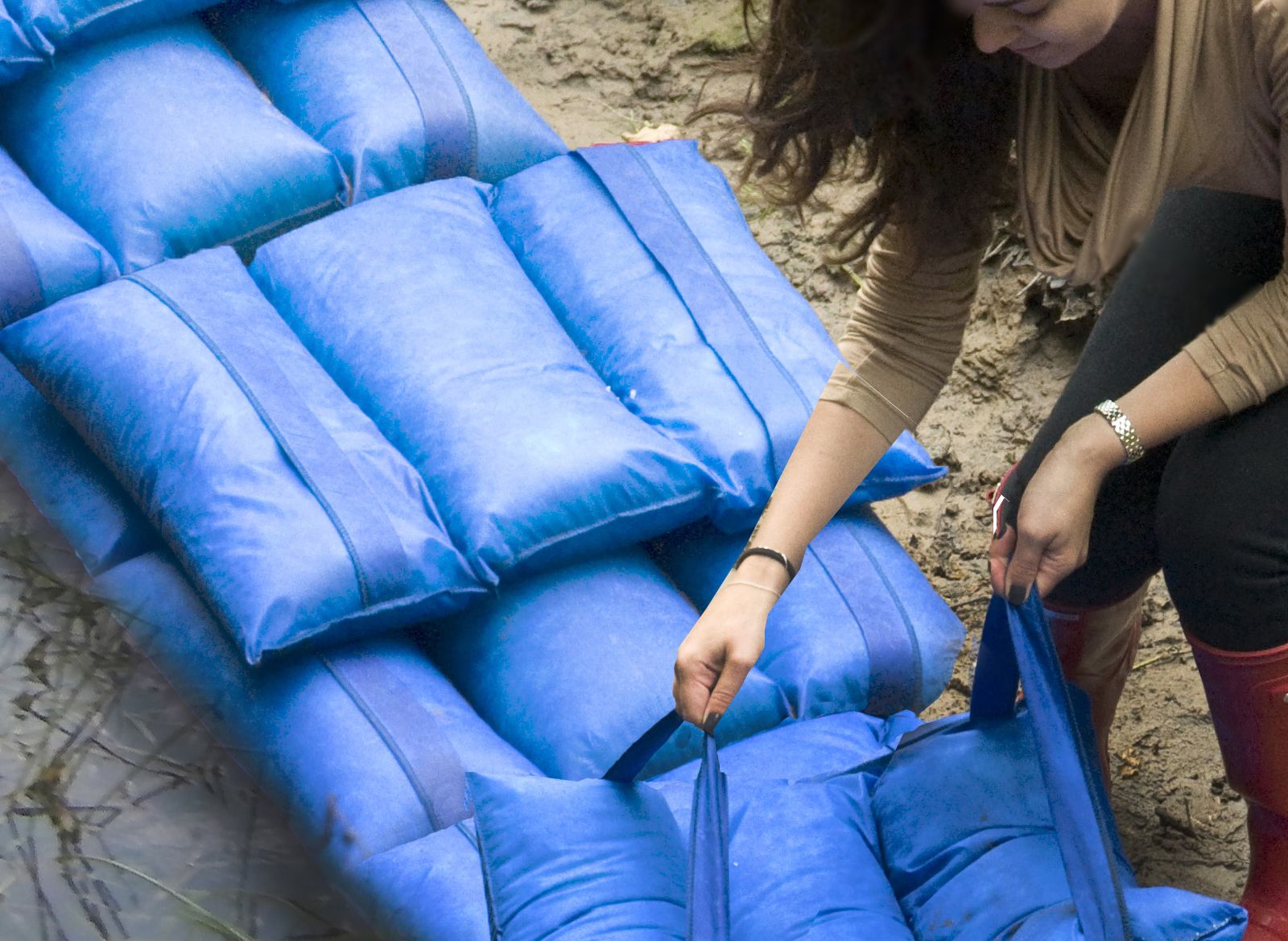 Hyrdo Sacks
Sandbags can keep water out for short periods, however, they can be difficult and are time consuming to fill. Hydro Sack is the new, modern method to create a highly effective barrier to the threat of flood water. Within minutes each Hydro Sack can absorb up to 20 litres of water, which will not be released even when punctured.
When built into layers, the Hydro Sack wall produces a highly effective barrier to flood water. Owing to their suppleness, they fit into openings and door-wells snugly, improving their flood prevention qualities.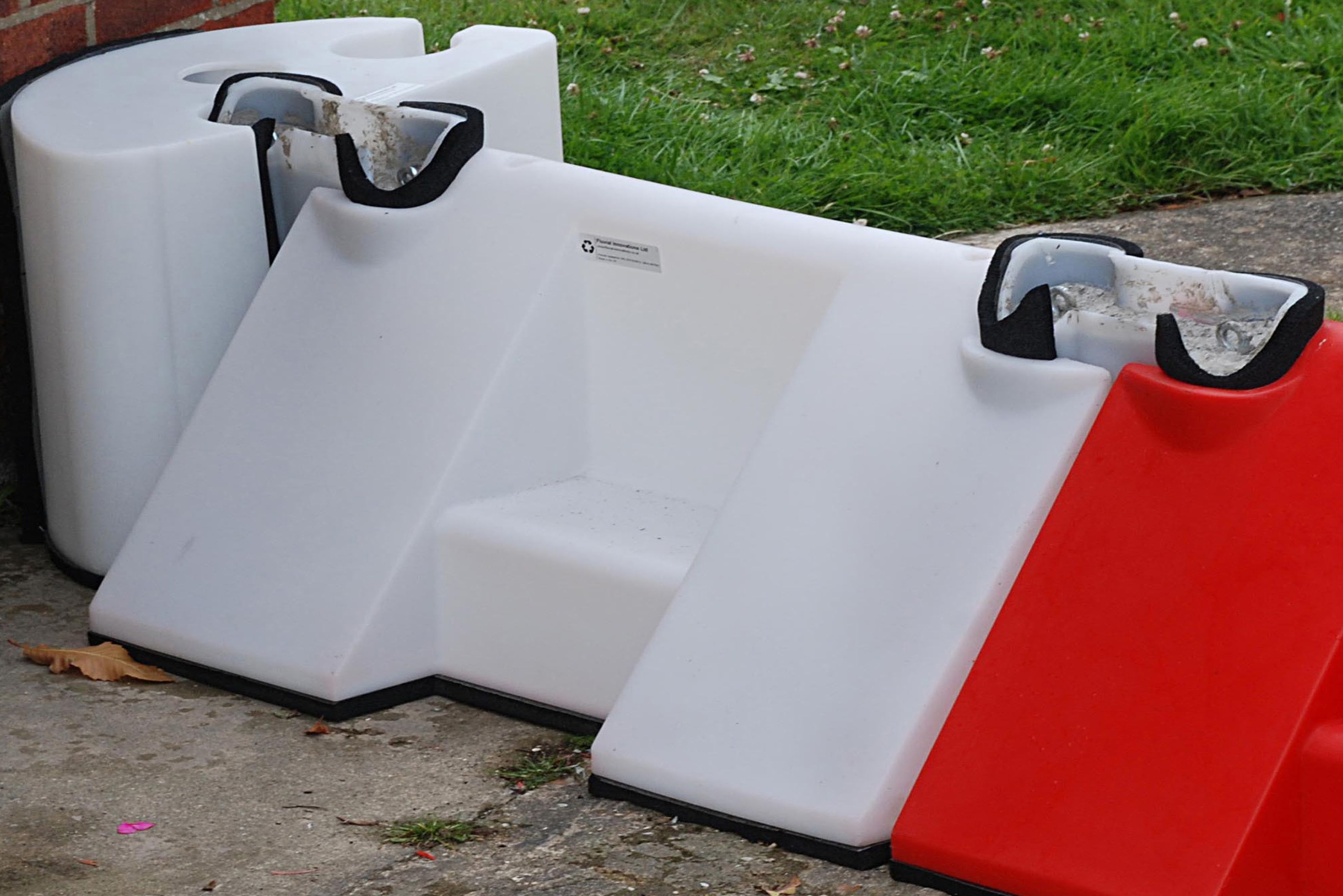 Flood barrier products
Floodstop Flood Barriers, once connected together, rapidly deploy an effective flood barrier to any length. The plastic Hub fills with flood water and combined with the weighted Hub Keys, means that an assembled barrier will always be denser than the flood water. No bolting to the ground is required and when the waters recede, the units empty themselves and become light enough to be carried away.
Make an emergency plan
Think about what you would do in an emergency. Discuss the plan with your family or housemates, so that everyone knows what to do.
If you have a car, where would you move it?
If you need to leave your home, where would you go and how would you get there? What would you do to secure your home before you leave?
What would you need to do before you leave?
Make a list of essential items (aside from an emergency kit) you'd need to take, such as important personal documents
How would you keep your pets safe? If you have to move, would they be able to stay with you, or would you have to make other arrangements.
An emergency kit
When extreme conditions are forecast, it makes sense to be prepared by putting together an emergency kit.
Items might include:
Essential medication
Drinking water and non-perishable food (and a tin opener!)
Camping stove, kettle for boiling water, and matches
List of useful numbers, such as your local council, your insurance company and local emergency services
Note of personal information such as your bank details, insurance policies and national insurance numbers
Essential items for children, such as nappies, baby food, clean clothes and toys
Food and bedding for your pets
Battery-powered radio
Fully -charged mobile phone.
Waterproof clothing
First aid kit
Disinfectant
Blankets
During a flood
When flooding starts you should stay somewhere safe and be careful. It is your responsibility to look after yourself and your family during a flood.
Don't leave your home unless you have to
Don't try to walk or drive through floodwater
Phone Floodline on 0845 988 1188 for the latest flooding information in your area
Avoid contact with floodwater - it may be contaminated
Tune into local TV and radio for the latest updates.
Look out for neighbours that may be old or vulnerable, they may need help.
Did you know...?
You can sign up to receive flood warnings at Floodline Warnings Direct. This free service will alert you by phone, text, email or fax if there are any local flood risks and give you time to prepare. For further advice call Floodline on 0845 988 1188 (service available in England, Wales and Scotland).
Other useful services include:
www.environment-agency.gov.uk/flood (England & Wales)
www.sepa.org.uk/flooding (Scotland)
www.flooding.ie (Republic of Ireland)
Make sure your buildings and contents insurance covers you for flood damage and keep the details of your insurance policies somewhere safe and handy.