Repair after severe wet weather or flooding
Cleaning up
If you are unlucky enough to be the victim of flooding, you will need to work hard to get your home back to habitable condition.
Before you start cleaning up, take photos of the damage and mark the highest level of the floodwater on your wall. This will help when you make your insurance claim.
Safety first:
After flood damage it is very important that you get the electrical and gas systems checked by a registered professional before you attempt to use them again.
Even if they appear to work, they may have been damaged by water or mud, and could be dangerous.
Step 1 - Draining the water
Once the floodwater has subsided start clearing standing water as quickly as possible. A water pump is essential for this, and you may need a portable generator if there is no mains electricity supply.
If there is a mains supply available, remember to use an RCD adaptor if using an electric pump.
Only pump out flood water when flood levels outside your property are lower than inside. This reduces the risk of structural damage. It's a good idea to contact a structural engineer before pumping very deep water from basements.
A good quality pump should last around 10 years, depending on how often it is used and the acidity and dirtiness of the water. If you live in an area prone to flooding it's a good idea to regularly check and test your pump.
Research generators to buy in store
Step 2 - Removing wet furnishings
Remove anything that is wet from the house. Take furniture, rugs, bedding and clothing outside to dry as soon as possible.
This includes any flood protection equipment you have used; remove this as quickly as possible to help speed up the drying out process.
A builder's rubble bag or large bucket will be useful when removing wet furnishings quickly.
If mould and mildew have already developed on furnishings, brush them off while outdoors to prevent scattering spores in the house.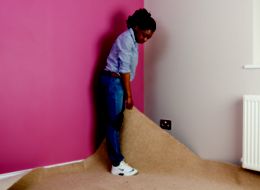 Step 3 - Carpet cleaning
Clean and dry carpets and rugs as quickly as possible.
If the carpet has been soaked for more than 24 hours, replace it. If the carpet has been wet for less than 24 hours, you can clean it or hire professional cleaners to help you.
If you experienced only mild flooding, it is worth investing in a wet & dry vacuum cleaner which is able to remove both clean and dirty water from your carpet.
However, for ground floor room, a wet & dry vacuum will not be able to remove the slit & sludge carried in by outside flood water.
If sewage contaminated floodwater covered your carpeting, discarding the carpet is best for health & safety reasons.
If you are determined to salvage carpeting soaked with contaminated water, it's best to consult a professional cleaning company that services carpets at its own cleaning and drying facilities.
A wall-to-wall carpet soaked by clean rainwater can be salvaged. Have it professionally cleaned or clean it using the directions below.
To clean:
Remove any smaller carpets or rugs and drape outdoors over a washing line (if you have one) and hose them down
Work a disinfecting carpet cleaner into particularly soiled spots with a broom
To discourage mildew, odours and mould, rinse carpets with a solution of 2 tablespoons bleach, 4.5 litres of water (do not use this solution on wool or nylon carpets)
Make sure the carpet or rug is dried thoroughly before it is brought back inside the house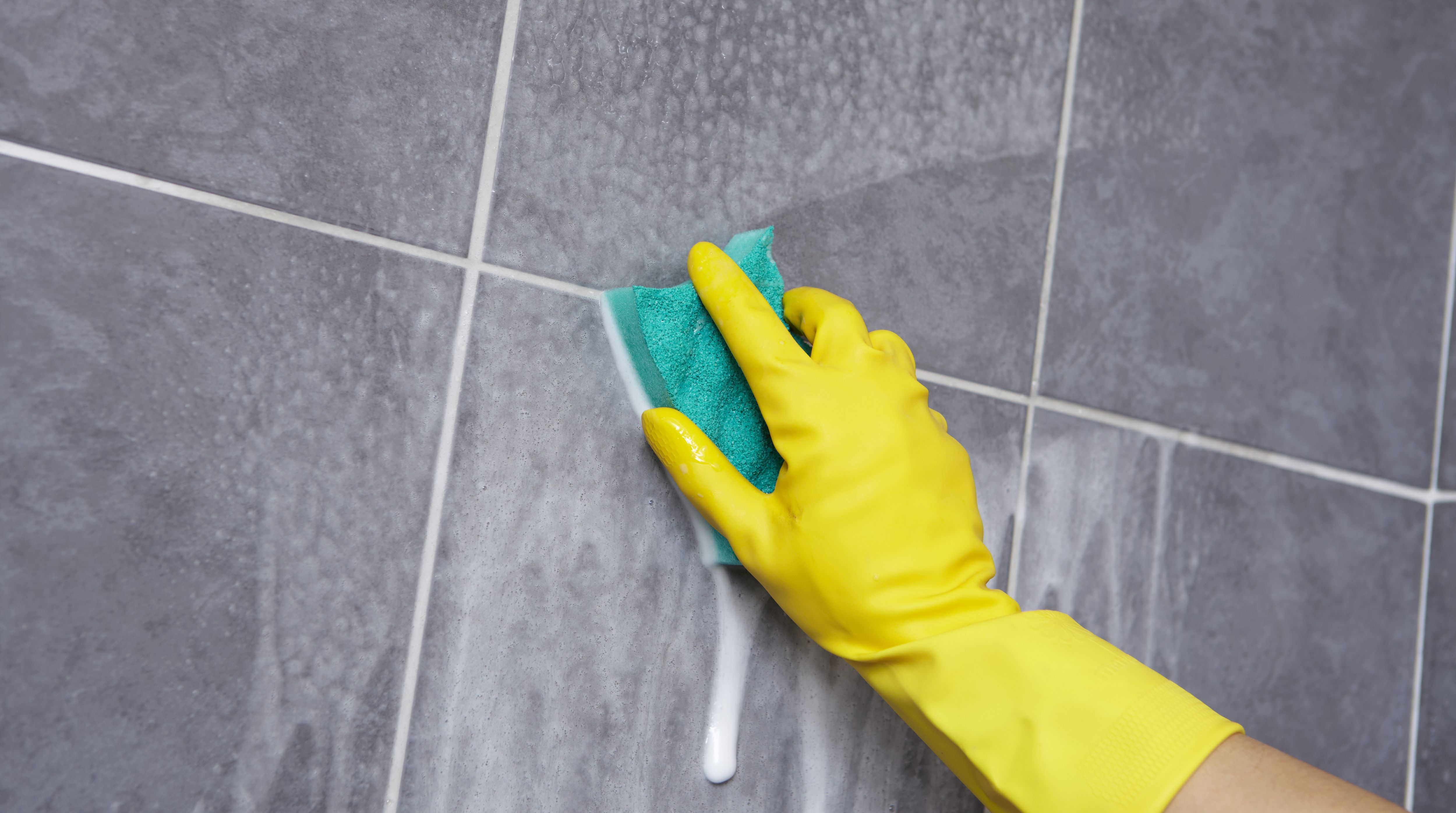 Step 4 - Cleaning up rooms
Floodwater is usually dirty and can contain sewage, chemicals and other contaminants.
Don't forget to invest in protective waterproof clothing before you start cleaning.
Shop protective clothing
Infants, pregnant women and people with health problems should avoid the flooded area until the clean-up is complete.
Tackle one room at a time.
Shovel out as much mud as possible, and then use a garden sprayer or hose to wash away mud from hard surfaces. It might be a good idea to invest in a pressure washer to ensure stubborn, contaminated mud is fully removed.
Clean and disinfect every surface.
Scrub surfaces with hot water and a heavy-duty cleaner. Disinfect surfaces whilst they are still damp to stop mould and mildew forming, and to eliminate smells.
It is especially important that you wear your protective clothing, especially gloves, whilst doing this.
Cleaning up living rooms:
Upholstered furniture soaks up contaminants from floodwaters and should be cleaned only by a professional
Water damaged wood veneered furniture is usually not worth the cost and effort of repair. Solid wood furniture can usually be restored, unless damage is severe
Mattresses should be thrown away
Toys and stuffed animals may have to be thrown away if they have been contaminated by flood waters
There's a danger of electric shocks when dealing with electric appliances, such as TV sets and radios. Make sure you check the labels on the back of any devices
Professional cleaning is recommended for electronics such as washing machines, dryers, dishwashers and vacuum cleaners, as well as certain TV systems
Make sure the carpet or rug is dried thoroughly before replacing the carpet
Drying out
Before you can move back into your home and start redecorating, your home will need to dry out completely.
Drying out may take several weeks, or even months, depending on the severity of the flooding and the materials your home is made from.
Thorough drying can be done in 2 stages:
1. Drying - Removing water into the atmosphere.
Speed up the process by heating the house, and open the windows for ventilation.
Open cupboard and cabinet doors, and remove any drawers to allow further air circulation. An electric heater can help the drying process, but be sure to check the electricity supply is safe before you start using any electrical machinery.
2. De-humidifying - after the initial drying process, invest in a dehumidifier to reduce the moisture in your home.
Dehumidifiers are designed to reduce the amount of moisture in the room.
They do this by drawing excess moisture from the air - helping to combat condensation, mould and damp on the wall, as well as peeling paint & wallpaper.
To get the best from a dehumidifier, it's a good idea to vacuum beforehand - so you're not spreading around irritating dust particles or clogging up the air filter (if your dehumidifier has one).
Set the dehumidifier away from walls, furniture and curtains and empty the collected water out of the dehumidifier after every use, especially before moving it to another room.
Redecorating should be left for at least three months after repairs have finished.
Painting or papering too soon may result in mould, blistering and peeling. When repainting emulsion, staining may occur but this can be avoided by using an oil-based or stain-block paint before final painting.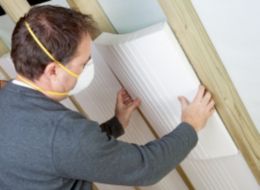 Ceilings & walls
Low permeability wall coatings, like vinyl wallpaper, gloss paint and tiling, will slow down drying of masonry partitions and could cause rotting in timber stud partitions. Remove them from at least one side of internal walls to speed up the drying process.
Plaster and panelling can often be saved, but air must be circulated in the wall cavities to dry the studs and sills.
Remove the skirting boards and cut or drill holes through the plasterboard or dry-lining to drain out trapped water and to aid drying out.
If the plasterboard or dry-lining are beginning to distort remove up to at least the highest water mark, let the timber studs dry out and then replace.
Remove any insulation that has become wet as it will retain water and slow the drying out process. It may need to be replaced as it tends to reduce in thickness and effectiveness.
Wear protective equipment (e.g. clothing, gloves, goggles and a face mask) when removing fibreglass insulation as it is an irritant.
Cavity wall insulation can be damaged by flooding. If you think that this is the case in your home, seek expert advice - you may have to have the insulation replaced by specialist contractors.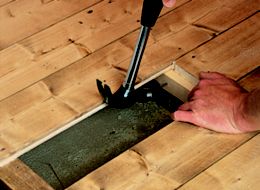 Flooring
Flooring and floor tiles may need to be removed to allow thorough drying.
Wooden floors should be dried gradually. Sudden drying could cause cracking and/or splitting. Hardwood floor boards should be removed to prevent buckling; remove a board every few feet to remove buckling caused by swelling.
Clean and dry wood thoroughly before attempting repairs.
If carpet can't be removed and cleaned, dry as quickly as possible using a wet/dry vacuum cleaner and dehumidifier.
Use a fan to circulate the air above the carpet and, if possible, lift the carpet to ventilate with fans underneath.
Prepare for the future
If you live in an area prone to flooding, you could consider following the advice below to help prevent further damage to your home:
Using hard wearing floor tiles instead carpet and laminate wood flooring.
Electrical sockets could be raised to a height of at least 1.5m in ground level rooms to prevent further damage.
Using lime plaster on walls instead of gypsum plaster.