Our charity partnership with Shelter

We're working with Shelter, the leading charity tackling poor housing and homelessness, to improve the lives of thousands of people through practical DIY and home improvement help, and funding of frontline services.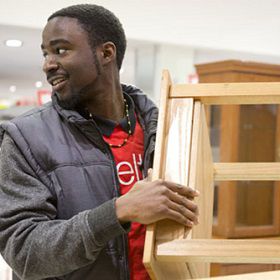 If you've ever taken on a project in your own home, you'll know that home improvement is one of the things that really makes a difference. It can transform somewhere you simply live, into your home.
Our work with Shelter will fund a network of specialist home improvement advisers, who will provide practical home improvement help to people as they settle into a new property after a period of homelessness, and help people at risk of homelessness to stay in their current home. This can include basic DIY skills such as how to put up blinds or paint walls, as well as improving home security.
As the UK's leading home improvement retailer, we are delighted to support this important initiative as part of our commitment to making home improvement accessible for all.
To find out more about Shelter's work, visit their website www.shelter.org.uk.
We work with Shelter in England, Wales and Scotland and with its partner charities - Focus Ireland in ROI and Housing Rights in Northern Ireland.
Corporate
Community
Media centre