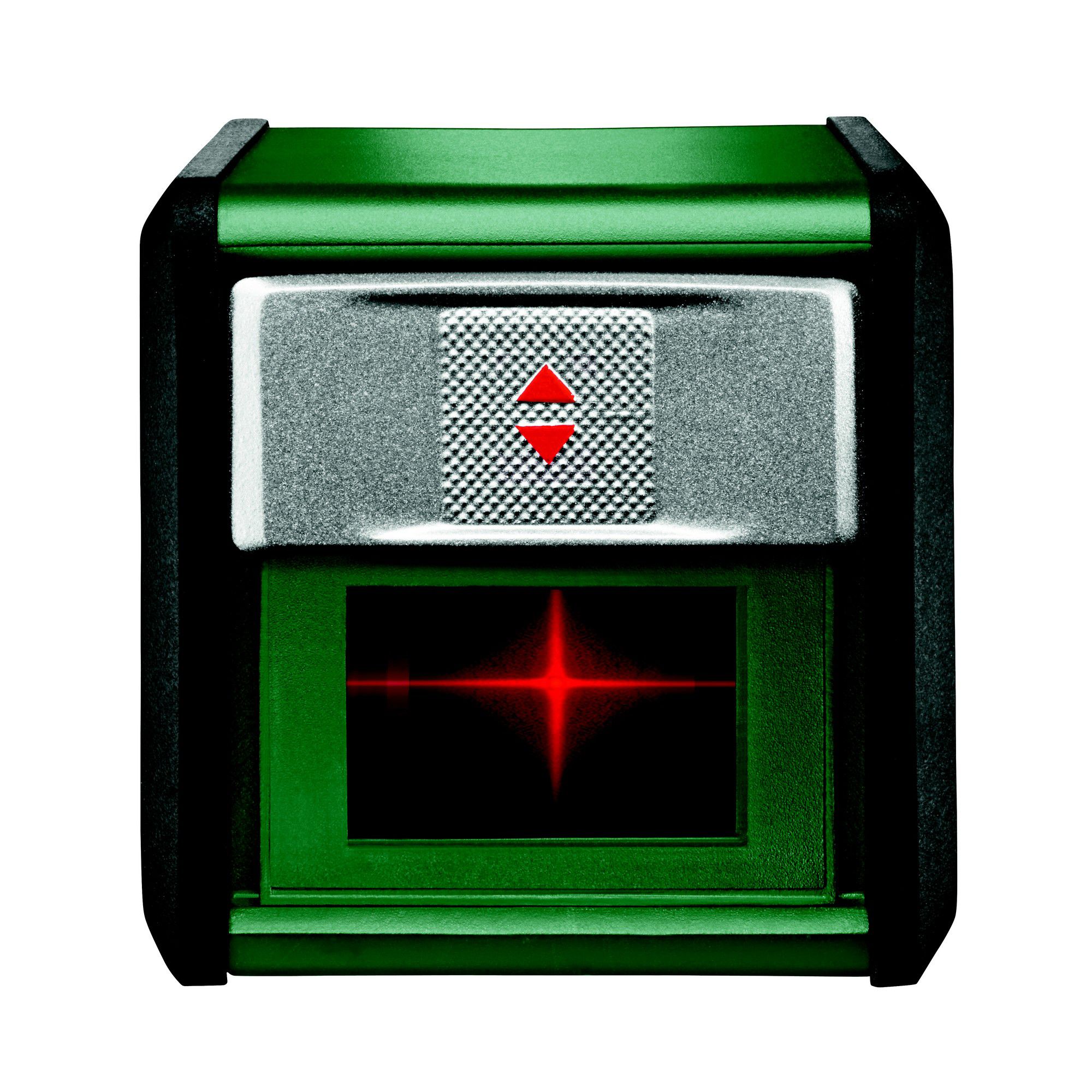 Bosch Quigo 7m Laser level
Product details
Product information
This Quigo cross line laser level is specially designed for aligning and levelling. It can measure accurately within +/- 0.8mm/m.
3 years Guarantee
Included: 2x batteries, mm2, adapter plate and instruction manual
Features and benefits
This measuring tool simultaneously projects a horizontal as well as vertical laser line and makes automatic alignment, always 100% straight
The universal clamp that comes with this tool ensures flexible positioning
It helps to level pictures and shelving internally
It projects a laser cross for levelling and alignment and offers auto shut off feature (within 20 minutes)
Specifications
| | |
| --- | --- |
| Laser line axis | Horizontal & vertical |
| Location | Indoor |
| Measuring accuracy | 0.8mm |
| Pack quantity | 1 |
| Product height | 65mm |
| Product width | 65mm |
| Product weight | 220g |
| Working range | 7m |
| Product code | 3165140836074 |
Floor levelling
Doityoursefdad - 3 months ago
I used this to level a new floor to the existing floor and it worked perfectly. Auto level can sometimes be a pain but overall wouldn't complain with the product.
Scrap
I brought this to help set levels as building extension. There is no self leveling. I had to redo hours of work! Theres a reason why the majority are expense
If I could give 10 stars I would..
Renovation of No37 again - 9 months ago
I thought I would show the tool working inside the house in daylight.. I have just used it for the setting of a false ceiling in the old part of my kitchen extension.. I set the laser on the RSJ using the supplied clamp.. The line was 16mm(+ / - 1mm which is close enough for me) at the tool when measured through from the new joists.. I set a 16mm pitch line on my wood wall plate and levelled it to the laser on the back wall. The laser line is still the same width 4m away so easy to be within my + / - 1mm..
great help without the use of string lines etc..!!
Great little tool!!!
Renovation of no37 - 1 year ago
I am a DIY'er and building my own kitchen extension. I wanted a way of confirming my levels across the back of the house ready for cutting in my RSJ across a 5.5m length.. the laser in the sun was not very visible as I expected. Last job tonight though it worked a treat... good line right across the back of my house and with the self levelling laser it's Guarenteed to be right..

A bad point for this is that the horizontal can only cone straight out of the unit if you want to use self level so I had to get it to the right height on a old tripod I had. Worked perfect though at that.
Would really recommend this. I can see uses for it all over..!!!
Inexpensive for what it is, very effective.
I was looking for a cheap laser level for marking out a horizontal for gutters (the drop needs to be so slight, I could not rely on a spirit level being sufficiently accurate). Hiring one would have cost more than half the price of this one, so use it twice and its paid for itself. Imwas looking to buy a slightly cheaper one, but this came with the clamps, so I paid ten quid more, and it was worth it. With the laser clamped to the fascia,it was easy to mark out positions for the gutter brackets. For distances over 2m, in shade on a cloudless sunny day, the laser is not so easy to see, but with a piece of white card held edge on to the fascia, its easy for the full length of the house. Without the clamp, it would have been a challenge (or two person job), but with this, I was done in a couple of hours. I am sure it will get more use. Self-levelling is a must, so you know its horizontal (or vertical); its really not hard to get it close enough for the self levelling to kick in. The whole thing feels reasonably solid for DIY use: some Bosch consumer products have been disappointing in recent years, but this reminds me of when their tools were solid, even though its made in China (not all chinesium is bad).