Click + Collect
Simply choose and pay for your items online, and pick up free of charge from your nearest B&Q store
Our Click + Collect is a next day service. However, due to extremely high demand at present this may take several days. Thank you in advance for your patience and understanding.

If you have placed a Click + Collect order, we will contact you when your order is ready to collect. Please do not travel to store until we confirm your order is ready for collection.

At this unprecedented time, our teams are working hard to ensure you can collect your items in a safe and secure way. If delays or issues occur, please be considerate to our team and other customers. We are all in this together.
Click + Collect: How it works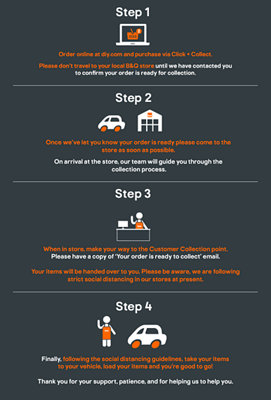 At B&Q, we offer a variety of home delivery services to help you get everything you need for your DIY project, direct to your door.

Find out more
Bulk product Click + Collect
A selection of our bulk buy products are only available in certain stores. You can view the list of stores here.
Once you've placed your order
We'll email you confirmation of your order, and you'll receive a text or call from your store as soon as your items are ready to collect.
What do I need to bring to collect my order?
Challenge 25
Consumer laws control the quality and safety of goods and services. In some cases, goods (such as knives) cannot be supplied to anyone below a certain age. At B&Q, we operate a Challenge 25 policy for purchasing any age-restricted goods. Please make sure that you have valid photo I.D. when collecting your items, otherwise the sale may be declined.
You will also need to bring
A copy of your order confirmation – either on your phone or tablet, or a printed copy of the email
The payment card that you used to pay for this order or,
A current photographic driver's licence, passport or a PASS accredited proof of age card.
For PayPal orders, you will need a current photographic driver's licence, passport or a PASS accredited proof of age card.
We can't release your order without verifying your ID.
Can someone collect on my behalf?
We're happy for someone else to collect your order, but to protect you from fraud, the person you've nominated must present a copy of the order confirmation and their photo ID (passport or photo driver's licence).
Can I cancel my Click + Collect order?
If you've changed your mind, not to worry, you can call your collection store directly. They'll be able to cancel and refund your order. Alternatively, if you don't collect your order within seven days, we'll know to issue you a refund.
Customer support