See more Toilet Repair & Fittings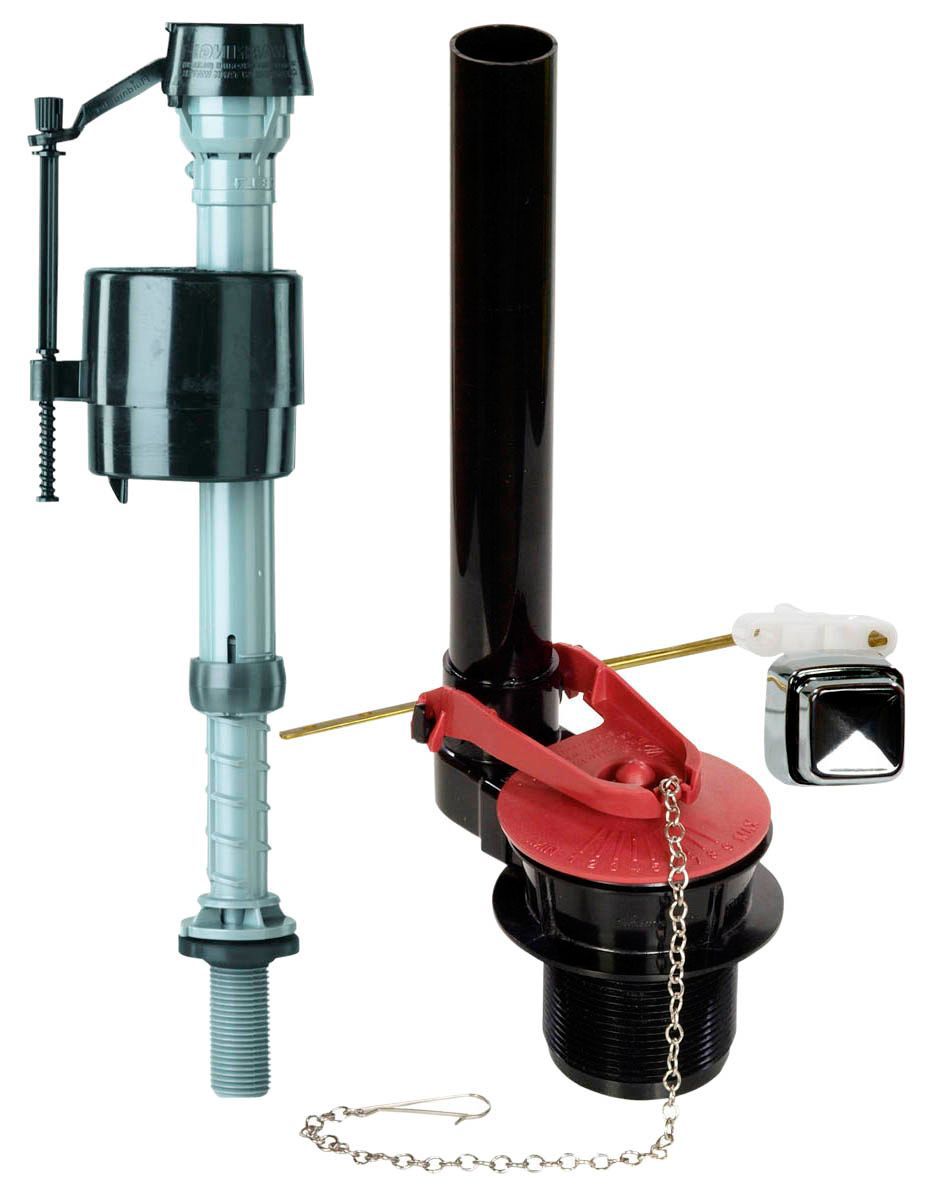 Fluidmaster Black Plastic Cistern conversion kit
Product details
Product information
This black cistern conversion kit from Fluidmaster is suitable for Suitable for right, left, corner or side-mounted cisterns. It comes with a fill valve and flapper valve.
Features and benefits
Complete modern replacement for old style flush valve, inlet valve and cistern handle
Includes the popular quiet Fluidmaster 400UK bottom inlet fill valve
Chrome plated push button adapts to fit right, left, or side mounted cisterns
Easier for children & the elderly to operate, without struggling against a syphonic action
Complete modern replacement for old style flush valve, inlet valve and cistern handle
Helps to make your toilet more water efficient.
Specifications
| | |
| --- | --- |
| Brand | Fluidmaster |
| Colour description | Black |
| Material | Plastic |
| Pack quantity | 1 |
| Model | 400UKK074 |
| Ease of application | Easy |
| Product code | 0039961740014 |
Works a treat
flushed with success - 3 years ago
I have repaired the siphon system in my toilet cistern several times over the years and it was difficult to find spare parts. It failed yet again and I was reckoning on changing the cistern, or installing a new complete toilet, until I came across a reference to this product. I had looked at a similar device some time ago but they weren't available for a cistern with the operating lever on the side. This promised to replace any handle operated system so I bought it and it turned out to be a very good purchase. I was competent to remove and replace the close coupled cistern. Fitting the new components, after removing and throwing away the original ones, was straightforward. This is the "new improved" version. Several people found that the push button mechanism was too big to fit into the hole where the lever handle used to be. This new version comes with 3 spacers, just slide them off until the mechanism fits into the hole. I found I had to remove 2 spacing rings and the mechanism was a snug fit into the existing hole. The new flap valve mechanism is far better than the original siphon system and gives a greatly improved flush. I am very impressed with this product and it was easy to fit and works perfectly. Spare parts are readily available if you want to get a couple of bits and pieces to "future proof" it.
Excellent for replacing old lever system
Replaced 3 older type lever and valve systems in my house. Much quieter, more efficient and easier to use. Should have done it much sooner, saves on the water bill.
Poorly designed flapper mechanism
I bought this kit to replace the old ball valve and siphon in a close coupled WC. The filling valve is fine, is easy to fit and works well. However the linkage between the push button and flapper chain is just not fit for purpose in my view. It is just too "latchety" (i.e. too much free play) to work correctly. After a lot of fiddling and bending of the arm between the plastic actuating cam and the chain I did get it to work but the button had to be pressed right in (quite hard) and held there for the duration of the flush. I would give this important kit component 'nil points'. I replaced the flush mechanism with the fluidmaster cable release flush valve that has the lever after two days which is brilliant. That is available as a full kit option and could be a far better purchase in my view
Great and easy fixed
Bought this today, fitted within 30mins fantastic product and push button so no more snapped toilet handles
Great idea in principle
Great concept but fails in two regards. First the fill tends to catch on the side of the cistern so cistern does not refill - I had not thought the entry hole was unusually close to the corner before purchasing this item. More seriously, after about 18 months since purchase and in a guest bathroom, so used intermittently, the push fitting broke off as seen ion the picture. The plastic is far too flimsy and needs a decent metal fitting.