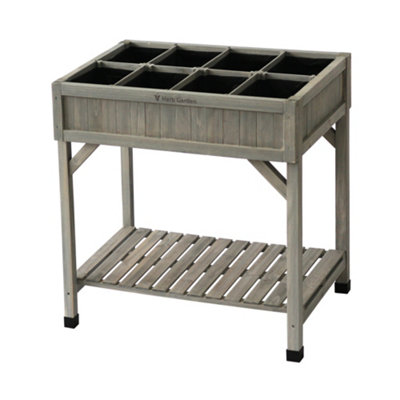 Raised Garden Planter- Herb Garden - Grey Wash (FSC 100%)
Sold & shipped by VegTrug
Available online only and not stocked in B&Q stores
Product details
Product information
Introducing the VegTrug 8 Pocket Herb Garden, the perfect solution for all herb enthusiasts and aspiring green thumbs! This innovative and compact herb garden is designed to bring the joy of gardening right to your doorstep, balcony, or patio, making it easy to grow your own fresh herbs at home.
Crafted with precision and attention to detail, the VegTrug 8 Pocket Herb Garden boasts a sturdy and durable construction. Made from high-quality sustainable materials, it ensures long-lasting performance, allowing you to enjoy the benefits of homegrown herbs year after year. The VegTrugs compact design maximizes space utilisation, making it ideal for small urban environments or anyone with limited gardening space
The VegTrug Herb Garden also has compatible accessories to pair with your planter which can be found here on B&Q!
Suitable for Outdoor use
All VegTrug wooden products are pre-treated in our factory with a water-based and food-safe preservative. We recommend re-treating products annually with a similar preservative. Availability and quality of such preservatives varies from country to country, making it difficult for us to safely recommend any. Where you live and the environment surrounding you will also affect how often the product needs to be treated. Drier, hot conditions will mean wooden items needs more frequent maintenance.
Manufacturer guarantee: 1 year
Features and benefits
Grow Fresh Herbs And Produce- One of the best benefits of growing your own herbs is having fresh herbs right at your fingertips, whenever you want or need them. When you have your own herb garden growing right outside your door, you'll always have the right ingredients waiting for you to make dinner time magic. Growing your own herbs means that you'll always have more than enough herbs than you can possibly use, leaving you plenty of extras to share with friends, family, and neighbours. Just think how popular you will be when you show up at the next dinner invite with a basket full of fresh herbs. Dried fresh herbs in pretty jars make wonderful gifts too!
Pre-formed Replaceable Liners Included
Pre-formed Replaceable Liners Included
Easy to build, setting up your VegTrug 8 Pocket Herb Garden is a breeze. With its user-friendly assembly process, you can have your herb garden up and running in no time. The included instruction manual guides you through the setup process, simplifying the entire experience.
Available in the Natural colour too!
Not only does the VegTrug 8 Pocket Herb Garden enhance your culinary endeavours by providing a constant supply of fresh, aromatic herbs, but it also adds a touch of beauty to your outdoor space. Its sleek design and natural finish blend seamlessly with any decor, whether you have a modern, traditional, or eclectic style
Say goodbye to store-bought herbs that lack flavour and freshness. With the VegTrug 8 Pocket Herb Garden, you can savour the pleasure of growing your own herbs, knowing they are free from harmful pesticides and additives. Embark on your journey to self-sufficiency and elevate your culinary creations with the VegTrug 8 Pocket Herb Garden today!
Equipped with eight deep pockets, this herb garden provides ample room for cultivating a variety of herbs, such as basil, mint, thyme, rosemary, and more. Each pocket is thoughtfully designed with proper drainage, ensuring optimal growing conditions and preventing waterlogging. The pockets are strategically placed, allowing the herbs to receive adequate sunlight throughout the day
Treated With A Food Safe Preservative
Specifications
| | |
| --- | --- |
| Drainage holes | Drainage holes |
| Colour group | Grey |
| Product height | 800mm |
| Product width | 780mm |
| Stackable | Non-stackable |
| Product weight | 8000g |
| Product shape | Rectangular |
| Colour | Grey Wash |
| Material | Wood |
| Weatherproof | Weatherproof |
| Product depth | 580mm |
| Product code | 4975149824304 |