Tarmac All-in Ballast, Large Bag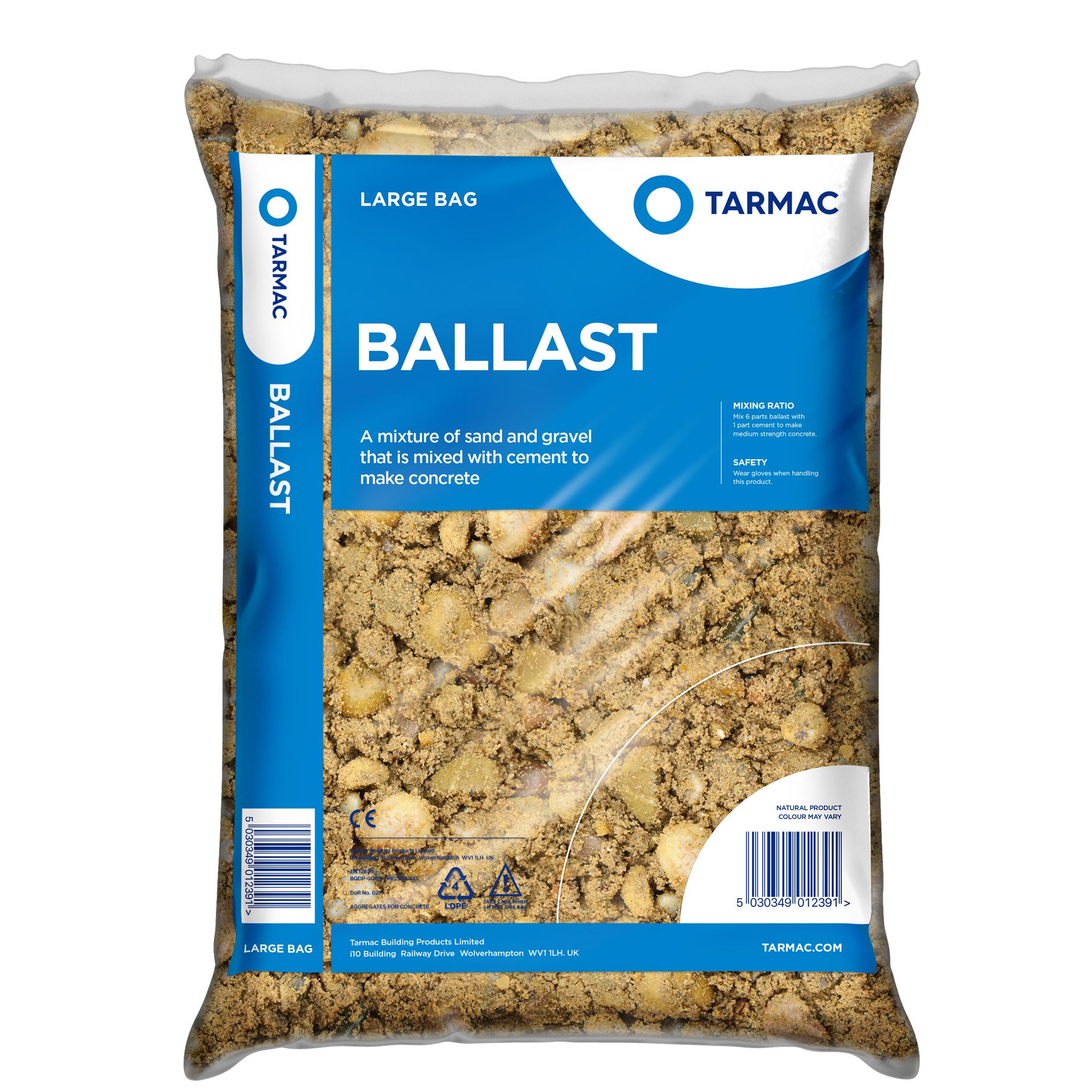 Product details
Product information
Features and benefits
Pre blended aggregates for use in concrete mixes with cement and water
Can be used to fill voids in construction projects
This is a natural product and colour may vary
Specifications
| | |
| --- | --- |
| Brand | Tarmac |
| Container type | Bag |
| Pack quantity | 1 |
| Size | Large |
| Material | Gravel & sharp sand |
| Range | All-in |
| Colour group | Natural |
| Product code | 5030349012391 |
Good quality product well packaged
The ballast was needed for a small job and was perfectly adequate for my needs. A positive was that the packaging is quite robust and did not get damaged during handling,

it was heavy but not too hard to lift into the boot of my car
Bag fill volumes vary massively
Stubuild77 - 6 months ago
Have just used 39 bags for a slab of concrete; thankfully we collected them.
The seal on the back of the bags is rubbish; many will be split, so flip them over before putting them on your trolley.
The volume of ballast in the bags varies significantly; whether you compare 2 wet bags or 2 dry bags you will see some are half full. You're not paying half for them, so this makes me dubious of bulk delivery. When mixing concrete, this really does make this poor quality and mis-sold as it's underweight.
No continuity with the amount in each bag
Robperry77 - 9 months ago
I recently did a concrete pad and needed some ballast on a Sunday so used the click and collect service. after getting through 45 bags it was clear to see some bags had over twice the amount of ballast in than others. I purchased from two didn't stores and all the bags had the same issue This made batching the concrete more tricky and I don't feel it falls in line with weights and measures regulations. As you are paying a set amount of money but getting varying amounts of product.
This varies so much batch to batch
Chris the path - 1 year ago
The first batch was large pea gravel, ie pebbles and sand. Difficult to work to cast slabs in situ with a mould, but the finished rough surface was suitable for a sloping path.
When I went to get more to complete the path the same Tarmac ballast was now crushed stone and a different colour. The appearance, both colour and surface finish, are totally different.
Tarmac Bag Of Ballast - Fantastic Quality!
Tarmac Ballast - All In One Bag
I Have To Comment On How Absolutely Brilliant This Product Is & Its Quality, Cheap As Chips Too!
Use Just One Full Shovel Full Of 'Mastercrete Cement' To 1 Full Bag Of 'Tarmac Ballast'
(5 Shovels Ballast (1 Bag) To 1 Shovel Of Cement) & What Can I Say But The End Result Is Just Pure, Proper, Solid & Strong Concrete!!
I Would Highly Recommend This Product Which Comes In A Strong Plastic Bag & It's Very Easy To Mix With, Just Don't Add Too Much Water When You've Mixed Ballast & Cement Together, Add Water Bit By Bit, As Some Of 'Ballast Bags' Contents Could Be Already Be A Little Wet When They Are Bagged Up.
10 Out Of 10