Yale Keyless Polished Chrome effect Smart Digital door lock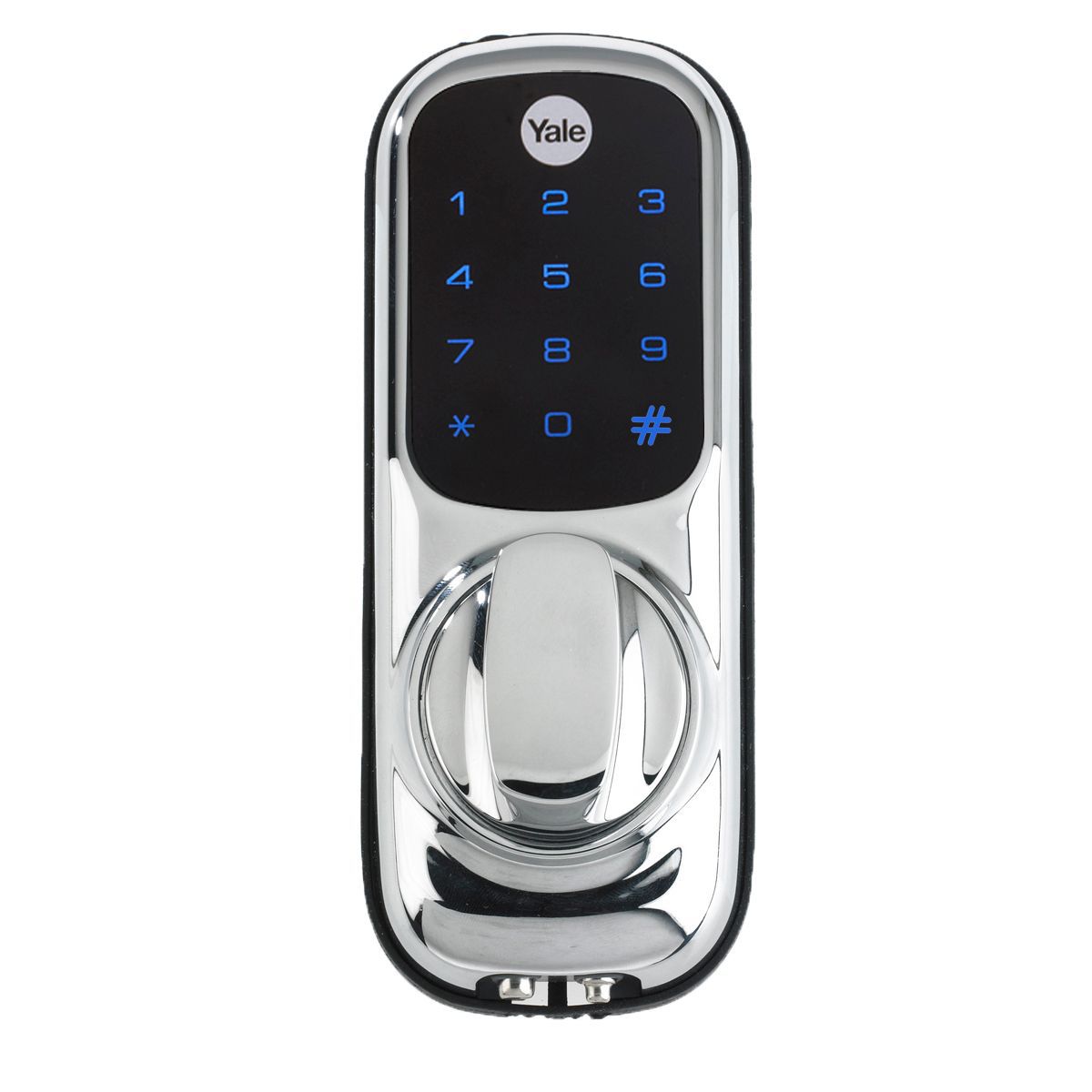 Product details
Product information
This polished smart lock is suitable for use with internal & external timber doors. Smart locks are an ideal solution for locations where multiple people require access.
Guarantee - 2 years
Choose from up to 20 different PIN codes and a variety of accessories (sold separately).
Comes with 1x key card, 1x key tag & 4 x AA batteries
Suitable for Timber doors
Features and benefits
The Yale Keyless Connected Smart Lock provides you with the freedom to secure your home without needing a key. There is no need to worry if your children arrive home early, or if you're stuck at work with friends on your doorstep. You can control who and when people have access to your home by setting a PIN code that works for 24 hours for a friend.
Your door can be opened by a 4 to 10 digit pin on the touch panel, by key card or key tag
Upgrade your Keyless smart lock unit with either a Yale or a Z-Wave module (sold separately) that allows you to connect you your home security system via your smart phone
Alternatively you can buy a Remote Fob & Module pack (sold separately) that gives you remote control access to your door. Please note you can only use one of the available upgrades at any time. You cannot attach the remote key fob module as well as the Yale/Z-wave modules as there is only one available port in the lock
The smart lock is powered by 4 x AA batteries (included). It will even warn you when the batteries are running low, and runs on low power consumption - unlocking up to 10,000 times on one set of batteries
This smart lock has a tamper alarm and incorrect PIN code feature, where you are locked out for 3 minutes if the code is entered incorrectly 5 times
Battery box not suitable for external use
Specifications
| | |
| --- | --- |
| Brand | Yale |
| Backset size | 60mm |
| Product depth | 51mm |
| Product height | 153mm |
| Product width | 64mm |
| Battery name | AA |
| Minimum door thickness | 44mm |
| Maximum door thickness | 70mm |
| Number of batteries required | 4 |
| Number of codes | 40 |
| Model name/number | YD-01-CON-NOMOD-CH |
| Effect | Chrome effect |
| Product code | 5011802243224 |
Rubbish product after installation it does not wor
Rubbish product after installation it does not work, just an absolute waste of my time and resources, can't even return the product because only noticed after installation!
Plastic battery holder
The lock itself is very sturdy and fairly easy to install
However the plastic battery box that fits on back of door is very flimsy .
If the door is slammed the lid and battery's fall out .
This happened after just one week and I had to go to a store to pick up a PP3 battery to power up externally .
Why not a metal case?
Perhaps it might be because wi-fi signals may be blocked if using a module to connect to computer and mobile app .
The case should also be more secure as access exposes poses some security issues
Also for the price it should really come with the latch
Great when new, but prone to corrosion and leaks
I have had three of these and they are great when new, but very short-lived if you live anywhere near the sea. The cast zinc body corrodes badly with white powder and pitting all over, even in a relatively sheltered spot. If exposed to wind and rain they let rain get driven inside by wind through the lock, and eventually leakage causes batteries to start dying after only a day or two. Also the thin plated back plate starts to rust and the emergency battery contacts corrode.So expensive to keep in working order because it needs replacing every few years..
Great keyless lock
I bought this type of lock so I did not need to take a key with me when I went jogging. I also have the associated zwave module for intergation with Samsung Smartthings (smart home system). The integration with smartthings means I can lock/unlock the door remotely if necessary .
It was easy to fit and seems robust.
New generation of door locks, no more lost keys
I have just installed this and I also replaced the night latch with the recommended Y3 model. The reason I think they recommend the Y3 is the matching style, any Yale nightlatch appears to be compatible but there is no point using a deadlock as the keyless lock doesn't support it.

This type of locking is the future, I wouldn't go back to keys. It's a pity is won't operate from my phone but no doubt the time will come.

The lock is easy to install I used a 16mm spade drill I already had rather than buy a 20mm one - the hole was fine for the wire and the mount. The instructions and the template are excellent, but use the night latch instructions for that part of the installation the cut length quoted in the keyless instructions say 18mm where the Y3 I bought needs a 16mm clearance.

In the box you get a fob and a card, I bought 2 additional fobs and the Z-wave interface.

You can program 20 numbers, 20 fobs and 20 cards. They are allocated memory slots, I wrote the respective slot number on the fobs and card. If keys are lost you can delete that slot number and immediately disable the missing fob.

I have given the builder a permanent code that I will delete when he finishes the job.

For security, I wouldn't use your master code for everyday use. I would keep this code safe and secret and have a regular code in slot 1 for daily use.

If you have glass in the door this needs to be security glass. Once a hand gets in it will have access to the latch (no deadlock) and to the battery module.

I am planning to install a Samsung Smartthings Hub and link to this lock.