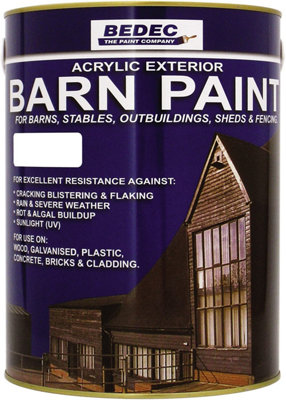 Bedec Barn Paint Semi-Gloss Medium Oak - 2.5L
Sold & shipped by Diy-Direct
Available online only and not stocked in B&Q stores
Product details
Product information
Transform the appearance of your barn while providing long-lasting protection with Bedec Barn Paint. Specially formulated to withstand the harshest weather conditions, this revolutionary paint offers exceptional durability, making it the ideal choice for both new and old barns alike.
With Bedec Barn Paint, you can bid farewell to frequent repainting. Our advanced formula is designed to provide excellent adhesion and resistance against cracking, peeling, and flaking. Say goodbye to the time-consuming and costly maintenance that traditional barn paints often require. Our paint's superior longevity ensures your barn will look stunning for years to come.
Bedec Barn Paint isn't just about durability; it's also about aesthetics. We offer an extensive range of colors to suit every barn's unique style and surroundings. Whether you prefer classic red, serene white, or a custom shade, our wide selection allows you to create a picture-perfect barn that enhances its surroundings and stands out from the rest.
Ease of application is another key feature of Bedec Barn Paint. With its smooth and creamy consistency, the paint glides effortlessly onto surfaces, ensuring a seamless and professional finish. Even if you're not an experienced painter, our paint makes it easy for you to achieve remarkable results.
Our commitment to the environment is at the heart of our product. Bedec Barn Paint is water-based and low in VOCs (Volatile Organic Compounds), making it an eco-friendly choice that meets stringent environmental regulations. Rest assured, you can protect your barn while minimizing your carbon footprint.
Suitable for Brick, concrete, plaster, stone & wood
Guarantee - Statutory
Water resistant
Features and benefits
Versatile Application: Bedec Barn Paint is designed for versatile application on various surfaces, including wood, metal, concrete, and more. Whether you have a traditional wooden barn or a modern metal structure, Bedec Barn Paint adheres effortlessly, providing a seamless finish that enhances the beauty of your property.
Superior Durability: Bedec Barn Paint offers unmatched durability, ensuring long-lasting protection for your barn or outdoor structures. Its advanced formula creates a tough, flexible coating that resists cracking, peeling, and fading even in harsh weather conditions.
Easy Maintenance: Bedec Barn Paint is not only durable but also easy to maintain. Its smooth, washable surface allows for effortless cleaning, making it convenient to remove dirt, stains, and debris. This saves you time and effort in maintaining the appearance of your barn, allowing you to focus on other important tasks.
All-Weather Performance: With Bedec Barn Paint, you can trust in its exceptional all-weather performance. It is specifically formulated to withstand extreme temperature fluctuations, UV exposure, rain, snow, and other environmental challenges. This ensures that your barn remains protected and visually appealing throughout the seasons.
Specifications
| | |
| --- | --- |
| Colour | Medium Oak |
| Finish | Gloss |
| Colour group | Brown |
| Base | Water-based |
| VOC level | Low |
| Drying time | 2-4 h |
| Recoat time | 2-4 hours |
| Volume | 2500ml |
| Brand | Bedec |
| Location | Exterior |
| Container type | Tin |
| Paint type | Protector |
| Coverage | 32.5m² |
| Application method | Air spray, roller or paint brush |
| Product code | 5055006790788 |