10% off everything exclusively for B&Q Club members now on, just enter your card number for discount | Not a member? Join now to receive your discount
Canadian Spa Toronto 6 person Hot tub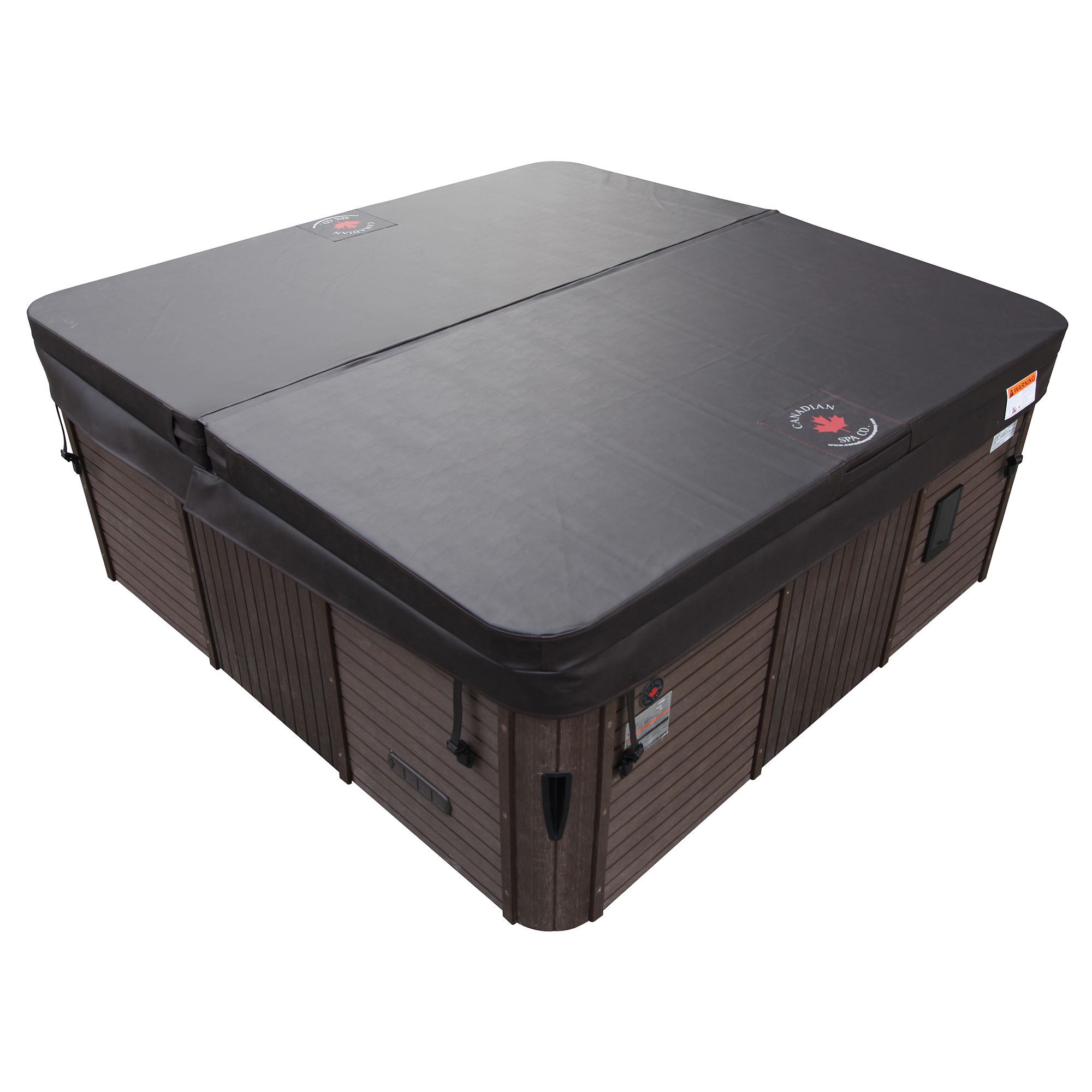 Product details
Product information
The Toronto hot tub is the perfect way to indulge in luxury in the comfort of your own garden.
Total Number of Spa Jets - 44
Comes with - 1x 5" to 3" thick heavy duty hard top insulating spa cover, 1x premium lights package, 1x music system, 1x ozone generator, 1x waterfall, 1x installed set of filters and installation
Features and benefits
The Toronto forty four jet spa has a little something for everyone. Featuring a relaxing lounger, a fine sculpted therapy seat and even a corner nook for a couple more friends.
Up to six hydro-massage seats including a 'no-float' lounger seat and powerful hydrotherapy jets for all over relaxation
Bluetooth enabled music system including 2x waterproof retractable speakers. Built-in high quality amplifier delivering high volume with clear acoustics & Aurora™ premium LED mood lighting system
Mountain Pure™ self-clean spa - an auto-cleaning water sanitation system with ozone purification and 100 square foot filtration; to sift contaminants from the water
Spa shells are made from Lucite® SPA with Microban® which means your spa surface will stay cleaner for longer. Microban protection inhibits the growth of bacteria on the surface of the spa
Energy efficient heat reclamation system - Canadian Spa Company uses a unique combination of innovations to prevent heat loss and recycles water, saving money and energy. 3.0 kW Balboa* heater with smart sensors (shuts off heater within half a centigrade). High-quality tough triple layer insulation with IR reflection + thermal transfer blocker package on shell, cabinet and base
Delivered & installed. Requires a level existing patio or 3 to 4" concrete base and 230 V/32 Amp RCD breaker and cable fitted prior to delivery
This product includes delivery to the location where it is to be installed, as well as some installation actions. Delivery of the spa requires a clear route (minimum 3m height, 95cm width) to location where it is to be installed.  The spa must be installed on a level existing patio or 15cm concrete base that can support the weight of the spa containing water
Delivery charges don't include crane hire or road closures if these are required. For your spa to be installed on the day of delivery, you need to arrange for a qualified electrician to be present at delivery and have installed a 32A cable, single phase with the appropriate gauge coming from an RCD, with live, neutral & earth wires available. The installers will test the spa on same day as delivery with the cable you provide but your electrician needs to sign off the installation before use
If you have any questions regarding the purchase, delivery or installation of your spa please contact Canadian Spa on 01293 812 047 before purchasing.
Specifications
| | |
| --- | --- |
| Volume | 980L |
| Colour | Chocolate |
| Location | Indoor & outdoor |
| Material | Microban acrylic |
| Number of seats | 6 |
| Product depth | 820mm |
| Product height | 2130mm |
| Product weight | 400kg |
| Product width | 2130mm |
| Safety feature | Anti-entrapment system |
| Heat output | 3kW |
| Product code | 0700697209556 |
Well Worth the Wait!
HotTubConvert - 11 months ago
Bought this product at B&Q in early July. Understandably the staff there had poor knowledge of what the spa does and the benefits of it. I had done my own homework and whilst I'm no expert I knew more than the staff. I bought the tub and in the order paperwork it advised delivery within 3 weeks. Delivery only took place around 9 weeks which came as a real surprise and disappointment. We later found out that there was a UK shortage of tubs as they are built in Canada and shipped across, and I am sensible enough to know that the Canadian Spa guys can't fit what they don't have through no fault of their own. In my opinion B&Q should have been aware of the delays and advised me at point of sale. However the spa was worth the wait.

As the literature says B&Q sell you the tub, then have no more to do with it. You'll be contacted by one of Canadian Spa staff to arrange the delivery etc. We dealt with Tony (we called him 'Sales Tony') for delivery and upgrades/extras, and another Tony (we called him 'Scottish Tony') who actually fits the tubs in Scotland. Both are really approachable by email or phone and answered all queries.

A really important point is that the B&Q site detail is not absolutely accurate;
1. The widths of clearance for your delivery route are not correct.
2. The Watt rating of cables for the upgraded Toronto SE spa (which we upgraded to) is not accurate.
3. B&Q suggest that the electrician has to be on site at one of delivery. That's not the case.

The B&Q Information makes it seem more difficult than it actually is.

So after upgrading and moaning about the delay the arrangements were made for delivery and that was honoured. Scottish Tony is really helpful and he was able to provide expert advice on the orientation of the tub in the patio. We had an idea of where we wanted it but he suggested we reconsider and he was right. In running the tub what he suggested would happen has happened - it did take us about a week to get the chemical balance right but it's running easily now with the minimum maintenance.

Long and short of it is that we got a great deal, dealt with informed and knowledgable people once we had made the purchase and are totally satisfied with the result. Thanks Tony and Tony!
Perfect spa
Purchased this tub in June , fantastic buy, with a few hiccups on delivery, with probably COVID and everything, finally received it start of August, but would like to mention, the support throughout with the spa company team was second to none , would recommend 5 stars and thank you
Overall Good Experience
Overall we had a good experience from purchase to delivery.

We bought our Canadian Spa Co. Toronto Hot Tub through B&Q 2 weeks ago.
The next day we got our confirmation from Canadian Spa Co. who deal with the after sale.

Although we found it a little frustrating that we couldn't get through a few times to the sales team, we are understanding that during a national crisis, they are doing their best.

Troy in sales was a great chap who answered a few of our queries. Tony in installations was also knowledgeable and helpful with our queries.

My hat goes off to Garry however. He was the delivery and installation man. Patient, very helpful (literally went above and beyond) in getting our hot tub into our garden through an option we didn't have planned.

The hot tub itself, is a dream. Love it!
Worthy purchase
Really good size hot tub, loads of jets, mood lighting & 2 pop up Bluetooth speakers with great sound. Electric bill is on average an extra £40 a month if left on at 36 •c
Purchased from B&Q and Tony from Canadian Spa answered all our queries, lovely man and a asset to the company!
We shopped around for a company to lift the tub over the roof of the house as we live in a terraced house. Cheapest was £350.
Also very experienced delivery man, Gary. He knew more about lifting it over the house than the crane driver!
Thanks, Collette from Liverpool
This hot tub is great
This hot tub is brilliant it has everything you are looking for in a hot tub for a great price I highly recommend this if your looking at a hot tub to buy