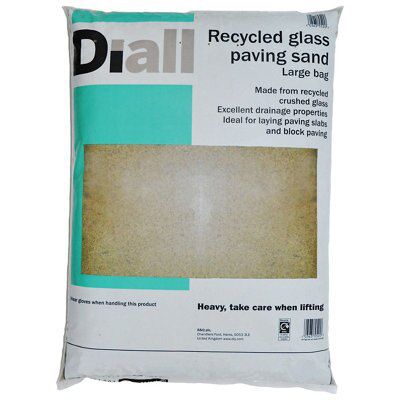 Diall Paving sand, Large Bag
Our stores do not stock this product
Product details
Product information
Features and benefits
Made from recycled sand
Please note that product supplied comes from a natural source and may vary in colour, size and texture
Excellent drainage properties
Specifications
| | |
| --- | --- |
| Brand | Diall |
| Pack quantity | 1 |
| Size | Large |
| Colour group | Natural |
| Product code | 03635520 |
My paving slabs are disappointed!
nuttyrutty - 4 months ago
Have bought this in the past, but was surprised to see it on your website as "we do not stock this item". WHAT A SHAME!! Why leave it advertised when a customer cannot buy it? Originally thought it was a great way of using up cullet (ground down glass), and it did the job well ( in the past). I am giving the comments 5 stars - only because when I used it before it was excellent
Could be useful: unsure environmentally
I decided to try this product to continue a project laying down paving slabs for a summerhouse. My idea was to avoid concrete in case the ground is recovered in future. I therefore started with sharp sand over soil membrane; didn't provide a hardcore layer. This was a mistake: although the site seemed almost level it had a slight slope resulting in 4" step along one side. The sharp sand seemed ok as a base up to about 2" layer max but clearly too inclined to move at greater thickness. Having tried this glass product i'd say it makes a good alternative to a 'scalpings' base layer and is best finished after levelling with a 1"+ sharp sand layer. The glass doesn't compress as much or as evenly as the sharp sand, so it's not adviseable as the layer immediately below the slabs: it would make it harder to 'bed' the slabs evenly. But as a base foundation below the sand it is good, holds position, grips the sharp sand, and it can be worked quite readily with a rake, shovel, compactor etc. The bagged product is wet, so no dust. My sole reservation is environmental; I tend to pick up broken glass I find in my garden soil, here I am pouring it on! the glass looks very like some grit aggregates so I wonder how easily people will recognise what it is in future, or how the ground could be recycled 'clean'. Perhaps i'd still prefer a stone aggregate simply for this reason, however remote the future use might be. I've not looked at the relative economics, mine was more of a hurried 'forced' purchase because I hadn't planned ahead properly and the store was out of bagged aggregate. It's comparable in cost to sands but goes a little less: I expected a little lower, but maybe it requires more energy to process?
Good use of recycled glass
Fine for repairing/laying small areas of paving but not sure how easy it would be for a full-scale project as it is quite coarse and wet so maybe it could be hard work to level over a larger area (I only laid about 1 m□ and am going to do another area about twice that using the same product) Also it needs a weed barrier beneath it.
I would imagine it's better than digging up and processing sand so extra marks for its eco credentials, added to which it is cheaper than sand