EVRE Snowy White Spruce Artificial Christmas Tree With Pine Cones & Berries 4ft with 200 PVC Tips, Easy Build Hinged Branches & St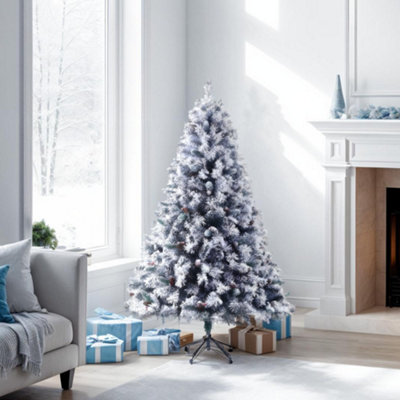 Product details
Product information
We offer FREE NEXT DAY DELIVERY for orders placed by 4pm between Monday-Friday or by 3pm on Saturday. All orders after these cut off times will be dispatched the next day, except for Sundays and Bank Holidays, where your order will be dispatched the next working day.
Comes with 2 tree sections, 1 metal stand, Instruction manual
Hinged branches
Assembly required
Stand not included
Features and benefits
We Promise You: Height Assured: We ask our suppliers to add additional centimetres to the top of the tree to ensure it's height against the current market. Denser Than Others: Compared to the market, our trees are designed denser than others to truly give a bushy and full look thanks to the generous amounts of PVC Tips. Always remember to fully peel back branches to achieve this during assembly, this should take no more than 30 minutes.
At 4Ft High and crafted with 200 Tips in immaculate detail, manufactured with the most premium of PVC gives a plentiful tree with a natural and full look. Fully customisable to your preference each tip can be individually extended and bent to your preference to for a fuller or thinner look to your tree further enriching the tree and giving ample space for ornaments. Total Dimensions measure Approx. in CM (H) 120 & (W) 60. Extending tips should take no more than 30-40 Mins.
There's no better way to bring the outdoors of this winter indoors on this festive occasion. Combining winters snow and the pinecone and berries of fall into one, beautifully adorns our artificial Christmas Tree in to a must have for this season. We guarantee our trees to bushiest against the market for a standout effect. Ensure each tips are peeled back per preference for the maximum effect, one branch has approx. 4-5 tips.
Reinforced with a metal stand, trunk and branches ensures stability and rigidity for every use while ensuring your tree stays stable and balanced once in position to avoid any baubles rolling around the place! *Please note, the image is for illustrative purposes only, placement of hand-crafted pinecones and berries are completely randomised per tree. Our items are hand finished in our factories and sealed before arriving here.
The conveniently foldable metal stand ensures easy storage when packing away and comes with rubber caps fitted to avoid skidding and unsightly marks when in use. We ask our manufacturers to add additional centimetres on top to guarantee the height purchased. Additional snow is added to compensate for loss during transit, this shedding is normal and will subside.
Waste no time in assembly with a simple 'plug and play' technique, remove the plastic caps from the bottom of the stems, place and screw into the stand and stack each portion of tree to the other before extending the hinged branches ready to fluff the tips and decorate to your liking. A correctly erected and fluffed tree usually takes 30 minutes. If you need any help let us know and our team will get back within 1 working day.
All of our EVRE Christmas trees are built to last. The materials used are carefully tested to ensure the longevity and performance. In addition to this, all of this is backed up with our friendly EVRE customer service team who are on hand for advice and assistance. If you need any assistance, please contact us a majority of issues can be fixed without the need to return.
Specifications
| | |
| --- | --- |
| Stand material | Metal |
| Product diameter | 600mm |
| Effect | Snow tipped effect |
| Resistant to fire | Not fire resistant |
| Height (m) | 1.2m |
| Location | Indoor |
| Material | Metal & polyvinyl chloride (PVC) |
| Weight (kg) | 3kg |
| Product code | 5060381729605 |