See more Rat & mouse control
Karlsten Anti Rodent/Mice Repellent & Deterrent Peppermint oil 5 Litre Disrupts Pheromone Trails Industrial and Home Use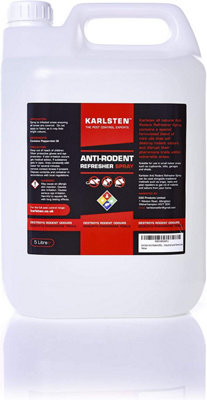 Product details
Product information
Keeping rodents away with Karlsten Anti-Rodent Extra Strong Refresher Spray Need the best anti-rodents spray to keep rodents away from your home? Angry with that rat and mice repellant you acquired and it is not delivering results? Well, Karlsten Anti-Rodent Refresher Spray is all you need. Karlsten all new Rat and Mice spray for effective treatment of repelling and deterring small rodents leaving a nice smell for humans but a smell that rodents are unable to handle. Changes Rodents Behaviour Around Your Property As soon as rodents find shelter or a food source they can exploit on your property it becomes a target. After you spray this natural repellent rodents will not want to be in that area. Did you know animals have 40- 100 times the sense of smell of humans? If mice and rats are regularly in an area that bothers you immediately apply the strong effective peppermint oil - spray that area heavy and consistently and that area will eventually be rodent-free. At first, they may still go to the area - but it is out of habit. They are simple creatures and will learn that area and peppermint smell is disgusting to them and never return. Lasts longer and ideal for Indoor/Outdoor Use This peppermint scented rodent repellant spray will last 2-4 weeks. This rodent spray repellant is excellent for both indoor use and outdoor use. For indoor applications use in attics, garages, houses, and office space. For outdoor applications use on plants, lawns, shrubs, trees, furniture, dust bins, foundations, pool houses, and sheds. More features that define this rodent repellant It Lasts 2-4 weeks once sprayed Peppermint scented spray Repels by taste, touch, and smell Repels a wide range of rodents such as rats, squirrels, insects, and mice We are happy to answer question 24 hours a day to help guide you through rodent problems
Features and benefits
Keeping rodents away with Karlsten Anti-Rodent Extra Strong Refresher Spray Need the best anti-rodents spray to keep rodents away from your home? Angry with that rat and mice repellant you acquired and it is not delivering results? Well, Karlsten Anti-Rodent Refresher Spray is all you need. Karlsten all new Rat and Mice spray for effective treatment of repelling and deterring small rodents leaving a nice smell for humans but a smell that rodents are unable to handle. Changes Rodents Behaviour Around Your Property As soon as rodents find shelter or a food source they can exploit on your property it becomes a target. After you spray this natural repellent rodents will not want to be in that area. Did you know animals have 40- 100 times the sense of smell of humans? If mice and rats are regularly in an area that bothers you immediately apply the strong effective peppermint oil - spray that area heavy and consistently and that area will eventually be rodent-free. At first, they may still go to the area - but it is out of habit. They are simple creatures and will learn that area and peppermint smell is disgusting to them and never return. Lasts longer and ideal for Indoor/Outdoor Use This peppermint scented rodent repellant spray will last 2-4 weeks. This rodent spray repellant is excellent for both indoor use and outdoor use. For indoor applications use in attics, garages, houses, and office space. For outdoor applications use on plants, lawns, shrubs, trees, furniture, dust bins, foundations, pool houses, and sheds. More features that define this rodent repellant It Lasts 2-4 weeks once sprayed Peppermint scented spray Repels by taste, touch, and smell Repels a wide range of rodents such as rats, squirrels, insects, and mice We are happy to answer question 24 hours a day to help guide you through rodent problems
Rat & Mice Deterrent Disrupts Pheromone Trails Industrial and Home Use
Contains peppermint oil 5 Litre- Rat & Mouse Repellent- LASTS 2-4 WEEKS - Spray on heavy for your first application to soak all areas . Make sure to spray under decks, openings around your home, and very heavy on your dust bins (Also spray a 2' foot circle perimeter around garage and sheds or tiny cracks around your home) After the animal is gone use every 2-6 weeks depending on rain conditions to naturally repel them for good. If you are currently in an infestation spray heavy and often-
INDOOR/OUTDOOR USE – REMOVE ALL PETS CATS & DOGS when treating the area. For Indoor Applications Use In Attics, garages houses, office space .
Changes Rodents Behaviour Around Your Property As soon as rodents find shelter or a food source they can exploit on your property it becomes a target. After you spray this natural repellent rodents will not want to be in that area. Did you know animals have 40- 100 times the sense of smell of humans? If mice and rats are regularly in an area that bothers you immediately apply the strong effective peppermint oil - spray that area heavy and consistently and that area will eventually be rodent-free. At first, they may still go to the area - but it is out of habit. They are simple creatures and will learn that area and peppermint smell is disgusting to them and never return.
Specifications
| | |
| --- | --- |
| Brand | Karlsten |
| Pack quantity | 1 |
| Product depth | 3000mm |
| Product weight | 5kg |
| Product width | 2000mm |
| Product code | 5060492791140 |