KAV Extra Wide Comfort Fit Pack of 6 Diabetic Socks for Swollen Legs, Men Foot Care UK 7-11 Cotton Rich Gentle, Multicolour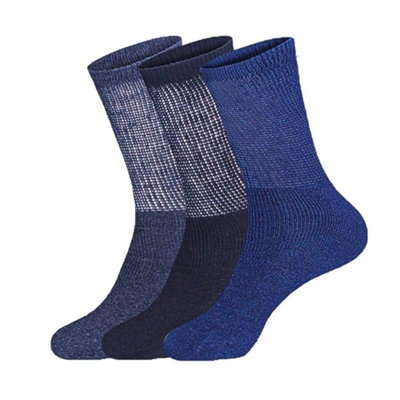 Product details
Product information
KAV offers these extra wide socks for swollen feet. If you suffer from diabetes, it is important to wear the correct socks. Diabetic socks are most commonly used by people with diabetes. Diabetic socks not only protect the feet from cuts and sores that would be extremely slow to heal, but they speed up the healing process with their soft materials and soft padding. Do your feet fall asleep often? Do your feet have trouble healing? Do your feet sweat a lot, giving you damp feet and an embarrassing foot odor? Believe it or not, diabetic socks help with all of these problems. They keep your feet healthier and you happier—not to mention more active. Your feet take a beating every day, so treat them well with diabetic socks. Those with special forms of diabetes can have problems sensing pressure or detecting pain. Regular socks can cause your feet to develop painful ulcers from the excess pressure that you're unaware you're exerting on your feet. Diabetic socks will provide extra protection and prevent you from seriously injuring your feet. Diabetic socks are useful for all kinds of feet. Keep your feet healthy by providing yourself with extra comfort and protection. It's a perfect birthday or valentine's day gift for your father, husband, men, women, and dear ones. FEATURES: Cotton Blend Breathable and lightweight Designed for comfort and fit Do not constrict the feet Improve blood flow to the feet This reduces the risk of foot injury Keep feet dry  Machine Washable Extra-wide socks for swollen feet Colors include black, navy blue, and grey Available - 3 pairs, 6 pairs, 9 pairs
Guarantee - 3 months
Machine washable
Suitable for All footwear
Features and benefits
: This diabetic sock is a blend of cotton and polyester. It reduces pressure on the foot or legs. Diabetic socks for swollen legs and ankles are also fitted for different types of feet.
: Diabetic socks can also be worn by people who do not have any current foot issues. Most socks only harm the feet. Diabetic socks are a good, healthy foot care choice for everyone.
-: Finely knit plain fabric in the leg and foot to avoid constriction and pressure hotspots. Comfortable seams are essential to facilitate comfort for diabetics and prevent sourness.
: They are intended to keep feet dry and can be worn while traveling. Diabetic socks are specially designed to reduce the risk of a foot injury, offer maximum blood flow, and keep the feet dry.
: Whether you regularly feel pain and discomfort in your feet or not, you'll find that you're much more energetic and your feet are much more comfortable when wearing diabetic socks.
Specifications
| | |
| --- | --- |
| Product code | 5056089530773 |