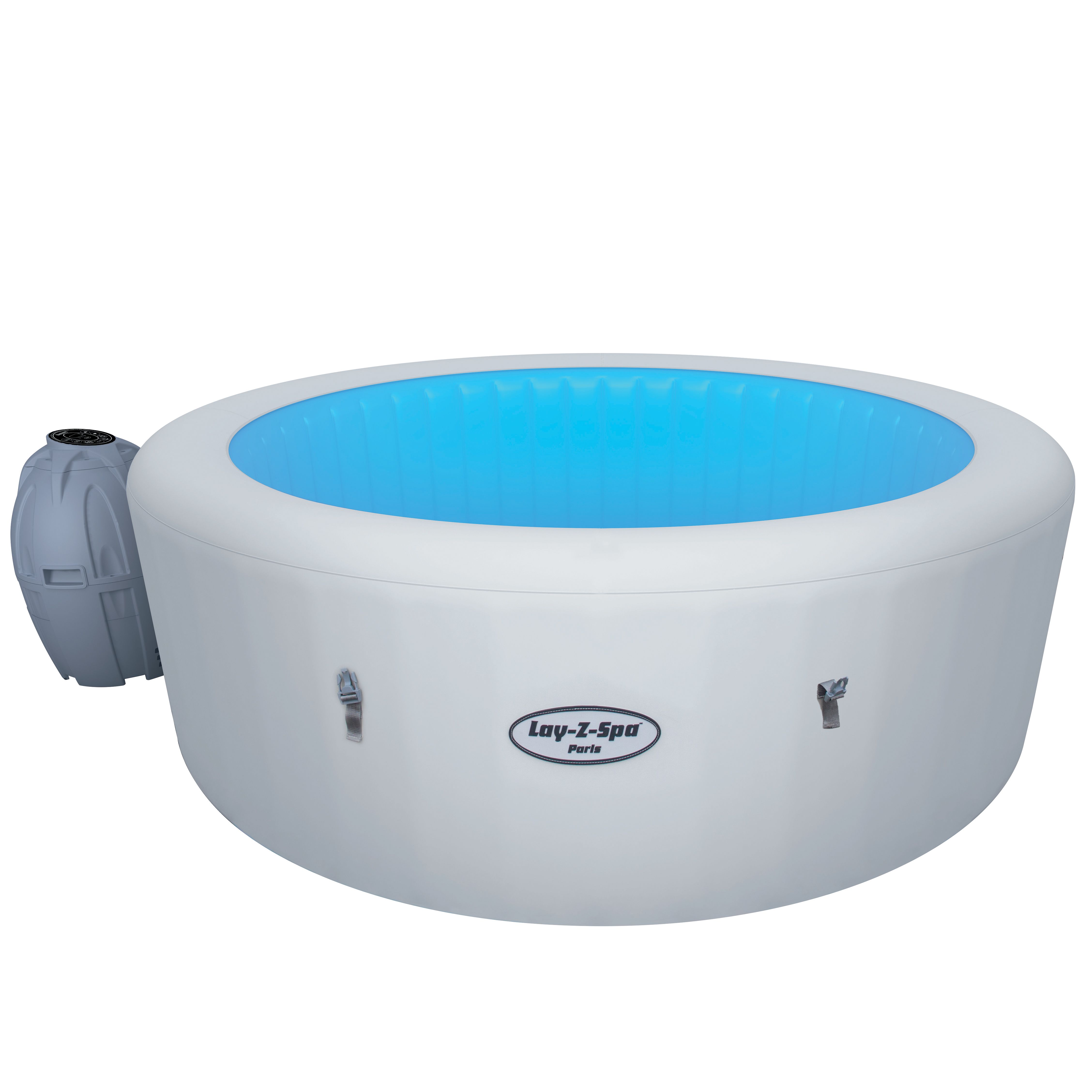 Lay-Z-Spa Paris 6 person Hot tub
Product details
Product information
This Lay-Z-Spa Paris Airjet spa is the perfect way to indulge in some luxury in the comfort of your own garden.
Number of jets - 87
Comes with 1x pool liner, 1x pool cover, 1x spa pump, 1x chemical floater, 1x filter cartridge(VI), 1x LED light strips, 1x air pad protector & 1x repair patch
Features and benefits
The Lay-Z-Spa Paris AirJet has an energy saving timer, meaning you it switches off when not in use, and also allows you to schedule when you want it to start heating up so it's ready for when you get home
Transform the lighting to suit your mood with the LED lighting system. Use the remote to choose from 7 different colours or set them to the auto colour change mode
The pump has a digital control panel which allows you to run the massage system, heat the hot tub and filter the water all at once
Leatheroid cover with safety lock clips and built-in air chamber for insulation
Heating and bubbling work together to provide comfortable massage experience
Air pad protector keeps water warm
Specifications
| | |
| --- | --- |
| Number of seats | 6 |
| Product diameter | 1960mm |
| Product height | 660mm |
| Product code | 6942138953350 |
Fab buy
Nicola1234 - 10 months ago
Bought in april , after looking for couple of weeks, not the one we planned on buying but it was a lucky buy as we arrived as a delivery came in , so grabbed one and headed for the check out , hubby put it up , it was wrinkled and the outer liner seemed a bad fit ,but by the next day it did look so much better , liner had smoothed out , lights are fab , bit awkward to get them flat but it doesn't make any difference, really or doesn't seem to , we love it , we were a bit disappointed to find we paid more in the store that its advertised on here for , this could be a mistake .
Best purchase ever
Ones got the hang of the levels defo worth it. Love to chill out in it at night.
Love it
Bought this in May and it's been on every day since. No problems at all with it and found the set up okay. Would recommend that anyone buying it invests in the hoovers you can get for them as this definitely makes a difference to the upkeep of it.
Watch out, the picture is photoshopped !
stocktonlass - 1 year ago
We purchased this spa friday evening, set it up saturday and to our horror, its a paddling pool inside a bag. The outside bag was way to big for the inner section, leaving a baggy top and sides. It looked horrendous. The inside could not be blown up anymore to fill out the outer covering but the images and all adverts make this look like the unit is all built in together when its far from it. Its really not worth the money when others on the marker that are all one unit and look more presentable. The plastic inside looks very cheap and its the led lights that will sell this over others. Dont Be Fooled, it wont look like it does on the box. We took it back and got an immediate refund as it was unsatisfactory. We have since purchased the Intex one (which is all built in) for a £100 less. If I wanted a cheap looking pool in the garden for the kids, I would have bought a simple paddling pool and saved 100's. Hope this helps !
Love it...
We have bought this as a tester before we buy a proper rigid spa. Just to see if we will use or if it will be a 2 minute wonder.
Have had it a week. We have used it every day since purchasing. Easy to set up... but only after watching you tube. I was worried about the upkeep of it.. but actually quite simple. My friend also owns one. And he has explained about the upkeep, I now think the maintenance could be a little painful, but we will.worry about that a little later when the need arises
But for fun, brilliant. Cleaning.. not so painful. Entertaining...great. well worth it.