10% off everything exclusively for B&Q Club members now on, just enter your card number for discount | Not a member? Join now to receive your discount
Magnusson Digital caliper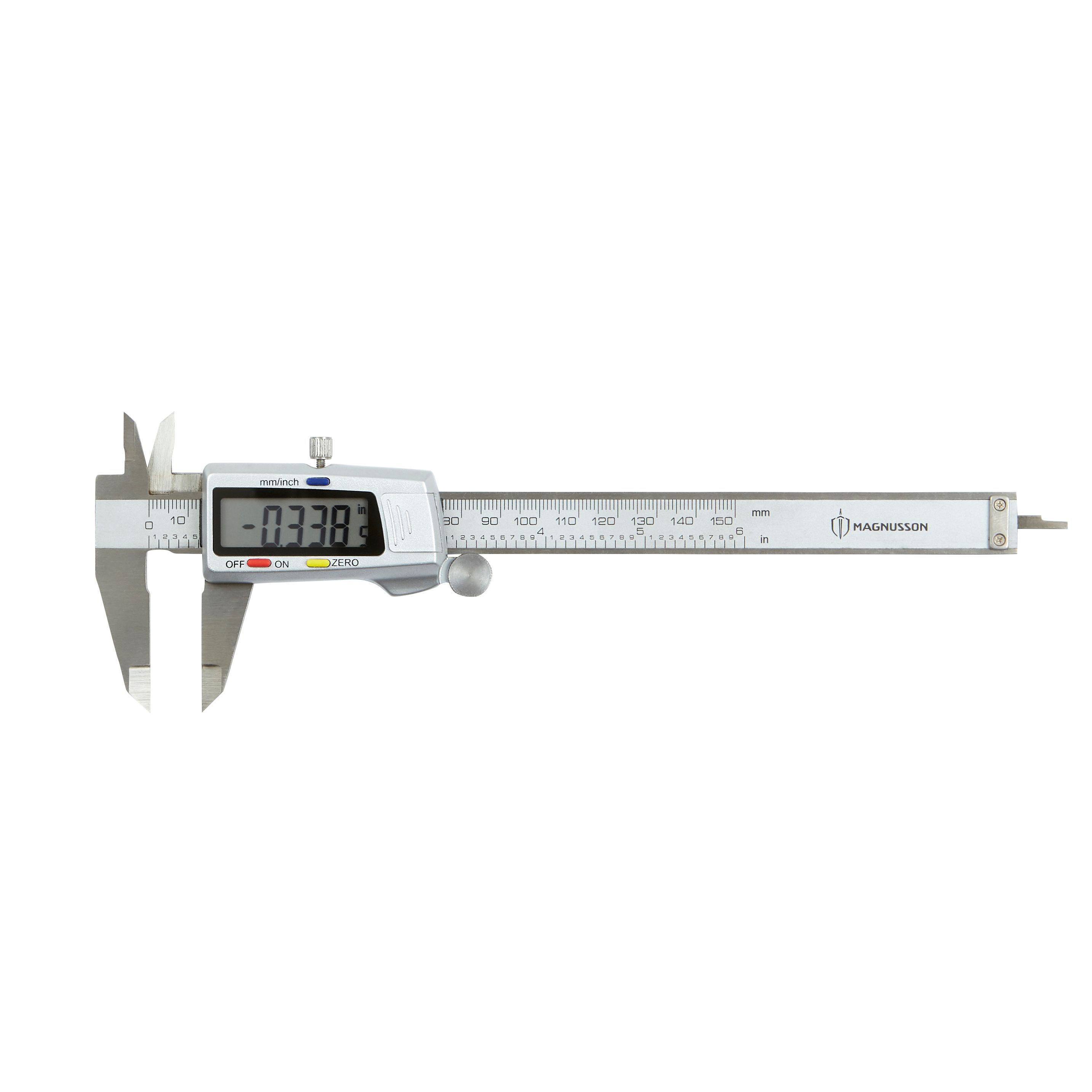 Product details
Product information
Features and benefits
This stainless steel Magnusson Digital Caloper, features LCD display with characters measuring up to 2 digits in millimetres
The precision ground measuring faces allow for outside, inside, depth and step measurements with data output
Equipped with functions of absolute and relative measure
LCD display with characters measuring up to 2 digits in millimetres
Specifications
| | |
| --- | --- |
| Material | Stainless steel |
| Metric or imperial | Metric |
| Pack quantity | 1 |
| Product length | 230mm |
| Product weight | 310g |
| Product code | 3663602816324 |
Really bad
I bought, because there was no alternative in B&Q. This caliper is rubbish no worth single pens.
Only useful for prying tin lids off, nothing more.
Truly shockingly bad, and incapable of measuring any more accurately than a tailor's tape.
The one I've just bought (as an emergency item - my Mito caliper left on a job) is visibly bent down the bar.
The slider is full of fine swarf from the manufacturing.
Jaws not parallel so you get a different reading near the bar than you do at the tips.
There's daylight between the internal jaws, so anybody's guess what they would read.
Worst of all, the bar isn't the same width along it's length - you adjust the slider to be snug at the closed end, then it binds half way down; adjust it so it doesn't bind and you get +/-0.2 error on thin stuff.
By the time I'd pulled it to bits, cleaned out the swarf, partially straightened the bar, stoned the bar edges to something near parallel and taken off all the burrs - I could have driven over to where I left my decent calipers and still spent less on diesel than the twenty-odd quid that this thing cost....
Was also bit by the 5.08mm error
Renders the product totally useless. Tried some fix from instructables, made it less frequent but still present.
Accurate, package complete, no issues....
PeterJohnD - 9 months ago
Package contained battery, zeroed correctly, accurate within stated tolerances, seems well made and robust.
should of read the other comments
Its ok untill you take it out of the box accuracy is not something you get with this it always adds 5.08mm or that value multiplied and has also deducted it when closed .
2 stars due to construction it seems well built but useless