Electric shower buying guide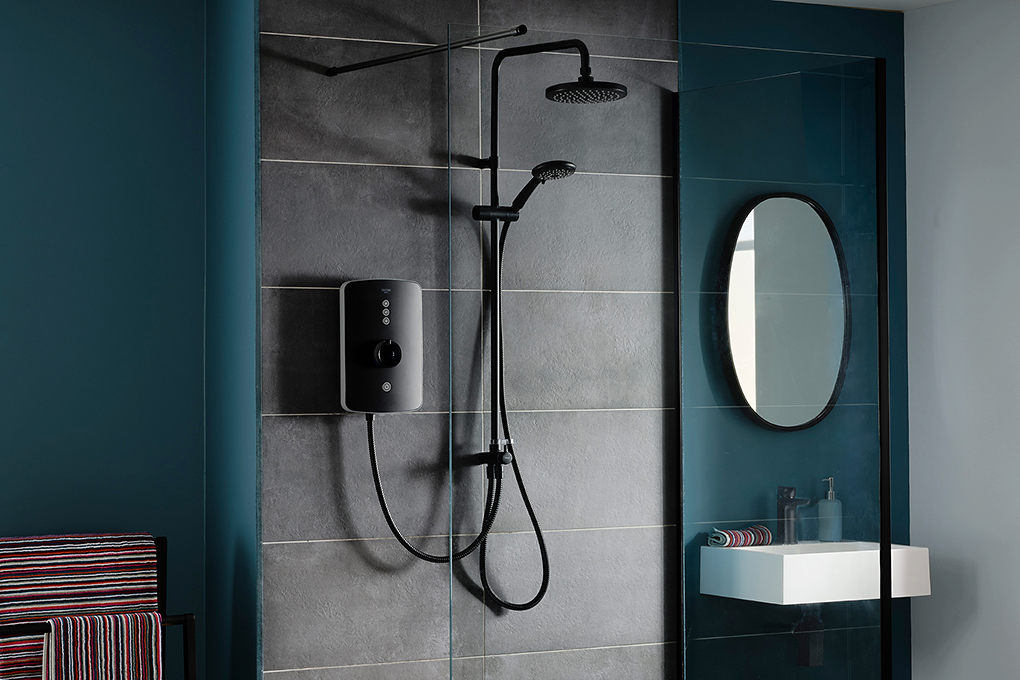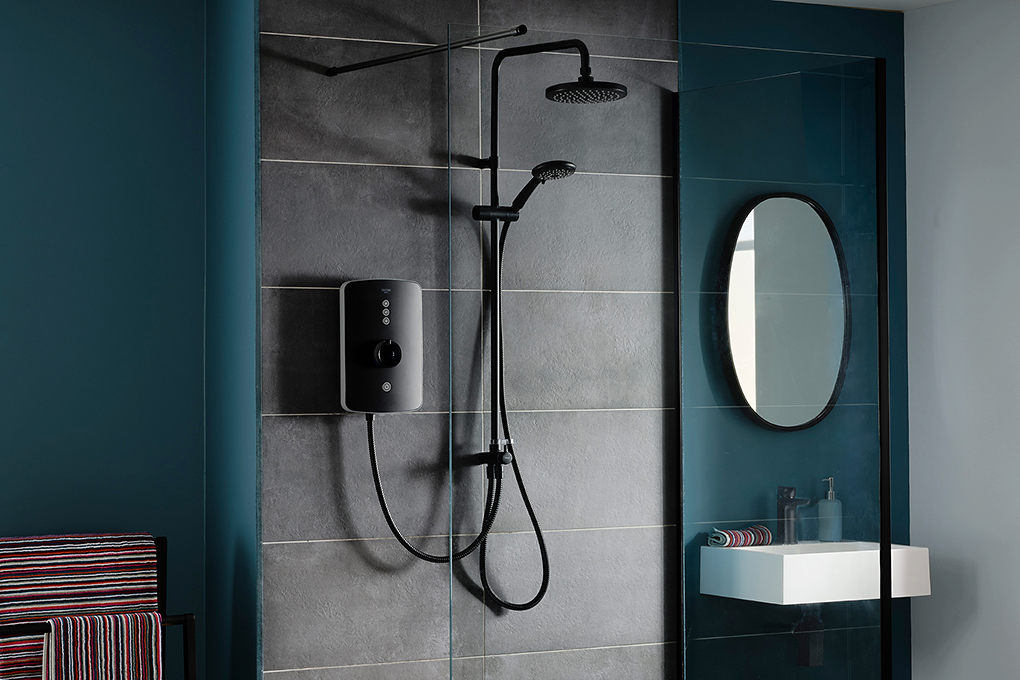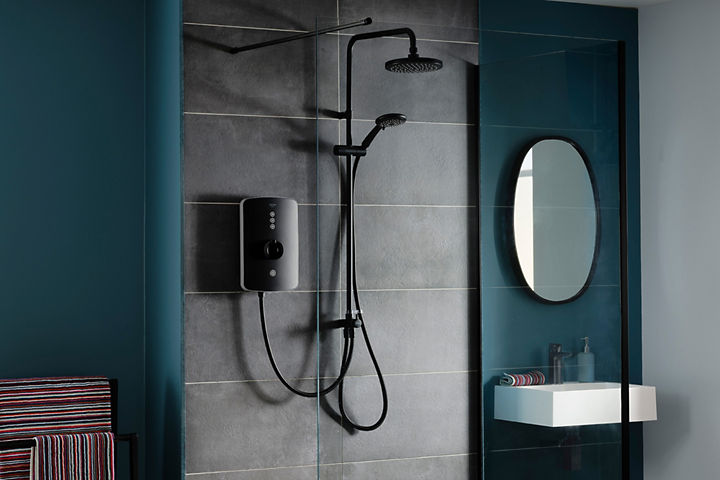 1. What is an electric shower?
In a nutshell, an electric shower is a type of shower that requires cold water only. The cold water is heated instantly via electricity to provide a hot shower, and the water is only heated once the shower is switched on. It does not use the hot water heated or stored by the household water system. Simple!
Did you know?
The higher the kilowatt power rating (kW) the better the performance and greater the flow of heated water. Don't forget – the kW will depend on the water pressure in your home so be sure to check in with a tradesman before purchasing your shower.
2. How do electric showers work?
Electric showers work by quickly heating water via an electrical heating element. It works in a similar way to a kettle – just much faster! This differs to mixer showers, which require a hot water feed from your boiler. Electric showers can simply be connected to a cold water feed and heated via electricity as you turn your shower on.
3. Electric shower requirements
It's important to bear in mind that not all homes are compatible with an electric shower. Whether you can have an electric shower in your home depends on the water system and water pressure your home has. Find out more below. 
Electric shower checklist
1. The water at your mains entry must have a minimum running pressure of 1 bar
2. Your water must flow at a rate of at least 8 litres per minute
3. It should also have a maximum static pressure of 10 bar
A. Water pressure systems explained
There are three types of household water systems, and the type of shower you'll need will depend on which system and pressure you have. Keep reading below to find out which system type you have in your home.
1. Gravity fed – Usually found in older properties. You'll find a cold water tank in your loft and a hot water cylinder often located in your airing cupboard. This means you have a low-pressure water system and you'll need to choose taps designed to work with lower water pressures.
2. Combi boiler - There is no cold water tank or hot water cylinder in your house. You will have a combi- boiler often located in your kitchen. Combi boilers are fed directly with mains pressure cold water, which is then quickly heated and pumped around your home at close to mains pressure. Suitable for high pressure water systems.
3. Unvented - If you have a hot water tank (often located in your airing cupboard or garage) but no cold water tank in your house, you'll have an unvented water system, providing high pressure.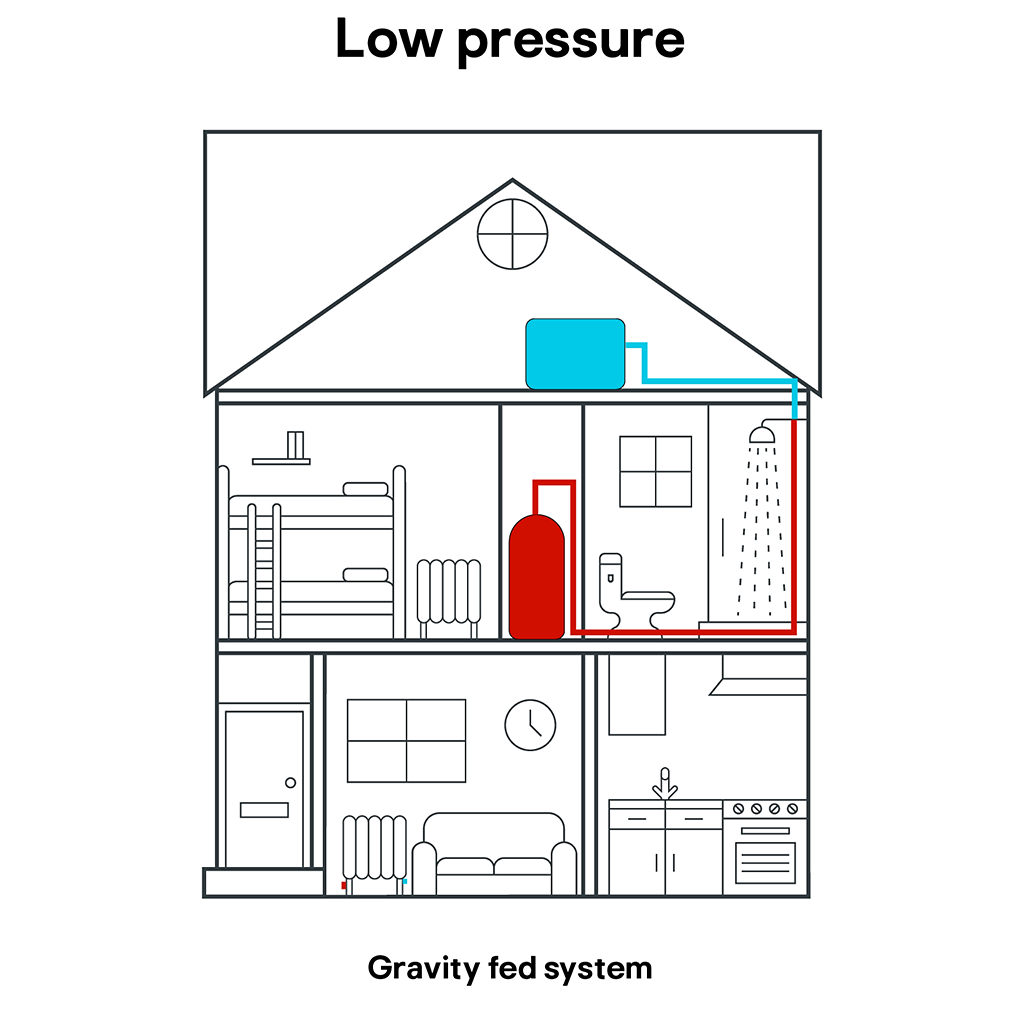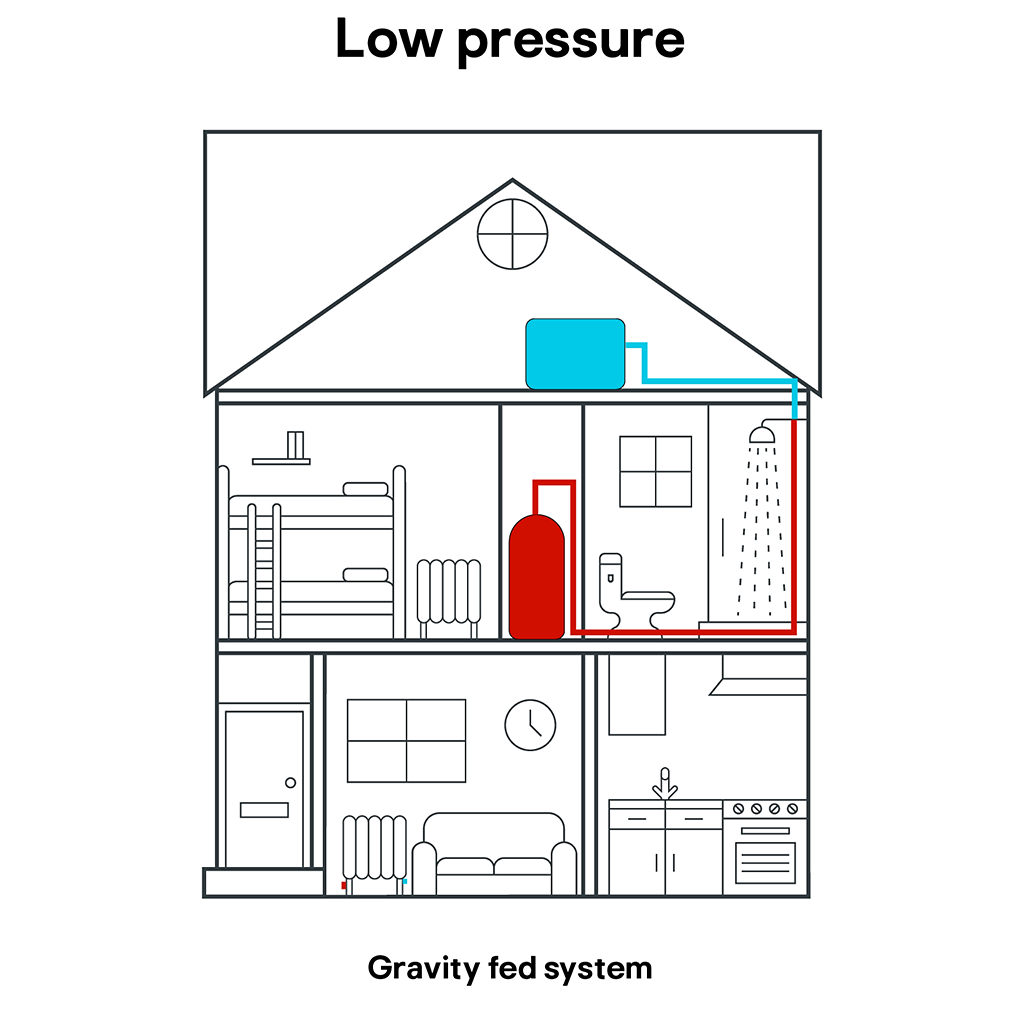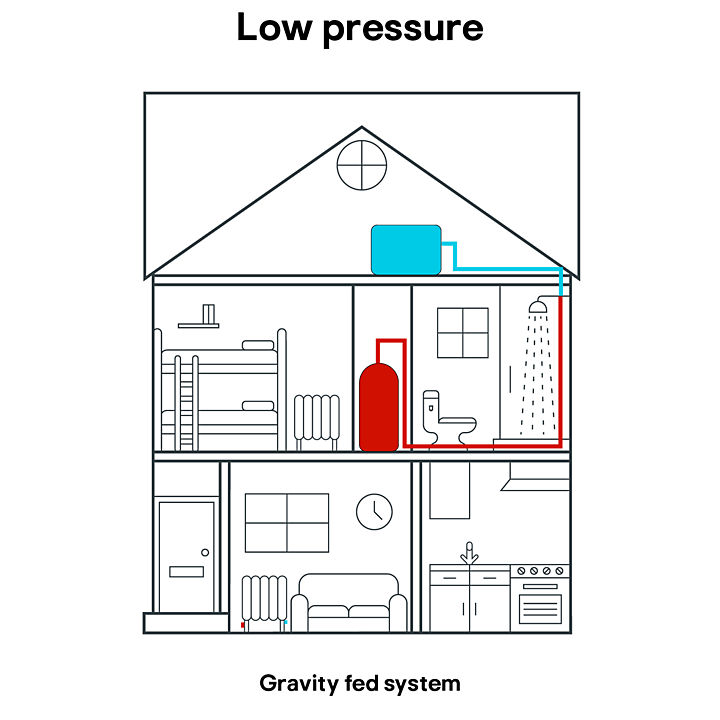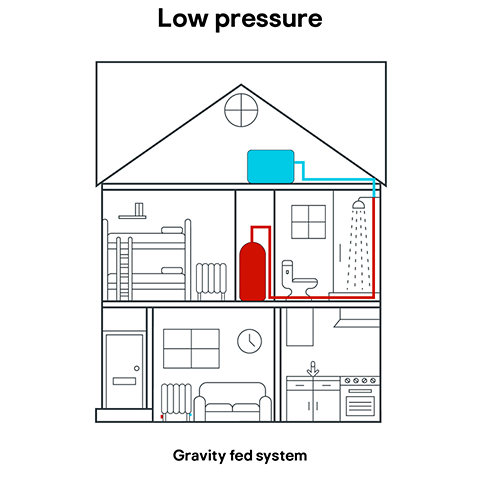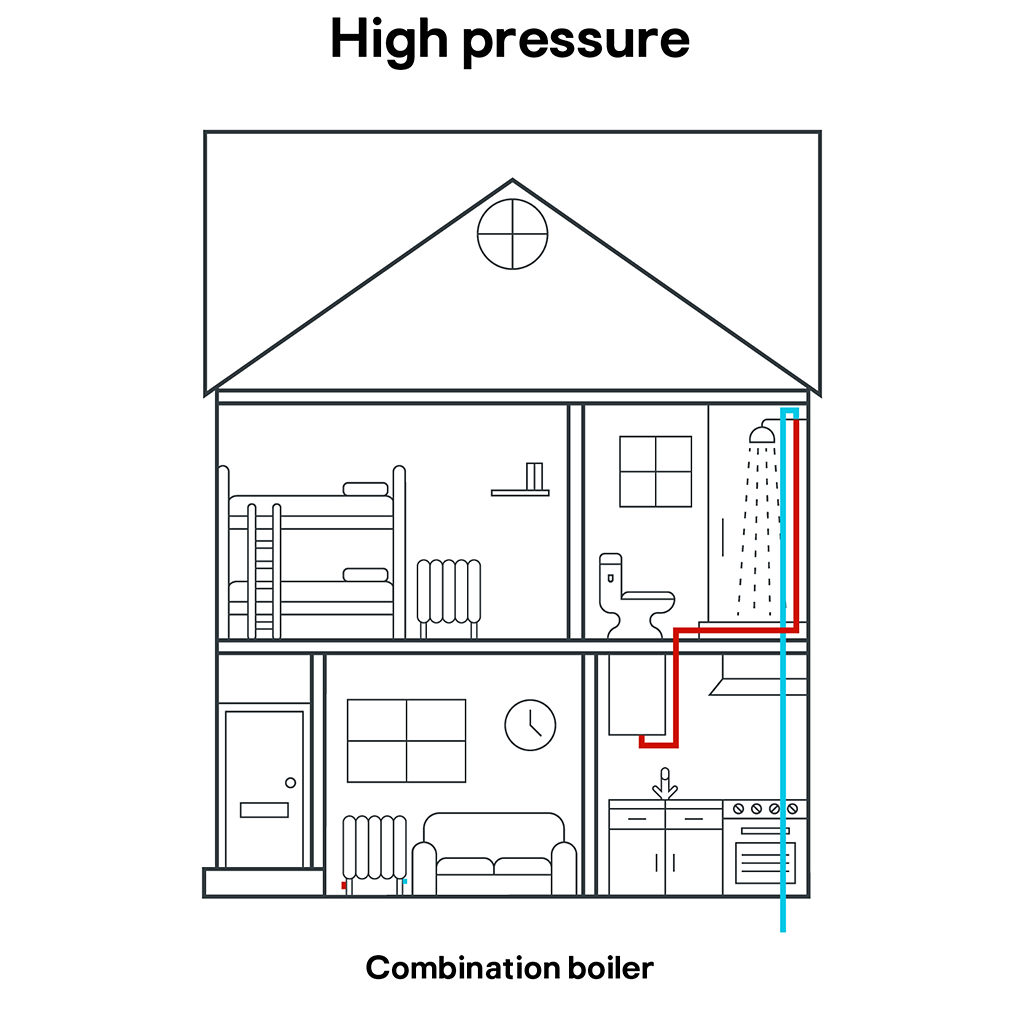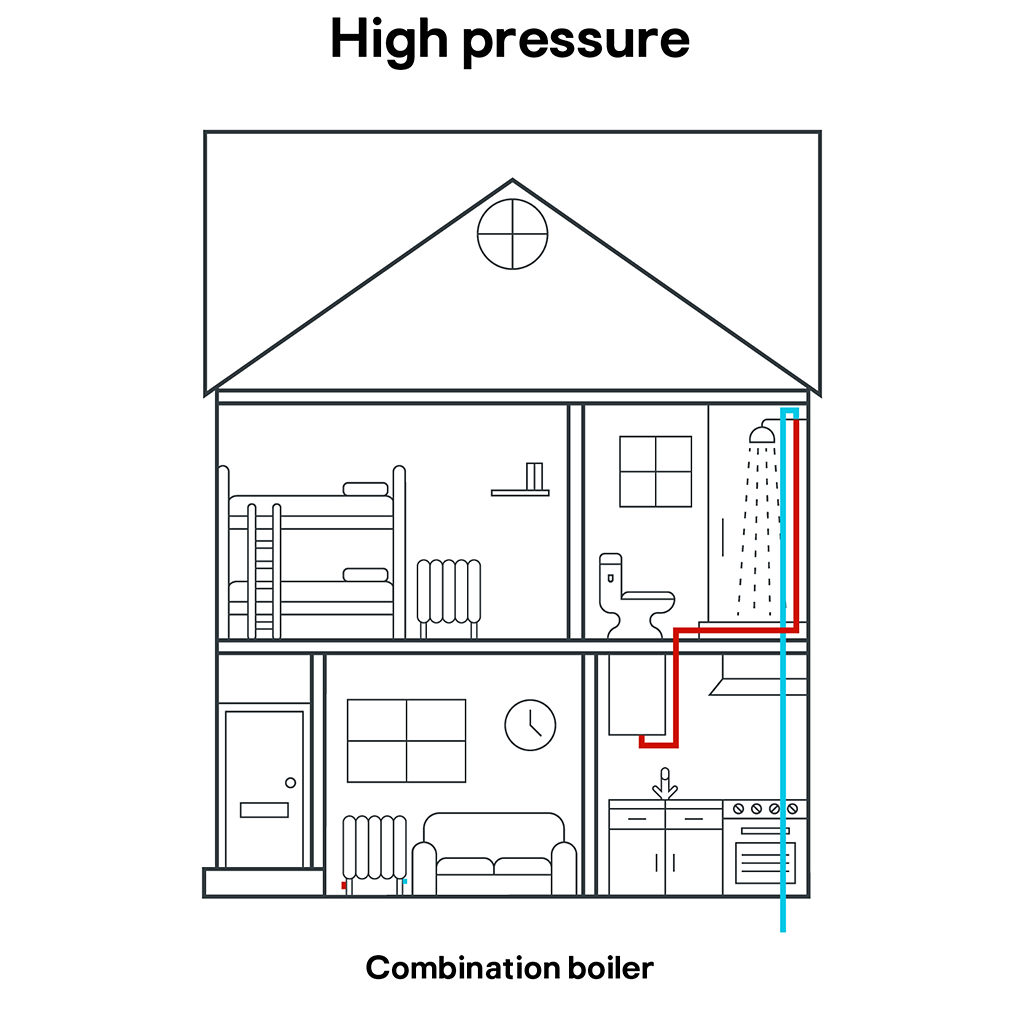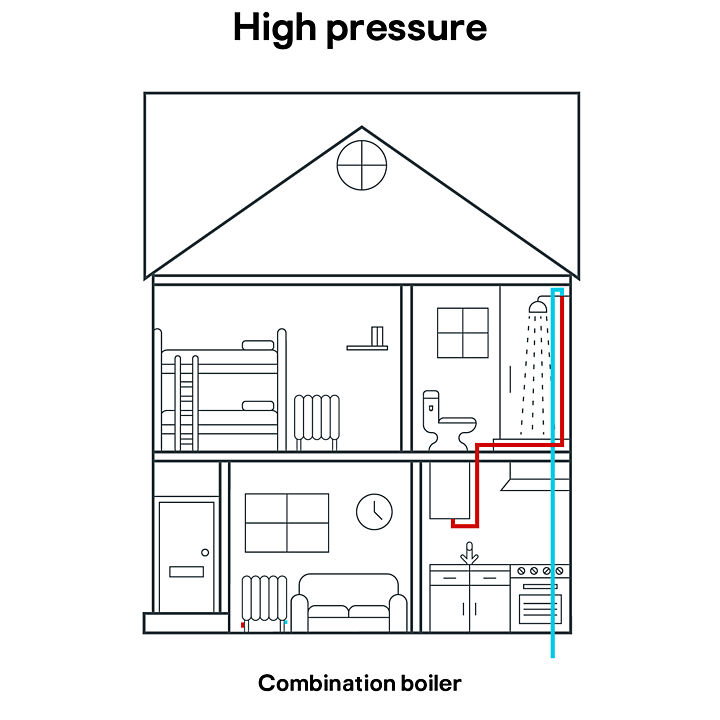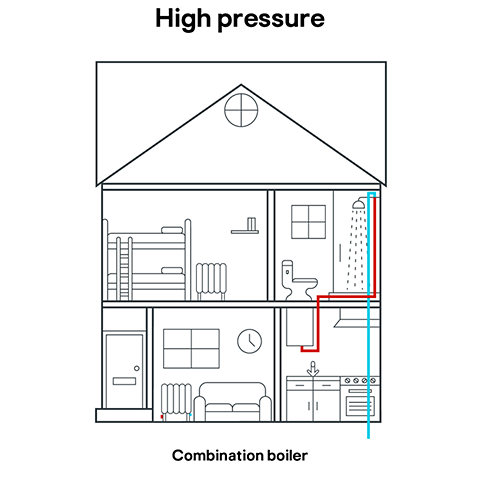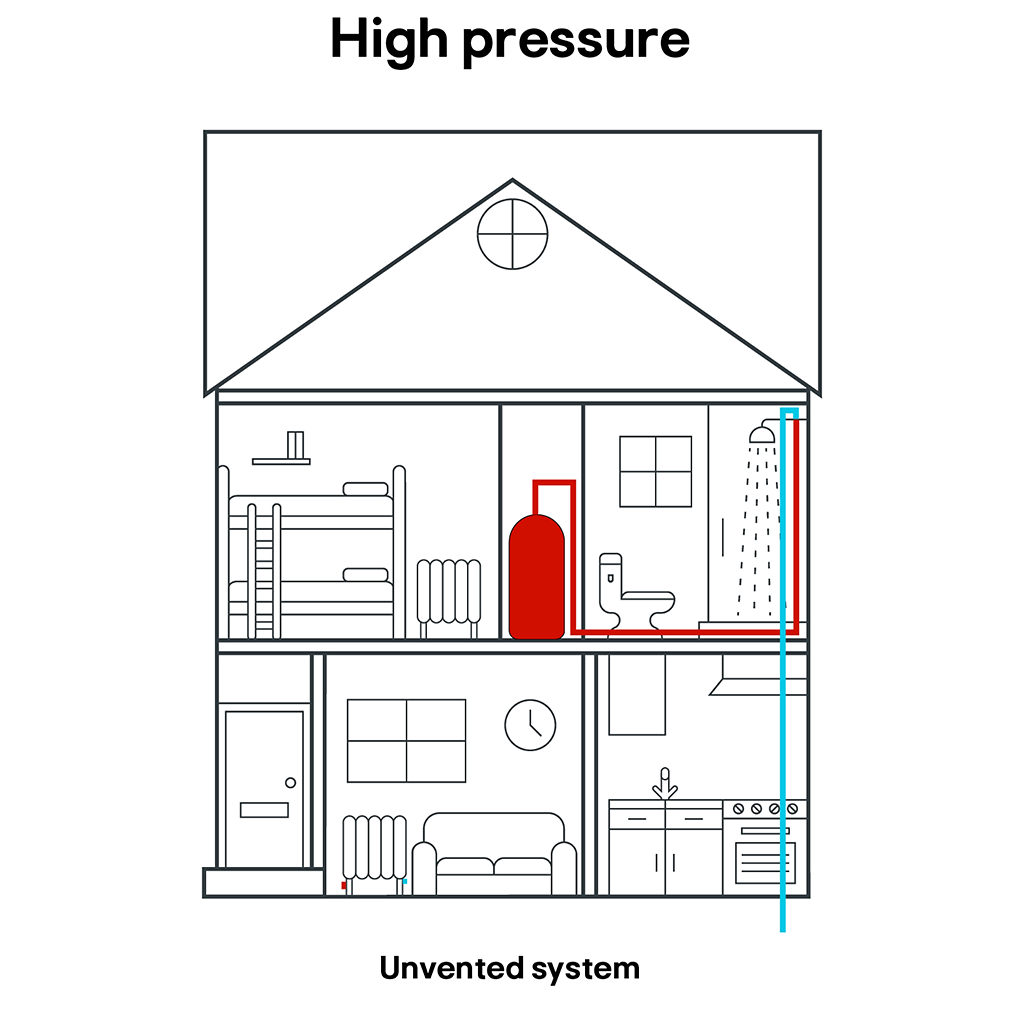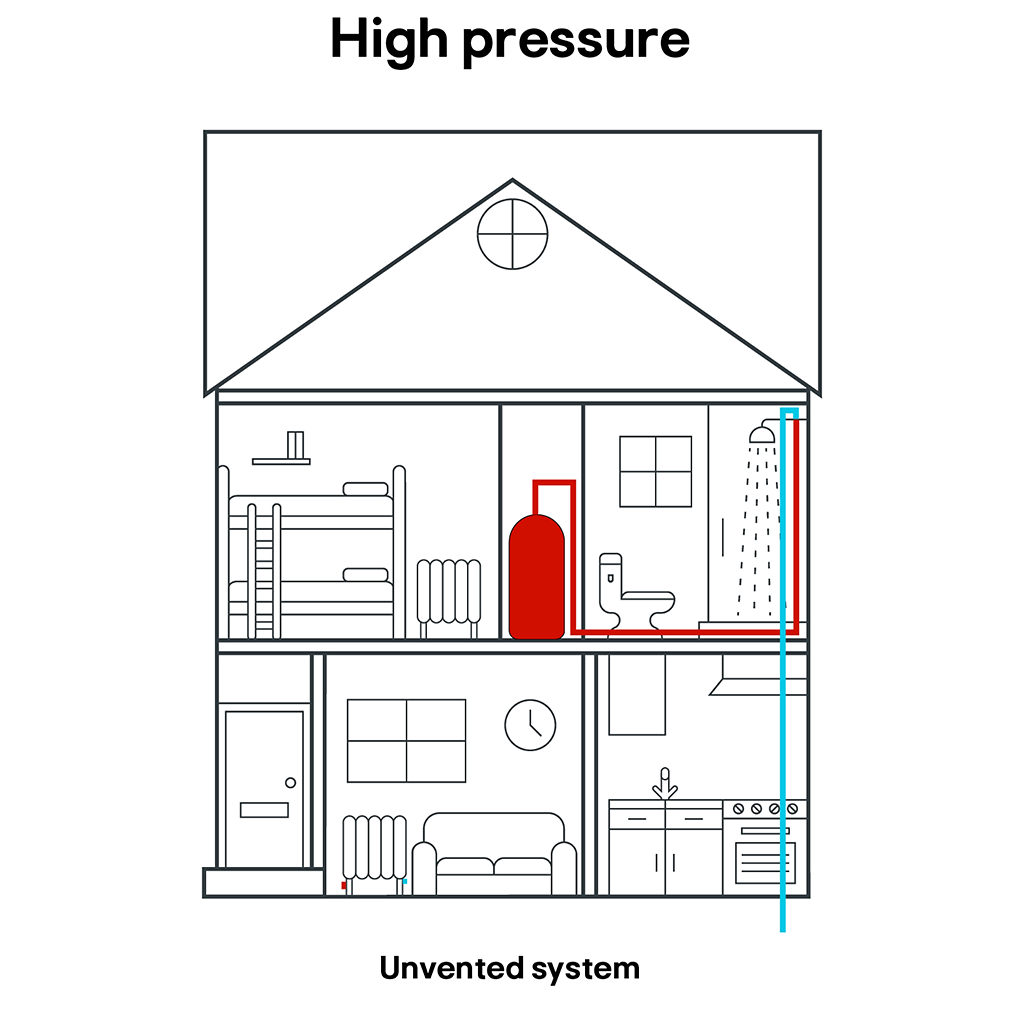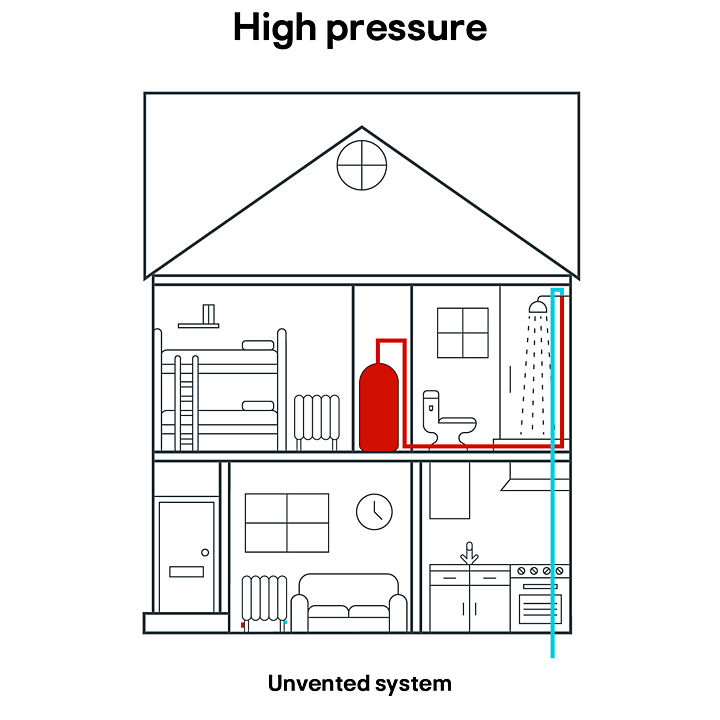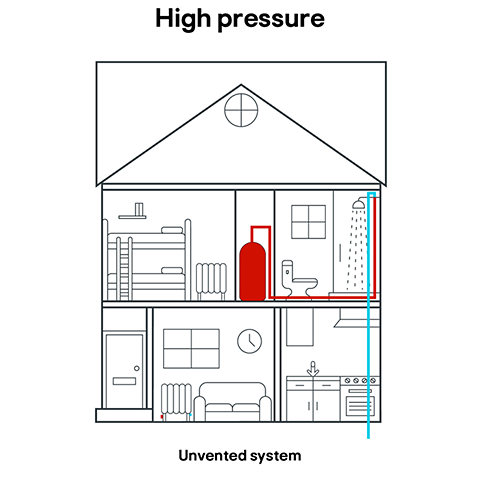 B. Is an electric shower right for me?
YES – if you have a small hot water tank. As mixer showers and power showers rely on your boiler for hot water, those with smaller tanks sometimes find they don't have enough hot water to serve the whole household come shower time. Electric showers solve this problem as they produce their own hot water.
YES – if your house has a combi boiler. Electric showers are suitable for pretty much any type of water system. However, they are an especially popular choice for homes with combi boilers. Those with gravity-fed systems often prefer a mixer shower or power shower.
4. Benefits of an electric shower
Electric showers draw on a mains cold water supply and provide instant hot water
They are a source of showering if a heating system breaks down
They are easy to install due to not needing a thermal hot water system
'A' energy rated as well as 96% efficient
Use is not limited by the size of a thermal store – no running out of hot water at peak showering periods
Electric showers and water heating require only a single cold water inlet pipe (cold)
There are no specialist installer skills required 
There may be no requirement for a gas supply to be installed at all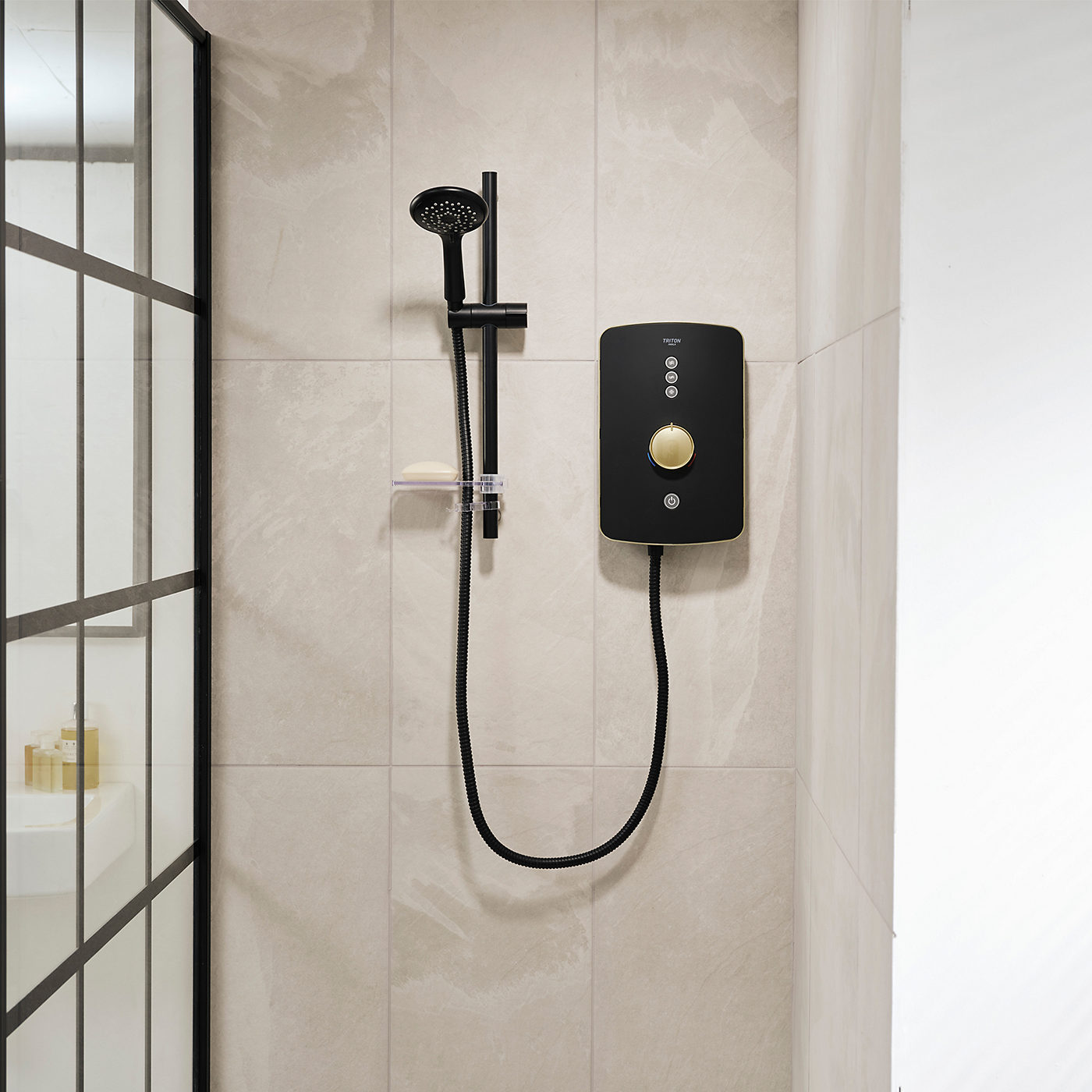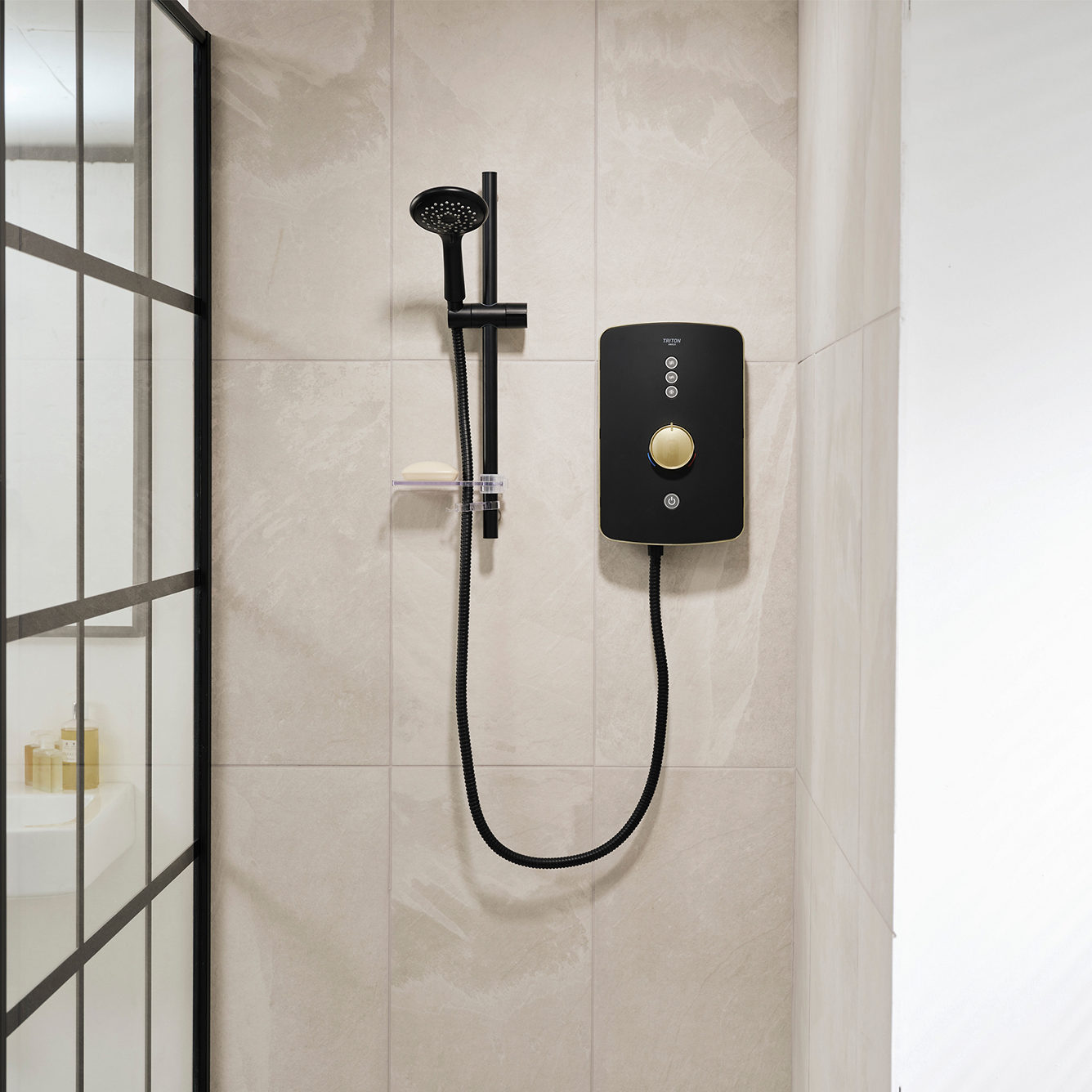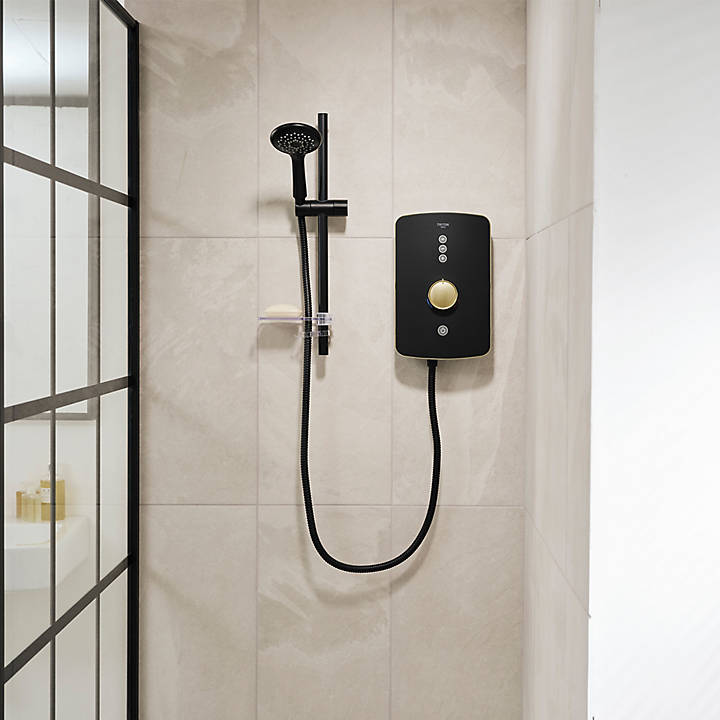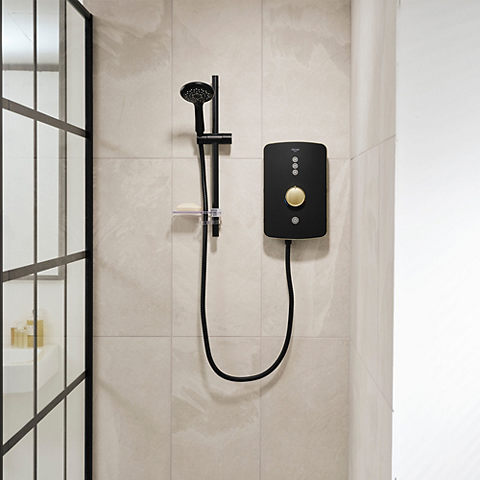 5. Are electric showers energy efficient?
The simple answer is yes, electric showers are energy efficient. Electric showers only heat water when needed, meaning energy isn't wasted when the shower isn't being used. Electric showers also save on electricity compared to other types of showers. Why? Electric showers usually run at a mains pressure of around 6 litres per minute, whereas the water pressure of other systems averages at about 8 litres per minute. That's a considerable saving on energy and therefore money!
Installer's favourite - voted Screwfix 'Plumbers Product Of The Year' 2021
Multiple cable and water entry points
Easy to clean shower head
Separate temperature and power controls
2 year parts and labour guarantee
Efficient A energy rating
Easy to use – illuminated soft touch buttons
Push button start/stop to select your favourite shower setting
Phased shutdown - flushes out preheated water after use to help reduce limescale build up
Includes 1.25m hose with easy clean five spray pattern shower head and stylish slender riser rail kit
2 year parts and labour guarantee
Efficient A energy rating
Push-button start/stop – retains you preferred power and temperature settings
Easy Wire – Swing-Fit™ for left and right-hand side cable connections
Easy Plumb – Swivel Fit™ for left and right-hand side water connections
Adjustable shower kit – ideal for replacements
Includes 1.25m anti-twist hose – designed to avoid kinks
Easy Clean – 5 spray pattern shower head
2 year parts and labour guarantee
Efficient A energy rating
Mira Clearscale™ technology reduces limescale by up to 50%
Advanced temperature control keeps showering temperature consistent
Separate power and temperature controls to fine tune your perfect shower
Sensi-flo™ technology helps prevent scalding if the showerhead or hose become blocked
Opti-flo™ optimises flow throughout the year
Suitable for cold water mains only
2 years parts and labour guarantee
Multiple water and cable entry points to easily replace most electric showers
Mira Clearscale™ technology reduces limescale by up to 50%
Mira Sprint Multi-Fit™ with a 110mm single spray showerhead and rub clean nozzles
Advanced temperature control keeps showering temperature consistent
Environmentally friendly eco setting saves water and minimises the consumption of energy
2 years parts and labour guarantee