How to choose the right power tools for your project
Our favourite power tools for the job
Projects incoming. Whether you're new to DIY or consider yourself a DIY pro, it's crucial that you've got the right tools for your next project. Mac Allister has a range of new power tools to add to your kit, including cordless tools powered by the SOLO 18v and 36v system. Pick your battery and effortlessly switch between tools, from combi drills and impact drivers to angle grinders and table saws. Build your tools for the jobs you need, with the freedom of cordless to make every job easier. That's the shelves up and decking built!
Ready to find the right tool for the job?
1. Combi drill
2. Impact driver
3. Angle grinder
4. Jigsaw
5. Multi sander
1. Combi drill
What is a combi drill used for?
A combination (combi) drill is used to drill holes and drive screws into materials such as wood, plastic, and laminate. Combi drills are particularly useful for drilling into harder materials such as concrete as they feature a higher impact hammer option. A combi drill does exactly what it says on the tin – it has a combination of modes to drill in various ways. The main modes are usually drilling, hammer, and screwdriver mode.
How does a combi drill work?
As mentioned, a combi drill has a number of modes. The drill has a combined mechanism that can drill, drive, and hammer materials. It uses rotational force (spinning) for the drilling, whilst also featuring an impact mechanism for driving screws. The final mechanism mimics a hammer action to hammer drill objects. Combi drills usually have two speed options (low speed, high torque and high speed, low torque) so you can change the speed depending on the action required. For example, you'll need a high speed and low torque setting for drilling softer materials such as wood.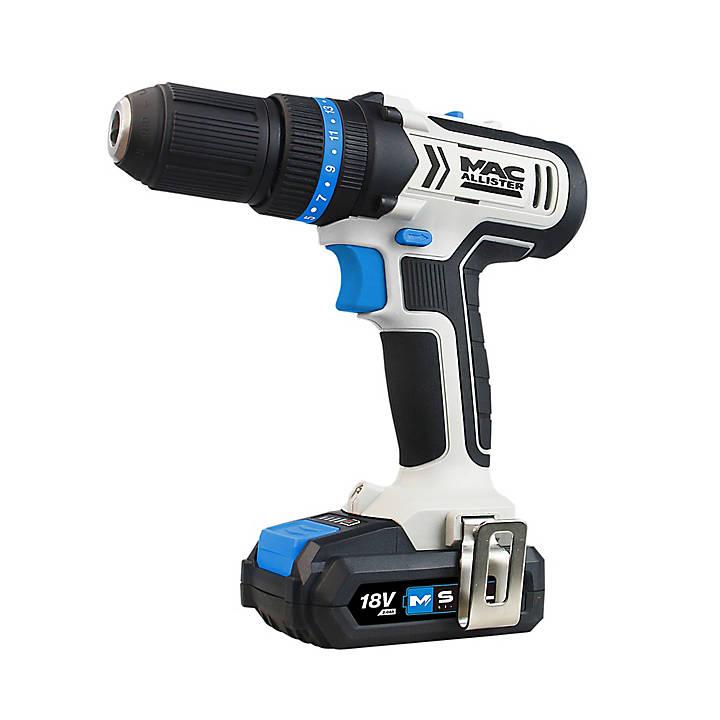 Cordless freedom for ultimate flexibility
3 modes: hammer drilling, drilling, and screwdriving
2 variable speeds and 18 torque settings
LED work light to see the task at hand
Powered by an 18V battery, compatible with any 18V Mac Allister SOLO tool
2. Impact driver
What is an impact driver used for?
Similar to a combi drill, an impact driver is used for driving screws, as well as tightening nuts. Impact drivers work by delivering short bursts of force (or impact) instead of the steady turning motion you'd get from a drill. Perhaps the biggest difference in a drill and an impact driver is the amount of torque an impact driver has. It's more powerful than a combi drill, making the job easier, however it doesn't have the combination of features like a combi drill.
How does an impact driver work?
Like a combi drill, an impact driver uses rotational force to drive a screw. If you're looking for a tool purely to drive screws, and impact driver will get more work done on a single charge than any other type of driver. As previously mentioned, an impact driver is a powerful option compared to other tools. In terms of power, an impact driver can offer around 100 Nm of torque, compared to only around 50 Nm for a combi drill.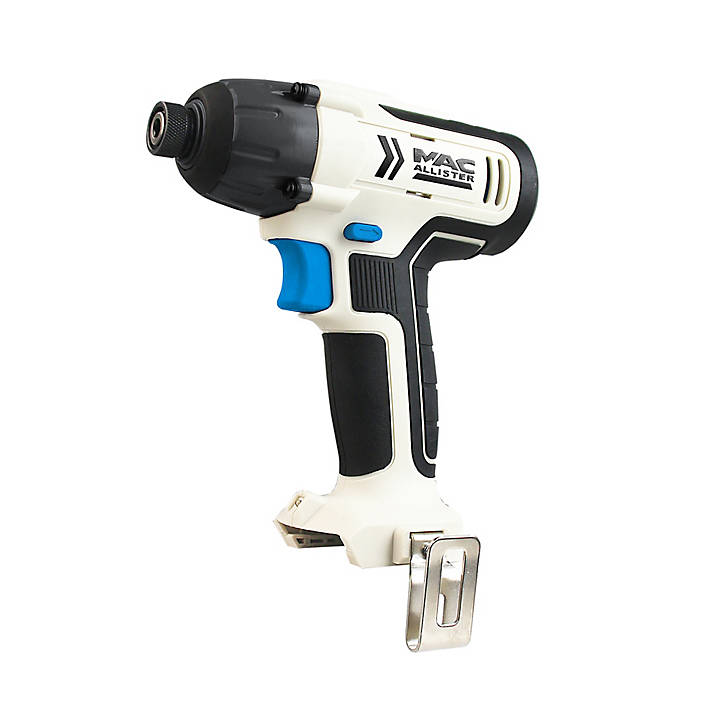 Cordless freedom for ultimate flexibility
Variable speed for greater control
High torque of 100 Nm
LED work light to see the task at hand
Powered by an 18V battery, compatible with any 18V Mac Allister SOLO tool
3. Angle grinder
What is an angle grinder used for?
An angle grinder is used for three things: cutting, grinding, and polishing. Angle grinders are an excellent choice for cutting as not only do they run at a high speed, but they also give great precision due to them being handheld, unlike stationary grinders. As well as cutting, angle grinders are the perfect tool for tasks such as removing old paint or rust from metal – a truly versatile tool!
How does an angle grinder work?
Angle grinders work by spinning a small disc at a high speed (typically around 10,000 RPM) in order to cut, grind, and polish. To use the angle grinder, you'll need to angle the grinder disc with the cutting edge of the tool you're working on, before turning the grinder on and letting it spin to cut or grind your object. Don't forget: always use two hands when operating the grinder for safety.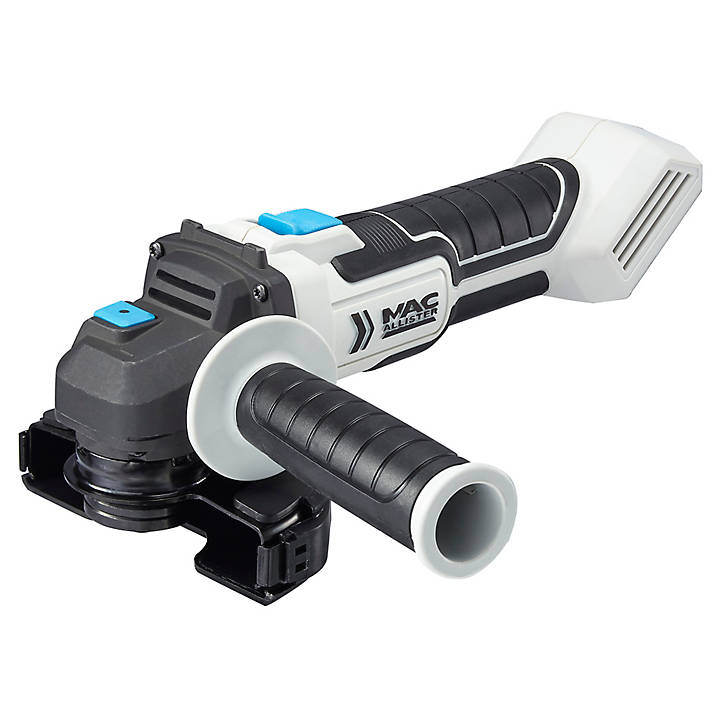 Cordless freedom for ultimate flexibility
Quick change guard between cutting and grinding
Tool-free guard adjustment
2 position auxiliary handle for more control
Powered by an 18V battery, compatible with any 18V Mac Allister SOLO tool
4. Jigsaw
What is a jigsaw used for?
In a nutshell, a jigsaw tool is used to cut shapes, such as curves, into materials. They are primarily used to cut intricate curves into wood but can also be used on other materials such as metal and plastic. Jigsaws can also be used to cut straight lines, however are more popular for their ability to smoothly cut curves and circular lines.
How does a jigsaw work?
A jigsaw uses a narrow reciprocating blade to cut shapes, such as stencilled designs in materials such as wood and metal. It consists of a handle, a motor, and a straight blade, which moves up and down (reciprocates) to produce curved edges and shapes. Jigsaws have variable speeds depending on the type of job and material being used.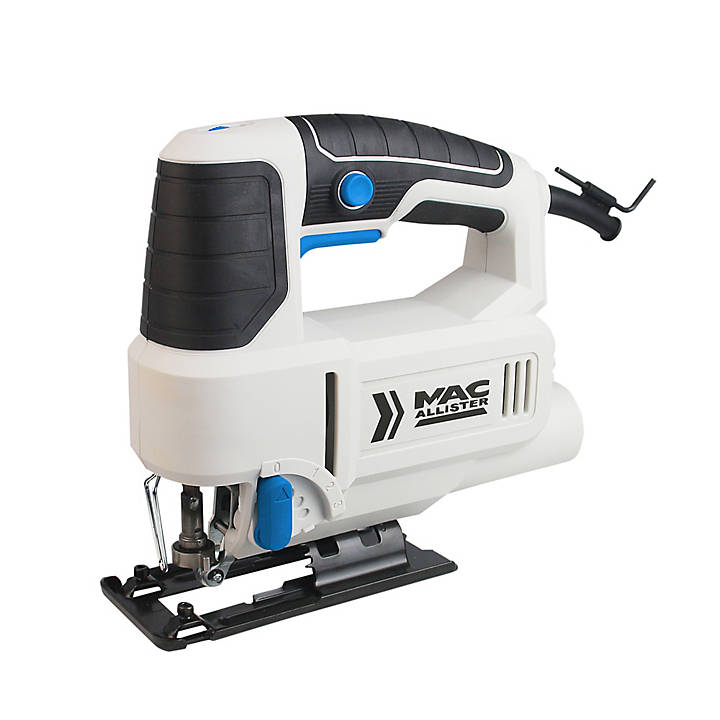 Versatile cutting for use on a variety of materials
Cuts wood up to 80mm thick
+/- 45 degree bevel for angled cuts
Variable speed
4 pendulum settings – from rough to fine cut
Easy tool-free blade change
Dust extraction facility for a cleaner working area
5. Multi sander
What is a multi sander used for?
As suggested in the name, a multi sander is different from a standard sander as it has multiple plate (or base) options. This means that you can sand and smooth with different bases, such as triangular, circular, or rectangular sheets. Multi sanders are a popular choice amongst DIY'ers as they are extremely versatile with multiple functions. There are options for sanding large and small surfaces, as well as smoothing various different materials. 
How does a multi sander work?
A multi sander tool works by using sanding sheets on interchangeable bases, which are driven in specific motions when applied to a surface. As the tool has multiple functions, the way it works is specific to the attachment used. For example, the circular (orbital) sander attachment will drive the sanding sheet in a short circular motion when the sander is applied to a surface. Top tip: once you've attached your chosen base, be sure to switch the multi sander on before the sanding base comes into contact with the material.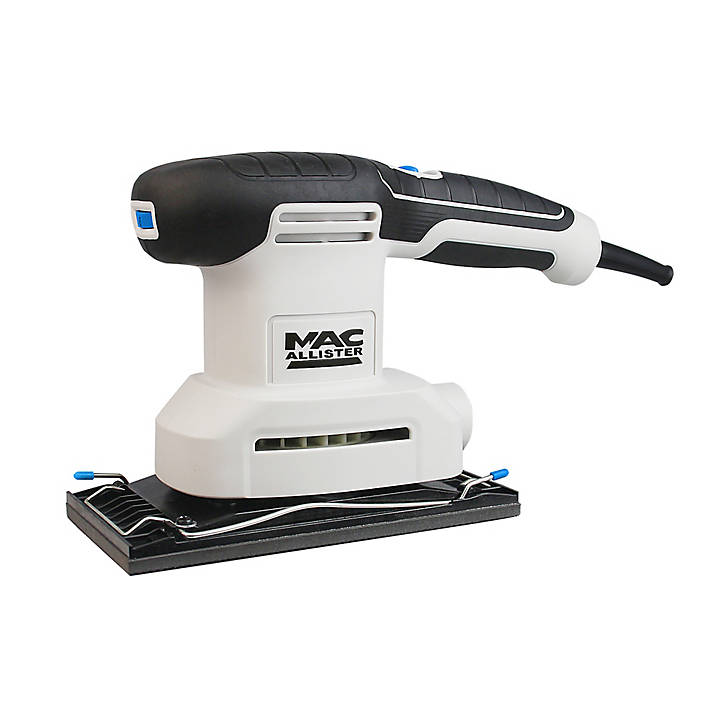 Interchangeable base for different sanding tasks
Hook and loop sandpaper attachment for quick changing
Includes dust bag for a cleaner working area