Jargon-busting advice to find the right drill
A power drill is one of the most essential home improvement tools.
A power tool can be used to bore holes, loosen or tighten screws and even chisel away materials. Combine this with the ability to use on a variety of different surfaces and materials. The right drill allows you to easily undertake multiple DIY tasks.
Our handy guide will explain everything you need to know about drills and will help you decide on the best one for you.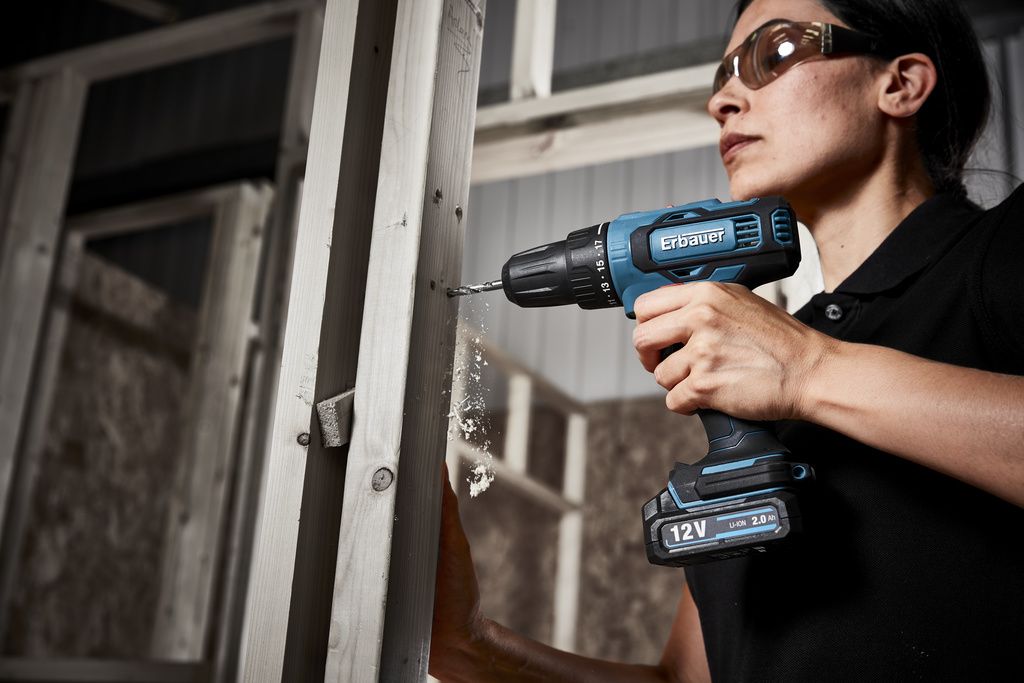 Before you begin
What will you be using the drill for?
When you're deciding what kind of drill you want you'll need to consider the different types on the market and what you will be using your drill for. Do you need a drill for everyday household tasks like putting up shelves or hanging pictures? Or will it be used as part of a bigger renovation and need to drill larger holes through bricks or masonry? Most drills have multiple functions, so even if you need a tool that could be used for both scenarios, we have one that could suit you. Knowing a bit about your plans will help narrow down the search.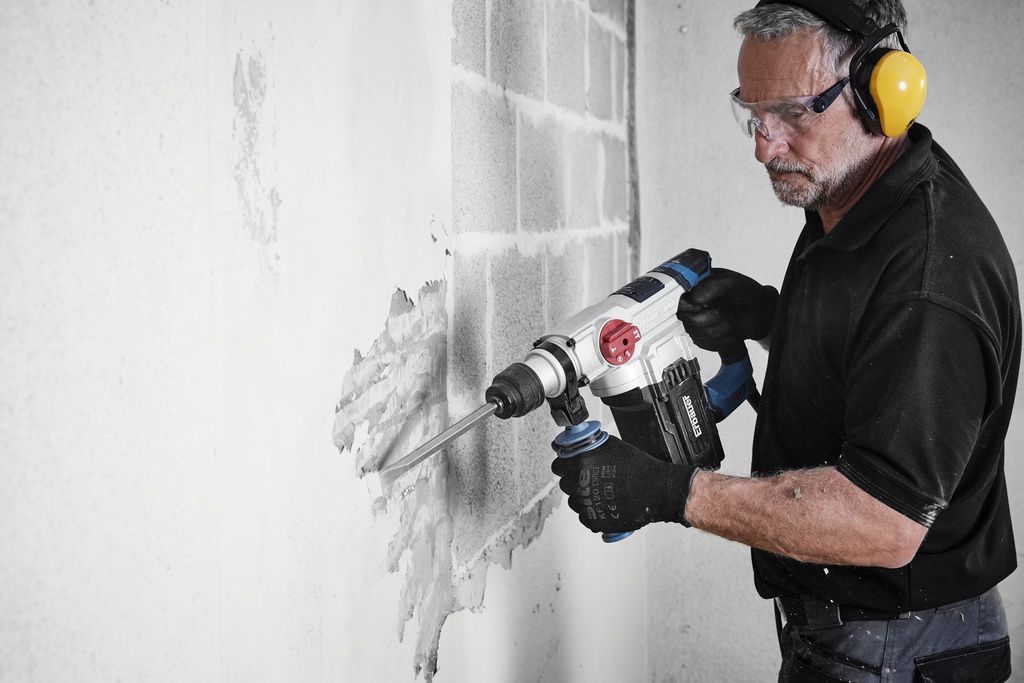 Another consideration is the length of a particular task. The size and weight of a drill can affect how long you can spend working on your project – if the tool is heavy and bulky you'll quickly tire of holding it. Make sure you pick a drill that is comfortable for you to handle and you'll be able to keep working for longer.
Will you need to move freely?
Some of our drill options will need to be plugged into the mains, and can therefore limit your movement. If you are going to use your drill all over your house, and even outside, you may wish to consider another option for your convenience.
Types of drills
There are four types of drill you can choose from. Below, we have outlined the key features of each drill type and the kind of jobs they are best suited to so that you can identify which option is right for you.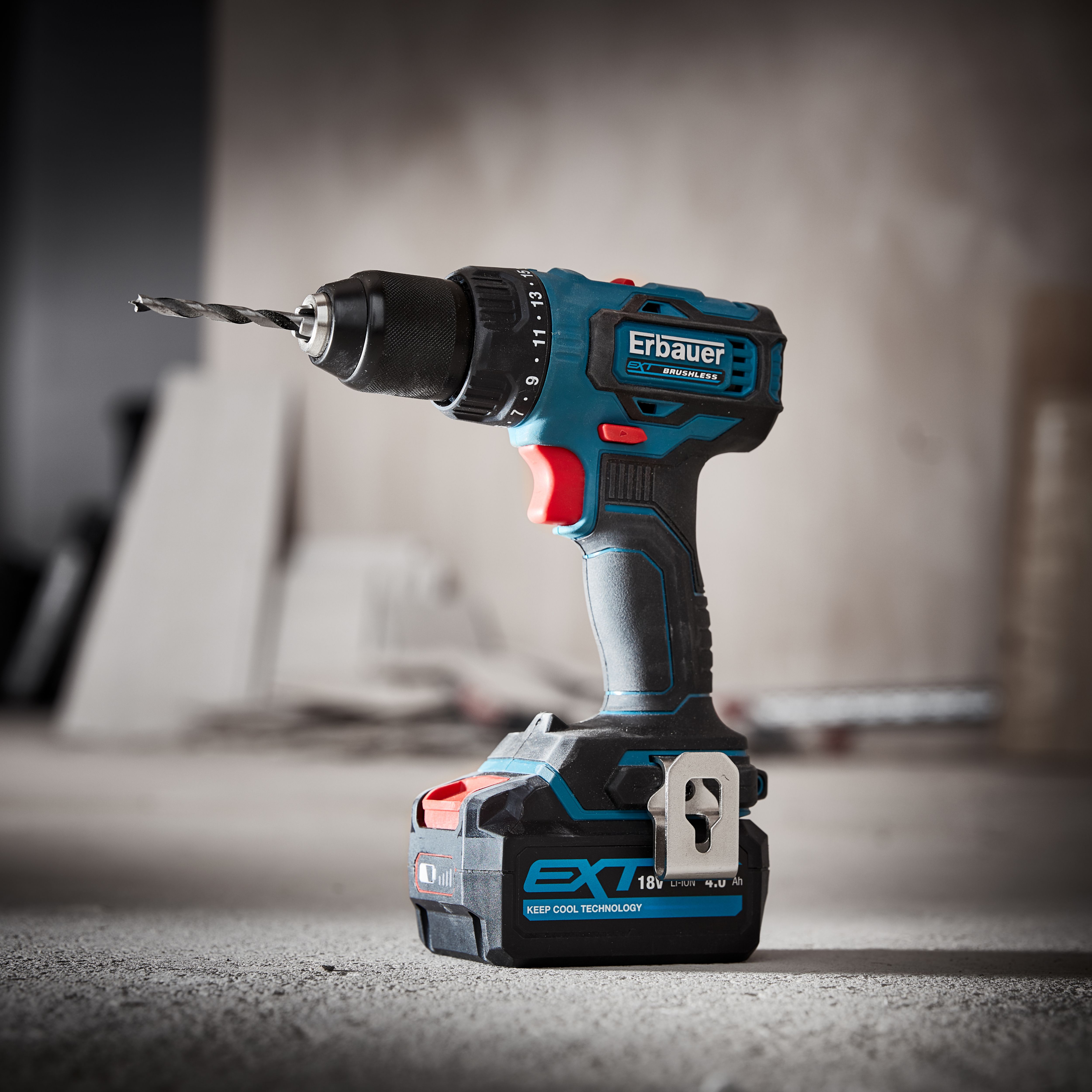 Drill drivers
If you're looking for a versatile option that will cope with all the small jobs in your home, explore our range of drill drivers and impact drivers. These drills not only drill holes into materials, they also act as drivers – this means they can loosen and tighten screws.
Using different drill and screwdriver bits means that you can use these drills on a variety of materials (such as wood, metal or masonry). As well as use it to do other tasks like put up shelves or assemble flat pack furniture.
Our drill drivers
• Are cordless • Have a power output of up to 18v • Offer a no load speed of up to 3200rpm • Can offer up to 24 torque settings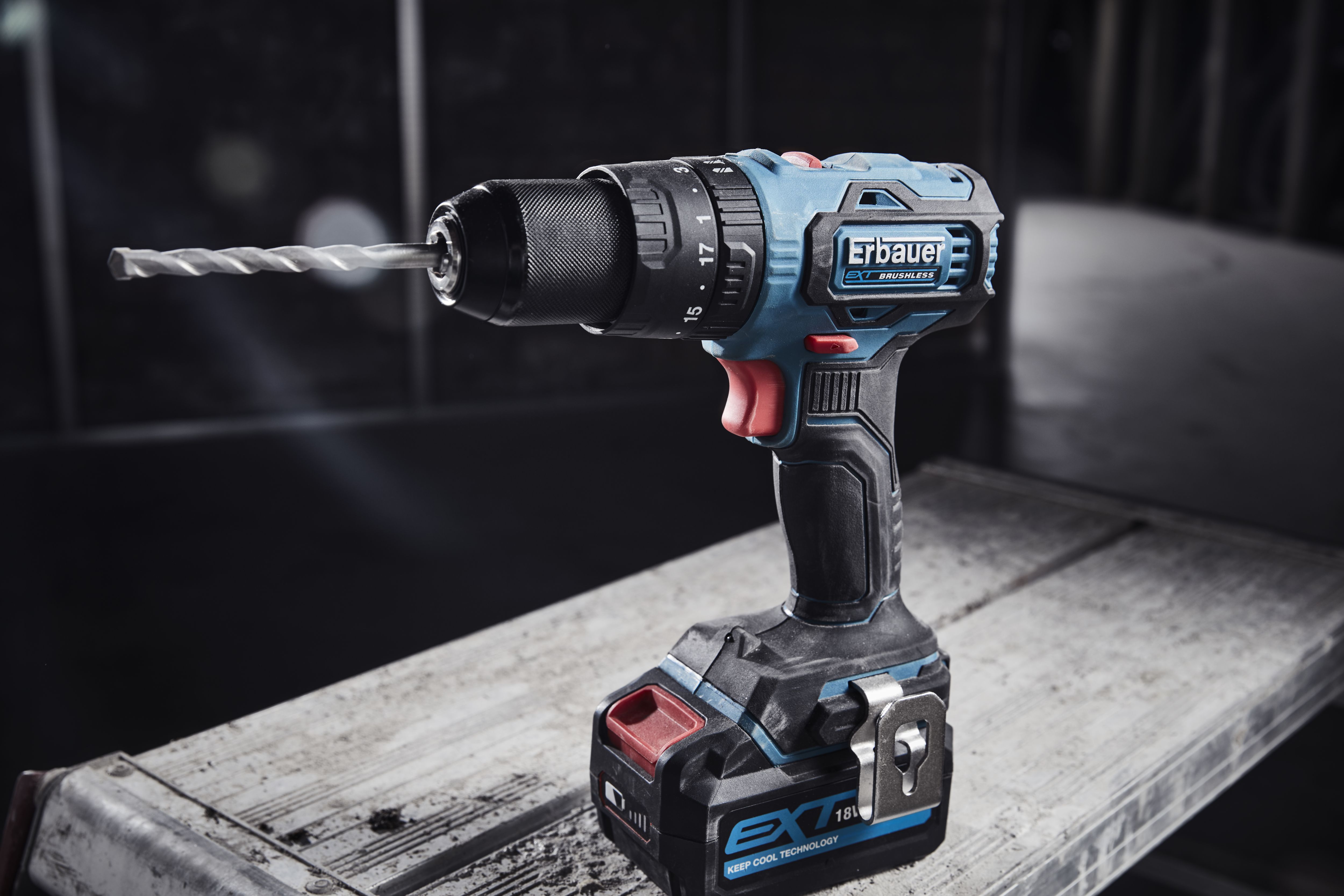 Combi drills
Almost identical to the drill driver, the combi drill has an additional feature that makes them ideal for drilling into harder materials. Behind the rotating drill bit - two ribbed, metal discs click in and out against each other, pounding the drill bit forward. This functionality makes the versatile combi drill an excellent choice for your home. It effectively makes it two tools in one and means you don't have to buy each separately.
Some of our combi drills have brushless technology. This means that the motor has been constructed in such a way that it means your tool can be more compact, less heat will be generated, and it will be more durable.
Our combi drills
• Are cordless • Have a power output of up to 20v • Offer a no load speed of up to 2000rpm • Can offer up to 24+1+1 torque settings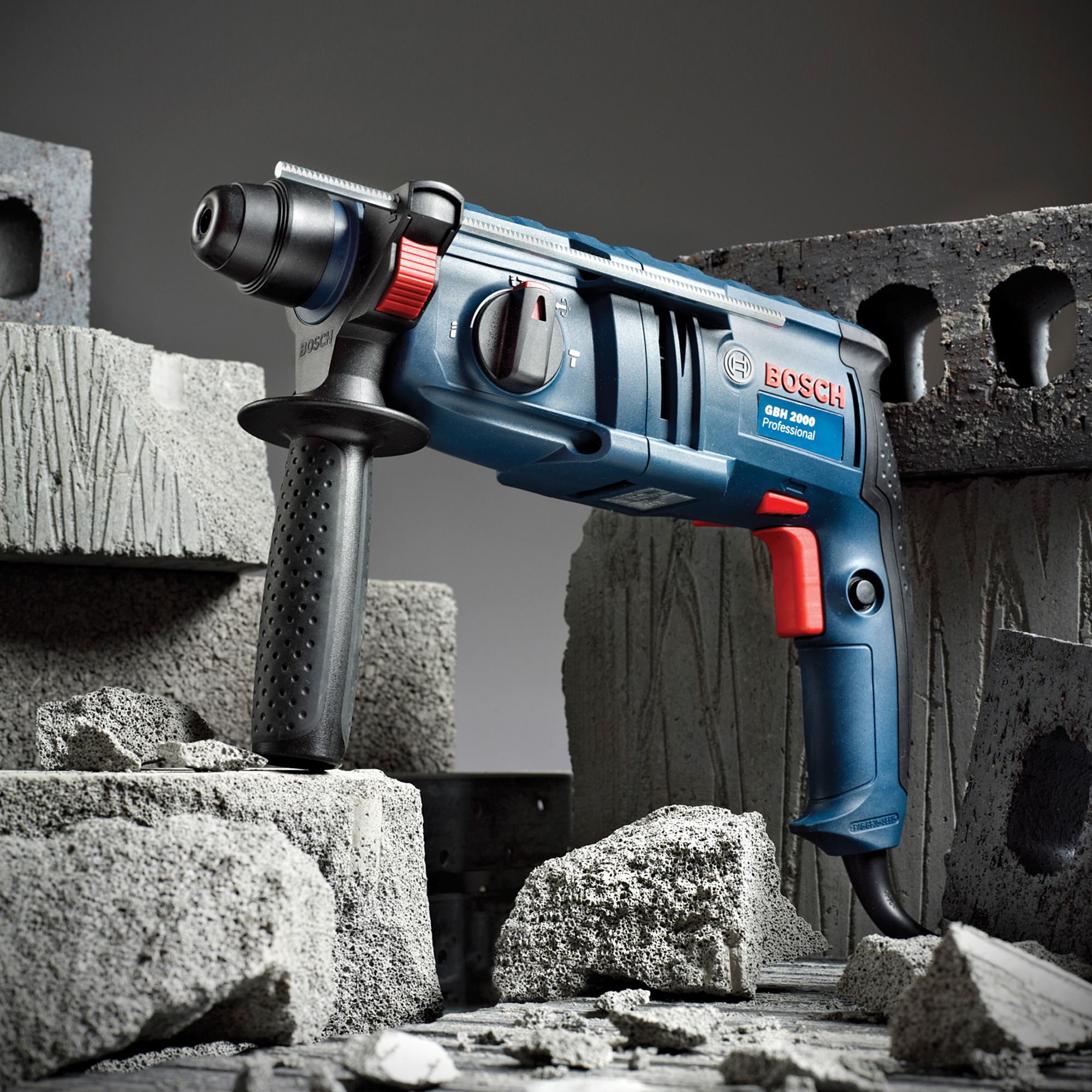 SDS Drills
Also known as the rotary hammer drill, an SDS (Self Direct System) drill is ideal for drilling through masonry and concrete. They have a hammer function that beats the drill bit as it rotates, helping them move through the denser materials. Additionally, you can separate out the rotation from this hammer function, allowing you to simply drill through lighter materials. Or you can turn off the rotation and use a chisel bit to help chip away at your brick or concrete walls. This is helpful if you need to create a channel in a wall to hide wires or cables.
The superior strength of the SDS drill makes it bulkier and not as easy to use for the more common DIY tasks in your home.
Our SDS drills
• Can be corded or cordless • Offer a power output of up to 1500W (corded) or 240v (cordless) • Offer a no load speed of up to 1500rpm • Can offer up to 6200bpm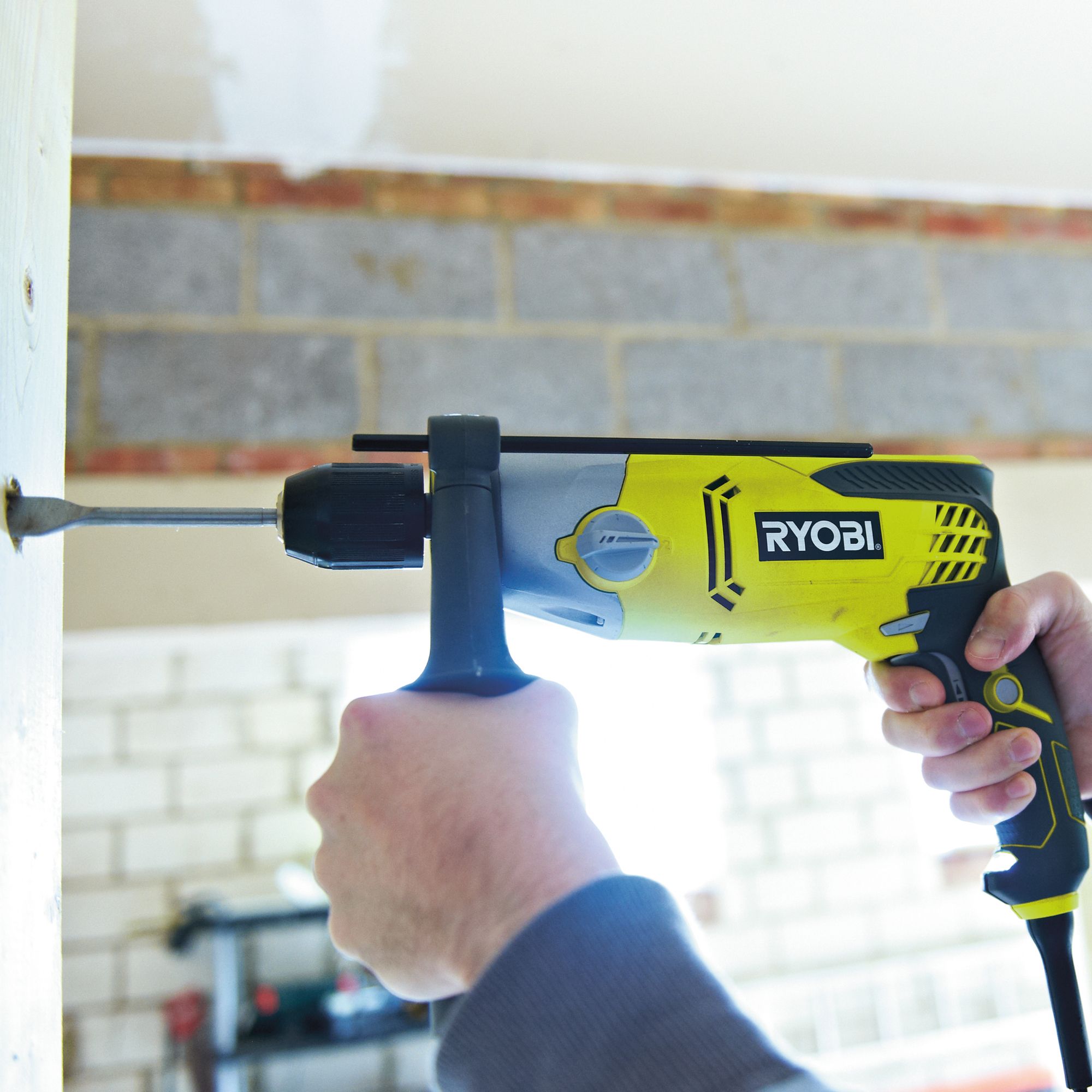 Hammer drills
Very similar to the SDS drill, hammer drills (also known as percussion drills) are really powerful drills. They work by delivering a rapid succession of blows especially designed for drilling in masonry or rock. The key difference between a hammer drill and a SDS drill is that hammer drills do not allow you to use the hammering action without rotation. So they cannot be used for chiselling.
Our hammer drills
• Can be corded or cordless • Have a power output of up to 1010W (corded) or 18v (cordless) • Offer a no load speed of up to 2000rpm • Can offer up to 51200bpm
Power source
When exploring our drill options, understanding the features will help you make the right choice for you and your home.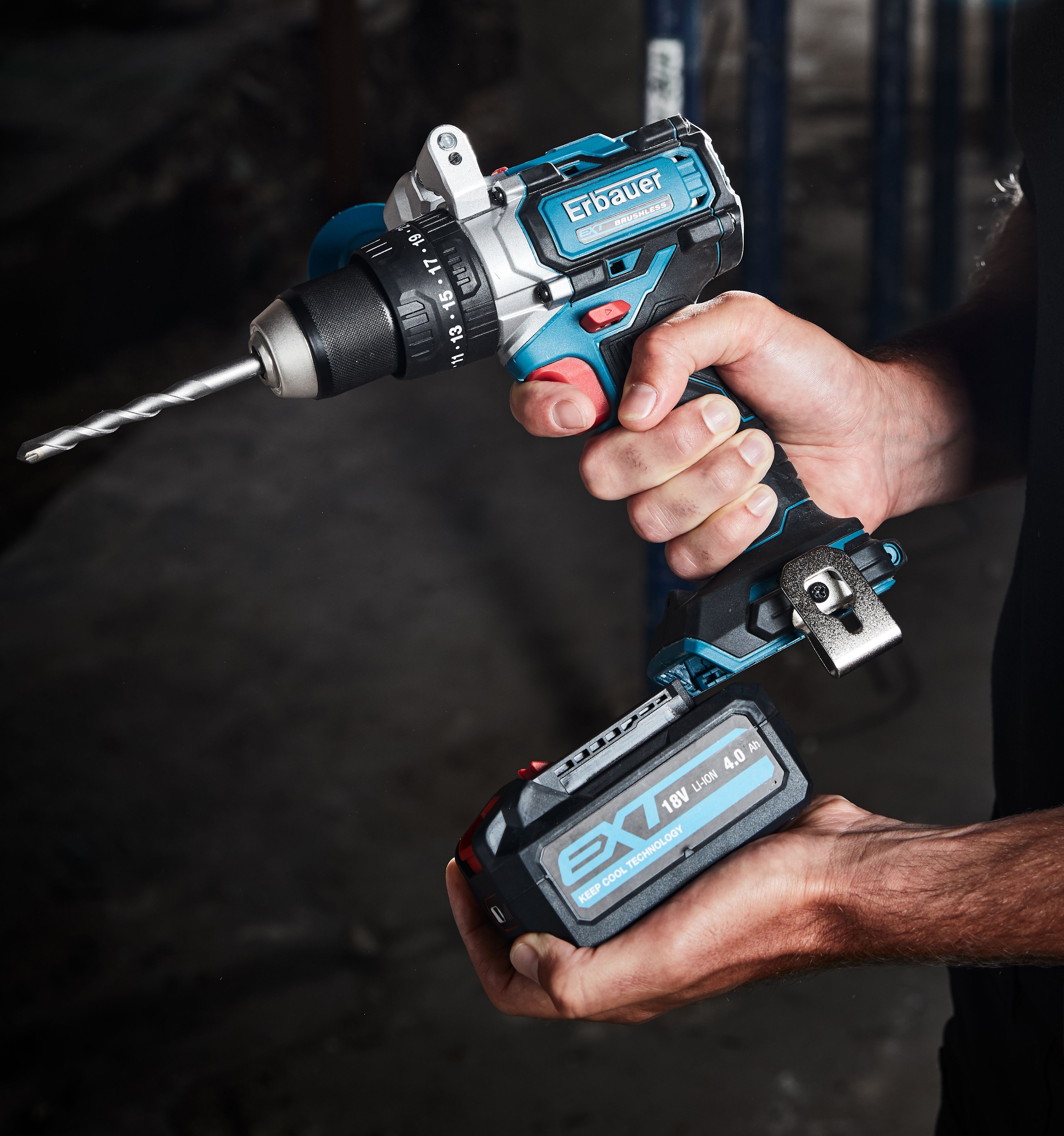 Cordless drills
Power measured in volts (V).
Able to be used anywhere around the home, the cordless drill is convenient in that you can move freely. As well as tackle those DIY jobs in hard-to-reach areas. However, they can be heavier than the corded options.
Voltage tells you how powerful your cordless tool is – a high voltage means a more powerful drill, and it will also give you more torque strength to overcome resistance.
Shop cordless drills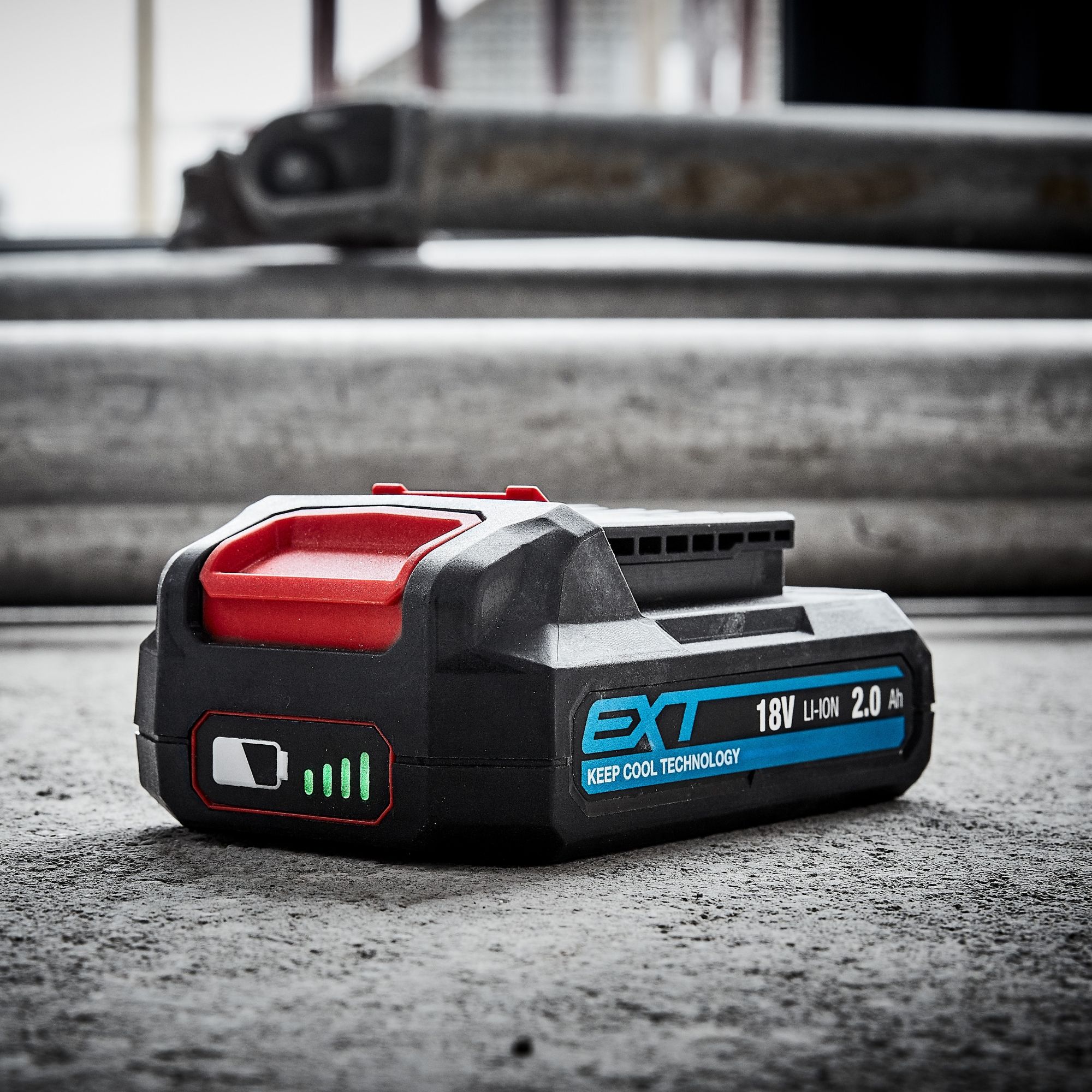 Battery capacity
Measured in amp hours (Ah).
The bigger the Ah number, the longer you can use your drill for. You will have to take into account the type of work you are doing, as tougher jobs can use more battery energy.
Voltage tells you how powerful your cordless tool is – a high voltage means a more powerful drill, and it will also give you more torque strength to overcome resistance.
Lithium-ion batteries
Lithium-ion batteries are now used in most cordless drills – as well as being safe for the environment, they are also lightweight and powerful.
Lithium-ion batteries allow you to charge the battery whenever you want to, no matter how full or empty it is. Plus, they have no self-discharge. This means that if you put away a fully charged tool for a long time in between your DIY jobs - it'll still be ready to use whenever you need it.
Interchangeable batteries
A lot of power tool manufacturers have created their ranges to all use the same battery. So, you can just have one and it will work on different pieces of equipment – just make sure it has the same voltage. This will save you money, as you can have one or two batteries for a number of tools.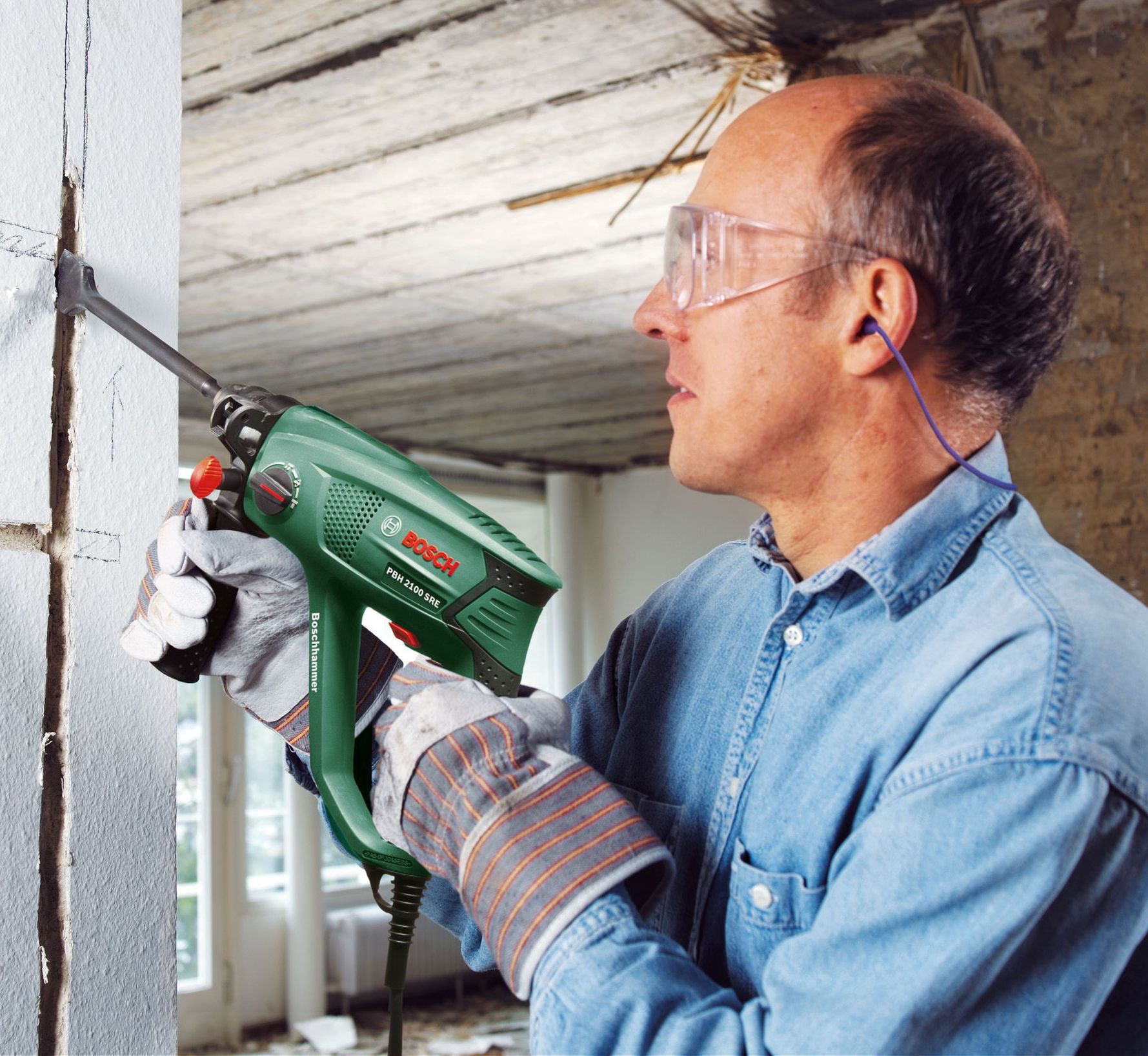 Corded drills
Power measured in watts (W).
A corded, electric drill is ideal for those heavy-duty jobs that are going to take a long time to finish. With a constant supply of power there is no need to change or wait to recharge batteries, ensuring you can keep going until the job is complete. However, when using a corded drill, be aware that you will have a trailing lead behind you that can be a trip hazard, or may be tangled around furniture – so be careful.
Wattage tells you how powerful your corded tool is – a higher wattage is better for drilling masonry, while if drilling into plasterboard, a lower number will suffice.
Features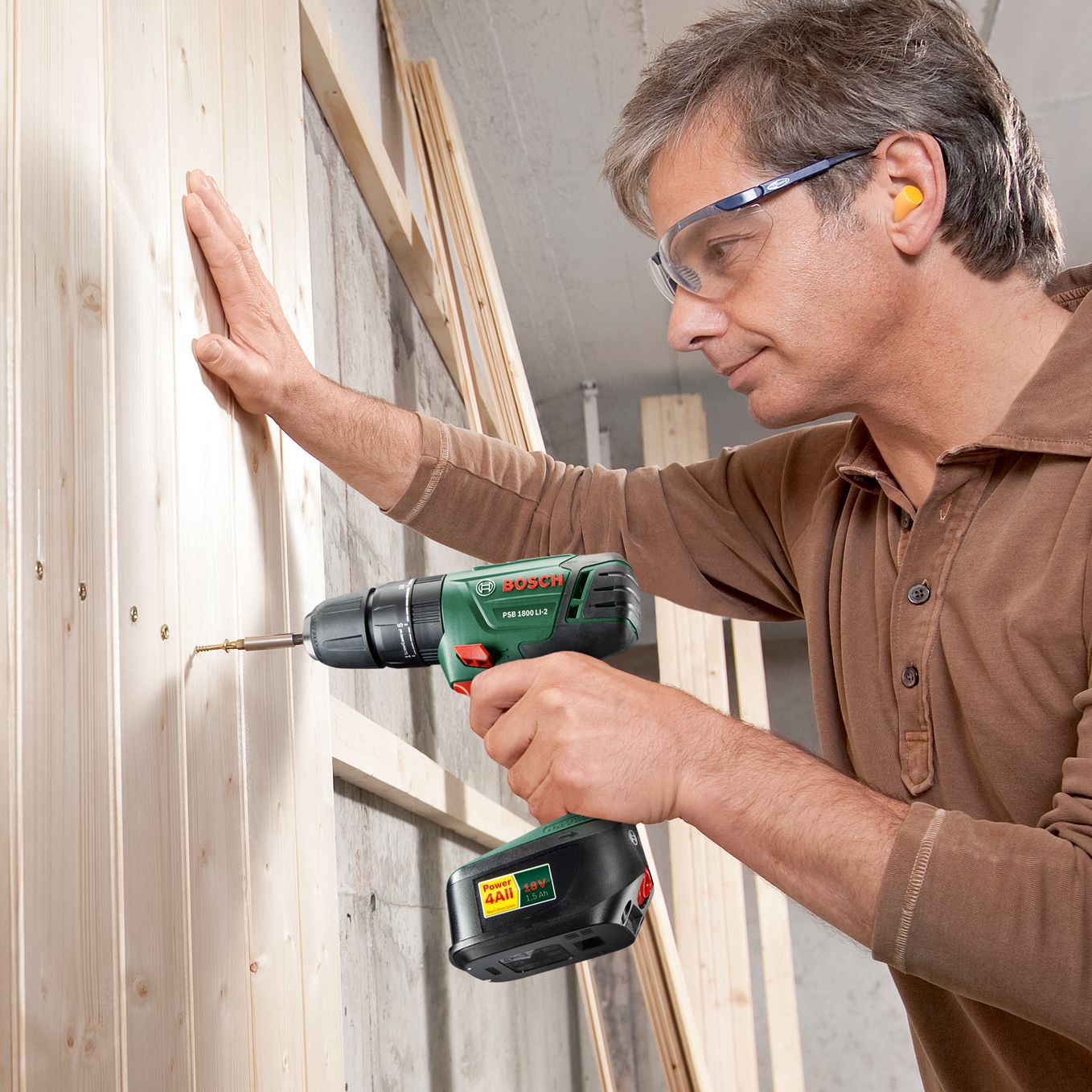 Torque
Measured in newton metre (Nm).
This refers to the twisting force of the drill. If you're going to be switching between materials, you need to be able to change the torque setting to suit what you are working on.
For heavy materials like brickwork, a high torque setting is best. However, if you're drilling through wood or plasterboard, a low torque setting will help to reduce the likelihood of any damage occurring. Some drills have as many as 20 torque settings so you can adjust to suit a variety of materials. We recommend starting on a lower setting and increasing the torque slowly to get to the right level for the task at hand.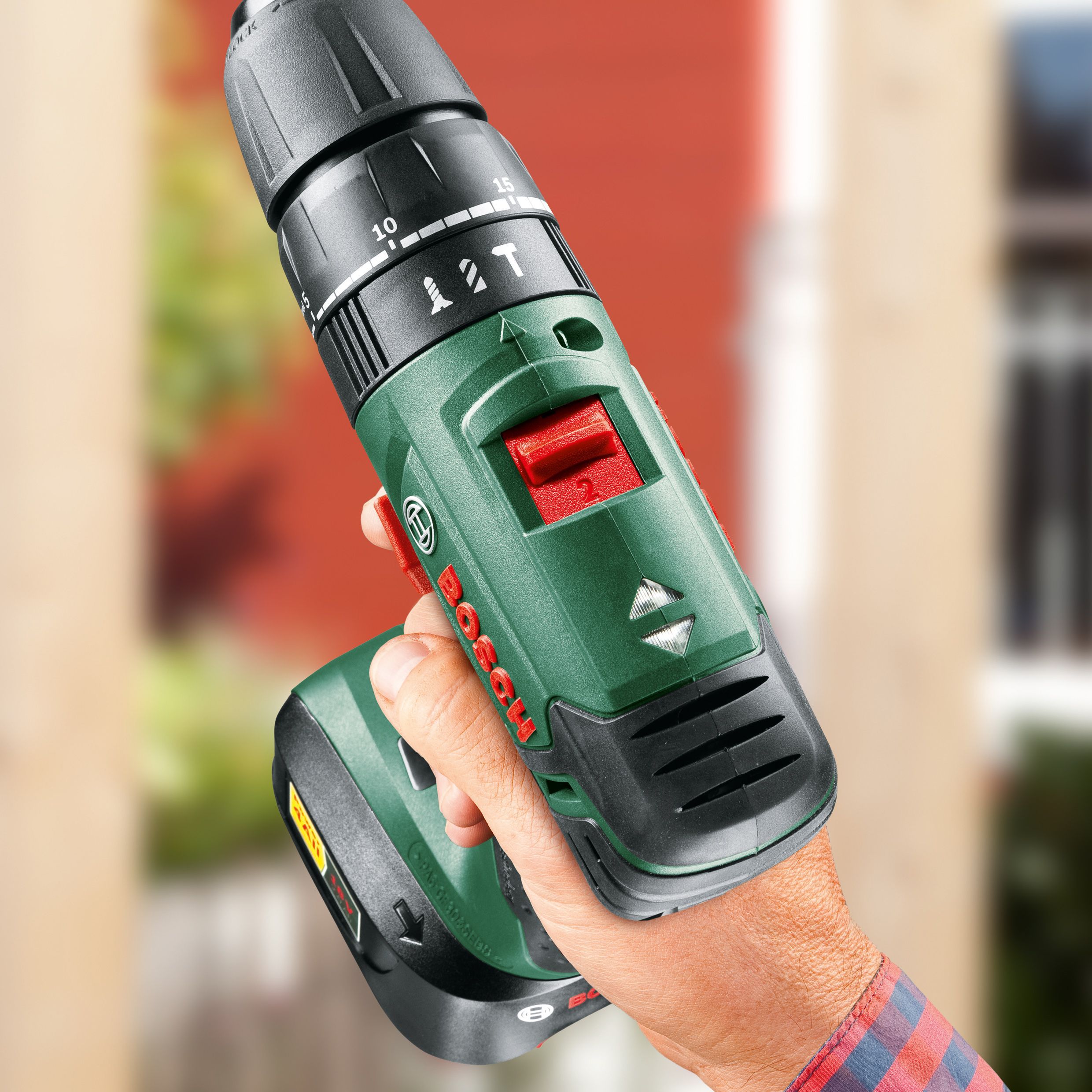 Speed
Measured in revolutions per minute (RPM).
Also known as no load speed, this tells you how fast your drill rotates. This number is recorded when drill is not loaded – this means it's not actively drilling. Usually, the RPM will be reduced once your drill comes into contact with anything.
Some drills allow you to change the speed of the tool and, as with torque, you should do this depending on the material or task you are doing. A low speed is ideal for driving screws or drilling into softer materials, whereas a high speed is better for drilling into harder materials.
Impact energy
Measured in Joules (J).
This refers to how much force the hammer of the drill hits with – the higher the Joule rating, the heavier and harder each blow. In practice, a higher Joule rating helps speed up the drilling action, so it's particularly important if chiselling is needed.
Blows per minute
Measured as BPM.
How many times in a minute the drill bit receives a percussive (hammer) blow – this action helps speed up penetration when drilling through masonry or stone.
Charge time
Different types of batteries have different charge times depending on the size and power of the battery. Choose a drill that has the shortest charge time if you don't have to wait to get going on your DIY task. You may also want to get a spare battery so that you can charge one while you're using the drill, and then simply swap them over when one runs out.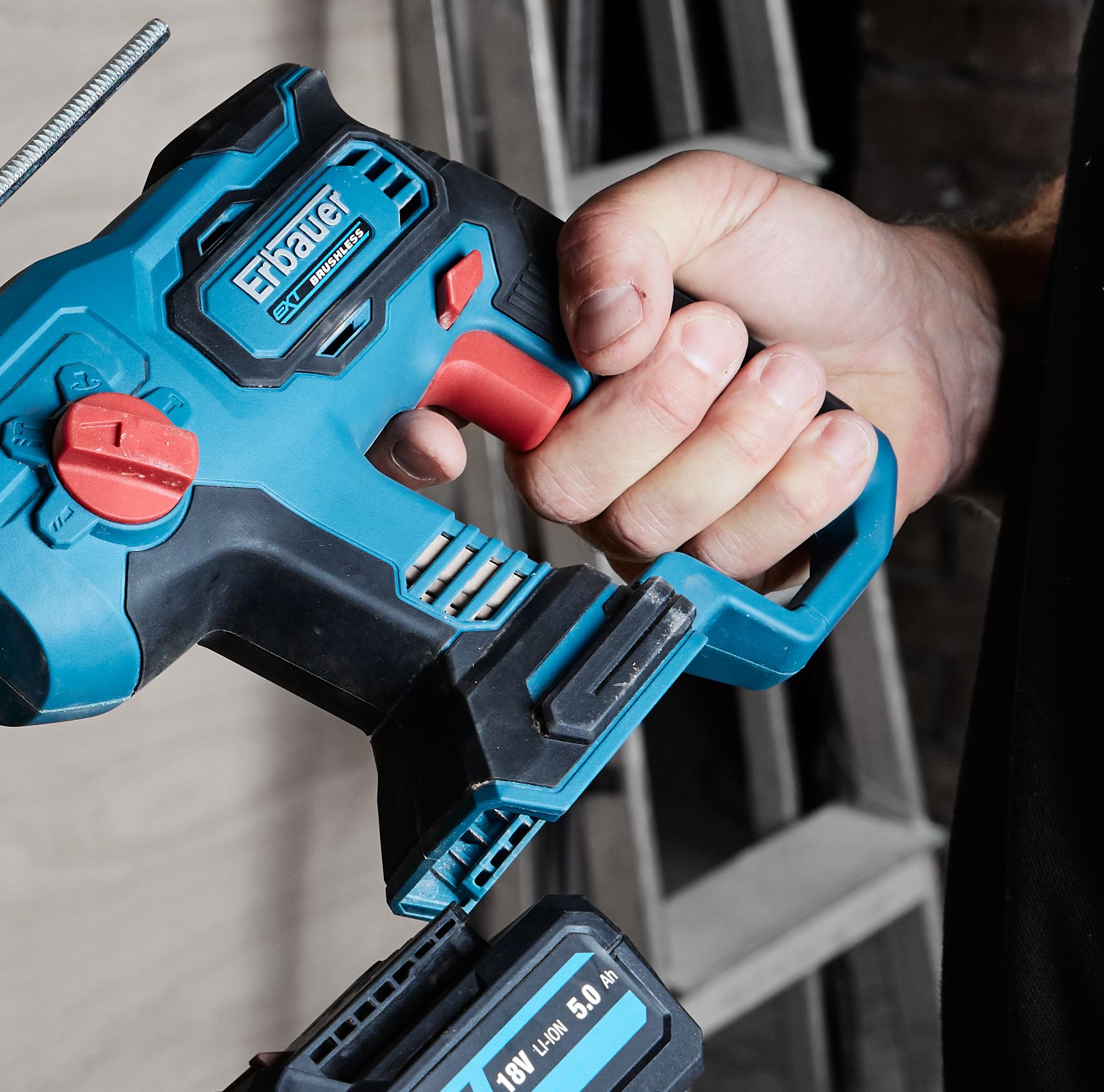 Handle design
Finding a drill with a comfortable handle is important, as it will allow you to use easily and without having to re-adjust your hand position while you're using the drill. This will make it easier to exert pressure in the correct area.
Vibration dampener
This can reduce vibration by absorbing the energy created by friction and heat created when the drill is on. Not only can a vibration dampener ensure that you get a better surface finish (as it leads to a smoother operation) it can also extend the life span of your tool.
Safety clutch
A useful function in SDS drills; a safety clutch will stop the drill (and the drill bit) from continuing to spin once it has hit something.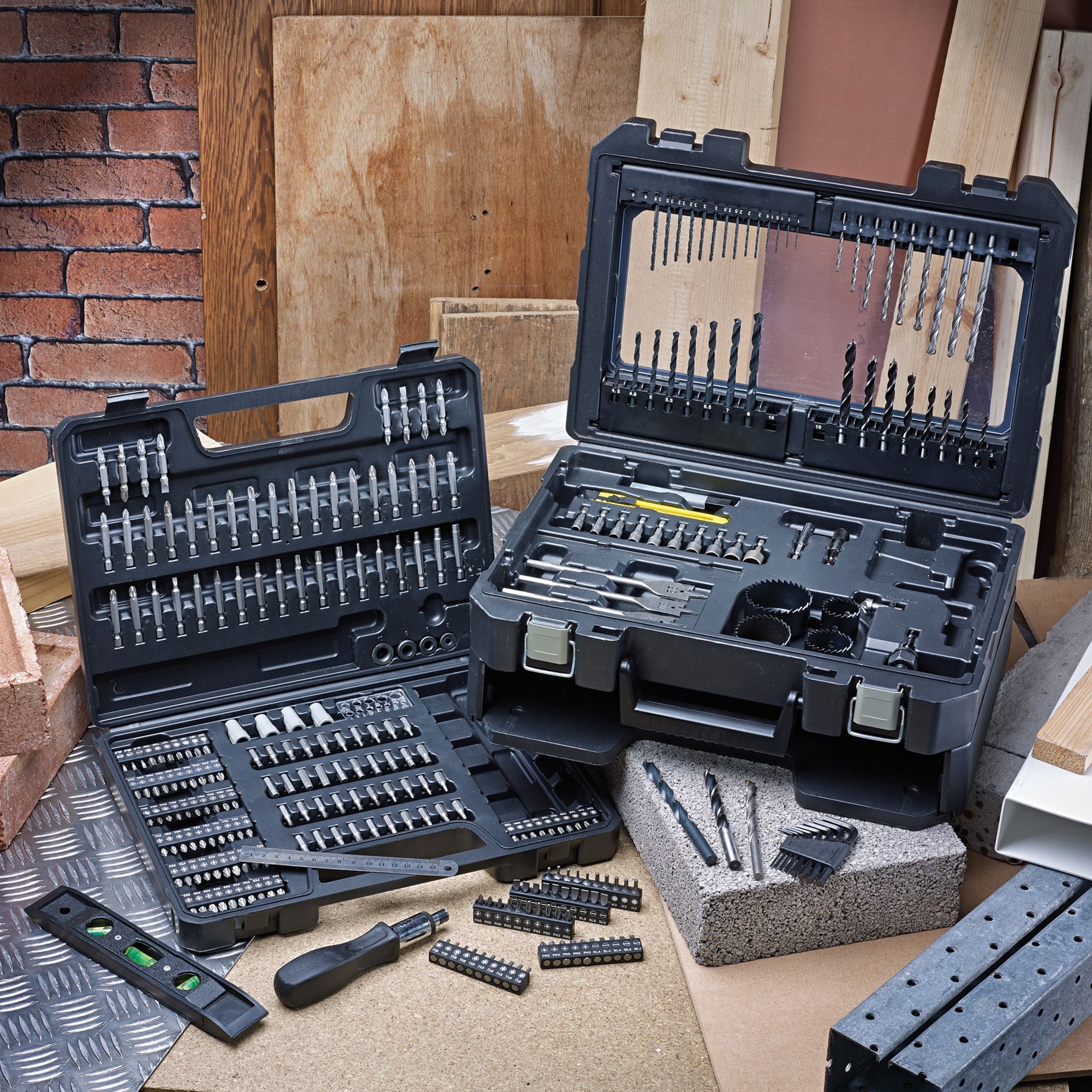 Drill bits
Drill bits are interchangeable between most drill models - simply loosen the chuck to remove or replace a drill bit, and then tighten it so that it's ready for use. You need to choose the right bit for the material you are drilling, and consider specialist bits for tasks such as cutting large holes. Some drills come with a selection of drill bits designed for use with different tasks.
The most popular drill bits include: - High-speed steel (HSS) bits - Ideal for DIY and professional use, they're suitable for drilling metal, wood and plastic. - Titanium-coated bits - This coating increases the hardness of the bit's surface, ensuring a longer life. Especially useful when drilling abrasive materials. - Flat bits – Best used for drilling large holes into wood. There's a hang hole in the cutting head for hanging/storage in workshops, or for pulling wires through holes (like when installing cables through joists). - Glass and tile bits - For drilling glass, mirrors and ceramics. The tips are manufactured from hard tungsten-carbide material, and are designed to operate at low speed with light pressure.
Holesaw - a cylindrical saw blade used to cut shallow holes in various materials, such as wood, cast iron, sheet steel, aluminium and most plastics.

Diamond core bits - a highly specialised tool used to drill large holes through walls. Extra long cores make it possible to drill a large hole from inside a bathroom, through a double thickness wall and out to the external wall. Ideal for ventilation hoses and waste pipes.
Keyless chuck
The chuck is at the front of the drill and holds the drill or screw bit. A keyless chuck means you can change bits quickly and easily, without the need for additional tools.
Depth gauge
Fitted to a drill bit, a depth gauge makes that the hole being drilled does not exceed your desired depth, and you get a consistent finish when making multiple holes.
Drilling accessories
Consider if you need some extra accessories to get the most out of your chosen drill.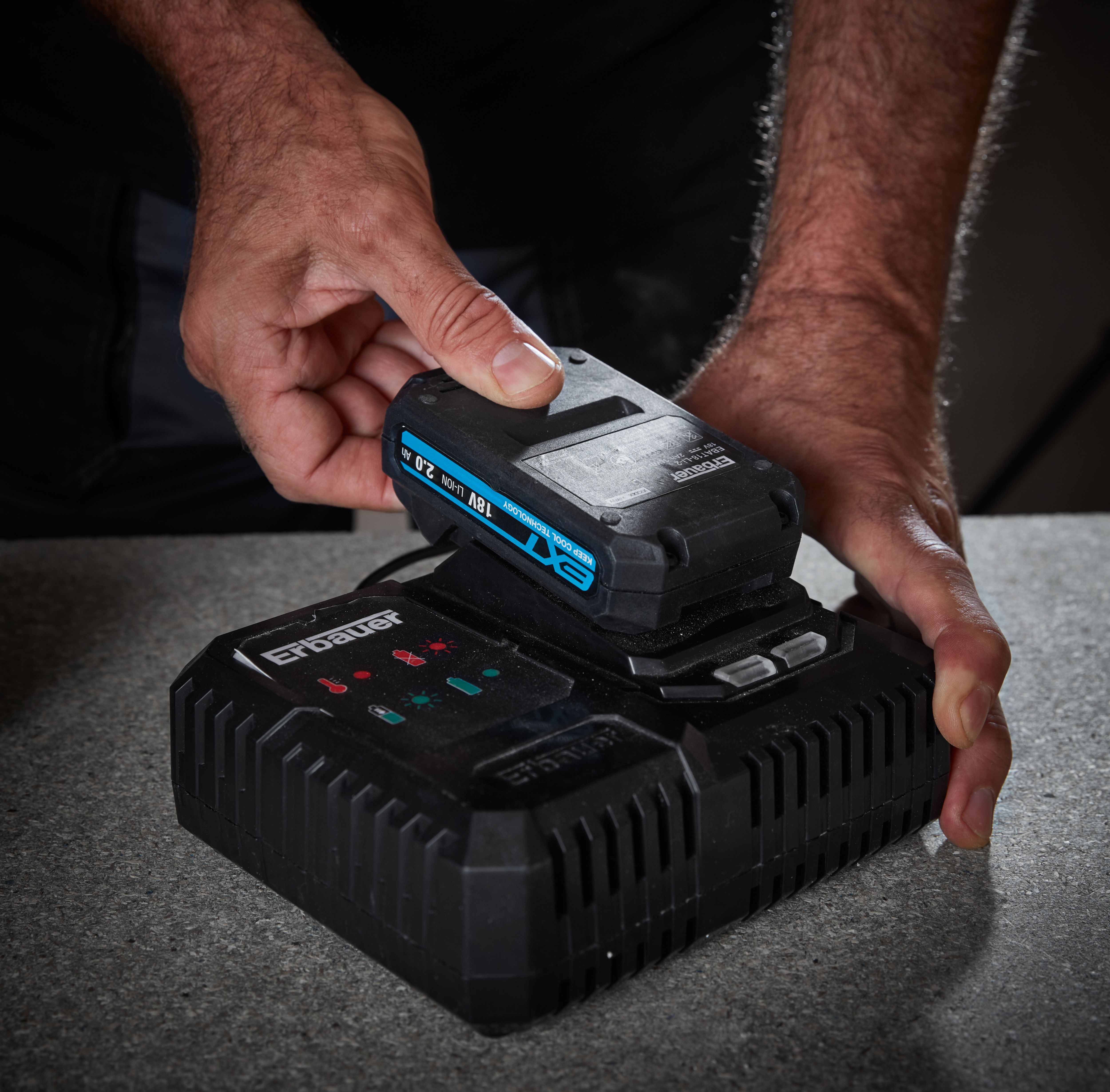 Batteries & chargers
If you've chosen a cordless drill, you may want to pick up a spare battery or charger. Enabling you to swap a dead battery for one that has been charging while you work. This is a great way to work more efficiently because you won't need to pause while you wait for your battery to charge.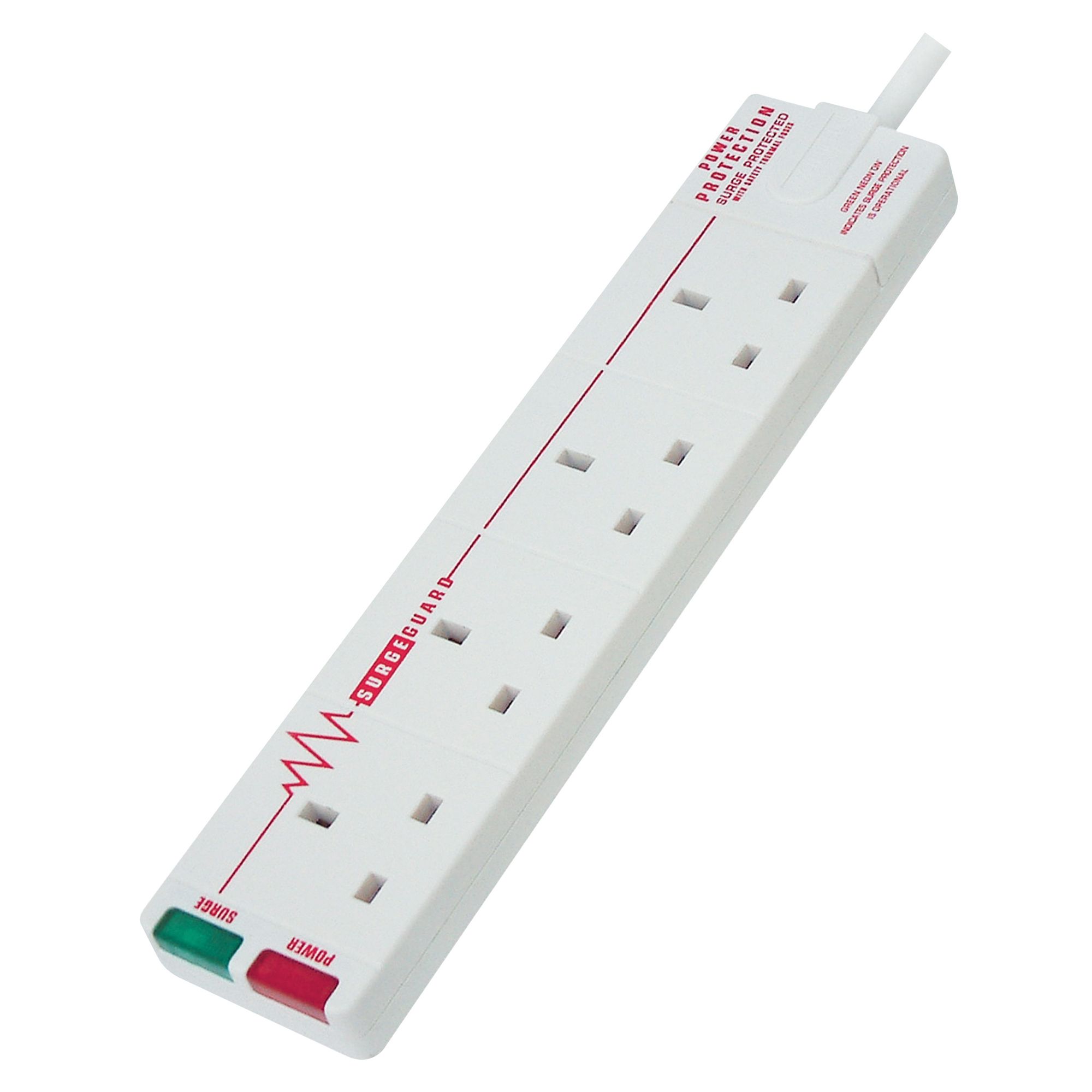 Extension leads & multiway adapters
If you have chosen a corded drill, don't forget an extension lead or multiway adapter. Having one of these to hand when you are doing a project will help to make sure you can get into all the awkward spots, such as the loft or even outside.
Articles