How to choose underfloor heating
Underfloor heating brings comfort and a luxury feel to your home
Underfloor heating is becoming increasingly popular, and it's a great choice to improve the efficiency of the heating in your bathroom. Underfloor heating distributes the heat more evenly up from floor to ceiling rather that from just one wall, which also allows you to feel the effects at a lower temperature than other systems. We know that bathrooms are often small, underfloor heating is a great space-saving solution, with no bulky radiator.
Our guide will help you choose the right underfloor heating for your bathroom.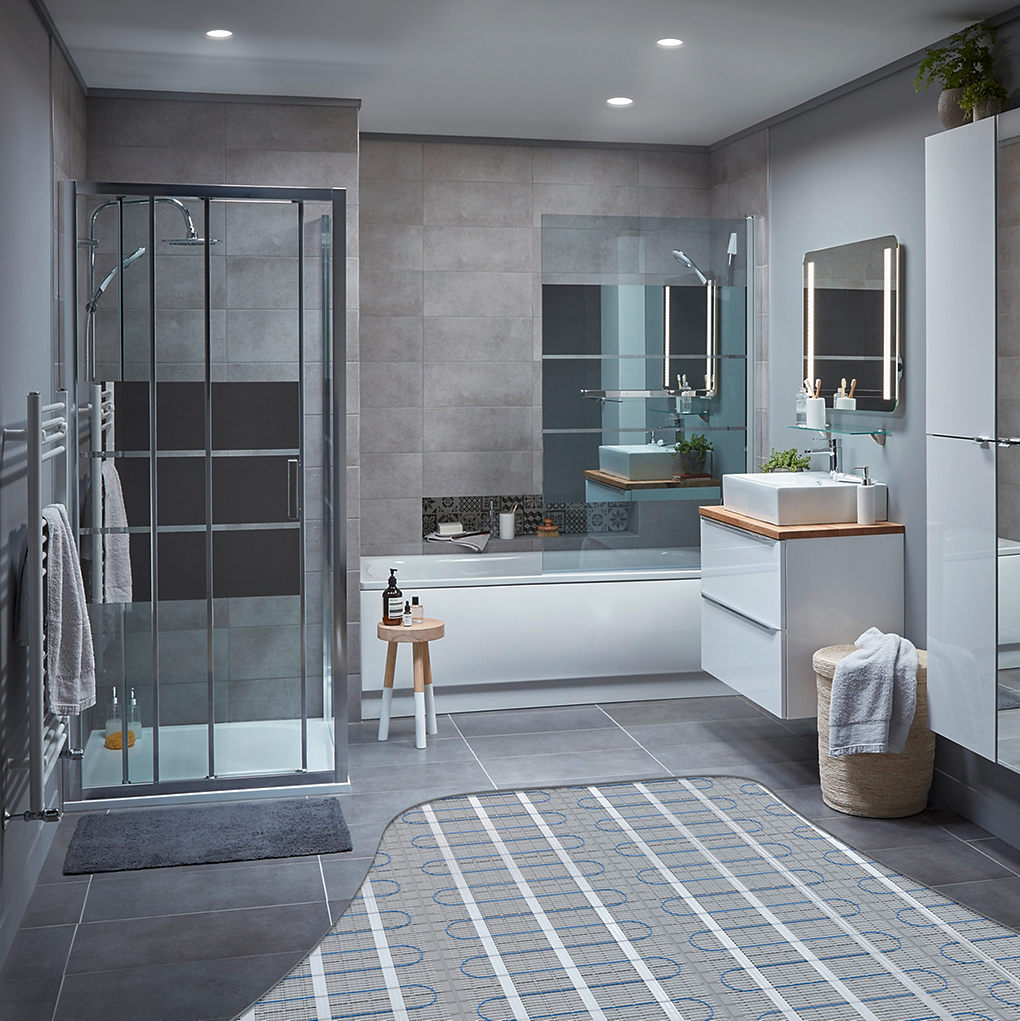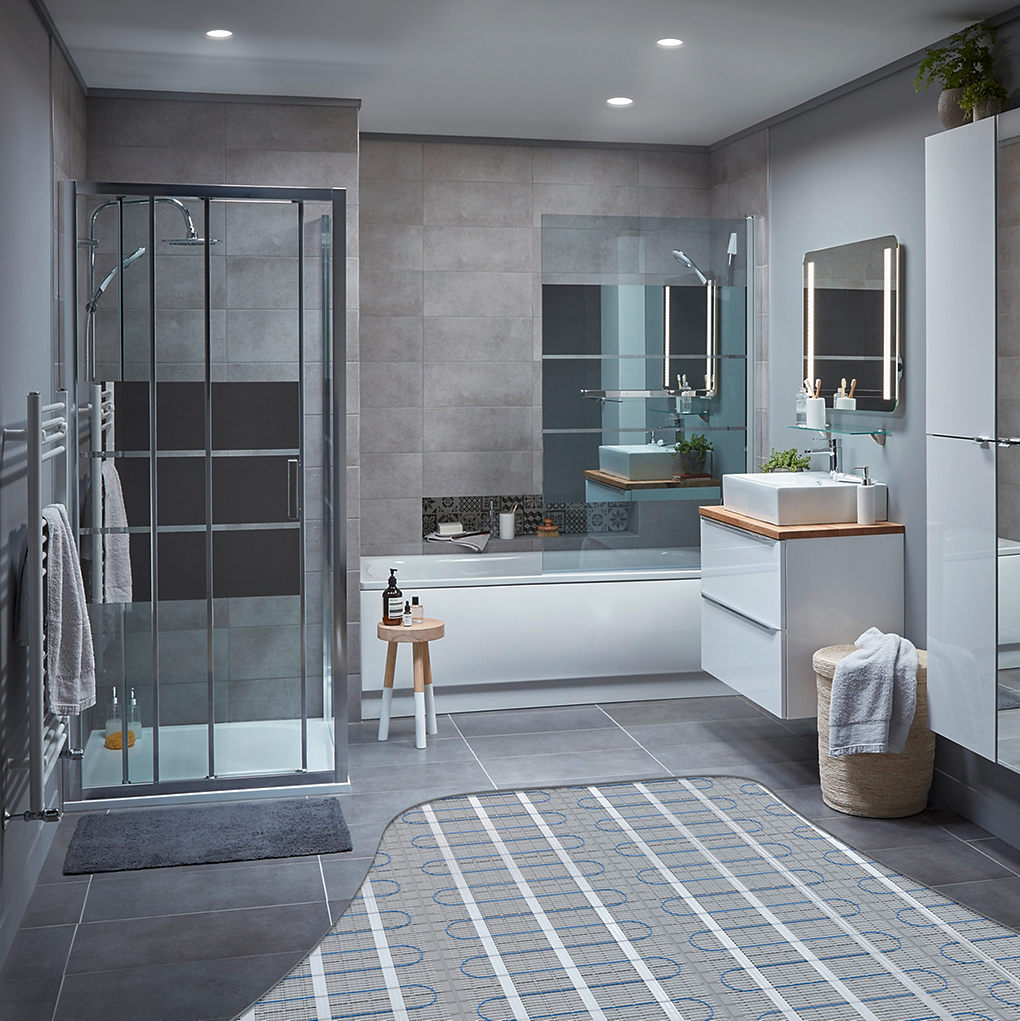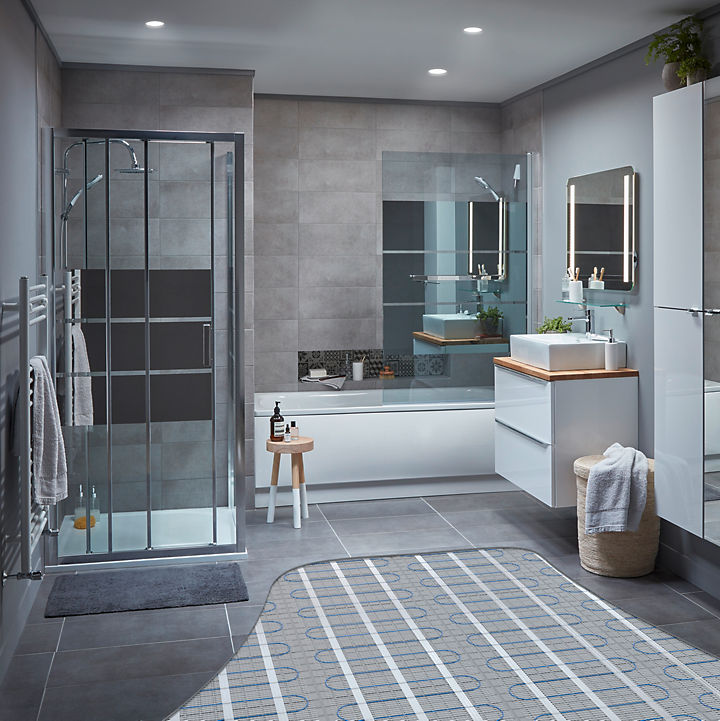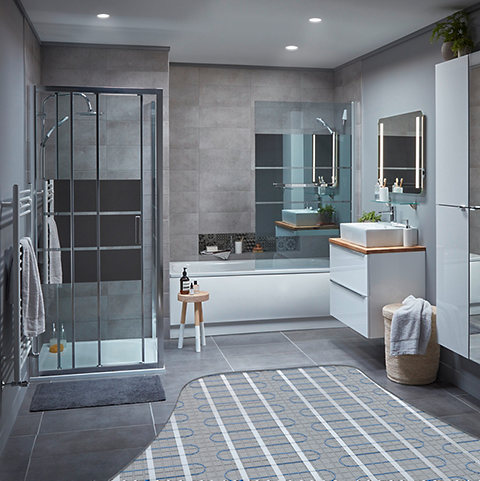 ---
To buy the right amount of underfloor heating to cover the area you'll need to calculate how much floor space to cover.
Our simple calculation is room surface - furniture surface = the space to cover
For example in the image below: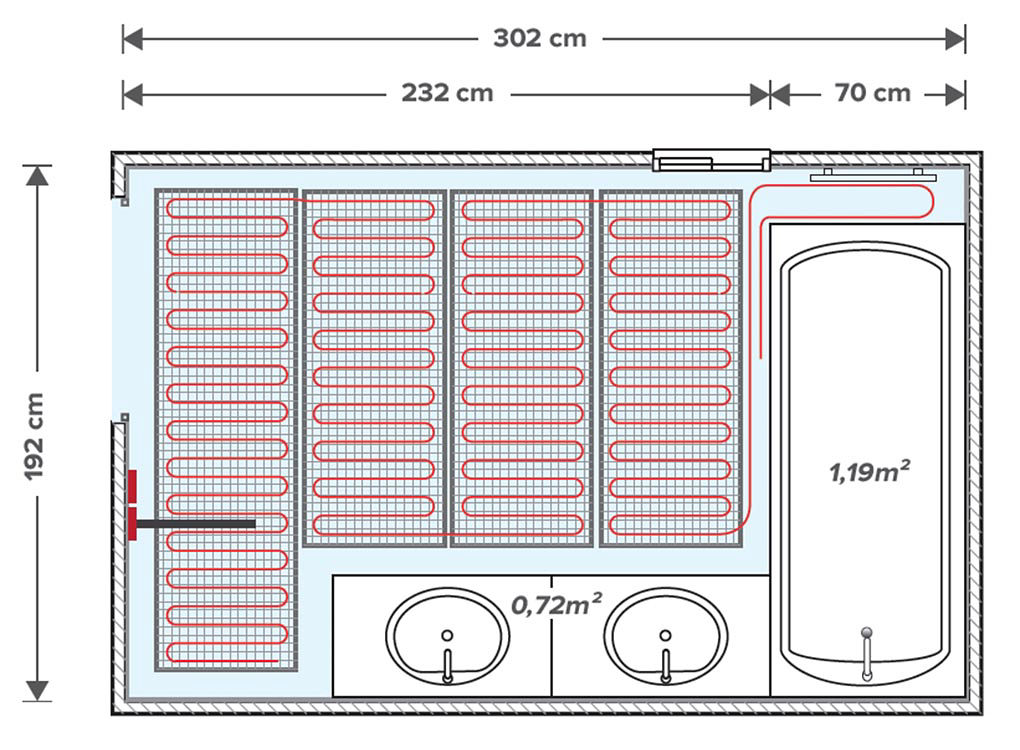 ---
Dry underfloor heating, also known as electric underfloor heating, heats up using electrical resistance elements. They can come in a variety of formats such as free running cables or mesh mats.
There are two types of underfloor electrical heating system. One is dedicated to tiled floors, and one for other types of flooring such as wood, laminate, PVC or carpets.
Electric underfloor heating mats are perfect for a refresh project as you won't need to adjust the floor height and they can be laid directly on to concrete or thermal insulation boards.
Another great advantage is they're relatively inexpensive to install as there's no need for pipework, and it can be easily added to upstairs rooms.
---
Wet underfloor heating is constructed from a series of pipes laid under the floor, usually set in concrete, and connected to the boiler.
This system is easier to install if you're undertaking a complete remodel or in a new build. Usually you'd lay a wet system for a series of rooms rather than just one as it's a significant piece of work.
Wet underfloor heating is more expensive to install than electrical, but it's cheaper to run and you could increase the value of your property by having it, so if you're planning on staying in the house for a while it might be a clever investment.
---
Whether you choose wet or dry underfloor heating, you'll need a thermostat.
Digital thermostats enable you to choose the time as easily as you would with a watch or clock, and quickly set your programs – heat on when you want it and off when you don't need it. Our touchscreen options feature a temperature controller with a programmable schedule designed to control temperature in the room.
Some thermostats even work with an app on your smartphone so you can wirelessly manage the settings of your underfloor heating.
---
When installing your underfloor heating you should consult a qualified tradesperson, especially when working with electricity or plumbing.
---
Our installation service
Our installation service makes it even easier to bring your dream bathroom to life. We work with approved installers to coordinate your project from start to finish.
As well as fitting your design to your specification, our installers can complete the finishing touches to save you the hassle.
We provide a 2-year workmanship guarantee in addition to any product guarantees. We hope you'll never need to use our guarantees, but peace of mind is always a good thing to have. Plus, our range of flexible payment and finance options means you can find a plan to suit you.
Find out more about our installation service and book a free planning appointment to get started.