How to create a functional work space in your kitchen
Simple ideas to make your life easier
With so much going on in your kitchen, it can be hard keeping everything clean and tidy on the go. But with a little bit of planning, and by making sure you choose the right products, you can make your life a lot easier.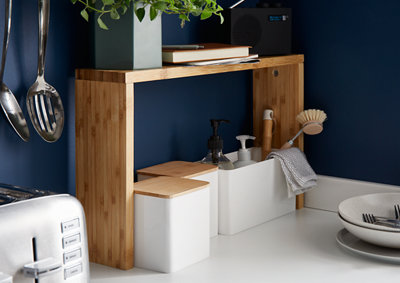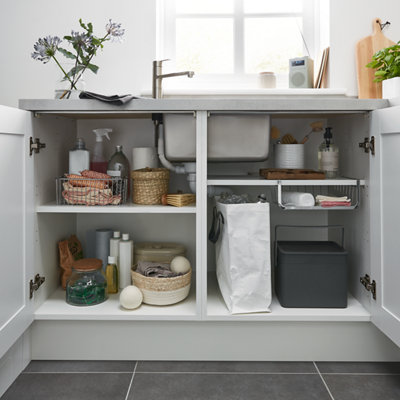 Plumbing
If you're having a complete reshuffle, the first thing to consider when planning your kitchen is whether you'll need new pipework installed. Getting this in place before installing your worktops and cabinets makes it so much easier, and we recommend getting a plumber involved to get you set up.
Clean worktops
They might not be the first thing that springs to mind when planning, but worktops will be one of the most heavily used features of your kitchen. That's why our GoodHome Berberis super-matt laminate worktop is hygienic, heat and scratch resistant, plus it's easy to install.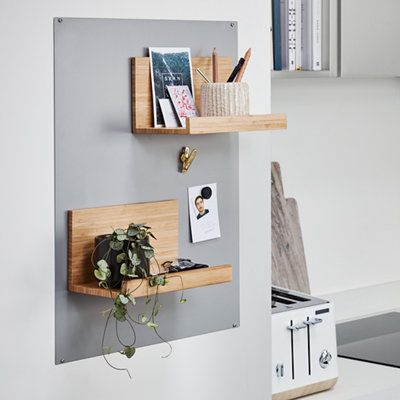 Tidy accessories
To make sure you can clean your worktop with ease, you'll need to keep it free from clutter. Our Pecel magnetic panels help utilise unused wall space between base and wall cabinets. Choose from our handy magnetic accessories and keep utensils and kitchen sundries within arm's reach and off the counter.
Power up
Once your workspace is all set up, it's time to make sure it's well-lit with the right lighting in the right place. When hosting guests, you'll want warming accent lighting to create an atmosphere. And when dicing and chopping you'll need task lighting that's bright enough to get the job done. Our Tasuke integrated cabinet lighting can do both. By replacing the base of your wall cabinet, Tasuke lighting provides a blanket of bright light over your workspace with just a wave of the hand thanks to its intuitive motion controls.
Discover how to create a functional work space below...
Updating your plumbing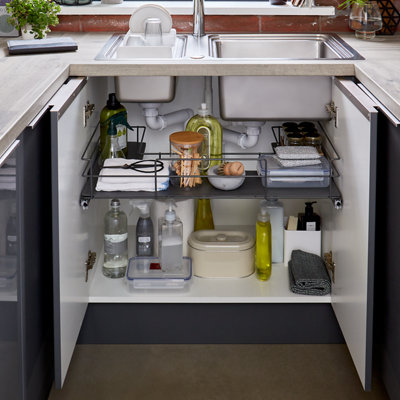 Depending on how big your kitchen renovation is, you might have to update the plumbing. If you're planning on keeping sinks, washing machines and dishwashers in the same position this should normally be a straight-forward swap. However, if you're planning on relocating these items you'll need new pipe work which you'll need help from a plumber.
Keep your sink close to your water-consuming appliances to keep pipework to one area of your kitchen. You can even use the same traps for your sink and washing machine to keep pipes to a minimum If you'll be adding a kitchen island with a sink or built-in washing machine or dishwasher any plumbing and power supplies will need to set up first. It's best to do this as early as possible in your kitchen project, even before laying the floor and make sure you hire an electrician or plumber to do this.
How to plan electrical sockets for your kitchen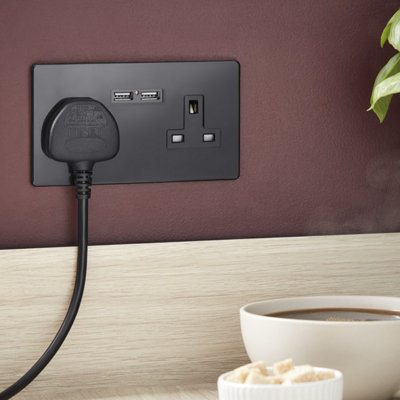 Most kitchens have at least one or two small appliances that need them, so when you're planning your kitchen it's important to think about where you'll install plug sockets.
Consider what items you'll need to power, and where you'll use them. These can be near-permanent fixtures like kettles, toasters, or coffee machines, or temporary items that you'll pack away afterwards like blenders or mixers.
It's also worth considering whether you want the sockets to be visible or hidden away. It's possible to hide sockets just beneath a wall-mounted cabinet or worktop overhang. Install pop-up sockets into worktops or island countertops or create charging stations for small items like phones within a drawer. However, it's hard to install all these once you've fitted your kitchen, so consider it beforehand to make your life easier.
Set the perfect lighting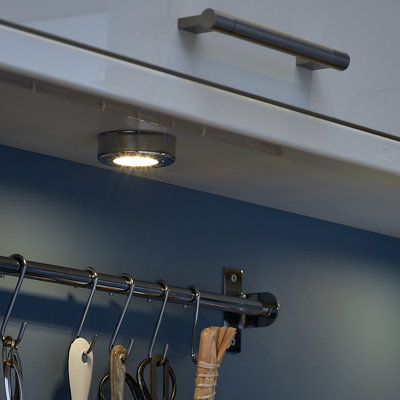 Accent & task lighting
When planning the lighting for your kitchen, there are two main types of light to consider: task lighting, and accent lighting. The key difference is their colour temperature. A value that determines what kind of light a bulb will give out. Lower values (like 2700k) will give a warmer, more orange light, while higher values (3500K+) will give a brighter, whiter light.
Lighting with a lower, warmer colour temperature is known as accent lighting. This is great for dining areas, breakfast bars, or anywhere you want people to relax. Meanwhile, task lighting – with a higher, brighter colour temperature – is ideal for areas where you need to see what you're doing, whether that's washing up, preparing food, or cooking.
Some products, such as our Tasuke integrated cabinet lighting, are capable of multiple colour temperatures. Our Tasuke lighting can switch between colour temperatures with intuitive motion controls, to help you effortlessly create different atmospheres.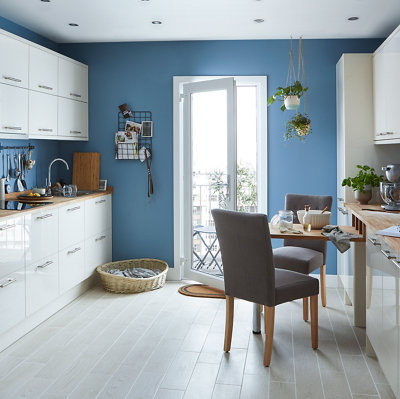 Planning your lighting
When researching the types of lighting available, consider the following:
The size and layout of the kitchen
The amount of natural light available
What space is available for lighting (ceilings, downlighting beneath cupboards, recessed above / below wall cabinets, etc.)
For your task lighting over areas like worktops, you may want to consider bright LED downlighters or flexible strip lighting mounted on the underside of your wall cabinets. If you're fitting directional spotlights, make sure you choose the right beam width, as this will determine how much space is lit.
For your accent lighting, this will be largely dependent on how many windows you have, and whether or not your kitchen is used for dining as well as cooking. If you eat elsewhere in the home, it may make sense to have task lighting throughout your kitchen.
If your kitchen is multi-functional, consider the use of dimmable lights, adjustable spotlights, or even cabinet lights (like our Tasuke lighting) that can create subtle but effective transitions between task-driven and atmospheric areas.
The height of your mood lighting (from low pendant lights to spotlights that sit flush with the ceiling) will also influence how intimate or open your kitchen will feel.
Utilise natural lighting
Don't forget to make the most of any natural light your kitchen has to offer – skylights, French doors and windows can all help light your kitchen. And using light paints, tiles, worktops and cabinet doors can really help bounce this light around the room, giving your kitchen a bright, open, and fresh feel.
Articles