Stylish storage options from floating to fixed shelves
Adding new shelves is a great way of saving valuable floor space and showing off accessories such as pictures, family photos or books. There's a range of options for you choose from, and you can even create your own rustic shelving with reclaimed wood.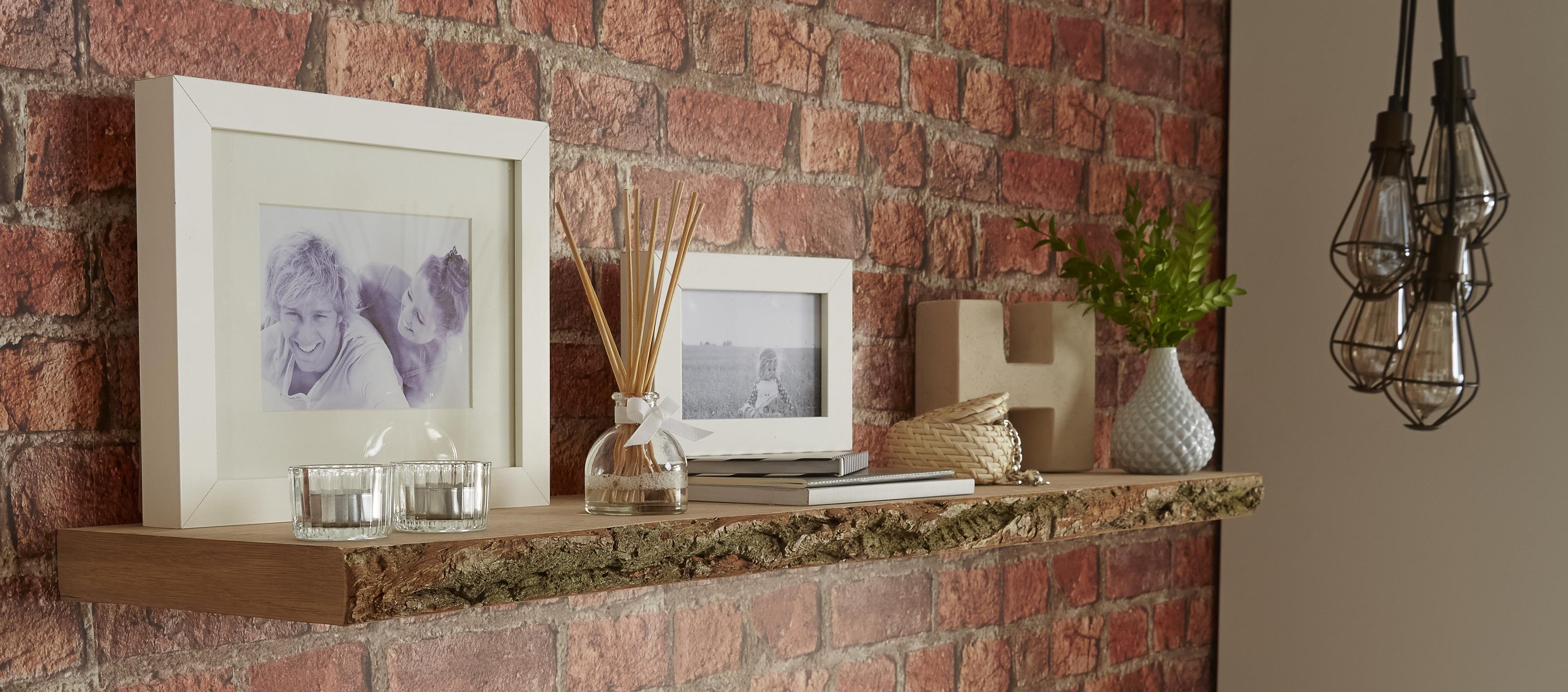 Safety first
Check your walls
Before drilling, hammering or putting a screw into a wall, be sure you've checked what's behind it with a pipe, cable and stud detector (also known as a multi-purpose digital detector). They're simple to use and will let you know if there are any pipes, cables or studs where you're planning to work. Simply run it over the surface of the area and it will tell you where hazards lie.
How to get a strong fixing
On masonry walls – walls made from bricks and mortar - you'll need a hammer-action drill with a masonry bit. You'll also need at least 50 millimetre (mm) screws and wall plugs to go through the plaster and into the wall behind.
For stud partition walls, the screws need to go directly into the timber noggings (horizontal brace) or studs (vertical part of the frame). You can find them by just tapping and listening, or by using an electric stud detector.
For heavy loads we'd recommend 38mm or 50mm screws as these have a strong fixing and don't need wall plugs. The screws should be the heaviest gauge that the holes in the bracket will take. This is usually a 4mm gauge on small brackets and 5mm or 5.5mm on larger ones.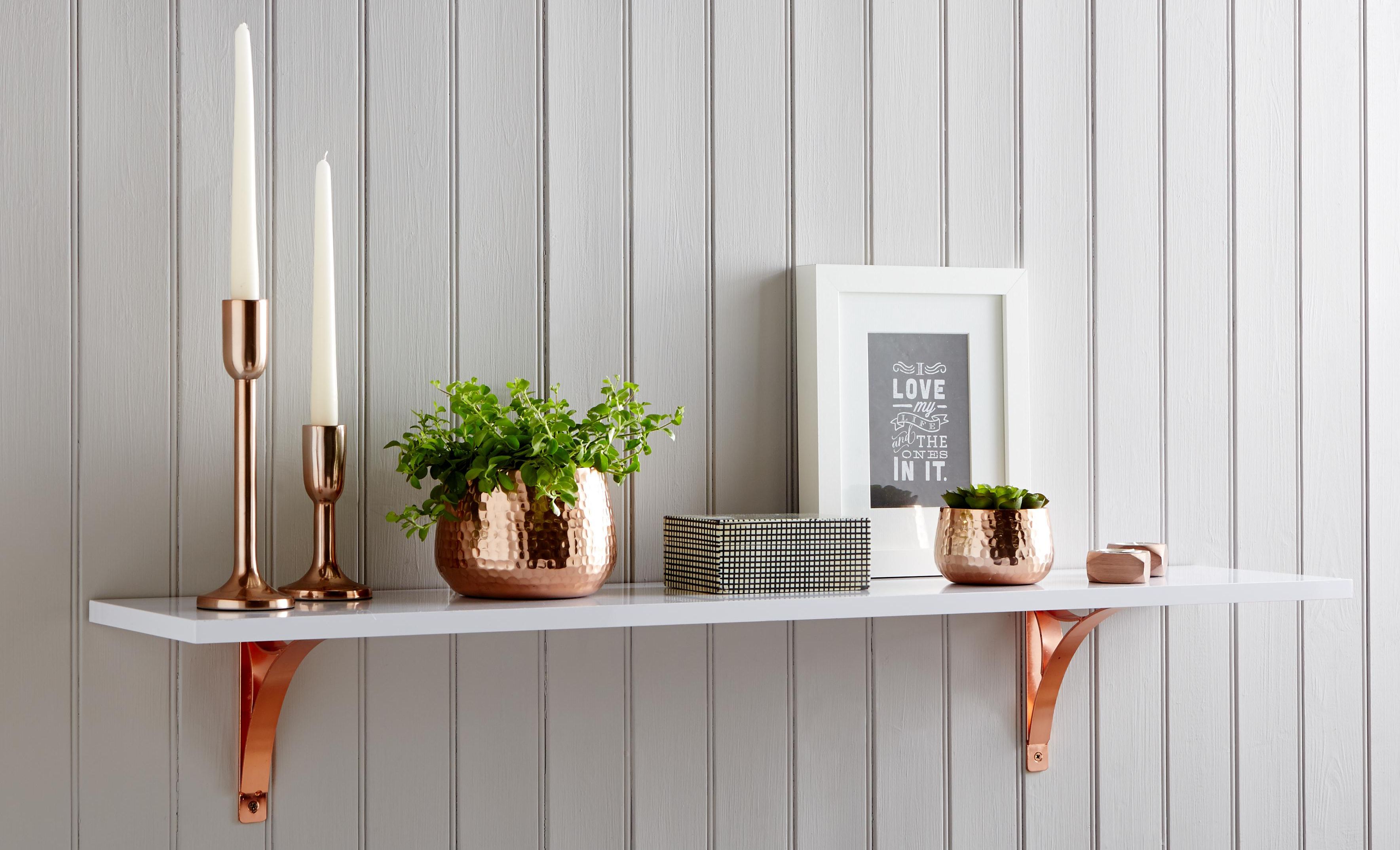 Shelving materials and brackets
Shelves are made from a variety of materials to suit your needs, from chipboard and MDF, to high quality hardwoods like oak and beech.
Try to choose and space your brackets according to the shelf material, its thickness and the load the shelf will be supporting. Whether they are fixed or part of an adjustable shelf system, they are available in light, medium or heavyweight versions. Most importantly, your shelves and brackets need to be suitable to support the weight load they will hold.
Spacing brackets
Spacing brackets
Material
Thickness
Space between brackets (load)


Chipboard
15mm
610mm (medium)
18mm
510mm (heavy), 700mm (medium)

Chipboard (veneered)
32mm
915mm (heavy)

MDF
18mm
510mm (heavy), 700mm (medium)

25mm
700mm (heavy), 915mm (medium)

Blockboard
18mm
700mm (heavy), 750mm (medium)

800mm (light)

Plywood
18mm
700mm (heavy), 915mm (medium)

25mm
915mm (heavy)

Softwood (e.g. pine)
16mm
400mm (heavy), 610mm (medium)

18mm
510mm (heavy), 700mm (medium)

25mm
700mm (heavy), 915mm (medium)

32mm
915mm (heavy)

Hard wood (e.g. oak)
18mm
510mm (heavy), 700mm (medium)

22mm
700mm (heavy), 915mm (medium)

25mm
915mm (heavy)

Acrylic sheets
12mm
400mm (light-medium)

Toughened glass
6mm
400mm (light)

12mm
600mm (medium)
Top tip - Will your shelf sag?
To see whether a new shelf might sag, try resting it on stacks of bricks or books, spaced as you are planning to space the brackets. Put your items on the shelf and then place a straightedge along it. If the shelf sags, bring the stacks closer together until it's completely straight. If the brackets can't be fixed that close together, you'll need to use a thicker material for the shelf.
How to put up a fixed shelf
You should fit shelf brackets with the longer arm against the wall and the shorter one under the shelf. Remember, the length of the longer arm will show you how closely you can fit the shelves on top of each other.
You will need:
Pencil
Straightedge
A drill - opt for a hammer drill (corded or cordless) for masonry walls or a drill driver for internal stud walls
Drill bits - choose masonry bits if drilling into masonry walls, or multi-purpose bits if drilling into a variety of surfaces
A shelf
Screws to suit your brackets (check your brackets' packaging for details)
Small screws for fixing the shelf to the brackets (these should be shorter than the depth of the shelf)
Step 1

Check that the area behind the wall is free from any hidden pipes or cables before you fix your brackets (for more about this, read our Safety first section). Hold the shelf against the wall and pencil where you'd like the bottom to go. Then, mark where the first bracket should be, as well as the distance to the next bracket. To check that the marks are level, (to avoid a un-level shelf) use a spirit level.

Step 2

Hold the first bracket up to the mark, check it's straight and pencil the wall through the fixing holes. Do the same again for the second bracket. If there are more than two brackets, fit them between the outer brackets, equal distances apart.

Step 3

Drill into the wall and screw the brackets into place (if you have a masonry wall, use wall plugs). Lay the shelf across and make a mark through the holes in the brackets for the fixing screws underneath it. Then, take the shelf down and drill pilot holes on the bottom for the short screws - be careful not to go right through to the other side. Replace the shelf and then carefully screw in the fixing screws.

Top tip - Shelves in alcoves

One of the most popular places for shelves is in an alcove. If you want shelving here, you'll need fixings on the sidewalls. Cut 50mm x 25mm wooden battens the width of the shelf and screw them horizontally to the sidewalls of the alcoves. If the shelf is long, a batten can be fixed to the back wall as well. For extra strength, the shelf can be screwed to the battens by using a metal plate positioned between the batten and the shelf.
How to put up a floating shelf
With floating (or hidden fixture) shelves you can store items like small books and light ornaments without any visible support. These are generally a kit with the shelf already prepared and are available in various different lengths and styles.
Simply fix a metal bracket strip to the wall, from which two bars support the pre-drilled shelf which slot into position inside the shelf.
This option looks great, but it does come with some minor drawbacks. If your wall isn't completely flat, the metal bracket strip won't fit against it properly. Also, the shelf itself looks quite thick, as it has to accommodate the bars. This type of shelving isn't that strong, so is better suited to lighter objects instead of heavy ones. Floating shelves can generally hold 15-25 kilograms (kg) weight load however always check the packaging for the maximum weight load advertised and ensure weight load is evenly distributed on the shelf.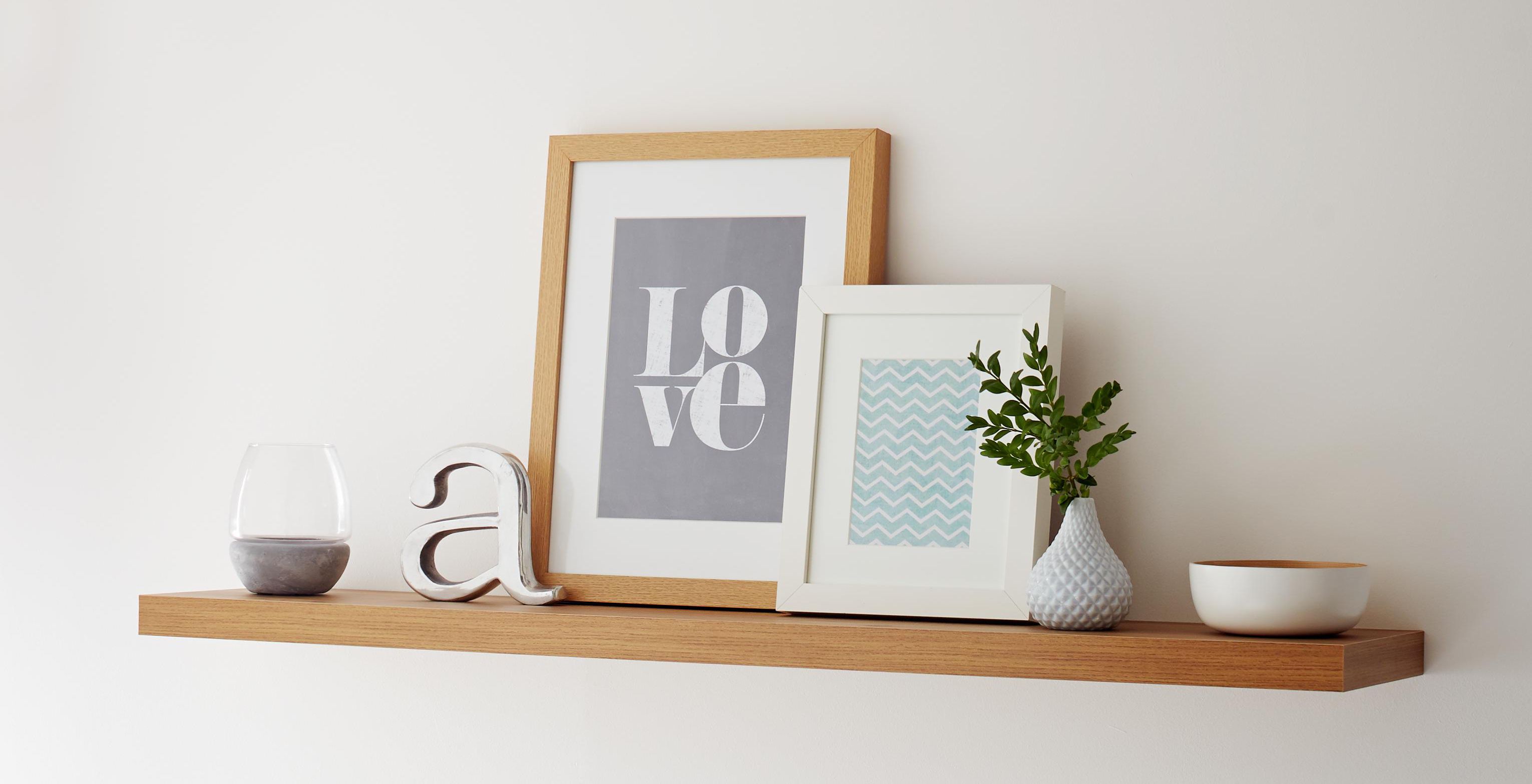 You will need:
A pipe, cable and stud detector
50mm or 38mm screws
Small screws for fixing the shelves to the bars
Wall plugs
Step 1

Check there aren't any hidden hazards behind the wall before you start drilling (for more about this, read our Safety first section). Then, hold the metal bracket strip on the wall, ensure it is straight using a spirit level and mark the fixing hole positions. Drill the holes, insert the wall plugs and screw the metal bracket strip into place.

Step 2

Slide the shelf onto the bars. If your kit has pre-drilled holes in the underside of the shelf, you'll need to fit small screws through them into the holes in the bar.
How to fit adjustable shelves
Adjustable, prepared shelves sit on brackets slotted into metal uprights, which are screwed into the wall. This creates a small gap behind the shelves, which is useful if you want to run electric cables behind it. If you'd like the shelves to be flush with the wall, you'll need to cut notches in them.
The metal uprights don't just house shelving – there are a range of different accessories you can use with this set-up. Choose from wire baskets, tube racks, storage pegs and hooks.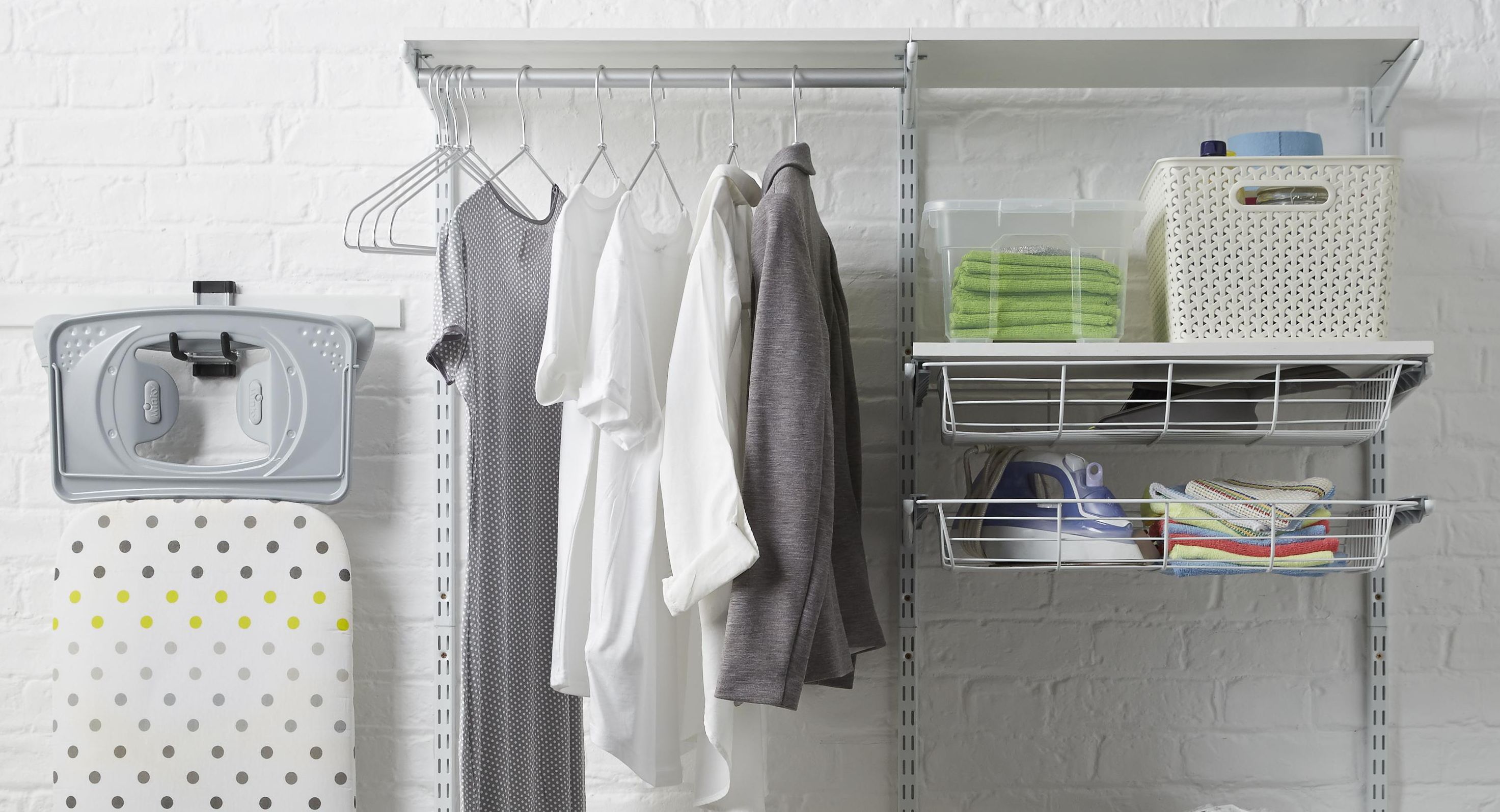 You might need:
A pipe, cable and stud detector
A spirit level
A pencil
A bradawl
A drill - consider a hammer drill if drilling into masonry walls or a drill driver if drilling into internal stud walls
Drill bits - look for masonry drill bits if drilling into masonry walls or multi-purpose drill bits of using on a variety of surfaces
A screwdriver
Screws to suit your bracket shelving system
Small screws for fixing the shelf to the bars
How to create rustic shelving
If you're looking to add a touch of rustic charm or character to a room, reclaimed wood or old timber can be upcycled to make more storage space in your home. Create shelving by using wood and wall brackets – it's perfect for displaying books and pictures, as well as acting as a feature on a blank wall.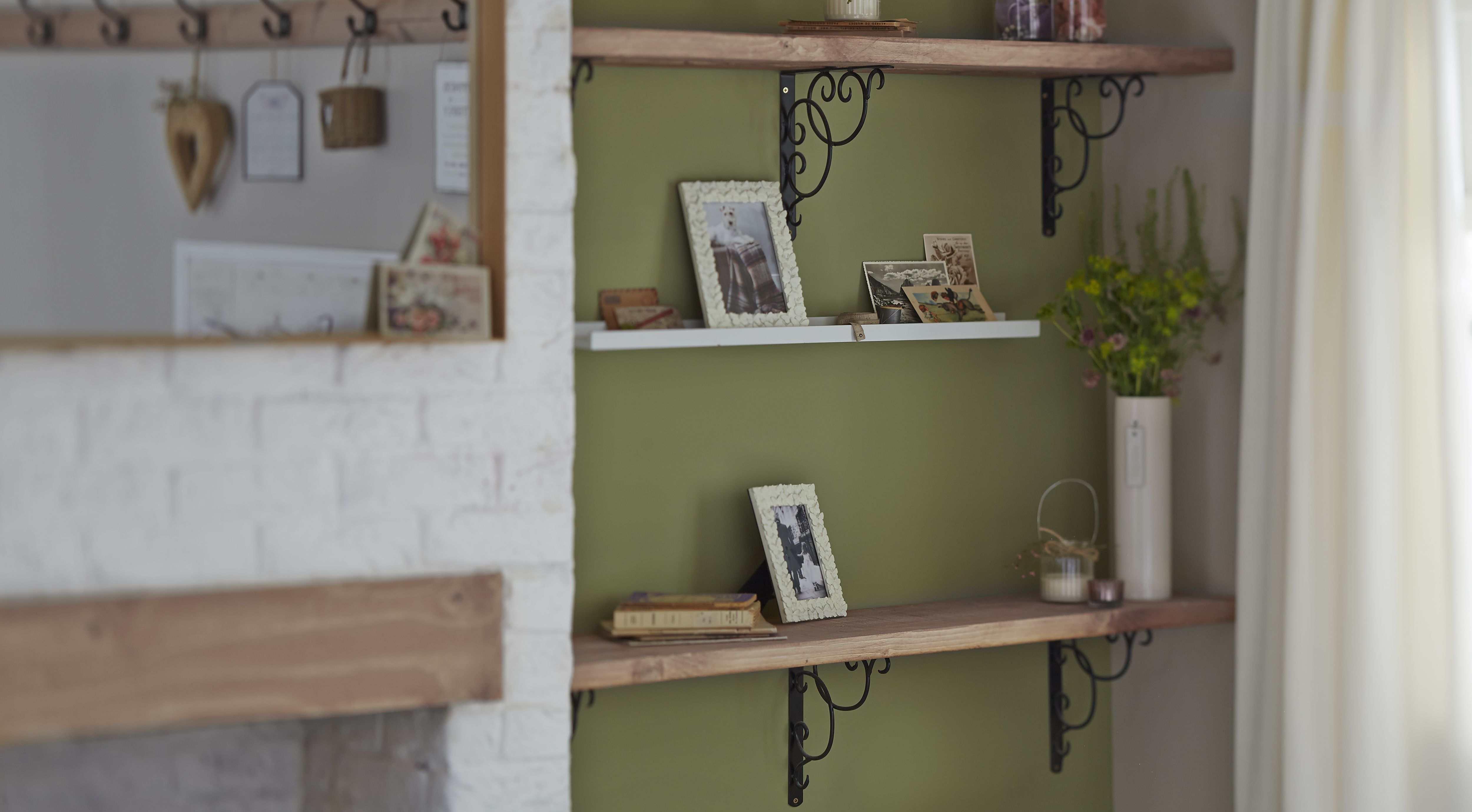 You might need:
Measure the space exactly where you want your shelving to go. Using a saw, cut the timber or reclaimed wood to the size you need. To remove any rough edges, lightly sand the wood down with sandpaper.
Depending on the look or style you're aiming for, you can use a wood stain to coat the timber. We recommend choosing a stain that will enhance the natural look of the wood. Wear protective gloves and put a dustsheet down before painting in case of any drips or spatter.
Articles