How to upcycle a wardrobe
Create a showcase
Transform an old and tired wardrobe into a dramatic, contemporary piece of furniture in just a few steps. Giving a new lease of life to forgotten furniture can really enhance a room and change the overall look and feel.
The inspiration
By adding chicken wire to the doors of your wardrobe you'll be able to showcase your linen, blankets, and towels. Whether you opt for a more distressed and shabby chic look or choose brighter colours, your upcycled wardrobe will be a real statement piece.
Tools for the job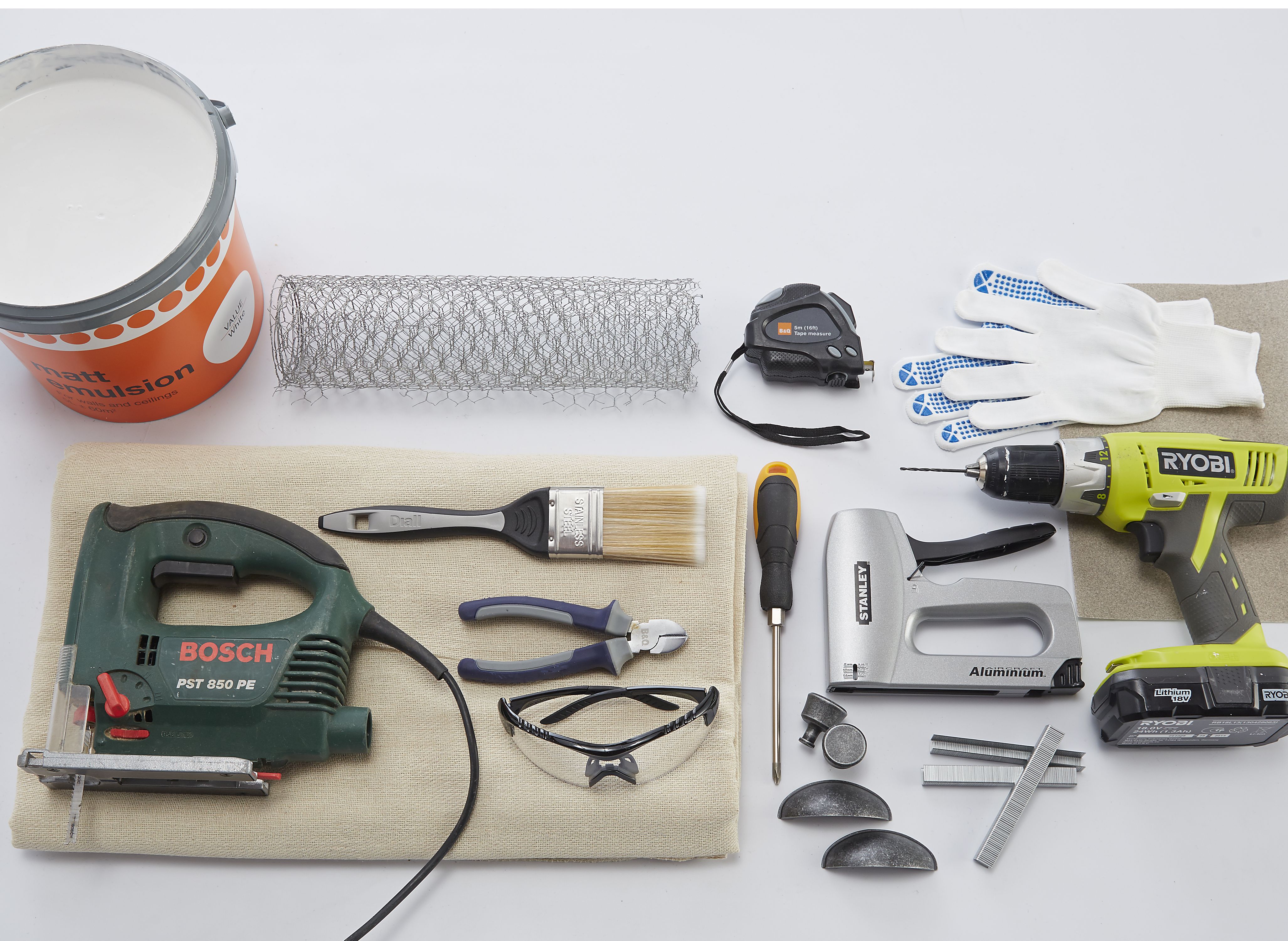 Step 1 - Preparation
To begin transforming your old wardrobe remove the doors and handles. In one corner of the door drill a hole and then cut out the inner panel of the doors using a jigsaw. Don't forget to wear goggles before drilling or using a jigsaw.

Step 2 - Adding colour
To make sure that the wardrobe has no rough edges or any paint or stain on, sand it down lightly and coat it with paint. Choose a colour that fits in with the style of your room. You'll be able to see inside the wardrobe so make sure you paint inside too.

Step 3 - Shabby chic touches
Create a distressed look by using a fine sandpaper to lightly sand the surfaces. For a deeper distressed and shabby look you can sand areas harder to remove more paint and highlight the wardrobes natural wood.
Step 4 - Handles
New handles can enhance the look of your upcycled wardrobe. Why not be daring and opt for something bright? Measure the place for the new handles and screw them into place.
Step 5 - Add the chicken wire
To add the chicken wire to the wardrobe doors simply cut the wire using wire cutters. Always wear goggles as the wire can be a hazard. Ensure that when cutting the chicken wire you cut it slightly larger than the size of the hole in the wardrobe door. Around 50mm extra should suffice. Using a staple gun, staple the wire to the inside of the door.
As the edges of the wire are quite rough, and could snag your linen and clothes, why not add a piece of batten around the edges to keep them neat and tidy?

Step 6 - Reattach the doors
Finally re-attach the doors to the wardrobe and your upcycled wardrobe is finished. You're now ready to fill it with neatly folded bed linen, towels, or clothes.
Articles