Join B&Q Club today for 10% off thousands of products! Already a member? Don't forget to enter your Club card number at checkout. Hurry, ends Monday!
Kitchen appliances buying guide
Pick the perfect appliance
Let us talk you through the benefits of all the different options, so you can decide on the most suitable appliances for your kitchen.
---
How to choose an electric oven
First things first, how do you want your oven to cook your food? Conventional ovens have heating elements on the top and bottom of the oven. They are super versatile and suitable for almost all cooking styles. If you want to spend less time waiting for your oven to warm up, a single-fan, fan-assisted or multi functional fan oven is the one. Spreading the heat evenly throughout the oven, they help reduce heat-up time; so you get to eat sooner!
This is great if you're cooking on lots of different shelves too as your food will cook more evenly. Alternatively, like the name suggests, microwave ovens give you the flexibility of using both the oven, microwave or a combination of both. Plus, cooking times are a lot faster and there's often more space than a regular microwave so you can do more quicker.
Grease can be hard and tough meaning cleaning your oven can be a messy job. So we've made this easier for you by including two easy clean options on our ovens. Choose from pyrolytic self-cleaning ovens which use high temperatures to burn off food residue, or catalytic liners which absorb grease and need cleaning less often.
We know not one style suits all, that's why our ovens are available in stainless steel, black or a mirrored option, so you can pick the one which matches your kitchen.
That's the basics covered, but if you're looking for something extra, there are ovens with telescopic shelves that give full and easy access to the oven. For those that are conscious of their electricity bill, eco-cooking features like timers that turn off the oven just before it's finished, using the leftover heat to finish cooking. Or if that's not enough, why not try soft-close doors to bring a bit of peace into your kitchen, plus they're great for preventing damage to the oven too.
---
How to choose a hob
There are three types of hobs you can choose from. Gas options provide instant control of heat through rotary controls and are a popular choice as you can control the temperature more precisely. They're also becoming a safer option as most modern gas hobs have flame supervision devices (FSDs), these shut off the gas if it fails to ignite or the flames go out. Ceramic hobs are easier to clean compared to gas hobs, and you'll be able to use all your favourite pots and pans on it. But if you go for an induction hob you'll need special pans with a particular base. The beauty of induction cooking is that the hob itself stays cool to the touch – only the pan heats up so it's safe if you have little ones around.
Think about the width of the hob you need for your space, and how often you use it. If you're more of an oven user, you can go for a 30 cm or 60 cm, and if you have the worktop space or a large family to cater for, there are 70 cm or 90 cm hobs.
As well as the width of your hob, at the same time you should also consider how many zones you want. This is essentially how many pans you can have on the go at once. Choose from 2-5 zones depending on how much worktop space you have, and how many zones you'll use at the same time.
Some extra features worth looking out for include boost functions that can bring water to the boil faster; flexible zones that give you more flexible cooking space; connected hobs and hoods that adjust the extraction rate to what's cooking and timers that switch off the hob when you like.
---
How to choose a hood
There are three different types of extractor fans. Integrated options are mounted within or beneath a bridging unit and blend seamlessly into your kitchen. If you want to create more of a stylish focal point chimney hoods mount to the wall and are available in a variety of designs. If you have a breakfast bar or kitchen island, choose an island hood which mounts from the ceiling.
Think about what size extractor fan you need. Do you have a large hob? If so, you may need a wider fan to cover the full width of your hob. Next think about how it will extract, there are two options, extraction hoods which vent the air outside or recirculation hoods which will filter air before venting it back into the room.
Things to look out for include extraction rates, these use your floor space x height x 10 to find the ideal extraction rate for your kitchen. Don't forget to check decibels to see how loud the hood will be (the lower the value the quieter it will be) as you don't want to be competing over the noise from the fan during dinner. There are also connected hobs and hoods that automatically adjust the extraction rate to match what's cooking on the hob and LED lights with warm or cool white options to light up your workspace.
---
How to choose a microwave
Available in either built-in or freestanding options depending on whether you want to save worktop space or have more flexibility over where you place it in your kitchen. There are different capacity types too, 20 & 25L options will heat up your ready meals, warm plates or cook your meals, and 34L are ideal for larger meals and cooking.
If you want more from your microwave, there are options with grill or oven functions which are great if you're short on space and want a combination of one or the other.
---
How to choose a fridge freezer
Fridge freezers can be installed in two ways so you can choose which works best with your space. Built-in options are hidden behind cabinet doors which blend into your kitchen for a more stylish look. But if you're running short on cupboard space there are freestanding options.
How much space do you need in your fridge freezer? We have 100% fridge or freezer options if you only need the unit to either refrigerate or freeze food, or if you have a large enough household and the space for separate units for each, 100% fridges / freezers are ideal. And if you only need to freeze a small number of items, a 70% fridge gives you more space for fresh items, whilst a 50% fridge and freezer gives you an equal amount of space.
Upgrade your fridge freezer with frost-free freezers which prevent frost from building up, so you don't have to defrost it as regularly. They're also good for preventing food from being spoiling, and it'll save space that might otherwise be taken up by ice build-up. If you have lots of fresh produce, food fresh features are available in some fridges to help keep fruit, veg, dairy or meat fresh for longer. For the busy household, additional capacity fridges and freezers are great as they give you more space to store ingredients and packed lunches.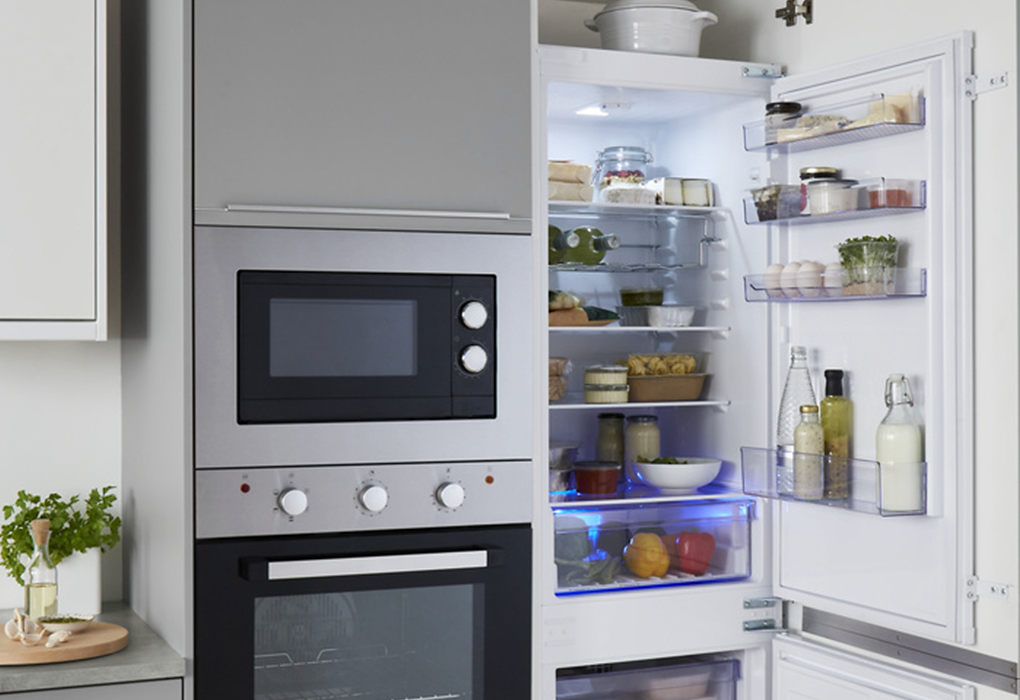 ---
How to choose a dishwasher
The first thing to think about when choosing a dishwasher is where will it go? Built-in options blend in with the rest of your cabinets as they're kept hidden away, but if not, there are freestanding options which will help get your plates just as squeaky clean.
For smaller spaces, there are slimline / compact dishwashers that are perfect if you're short on space or there's only a couple of you. You can always check how many place settings the dishwasher will accommodate too before you buy. Ours range between 9-15 so you're covered whatever the occasion.
There are lots of extra features available for dishwashers, so take a look and see which can help you out in your kitchen. There are flexible baskets that allow you to fit bigger pots and pans in, and racks that lower to secure delicate items. To help budge tough grease like baked or burnt-on food there are intensive wash functions to do the hard work for you. If you want to use less water, then a dishwasher with pre-rinse or eco wash settings is the one for you.
Consider the energy efficiency ratings that will tell you how effectively your dishwasher uses energy – high ratings can save you money over time. At the same time, understand how much water your dishwasher will use with litre consumption. And don't forget to see how loud your dishwasher will be by looking at the decibels – the lower the figure, the quieter your dishwasher will be when it runs.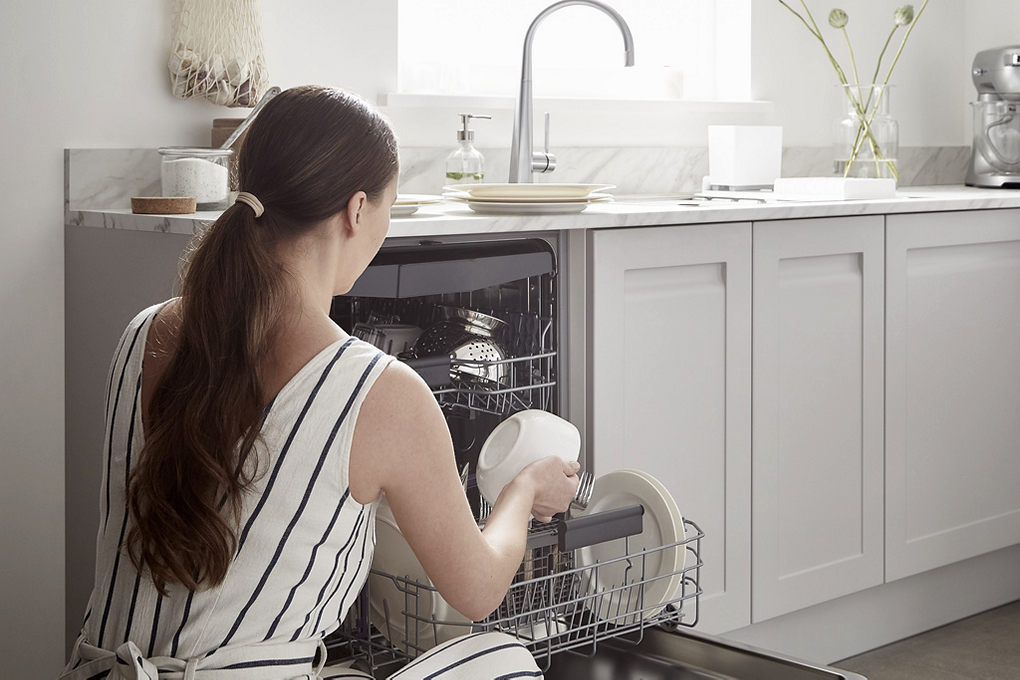 ---
Our kitchen installation service
Our installation service makes it even easier to bring your dream kitchen to life. We work with approved installers to coordinate your project from start to finish.
As well as fitting your design to your specification, our installers can complete the finishing touches to save you the hassle.
We provide a 2-year workmanship guarantee in addition to any product guarantees. We hope you'll never need to use our guarantees, but peace of mind is always a good thing to have. Plus, our range of flexible payment and finance options means you can find a plan to suit you.
Find out more about our installation service and book a free planning appointment to get started.