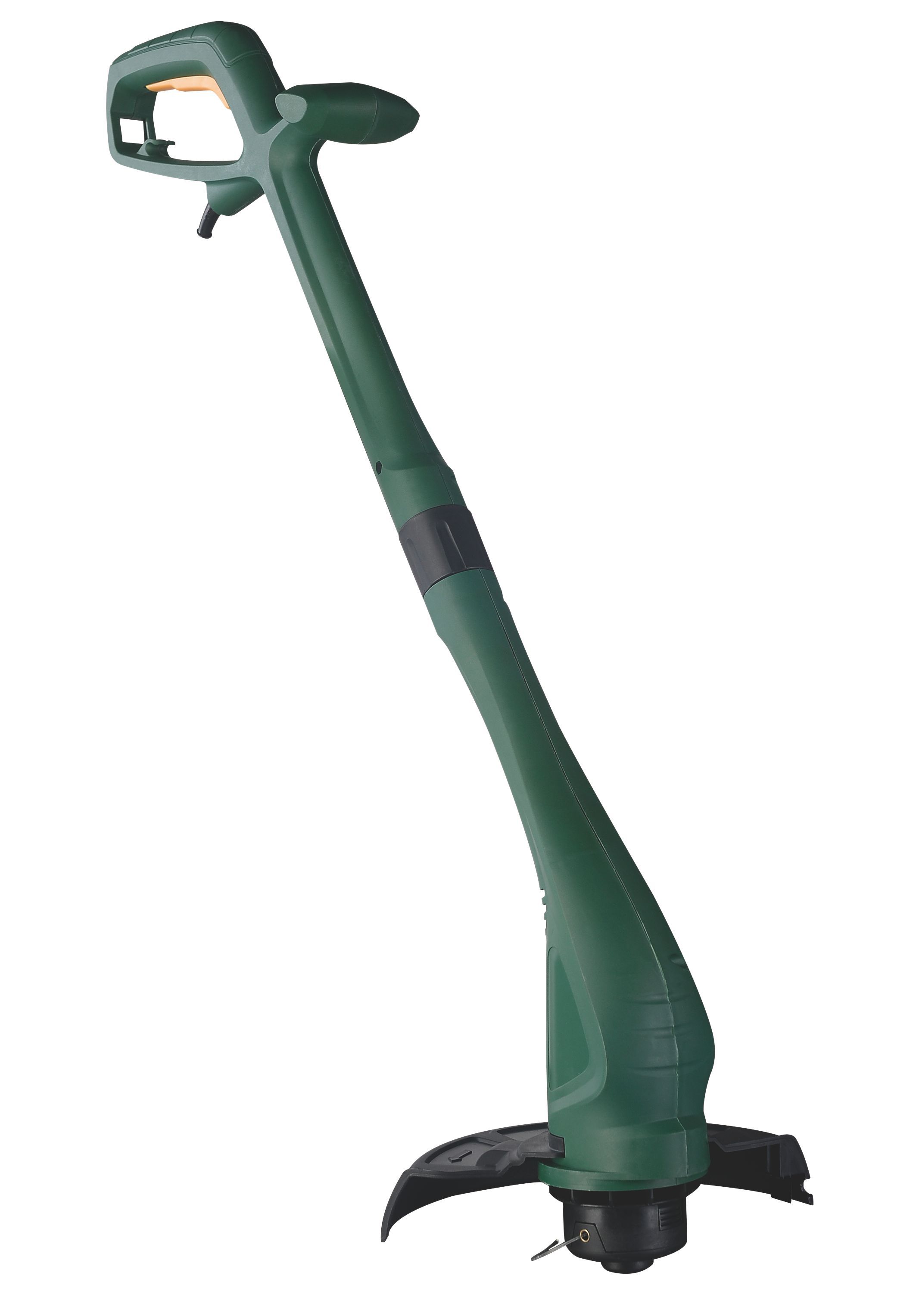 22cm 250W Corded Grass trimmer
Product details
Product information
This B&Q 250W 22cm Electric Corded Grass trimmer is suitable for trimming small to medium sized gardens.
Suitable for trimming small to medium sized gardens
Comes with 1x 1.2mm x 6m cutting line
Features and benefits
Comes with - 1.2 mm×6m cutting line
Accessories included - 1 x 1.2 mm x 6 m cutting line
Specifications
| | |
| --- | --- |
| Manufacturer guarantee | 1 year |
| Cable length | 3m |
| Cutting width | 220mm |
| Grip type | Soft grip |
| Model name/number | 22cm |
| Power output | 250W |
| Power voltage supply | 220-240V |
| Product weight | 1.5kg |
| Product code | 3663602939733 |
Only buy if you can't afford something else.
I thought I'd go for a cheap one as there's not a lot I have to cut on my lawn edges. The big problem with this is when the spool breaks, as all strimmmers spools do from time to time. It has two spools one on top of the other which must be fed through the holes. The problem is, is that by nature the plastic wire is springy and trying to feed through one spool while stopping the other from getting tangled and at then getting it all back on the strimmer without it all flying loose again or loosing the loose spring, is a real pain.
The last time I did it there was too much spool wire left outside and it broke again immediatly. I just smashed it as hard as I could onto the patio several times then stamped on it for good measure. (Plus point, it stayed in one piece so it's pretty strong)
It's also quite short which means you're always bent over when using it, which makes my back ache and there's no hooks on it to spool the cable on.
Only buy if you really can't get anything else
Beardblanc - 6 months ago
I bought this last year and have used it maybe 4/5 times and now (August) it has totally died. And it is very small and will give you a bad back if your over 170cm 5'5". And the cord feed is a total pain in the "back". Oh well what did I expect for under £15
So bad it's funny.
'How bad can it be?' I asked myself. I normally go top end with all tools and follow the 'buy once' principle. Out of curiosity I wanted to see what it was like to get the cheapest thing money could buy me. The main problem with this chocolate teapot (apart from the uselessly short mains cable) is that the motor cannot turn a heavy cable, so it is supplied with a cable so thin that it shears off entirely when edging the lawn and it clips a stone etc. Twice in 10minutes, I had to disassemble the spool as both cable ends disappeared inside. I have put it straight into Freecycle so some other poor sod can waste their time with it.

In the bright side, it was cheaper than visiting a comedy club.

Next stop - back to Makita or Stihl.
Great product great price!
Great price, easy to assemble and does the job! It is quite small so if you are quite tall and are doing a large job expect back ache but for small-medium size gardens you can't go wrong!
OK at first
bigpapanoodle - 8 months ago
As we only have a couple of small grassed areas we were looking for something lightweight and easy to use. It doesn't appear to like being laid up for ANY amount of time. To begin with it was ok but after a couple of times usage it wouldn't start at all. At first I thought it was a fuse blown but having checked that out I found that it would start if I rolled the head across the ground a few times. It would then start albeit in fits and starts. Once it got going it would be ok again. Went out to cut the grass today and again it won't start. No amount of effort will get it going at all.
Another let down is the bump and feed. Might sound great as an idea but tends to feed out more line even when you touch the ground. It then feeds out too much line which then smacks against the safety hood. You then have to manually feed the line back in or snip it off. It's going back.