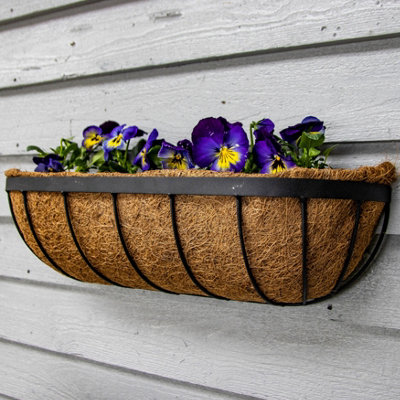 30 Inch Wall Trough Basket Planter & Coco Liner Wrought Iron Wall Mounted
Product details
Product information
Transform your outdoor space into a vibrant oasis with the Coco Liner Wall Trough! This versatile and stylish planter is perfect for adding a touch of natural beauty anywhere around your home. Not only does it make a stunning addition to any windowsill, but it also adds a warm welcome to your front door. You can even mount it on your balcony or deck railing to create a lush and inviting atmosphere for your outdoor living area. Plant your favourite flowers, herbs, or succulents in the trough and watch them flourish with ease. The coco liner provides excellent drainage and moisture retention, ensuring your plants stay healthy and happy. This wall trough is a simple and attractive solution for any gardener or home decorator. It's easy to install, easy to maintain, and easy on the eyes.
Features and benefits
The Coco Liner Wall Trough can be used in home gardens, by landscapers, in restaurants, and by hotels to add beauty, colour, and greenery to outdoor spaces and create a more welcoming environment for guests.
The Coco Liner Wall Trough is designed to keep moisture in the flower basket, reducing the amount of time you need to spend watering your plants.
The Coco Liner Wall Trough's wrought iron metal structure is weatherproof and sturdy, making it a durable choice that can withstand the elements all year round. So, you can enjoy your outdoor space without worrying about the weather.
Size: L 77.5cm x W 17.5cm x H 16cm
The coco liner is made of natural coconut fiber, which is safe and eco-friendly, making it a sustainable choice and guilt-free addition to your outdoor space.
Specifications
| | |
| --- | --- |
| Weatherproof | Weather-resistant |
| Product weight | 1700g |
| Product width | 775mm |
| Product shape | Rectangular |
| Material | Coco liner & steel frame |
| Product height | 160mm |
| Product depth | 175mm |
| Product code | 5025912014308 |