See more Garden power accessories
B&Q CH052 0.38" Chainsaw chain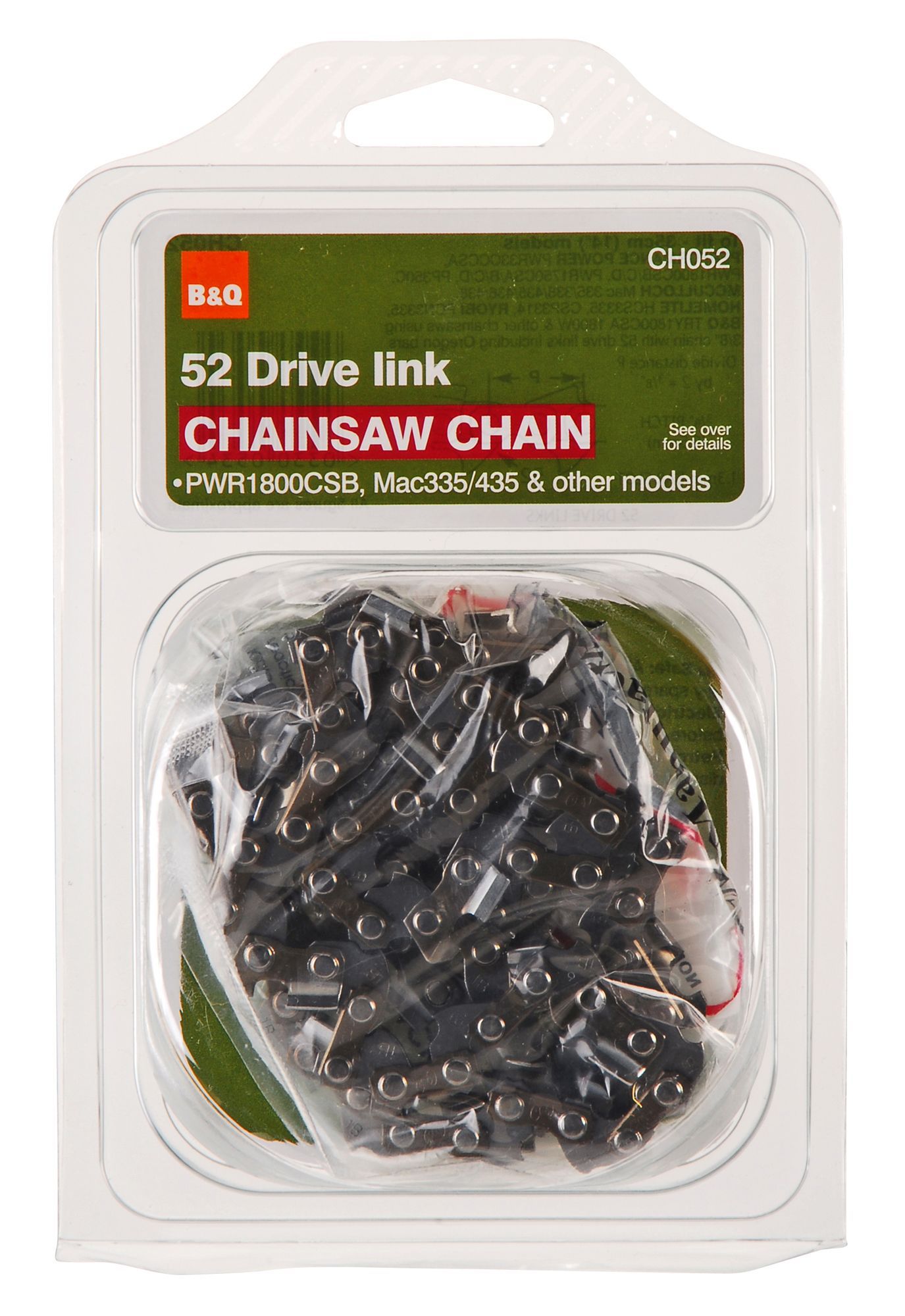 Product details
Product information
This durable steel chainsaw chain from B&Q is suitable for a 350 mm bar with a 0.375" pitch size.
Compatible with Fits 35cm (14") electric & petrol chainsaws with 52 drive links
Features and benefits
Suitable for the following B&Q Performance Power models with a 35cm (14") bar FPCS1800, FPCSP38, PP350C, PWR33ccCSA, PWR1750CSA, PWR1750CSB, PWR1750CSC, PWR1750CSD, PWR1800CSB, PWR1800CSC, PWR1800CSD, TRY1800CSA 1800W
Suitable for the following Bosch models with a 35cm (14") bar AKE 35B, AKE 35-19 Pro, GKE 35B, GKE 35BC, PKE 35B, Compares to F016800239
Suitable for McCulloch models CS340/50/80/80T, E Promac 2200, Inline 1800T, M3414, Mac 3-14XT/3-16XT/335/338/4-18XT/4-20XT/435/436/438/738/7-38/740/838/335/2214AV/3414/Cat435/Cat436/Cat441TL, PowerMac 1600/Plus 1800, ProMac 2200/E1900, Titanium 420/3500.
Suitable for the following Ryobi models with a 35cm (14") bar PCN3335, PCN3335C, RCS3535, RCS3535A, RCS3535B, RCS3535CB, KS33B-Set, Compares to 901213011
And other models using a 3/8" pitch, 1.3mm gauge and 52 drive links
It can make better use of resources to repair rather than replace items.
Specifications
| | |
| --- | --- |
| Product weight | 0.18kg |
| Chainsaw blade gauge | 1.3mm |
| Chainsaw blade gauge (imperial) | 0.05" |
| Chainsaw chain pitch (imperial) | 0.38" |
| Number of drive links | 52 |
| Model name/number | CH052 |
| Compatibility | Fits 35cm (14") electric & petrol chainsaws with 52 drive links |
| Material | Steel |
| Product code | 03300534 |
BandQ replacement chain very poor quality
Bought this as a replacement chain for my FPCSP38. What a waste of money. The chain was blunt after very little use. Spend a bit more money for a branded make.
The chain and the self sharpening mechanism
Farmer for horses - 1 year ago
I bought this chainsaw just before the lockdown. Have only used it twice, and the blade went blunt. Sharpened it with the self sharpener, and it was rubbish. The metal is too soft. Not impressed at all.
Better than expected.
Used this chain on an electric 35cm chainsaw, it was still sharp after de-branching? a 35 foot tree, then felling a 15 inch trunk. 6 further trunk cuts to reduce size and numerous on branches. Money well spent.
It didn't last long
I initially purchased this chain and once I took it out of the packet, soon discovered that the wrong chain had been put in the wrong packaging! Needless to say, I the. Had to return to the store to change it. The new chain however, I had not had the chain very long (3 weeks) and it became blunt, so I tried to sharpen it. But soon found that I wasn't able to do so, as all the teeth has worn to a point that made this impossible! Not good value in my opinion.
Fantastic Quality
I bought 2new chains for spares for the Chain Saw I purchased from B&Q all items are first class such great quality for such a Brilliant price have got a good collection of power tools now which I have purchased from varied stores