SKIP20PP BOSCH PSM 100 A MULTI SANDER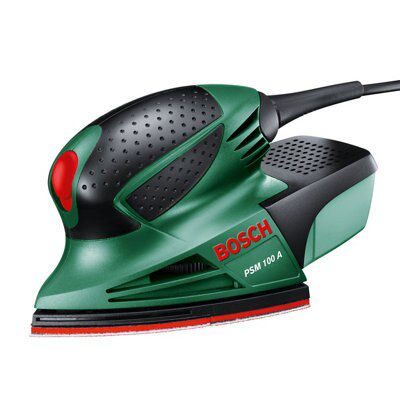 Currently unavailable
This item is not available at this time.
Product details
Product information
This corded multi sander is ideal for small sanding tasks such as sanding chairs, coffee tables and chests of drawers.
101mm wide x 150mm long sanding plate
Supplied with a 2.5 m cable, Dust microfilter box to help keep workspaces clean and 3 x sanding sheets, user manual & carry case
Features and benefits
Bosch micro filter system is a built in dust extraction element that sucks the dust directly in the micro filter box
Two-piece sanding plate provides optimum utilisation of the sanding paper
Fastening system allows for fast and convenient sanding sheet changes
Guarantee - 2 years
Specifications
| | |
| --- | --- |
| Product code | 3165140718028 |
Don't buy this
You get what you pay for with one. The sandpaper easily falls off the plate after a while. I even bought a replacement plate from Bosch and the same problem occurred. Its sad because if it worked it would be a great sander for small places.
Disappointed with Bosch
Rub123456789 - 1 year ago
Had mine just over a year but only used half a dozen times. Good little sander in itself, but Velcro base lost its grip very soon, and no, I didn't abuse it by burning the corners etc. Also the switch started to play up. I repair tools etc regularly so took it apart to inspect - the electrical contacts were exposed and full with dust, this could have been made as a sealed switch, as this fault was always going to happen sooner or later. More importantly, the fan/ oscillating bar was twisted on the shaft and rubbing on the casing which had worn a groove in it. As I said, I am a keen diy'er and look after my tools so this was not down to me abusing the sander. So I repaired everything as best as possible, but to now replace the base pad I have to pay almost as much as the cost of the tool, and it is designed in such a way that it is pretty much impossible to stick some sort of Velcro on as a temporary repair. I always though Bosch produced quality products, and I know this was only a cheap sander but having seen the build quality from this I am so disappointed, bearing in mind the minimal use its had. I am now looking to replace and also buy a larger random orbital sander but guess which brand I will be avoiding from now on. Would also recommend to anyone buying electric sanders of any type to check wether the switch is sealed and replacement bases are available, otherwise you are wasting your money.
Dust everywhere
Only had this a few months... all it does is blow dust everywhere and currently suffering the consequences. Definitely should not be used in the house and the dust collection box is utterly pointless.
GREAT TO LOOK AT !
only 2 months old and will not grip sand paper for more than 5 mins
very disappointing, am wasting more money on paper than the things worth, going to bin it and buy a different brand
Easy Hand Hekd Sander
Wowie Howie - 3 years ago
Purchased to sand numerous small rough areas of plaster when de orating and it did the job perfectly. It can be connected to a vac cleaner hose to remove the dust, but unfortunately not to a Dyson. However not a major problem. Great tool that dies the job at a reasonable price