See more Scarifiers & tillers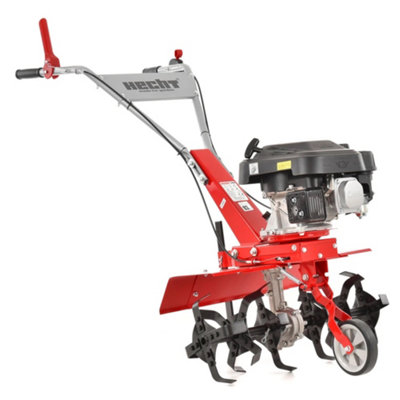 Hecht 746 Petrol-Powered Garden Tiller 3.7HP Working Width 36 or 60cm
Sorry, this product is currently out of stock.
---
Hecht 746 Petrol-Powered Garden Tiller 3.7HP Working Width 36 or 60cm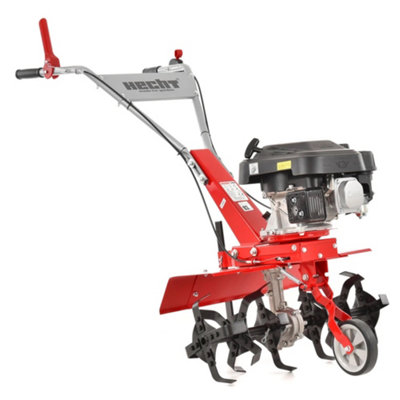 Currently unavailable
This item is not available at this time.
Product details
Product information
The Hecht 746 Rotavator/Tiller is powered by petrol and is equipped with a Hecht 3.7hp OHV engine. This garden gadget replaces the hard manual work of tilling soil and is an essential item for hobby gardeners, landscapers, vegetable cultivators and anyone who finds tilling hard work. The main job for this rotavator is to till soil without hours of kneeling down or heavy fork work. It is ideal for those who grow a lot of herbs or vegetables, as well as general green fingers who like to re-sow flower beds each year for optimum growth. Like all rotavators or tillers, it can be used to cultivate small patches of lawn as well as keeping borders and beds fresh. This rotavator/tiller has significant power output for a tool of its size, with an output of 3.7HP from its 150cc 4-stroke OHV engine which is powered with petrol. Petrol powered mowers and tillers are not only stronger, more effective, and less likely to break than electric options, but also do not rely on restrictive power cable, reducing the health and safety risk as well as being more convenient. The fuel tank sits atop the tiller for easy access and filling. This petrol-powered piece of essential gardening kit weighs 32kg. It measures 72 x 41 x 48cm when in box upon arrival. This machine has a working width of 60cm with six blades these rotavators can cut through the job of tilling soil and cultivating the earth easily, quickly, and effectively. The rotors have a working speed 145 rpm and an engine speed of 3600 RPM. It is equipped with a 0.8l fuel tank and requires 0.4l of 4 stroke engine oil. The preferred oil to use for the engine is SAE 10w-30. When finished, remove any dead twigs, or stems before folding away. Store the rotavator well out of the reach of children due to the sharp blades and petrol, preferably in a lockable shed. Constructed in a combination of durable hard-wearing metal in black and Hecht's signature red, the design of this rotavator is sleek, modern and stands out from the crowd.
Features and benefits
Powerful Petrol powered tiller
Hecht 150cc 4 – Stroke Engine
60cm working width
Six cultivating discs
32kg in weight when assembled
Specifications
| | |
| --- | --- |
| Product weight | 32kg |
| Working width | 600mm |
| Product code | 8595614929295 |