Irwin Record 50mm Smoothing Plane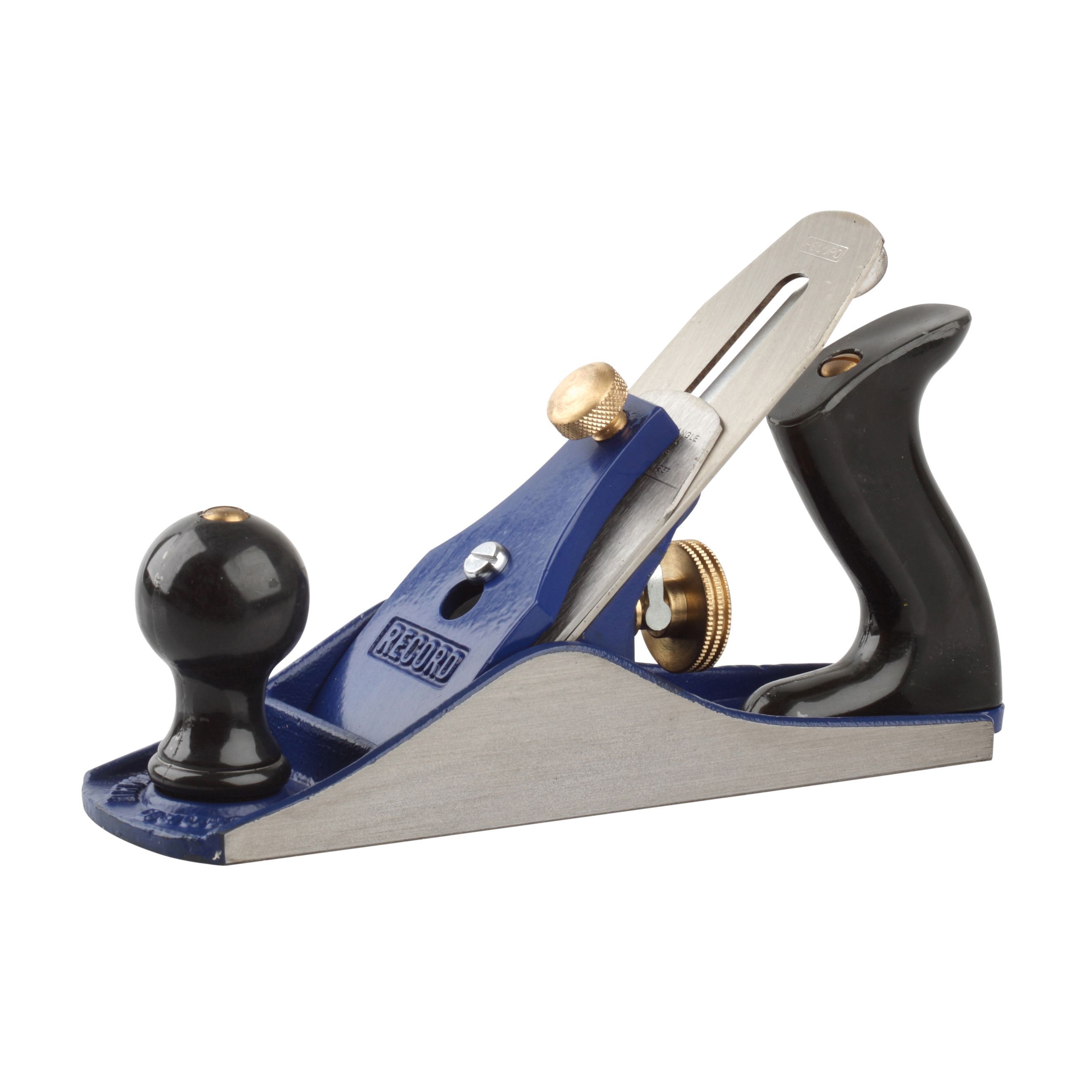 Product details
Product information
Features and benefits
Cutter pre-set at 12.1/2° Adjustments control thought brass adjusting nut and lateral adjusting lever for fine or coarse work and end grain
Robust body offers maximum control. Plane is fully adjustable to depth of cut whilst cutter is held firmly by lever and cam
Robust lever cap
Fine adjustment
Precise and efficient removal of material on door frames and wooden beams
Planing depth - 50mm
Specifications
| | |
| --- | --- |
| Blade material | Carbon steel |
| Blade width | 50mm |
| Body material | Cast iron |
| Model name/number | TSP4 |
| Pack quantity | 1 |
| Product length | 310mm |
| Product weight | 1700g |
| Product width | 230mm |
| Product code | 0734442165729 |
Good budget plane let down by a fatal design flaw
The plane sole was quite a way out of square, so much so that I had to purchase 40 grit sandpaper to lap it with, but you do expect a bit of fettling initially.

It was only when I came to attend to the blade and chip breaker that I realised that the blade was bent, and any number of taps with a hammer would not true it.
The culprit, it turns out, is that the screw which fastens the blade and chip breaker together sits proud within the frog, and therefore the blade only touches the frog at the very top and bottom.

I have bought a new Stanley blade for the plane, and will attempt to grind the chip breaker screw down, as I don't see a way of grinding the recess in the frog down. If all goes according to plan, I will straighten the original blade as best I can and add a camber to it and use it as a scrub blade.
Good idea - Poor execution
FrustratedChippie - 6 years ago
This would be a great product (Review is for a Record No5 Jack Plane) but is let down by poor finishing (e.g. moulding marks on plastic handles making them uncomfortable) and even poorer materials. After grinding, sharpening and polishing the blade bevel (it is practically blunt out of the box) I tried to use it only to have the yoke adjuster snap where it butts against the chip breaker. What is even more frustrating (apart from having 9/10 of a working plane) is that I lost the receipt soon after purchase so cannot return it. On a plus note, the plane is not too heavy, has a relatively good range of adjustment and the blade takes a fine edge once you have fettled it. I have rated this as poor for the yoke failure (not good enough with modern materials and manufacturing when I have a 40 yo Stanley No4 plane still going strong) but would otherwise rate as "good" for the price.
Irwin Plane
it works out the box Ok but after lapping and squaring off the blade and polishing the bevel its a very nice plain as good as my No 4 faith full