See more Constructional insulation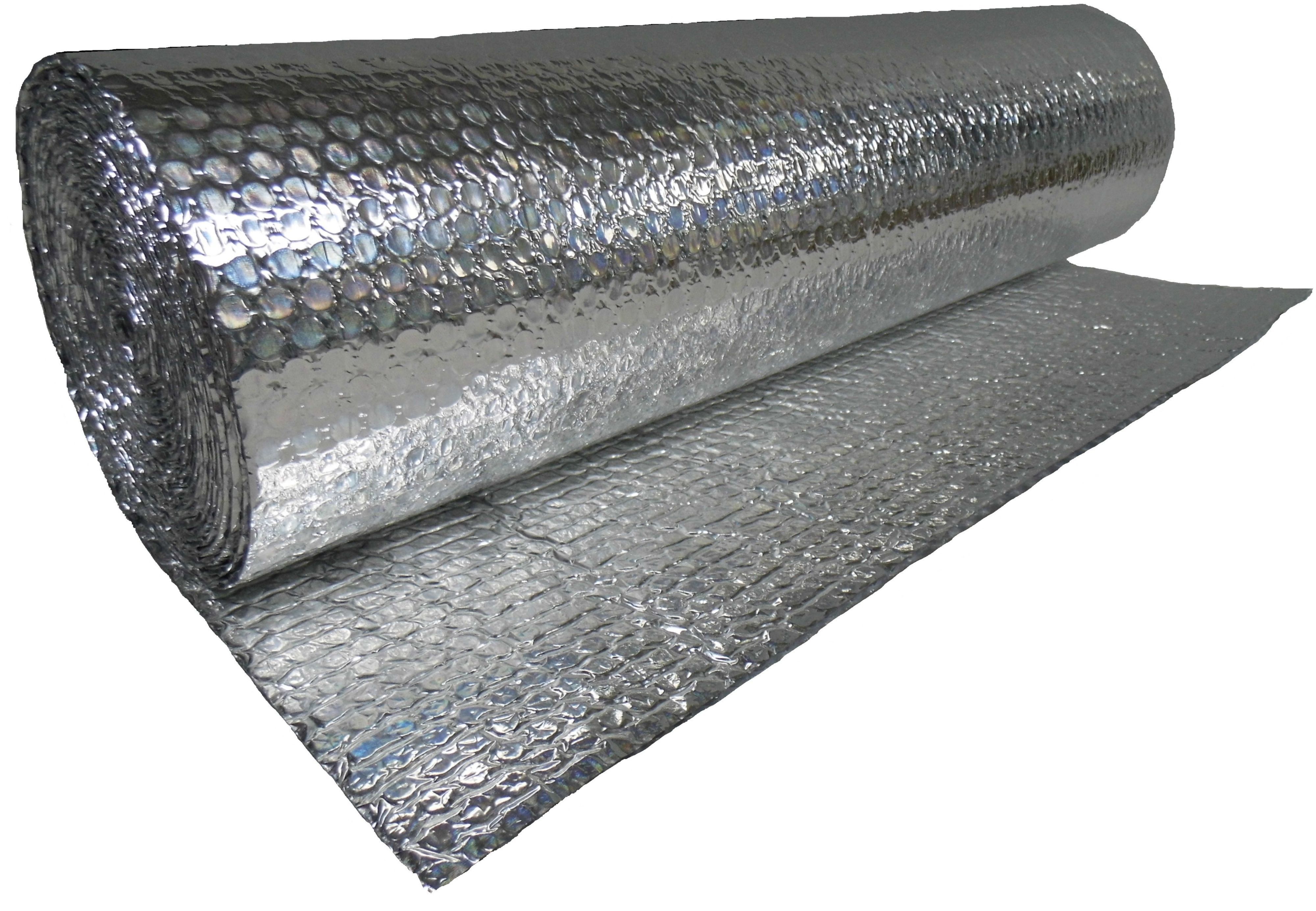 ThermAll Bubble insulation roll, (L)7.5m (W)0.6m (T)4mm
Product details
Product information
ThisReflective insulation;Use on internal walls & floors and in lofts
Use on internal walls & floors and in lofts
Features and benefits
Helps to preserve heat by reflecting it back into the room
Flexible and easy to install
Can be used in many areas of the house, as well as garages and sheds
Easily cut to size
Reflective insulation
Insulation can make your home more energy efficient - and feel warmer.
Specifications
| | |
| --- | --- |
| Brand | ThermAll |
| Pack quantity | 1 |
| Coverage | 4.5m² |
| Product length | 7.5m |
| Product width | 600mm |
| Product thickness | 4mm |
| Product weight | 0.53kg |
| Material | Metalized polypropylene |
| Product code | 5012924043853 |
Good job
So far so good. The small garden office we used the insulation on seems to retain the heat after we get it hested to a good temperature.
Fire safe?
Is this product safe to use to insulate a roof from a fire safety point of view?
I have bought 3 rolls to insulate my conservatory roof behind the usual blinds and then wondered if this was safe if there should be a fire.
Hopefully the fire safety will have been tested as otherwise the product is just as I expected.
I'm using the review form as I cannot find any email contact details
Surprisingly excellent result.
I purchased this product to insulate our up and over garage door as it is an integrated garage and we have a pedestrian door in to our hallway. Our hallway was always cold, no matter what time of year, there was a noticeable 5 - 7 degrees difference from downstairs in our hallway to upstairs in our living room, we live in a three storey, new townhouse, so I had a little project to do to try and improve the situation.
Firstly I added draught proofing to the garage to hallway door, to work with the existing factory fitted brush system in place, this made a slight difference for the better. I then packed the open edges of the Garador garage door with expanded neoprene foam 11mm, this made a lot of difference for the better and now that has been done I have used this product to fully insulate the whole door panel, with just a cut out for the internal lock and door opening knob, sealing it down with the Aluminium Thermal tape recommended.
WOW, what a vast difference this has made to the complete job, we now only have a 1 - 2 degree difference downstairs in the hallway at any given time, making a huge cost saving on our gas bill, as the central heating is now more off than on.
We know this as we have two thermostats in the house as the one in the hallway is for the ground floor and first floor and the second floor works independently from the one downstairs. Incidentally, our garage door is North facing, now it is neither hot or cold in the garage, the temperature stays steady, there is not any feel of damp in the garage and it is now a pleasure to mess about in., as well as gaining a tremendous result.
If you want to insulate your garage door, do this and use this product, it is worth every penny and far cheaper than buying an insulated garage door and having it fitted.
Unusual? use for this product
We garden. We have a greenhouse. i look at Youtube. What has this got to do with this item?
On Youtube I saw a video of a cheap growlight system with a frame made from 25mm plastic waterpipe. Suspended was a light.
I wanted to maximise the light and considered aluminium foil as a reflector hung from a daylight fluorescent fitting, but I was concerned about thermal insulation and integral strength.
This product was just the job. Cut to length and laid side by side the pieces were joined with silver tape (B&Q) and draped over and under, completely around the system. Ends are held with small clips, I had also considered using velcro (the stick and stick version).
With a small heater inside it has worked well, a max-min thermometer showed temperatures at least in the high teems, and germination of chili peppers (requiring mid 20's) has been satisfactory.
The seedling have been potted on, and have been left in the lighted "tent". Growth compared to seedlings grown as normal in the unheated greenhouse has been most satisfactory.

PS for years I have also used this for pasting on the wall behind radiators - but who would be interested in that?
Good quality - but not cheap!
Very Good but not cheap! It has good thickness and depth unlike cheaper ones and is easy to handle. Needed to insulate wall.