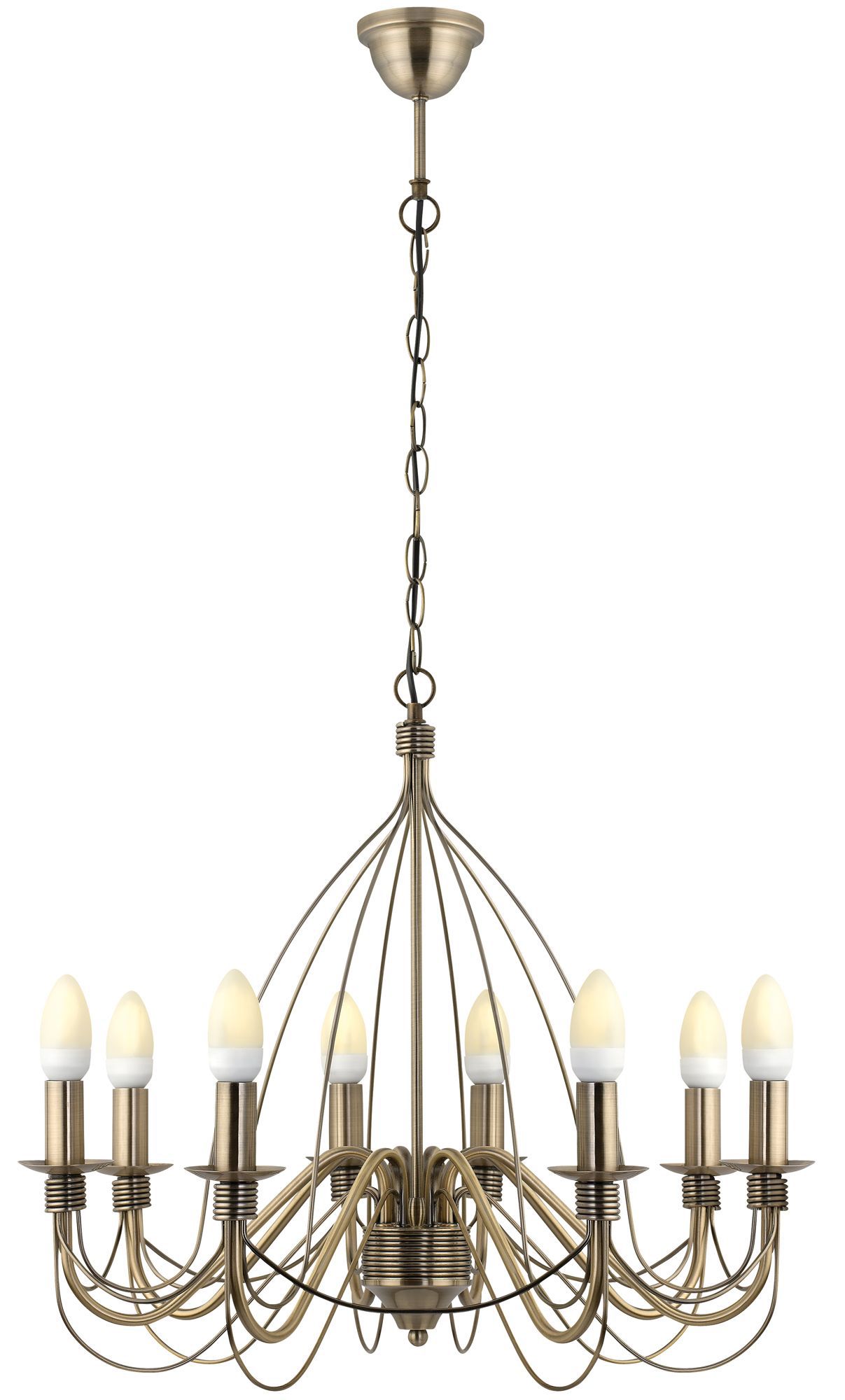 Vas Gold effect 8 Lamp Chandelier Ceiling light
Product details
Product information
Matching 2 lamp wall light & 5 lamp ceiling light available
Bulb sold seperately
Non-dimmable

Only fixings included
Features and benefits
Recommended for Living rooms, kitchens & bedroom
This product features a birdcage design
Specifications
| | |
| --- | --- |
| Cap fitting | Small edison screw cap (E14) |
| Drop | 1200mm |
| Equivalent wattage | 40W |
| Fire rated | Not fire-rated |
| IP rating | IP20 |
| Light technology | Incandescent |
| Material | Metal & plastic |
| Maximum bulb wattage | 40W |
| Model name/number | BB2552-8AB |
| Motion sensor | No motion sensor |
| Number of bulbs | 8 |
| Pattern | Plain |
| Product diameter | 580mm |
| Voltage | 240V |
| Adjustable height | Adjustable height |
| Product code | 05282760 |
Beautiful chandelier
After reading all the reviews I was fully prepared for a nightmare time consuming construction but I don't know what all the fuss is about I put this chandelier together in under 10 mins. The instructions to me were clear and assembly easy. I'm so pleased with it. I am renovating at the moment and this chandelier will take pride of place in my Victorian lounge
Proof we're not all born equal
Return Void - 2 months ago
Nice pretty chandelier with a contemporary look that's not too chintzy that it's tacky. Very good for the money you are paying really but the catch is the assembly that is not for faint of heart and should really come with a health warning. Also be aware this fitting is only really suitable for high ceiling. I've only got it hanging on 1 chain link and will likely have to modify as will be head butting otherwise.

==================
Assembly instructions:
==================

Highly recommended you attempt this with non-slip gloves as numb fingers and sweaty palms are a certainty. Maybe even some eye protection as the rods WILL be under tension and have a nasty habit of pinging out of their holes and look like an excellent way to visit A&E.

1) Throw the provided instructions straight in the bin. They are garbage and feel like they have been authored by someone who has never even attempted to assemble this product! Seriously I am not joking. Truly terrible.

2) There is an extremely systematic process to assembly that MUST be abided by in order to prevent hair loss, cursed words and fits of rage. First of all whilst we have the product in it's disembowelled state please take now of a few things.
i) Underneath the top ridge of the main stalk and each of the eight lanterns are the locating holes for each rod to be inserted. There are eight of these holes at each position. Each lantern holders only has 7 of the 8 holes available with one taken by a prefabricated rod insert.
ii) Each rod that forms the structure of the birdcage you are assembling has a hole machined at one end. This end is deliberately oversized and will not seemingly fit it's hole without a fight.

Armed with these observations you must now apply a certain methodology to assist with assembly
a) The ring of holes on the main stalk will eventually have all eight holes filled to form the arms of the birdcage branching out to each of the eight lanterns. However the ring of holes on each lantern will have some superfluous holes that won't get used. This is important because you need to space the holes correctly or else you will have insufficient clearance/space by the time you reached the 8th rod when construction the radial ring of the birdcage. You MUST use the neighbouring holes available alongside the prefabricated rod insert on each lantern arm for all connections. You will then have the space to complete the ring. This will then leave you with 5 holes available for the upright rod of the birdcage and I suggest you split the difference equally leaving two holes of separation either side and reserving the remainder for the insertion of this rod.
b) When inserting any rod into a locating hole you MUST always start with the end denoted with the hole because this is the load bearing connection and will require some fuss and effort on your behalf to make that union. It is highly recommended that rather than trying to force this side of the rod into the holes(which may appear too small for their purpose) - that you employ a twisting motion whilst apply steady pressure and persuade it into it's hole. Imagine you are trying to drill/tunnel this side in rather than ramming it home. This is another reason why it is sensible to always start with this end of the rod first. Once a connection has been formed you will find the other end of the rod will slip straight into the other hole with absolutely no fuss whatsoever. Magic.

3) Okay armed with this knowledge we are ready to begin. Start by constructing the radial ring of the birdcage - the shorter rods. This is a straightforward procedure, pick a start point and just work across in series. Do it systematically. Work with the holed end of the rod until you have driven it sufficiently into it's hole that it won't spring out and the slip the other end into it's neighbouring hole. The final piece might still seem a bit tight but it should go in with a bit of persuasion - there should also be enough tension and rigidity in the structure to enable you be quite physical with that persuasion just be careful not to pop a rod out in your enthusiasm.

4) Cool now the chandelier has rigidity and form, but more crucially everything is in alignment. We can finish by constructing the uprights of the birdcage - long rods. However before we begin it is crucial to pause and take note one last time because we HAVE TO assemble these rods in a particular order. If you examine the vacant locator holes on the center stalk you will notice they are housed beneath a decorative piece of metal that resembles a coiled spring(these also adorn the lantern holders). Because it is a spiral you should notice that access to the holes beneath will vary along it's gradient. You MUST start assembly at the lowest point of the coil. This is because if you don't do it in a particular sequence that lovely piece of coiled metal will get in the way and will subsequent block access to the holes you are trying to locate a rod in. If you do it in a contrived sequence then you won't run into problems. Begin with the lantern arm where the coil is at it's lowest point relative to the ring of holes on the main stalk. You will be starting each run at the lantern holder end first too as this is the end of the rod that has hole and is oversized. It will still take a lot of manhandling but once that has been pried into it's hole it can be manoeuvred inboard and slipped into it's corresponding hole on the center stalk(Make sure it is the correctly aligned hole too). Now repeat with the next lantern arm running left to right, so on and so forth until you get to the end.

Congratulations. Sit back and admire your handiwork. Now it's your time to do some work and figure out how to get it on the ceiling. Good luck.
Terrible product awful to build
It took my partner over an hour to assemble as the pieces continually pop out of the holes. Even after reading tips in other reviews this was difficult & the instructions are not clear.
Once assembled the electrician came to put it up & several pieces pinged off again.
Awful to assemble
Absolutely terrible to try to assemble. When trying to insert the rods the holes are too small and they just kept bouncing out. Wouldn't recommend.
Looks great!great
Really pleased with the finish of this light, fits nicely in the room and was great value for money.