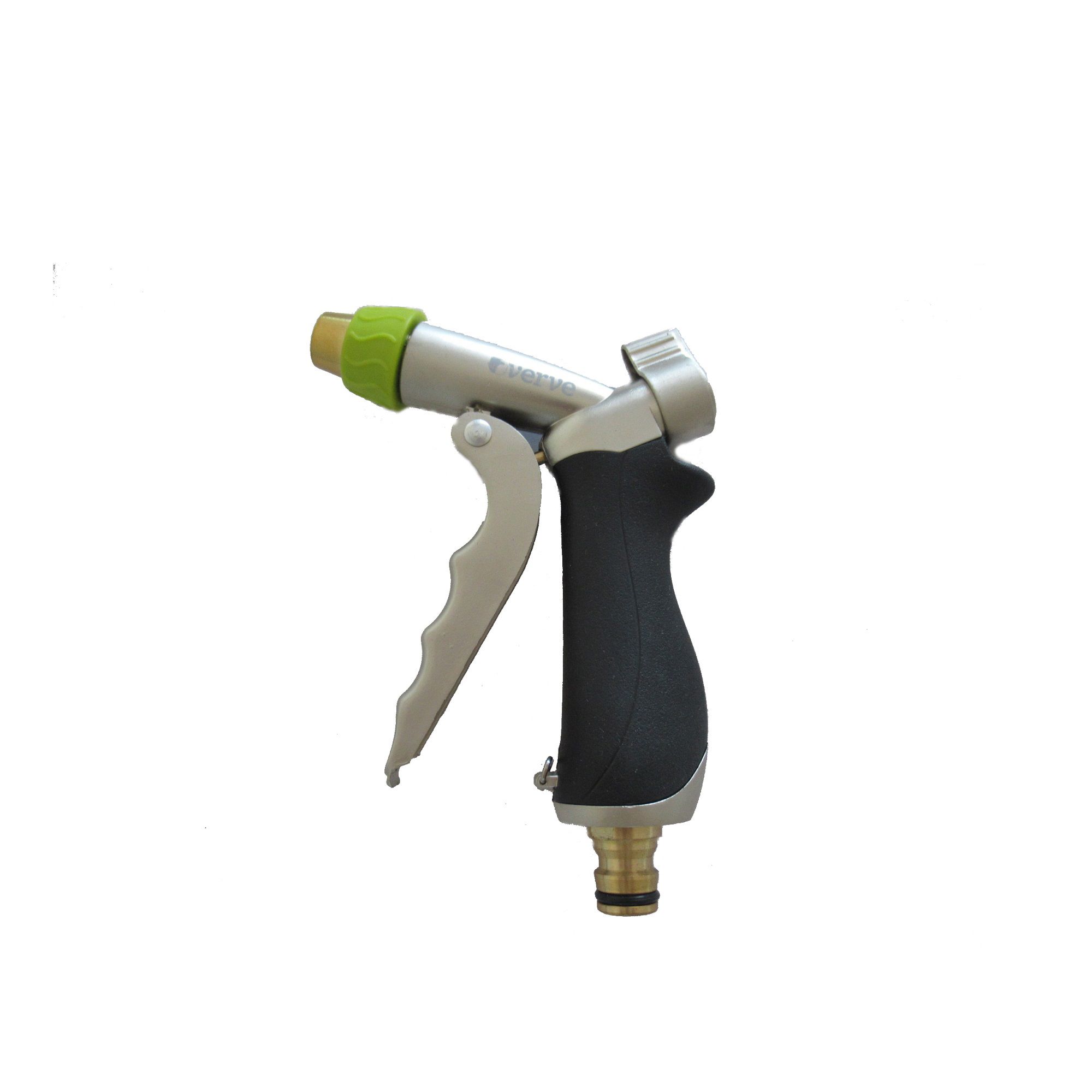 Verve 2 function Spray gun
Product details
Product information
This black, green & golden metal spray hose nozzle is great for the gardens, and gives you the ability to control an accurate spray of water whilst using it. It's got two functions, for maximum flexibility when you're working.
Garden watering
Comes with 1 tap adapter
Compatible with Compatible with most brand fittings
Features and benefits
This Verve nozzle can be attached to all standard hosepipe fittings, it is adjustable ideal for all your watering needs
Flow control can help you adjust the flow strength
Trigger lock helps you continue watering if you do not want to press the trigger
Gripped handle makes using this spray gun a delight
Specifications
| | |
| --- | --- |
| Colour | Black, green & golden |
| Handle type | Metal |
| Material | Brass |
| Number of functions | 2 |
| Product code | 3663602941033 |
Verve spray gun
Mister Happy - 7 months ago
This spray gun should work better if not used with hoselock attachment which automatically stops the water when you remove the gun.
this product is doomed
bought a few months ago and has fallen to bits,dreadful
design ,getting refund parts are glued together and will fail
Don't do it!!!
fairly useless don't waste your money, poor power and bad connection
Loks The Part But Isn't
Solid-looking and made of metal, thought it might last longer than the plastic ones. The inside valve though is cheap nylon and after only six months has started to leak. Don't waste your money on this.
I recommend that you do not buy this
xxxxxx100010101 - 3 years ago
When I first saw this I thought Iooked good, it was made of metal not plastic so I thought it would be robust. The problem is that I found it impossible to get a strong jet of water out of it, ie for washing the car. So I thought maybe this is just a dud one. So I took it back and asked if I could swap it for another one. But sadly the second one was as bad as the first one. I also noted that although the connection looks the same as my hozelock one, I had great difficulty getting it off.
I have since looked the reviews and noted that many others are having similar problems. I am surprised this product is still on the shelves as in my opinion it is not fit for purpose, but then I can only assume that management never read the reviews. I wish I had read the reviews first.

YOU HAVE BEEN WARNED!!!!!

I might as well add, when you return items to B & Q at one time you went to the help desk but now you now have to queue up at the attended check out, there is only one and there is a big queue. I am not there to spend my day queuing. There is a sort of arrogance when you go to the self serve check out and they only take cards, no cash. So if you are one of the unfortunate people that does not have a card you have to join the peasants and queue!!!
When I went to take the second Verve Nozzle one back I found they didn't have a replacement hozelock nozzle that I wanted, similar to the Verve brand, (but they work.) So I was led to believe that the spray version of the Hozelock had setting for a jet stream of water, It does not!!!!!!!! So I shall be spending my morning in B & Q tomorrow, again.

You should be able to give this product a zero star rating it is so bad.