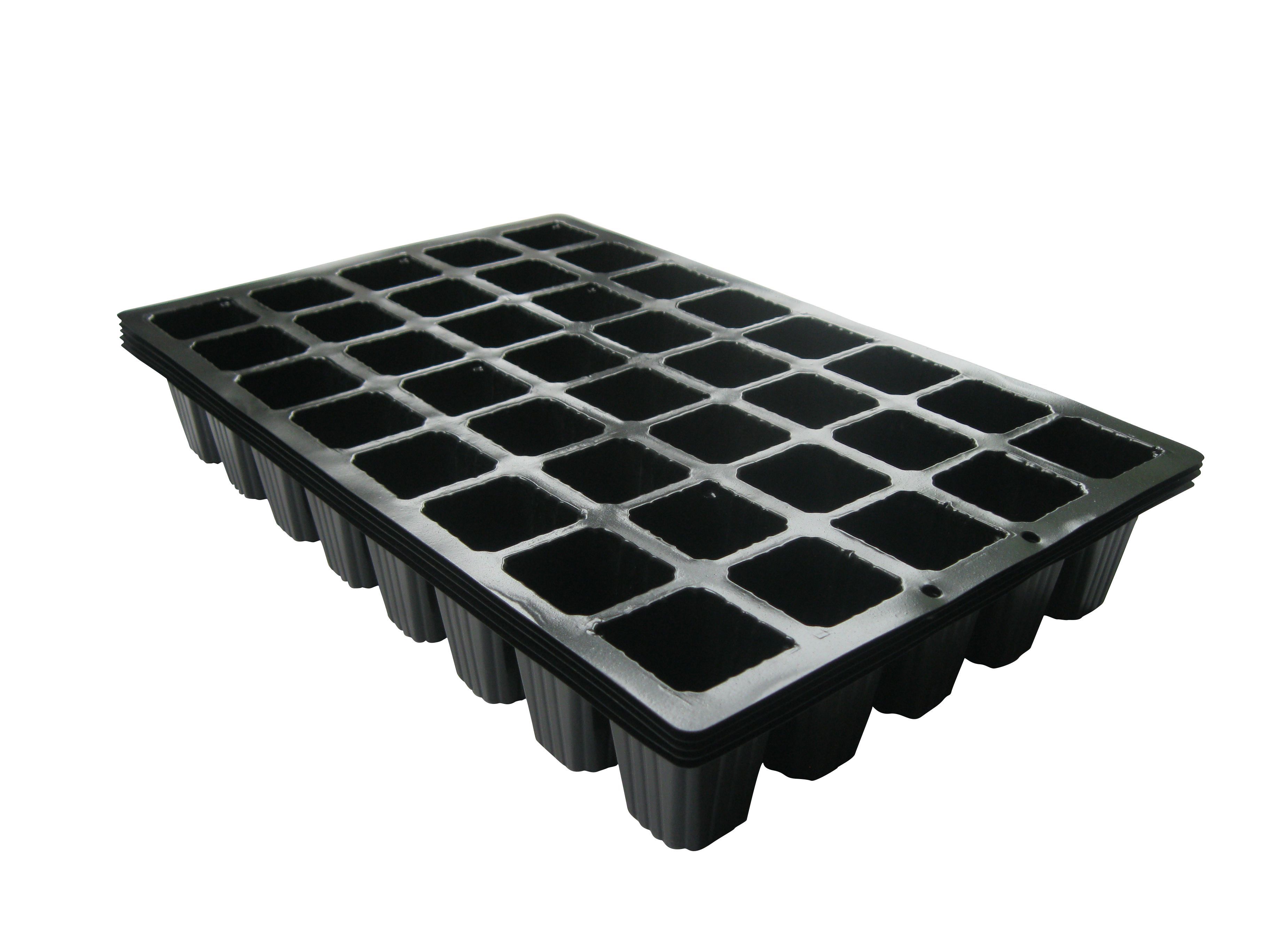 Verve 40 cell Propagator insert 35.4cm, Pack of 5
Product details
Product information
Features and benefits
Feeds a constant supply of water directly to plant roots
Can be cut to fit most of tray
The verve capillary matting sheets retains water and released it gradually and directly to your plants roots over a prolonged period of time

Suitable for a windowsill, indoor area or greenhouse
Specifications
| | |
| --- | --- |
| Colour | Black |
| Material | Plastic |
| Product depth | 231mm |
| Product height | 64mm |
| Product length | 354mm |
| Product width | 354mm |
| Product code | 5052931458288 |
invaluable product for seed starting
I have many of these trays for seed germination and I get many sowings out of each tray throughout the year. They fit the gravel tray sold by B&Q which allows for easy transit from greenhouse or heat mats to water bath etc.
I also cut them up into smaller seed trays. 4 6 cells (2x3 cells) and 2 8 cells (2x4).
This allows for different seeds to be sown within one tray, yet each one can be moved on accordingly individually as different seeds germinate at different times. Again, I use the gravel tray to hold them as if one tray, and move the smaller cut trays as the need arises for each seed tray.
Didn't last very long, quite flimsy
kingsgarden40 - 2 years ago
I bought several of these and sowed onion, broccoli and peas.

Pea roots being quite thick and dense the seedlings were quite easy to pop out.

However, the onions and broccoli were quite a challenge to remove and suffered quite severe root damage trying to prize out their more delicate roots.

In fact the broccoli is a write-off after planting-out from these trays, barely any have survived from a full tray. Too many roots got damaged and detached when trying to extract them and the trays themselves split being quite flimsy so they're no use past one sowing.

When you try and push the bottom of the module up to extract the plant the plastic can crumple up and damage the roots and make it more difficult to pull out the plant.

Ok for peas but anything else has been a disaster.

They won't last past one season, so I've ended up buying more sturdy trays with larger holes in the bottom that will be easier to pop out the seedlings without so much root damage.