See more Multi-purpose compost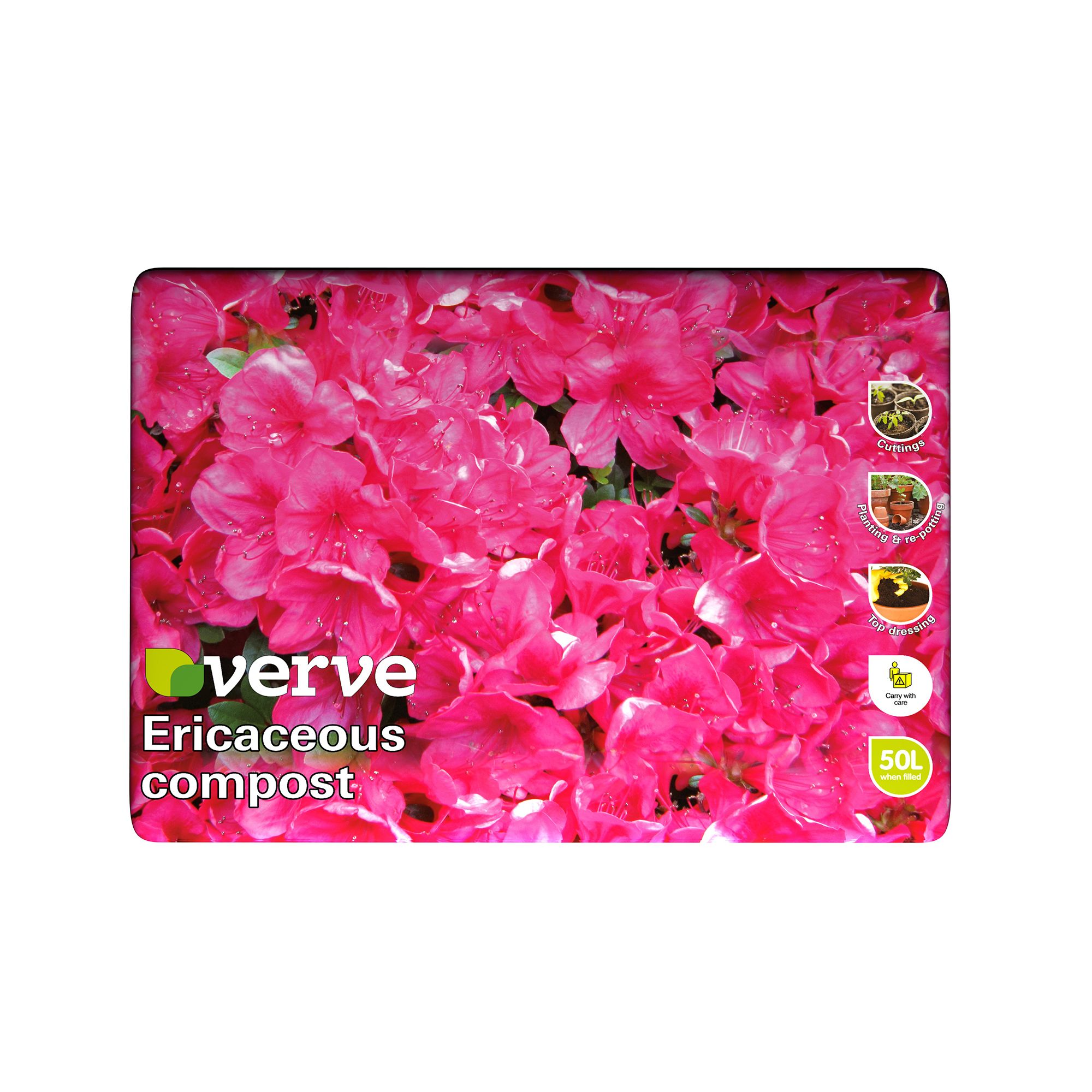 Verve Ericaceous Beds,borders & pots Compost 50L
Product details
Product information
Provides acid loving Ericaceous plants with all they need to flourish.
100% peat & wood fiber
To re-pot an ericaceous plant, water well 1-2 hours before re-potting. Add a layer of eriaceous compost to a slightly larger pot. Gently remove plant from pot. Pop plant into the larger pot and top up with compost. Lightly firm the compost with your fingertips and water. To refresh the compost for mature plants in pots, carefully remove a thin layer of old compost from the surface and replace with fresh compost. Water well.
Features and benefits
Verve Ericaceous Compost has been specially developed for lime hating plants such as rhododendrons, camellias, azaleas, pieris and heathers.
Perfect for acid loving plants
Contains iron for greener foliage
Easier to re-wet and excellent moisture retention for up to 50% less watering
Specifications
| | |
| --- | --- |
| Brand | Verve |
| Product weight | 12.58kg |
| Standard | FSC certified |
| Litre capacity (L) | 50L |
| Peat content | 50% |
| Product code | 3663602423676 |
Good value
Always use this and get a lovely display from my rhododendrons,azaleas and camellias.
Poor Quality Compost
ScribesWtr - 5 months ago
I purchased this product yesterday along with some Autimn heather and cyclamen to refresh some wall planters. I've purchased compost from B&Q previously and it has been of acceptable quality for the price. However the 50 litre bag I purchased yesterday was rubbish. It contained pieces of wood, small stones, shredded material and large pieces of hard bark. I sieved the bag before using and removed about 20% of the above poor material. If you purchase this product and it is like the one I received, purchase a sieve as well. Disappointing!
Looks good
Frank Little - 6 months ago
Ph 5.5. 50% sustainable peat, the other 50% made up of wood fibre, bark and/or coir. Probably a bit of iron sulphate added, nothing to stop you adding a bit more if you need a lower pH. Consistency fine/medium and fluffy. Doesn't seem to have any watergel or fertiliser pellets, which is good in my opinion and means you can add your own preference. Lost a star for not including the above info in online product description. Not yet tested with plants, but seems to have the right physical properties for what I need, and I'll be adding vermicompost for nutrients anyway.
You need to know what you are buying...
Bought a couple of these (24/07/20) to pot up some Blueberry plants. Blueberries need a PH level of 4 -5.5. This Verve Ericaceous tested at 7 which is neutral, not Acidic. I used a probe tester as well as PH test strips and fresh rainwater to make the sludge. Clearly NOT "Perfect for acid loving plants". What is the problem of stating on the packing and sales description what the true PH range this will provide? Very disappointed and will not buy again.
If you plant Rhododendron, Azalea, Camellia....
If you plant certain shrubs in the average garden it is necessary to dig a larger hole than usual and plant the shrubs using Ericaceous compost do not use the soil taken from the hole. Shrubs like Rhododendron, azaleas, Camellia woodland type plants and I find Japanese Acer shrubs. Remember to water them using rain water a good reason to get a water butt or two. If you need to use fertilizer or need to top up soil levels remember to use ericaceous plant products. The shrubs and plants never do well in most garden soils. You can get soil testing kits to find out what your soil is like.