See more Multi-purpose compost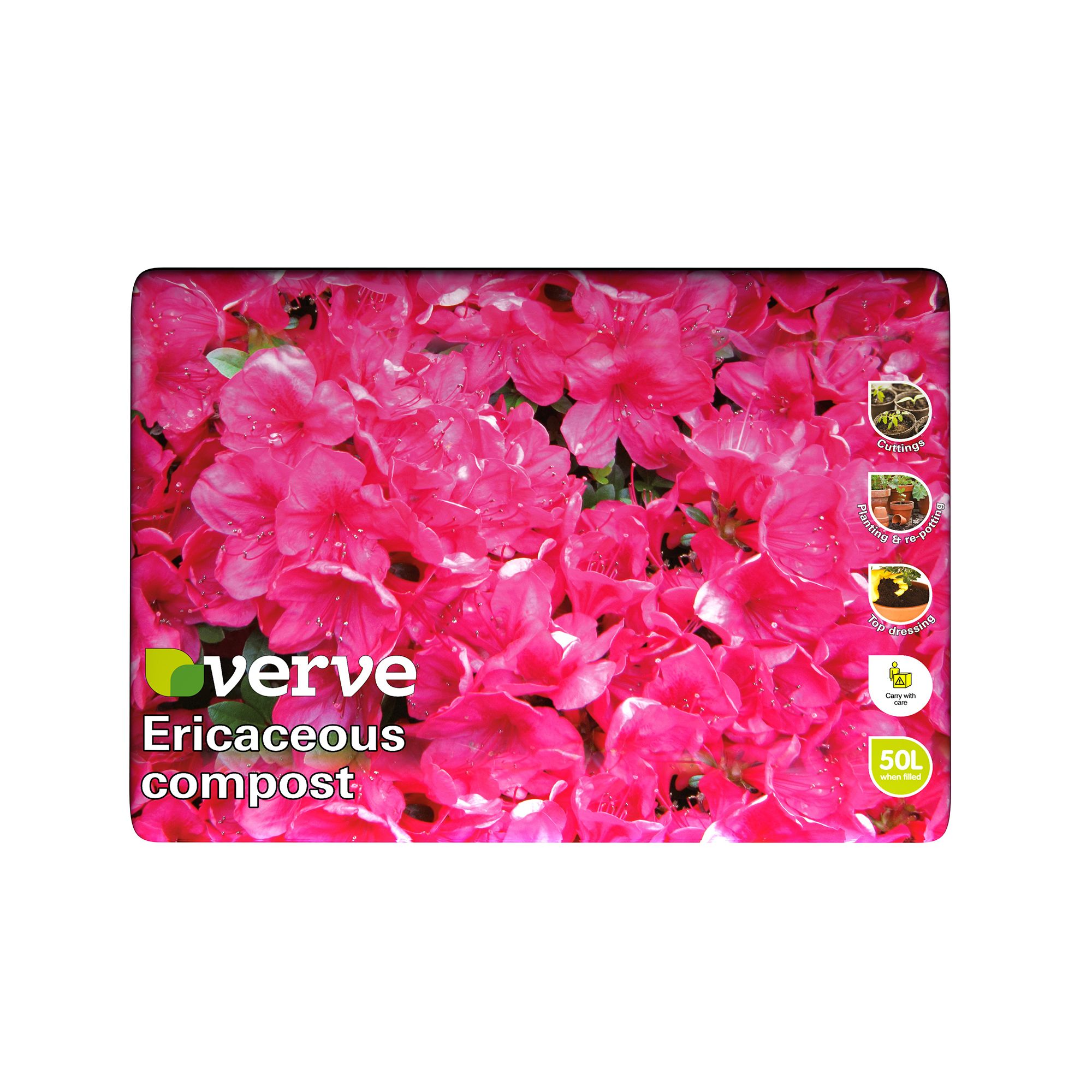 Verve Ericaceous Compost 50L
Product details
Product information
Provides acid loving Ericaceous plants with all they need to flourish.
100% peat & wood fiber
To re-pot an ericaceous plant, water well 1-2 hours before re-potting. Add a layer of eriaceous compost to a slightly larger pot. Gently remove plant from pot. Pop plant into the larger pot and top up with compost. Lightly firm the compost with your fingertips and water. To refresh the compost for mature plants in pots, carefully remove a thin layer of old compost from the surface and replace with fresh compost. Water well.
Features and benefits
Verve Ericaceous Compost has been specially developed for lime hating plants such as rhododendrons, camellias, azaleas, pieris and heathers.
Perfect for acid loving plants
Contains iron for greener foliage
Easier to re-wet and excellent moisture retention for up to 50% less watering
Promotes greener, healthier leaves. Perfect for acid loving plants. Formualted for increased moisture retention and aeration
Specifications
| | |
| --- | --- |
| Brand | Verve |
| Product weight | 12.58kg |
| Standard | FSC certified |
| Litre capacity (L) | 50L |
| Peat content | 50% |
| Product code | 3663602423676 |
contains peat
Please consider a B&Q peat-free alternative to this product.
Our UK peatlands are vital for carbon capture and act as our very own rainforest, as well as a haven for wildlife.
Thank you
Don't buy
This is rubbish the ph is 7 not in 5 to 6 which is should be can't even take back
rubbish
this is not what they say it is it has a ph of 7 spoke to customer service because bag is open been told i have to keep it would not recommend and i wont be using b&q for any garden products as i think this is very poor service
Not ericaceous - Neutral PH, but generic compost.
I bought this for my newly purchased Blueberry, the soil ph is known for these plants and this ericaceous should have done the trick.

I've read the reviews and the most reviewed states: - shaung
...
You need to know what you are buying...
Bought a couple of these (24/07/20) to pot up some Blueberry plants. Blueberries need a PH level of 4 -5.5. This Verve Ericaceous tested at 7 which is neutral, not Acidic
...

Unfortunately - that review is spot on . The test shows 7 (wet and dry) and this cannot be used for my blueberry.
I have iron sulphate, I have manure, I can get pine, but this product should have met its brief and be ericaceous. , not worth returning and used as generic compost.

This one contained no rubbish, no paint flecks found just the odd occasional non shredded wood fragment. So as a compost - It's ok, just isn't what it says.

My blueberry will have to stay in original pot until I resolve the ph. The sellers may need to revise this product.

Also the product states; - "100% peat and wood fibre" . Now that's a misleading statement, does it mean (as we would read it 100% peat).
... the product is 50% peat - it's on the back of the bag.

So not as advertised, Ph neutral and disappointing.
neutral ph compost
I bought this a few days ago and opened it today, tested it with ph kit and it shows the ph is around 7 which is not acidic at all. People choose ericaceous compost because they want acidic soil, if it is neutral then don't say it's ericaceous! Can't be arsed to contact the shop, just use it as normal compost....