See more Paint brushes & sprayers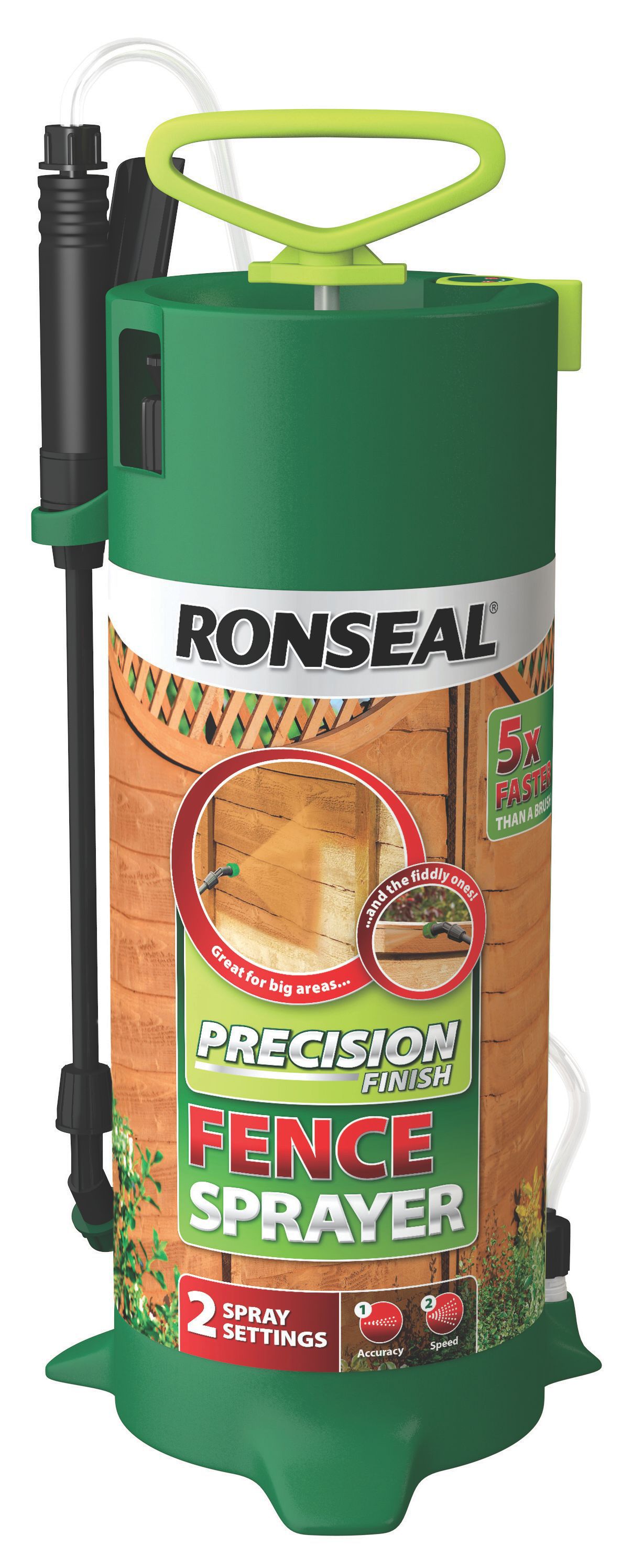 Fence & shed Paint sprayer
Product details
Product information
This fence & shed sprayer is suitable for use with Ronseal fence and shed sprayable paint.
Features and benefits
5 x faster than a brush
2 Sprayer settings for speed and precision
Lasts up to 4 fence panels when fully pumped
Secure base for stable use
Ready to use
Specifications
| | |
| --- | --- |
| Tank capacity | 5000ml |
| Product code | 5010214876464 |
Biggest waste of money ever!
We bought this along with the paint to do our fence. It does NOT work. I cannot manage the amount of pumping necessary, which only then gives a couple of seconds, & my husband has a bad back so he found it difficult. When it did work, the coverage was very poor. We were very careful with the paint, but it seems to have got everywhere. We read through instructions & followed everything perfectly. Biggest disappointment ever! What should have been a day's work is now going to end up being the best part of a week. Never again. I cannot give this product any stars at all in the ratings required, but to post this review I had to put one.
Worked great
Covered 10 panels in two coats of paint in 2 hours today. Worked really well, bit of a faff to clean, but very happy with result and time saved instead of hand painting
Totally hopeless
Bought paint and sprayer together.

Sprayer wand comes off even when spraying water.

Hopeless with paint - uneven jets of paint (stored at 19C used at 13C).

Pitiful.

Never again.
This product is cheap and great
Was a little sceptical after reading bad reviews. OMG how wrong they are, Sprayed 20 fence panels without a problem good smooth finish, very easy to use. I did though fill it with water before using it to flush it through. Also very easy to clean after use
Good but needs pre-clean before using.
OK, so I originally posted a 1 star review and it was rejected because I mentioned the price. When I first used it, it didn't seem to work. It came out in spits and spurts and certainly not like it does on the videos. [see first picture] Please note that I had to use a paint brush to ensure that the gate had an even coat after the first attempt before cleaning.
However, I persevered and decided to take the components of the wand apart, clean them thoroughly, emptied the main compartment of the fence paint, clean it out and fill it with water. I then put all of the cleaned parts of the wand back together again and used the spray again with the water [which ensured that there was no clogging of paint in any component of the fittings]. This seemed to work.
Once I emptied the water out and refilled with the fence paint the sprayer worked perfectly [see second picture].
I know this isn't ideal and it takes a while to clean the sprayer and it's components but it did work eventually and cut the time by quite some way.
So, if buying, I would recommend that you clean the wand and its components with warm soapy water before you start using it.