Boiler 101: an all you need to know guide
1. Boiler types explained
Before you start learning the basics about your boiler, you'll need to know what type of boiler you currently have. It's equally important to know what sort of boiler will work with your home if you're looking to invest in a new boiler. Check out the three main fuel sources and three most common boiler types.
A. Fuel types
Gas – if you have a gas meter, gas cooker, or gas fire, then your boiler uses gas.
LPG – this stands for liquid petroleum gas, which is stored in a tank outside. It's not the same as oil so be sure to check carefully. 
Oil – these work by using a stored supply of oil in an external tank and are more common in rural areas.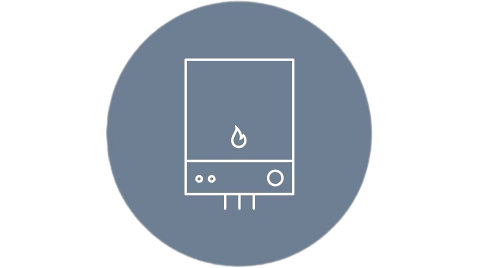 1. Combi boiler
Combi boilers heat water directly from the mains when you turn on a hot tap or turn the heating on. This means you get hot water instantly, without a cylinder or a tank in the loft. Due to their versatility and simplicity, combi boilers are the most common boilers you'll find in homes.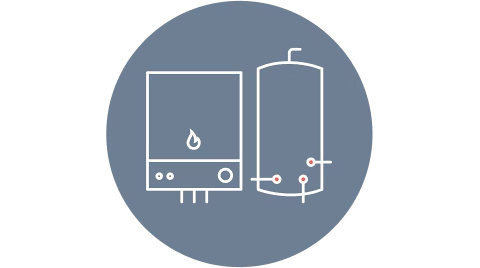 2. Standard boiler
If you have a hot water storage cylinder as well as a cold water tank in the loft, you probably have a standard boiler. These are also called regular, traditional, or conventional boilers. Standard boilers are usually found in larger or older properties that have space for a hot water cylinder and cold water tank.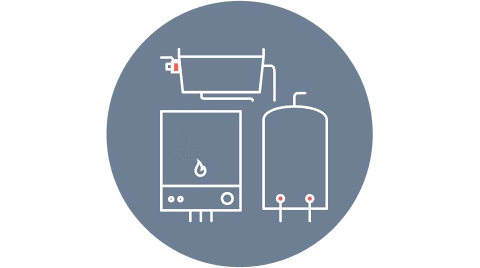 3. System boiler
If you have a hot water storage cylinder but no cold water tank in the loft, you likely have a system boiler. The boiler will normally have a pressure gauge on the front of it. System boilers are usually better suited to larger properties as they're effective at distributing large amounts of water throughout a property.
2. First thing's first – be sure to get a yearly service
Boilers need to be professionally serviced every year in order to keep their manufacturer-backed warranty valid, as well as keeping the home safe as servicing prevents breakdowns. Remember – boiler servicing must be done by a registered Gas Safe engineer, or the warranty will become void and it is very dangerous having someone who isn't suitably qualified carrying out work on a gas appliance. Gas Safe engineers are trained to thoroughly check each aspect of the boiler and identify any issues in accordance with the manufacturer's specification. 
3. Check boiler pressure
Boiler pressure that is too high or too low can be a sign of something wrong with the boiler, or wider heating system. It's important to regularly check the pressure gauge. Unsure where the pressure gauge is? Most boilers have a pressure gauge on the front of the boiler, whether it's a more traditional dial or part of the digital display, although some older boilers may have a gauge underneath the boiler. Most combi boilers should be between a pressure of 1 and 1.5 bar, and can rise to 2 bar when the heating is on, although you can check your boiler's instruction manual for your exact setting. 
If your boiler pressure is showing as too low, you'll need to repressurise your boiler. If it is too high, you can bleed your radiators to relieve some of the pressure from the system.
Check out the video on How to repressure your boiler.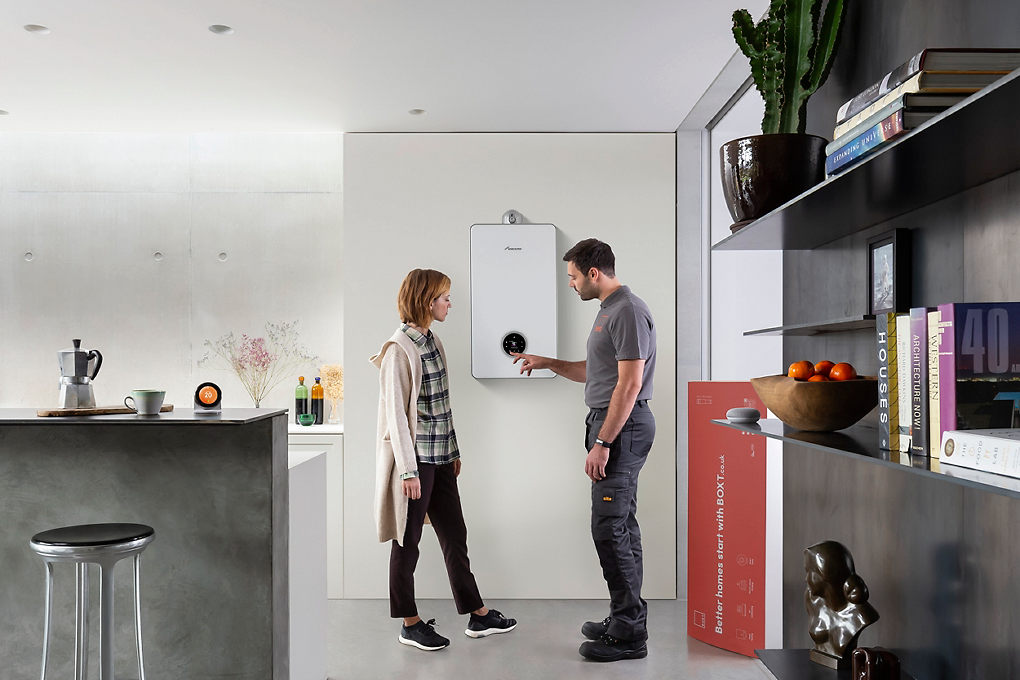 4. Bleed your radiators
It's important to keep your radiators healthy in order to keep your boiler working effectively. Over time, especially in the summer months when your radiators aren't on, air can get trapped in the radiator pipes. These pockets of air can stop the heat from circulating and cause cold patches on your radiator. You can release the air pockets by bleeding your radiators. Unsure how to bleed a radiator?
Read more in our guide on how to bleed radiators or watch the video on how to bleed a radiator.
5. Keep an eye on radiator issues
There are other things you'll need to look out for with radiators as well as cold air pockets. Is your radiator hot at the top and cold at the bottom? Is your radiator making strange noises? There are various reasons your radiator might not be working properly, such as debris stuck in the bottom of the radiator. Check out our guide on how to fix problems with radiators to find out more. Don't forget – some radiator issues will require an engineer. 
6. Lag your pipes
It's a good idea to lag your pipes before you turn your heating back on for winter. Lagging your pipes might sound like a tricky task, but with the right tools, it's easy and cost-effective to do yourself. Find out more about how to lag your pipes with split foam insulation tubes by reading our insulation guide. 
7. Choosing your boiler
Choosing the right boiler for your home depends on a number of factors, including the size of your home, the number of radiators you have, and how insulated your home is. Once you've taken all these elements into account, it's time to decide on the right brand or model. 
Brands such as Worcester Bosch, Baxi, and Ideal are arguably some of the most popular and well-established boilers available. Worcester Bosch boilers are highly recommended as they provide reliability and efficiency.
BOXT can help you choose the right boiler for your home. Simply answer a few quick questions about your home and BOXT will provide you with a selection of compatible boilers for your property, with a fixed, fair price that includes installation as soon as the very next day.
Ready to get started? Find a boiler with BOXT today.
Alternatively, if you need your existing boiler repaired, you can get a boiler repair visit from BOXT from £89.