All you need to know about EV charging




1. What is EV charging?
EV charging is quite simply a charging point for your electric vehicle, such as an electric car. An EV charger pulls a current from an electric car charging point and delivers that electricity to a car in order for it to drive. Just like your mobile phone or laptop, both electric and hybrid vehicles (a mixture of electric and fuel) require EV charging.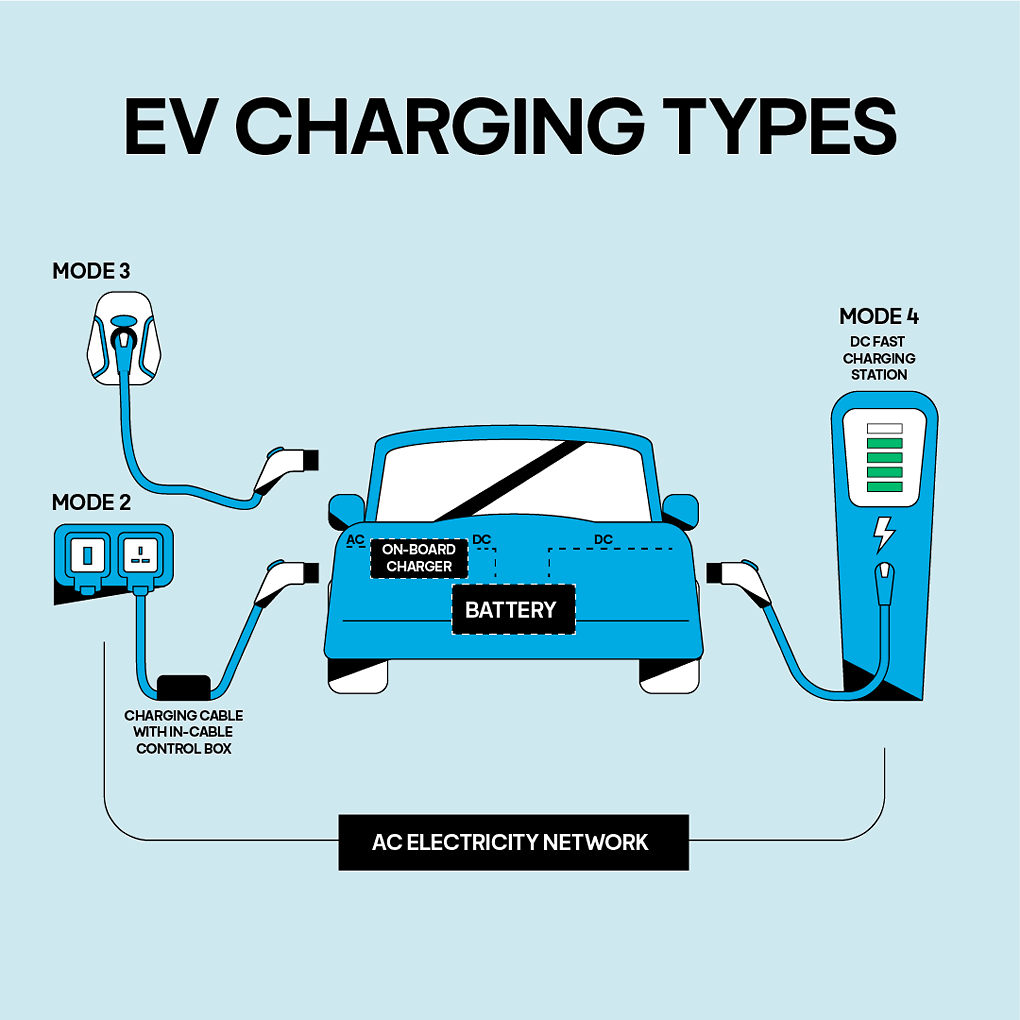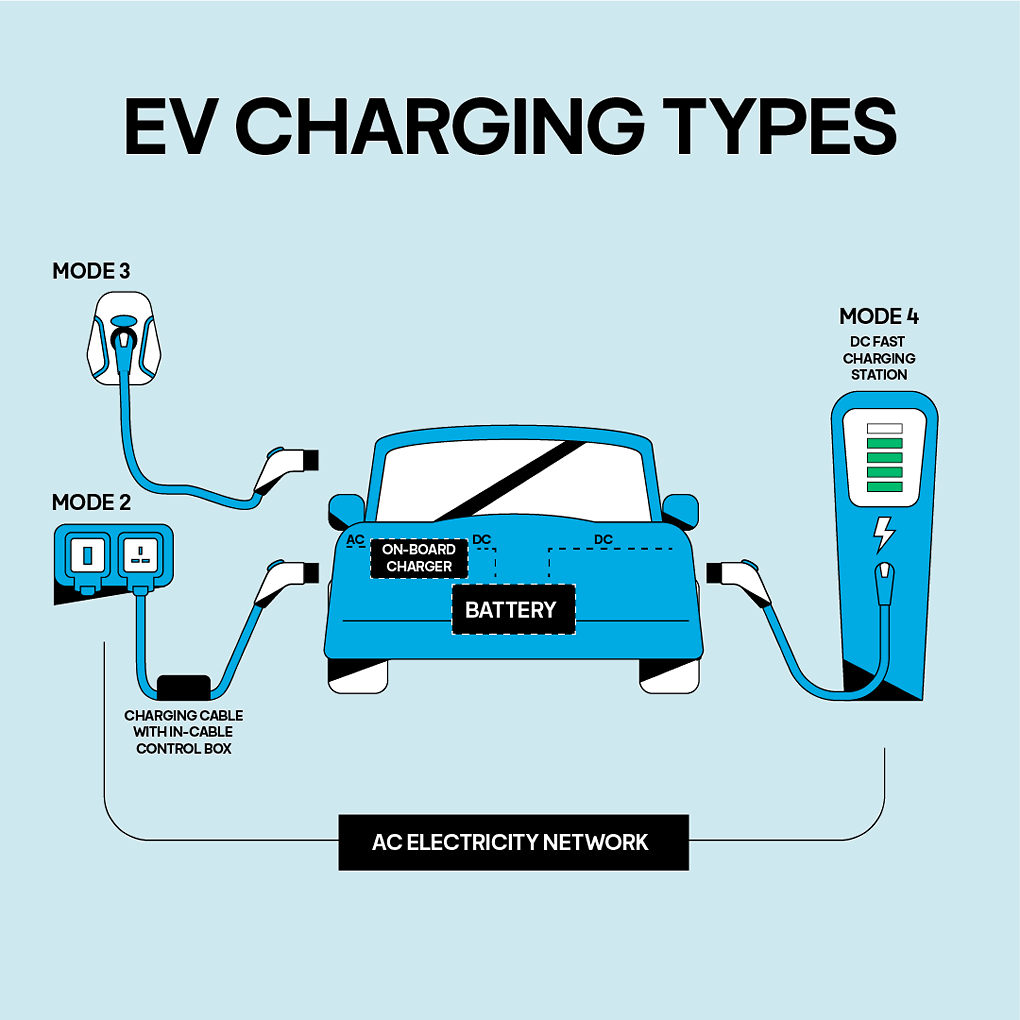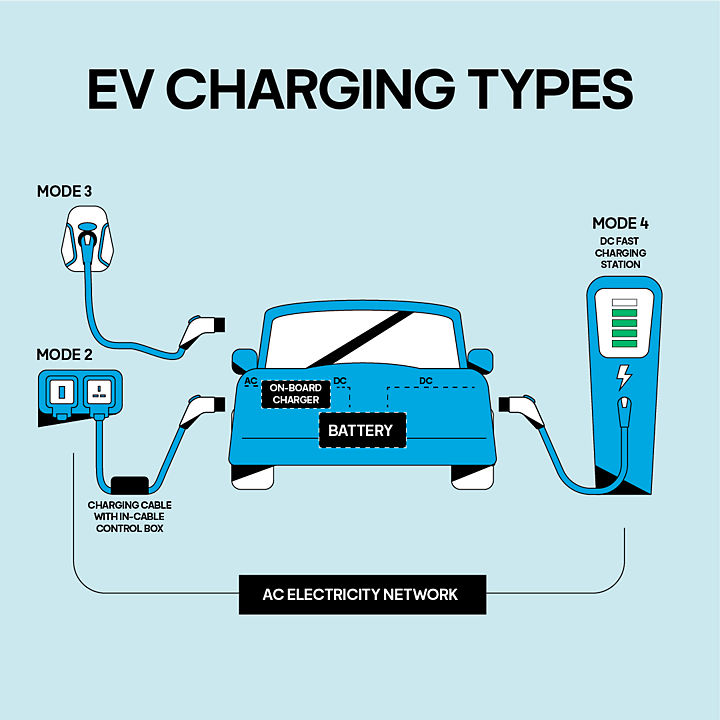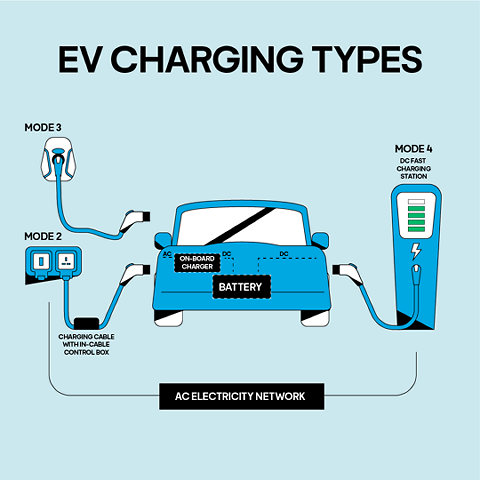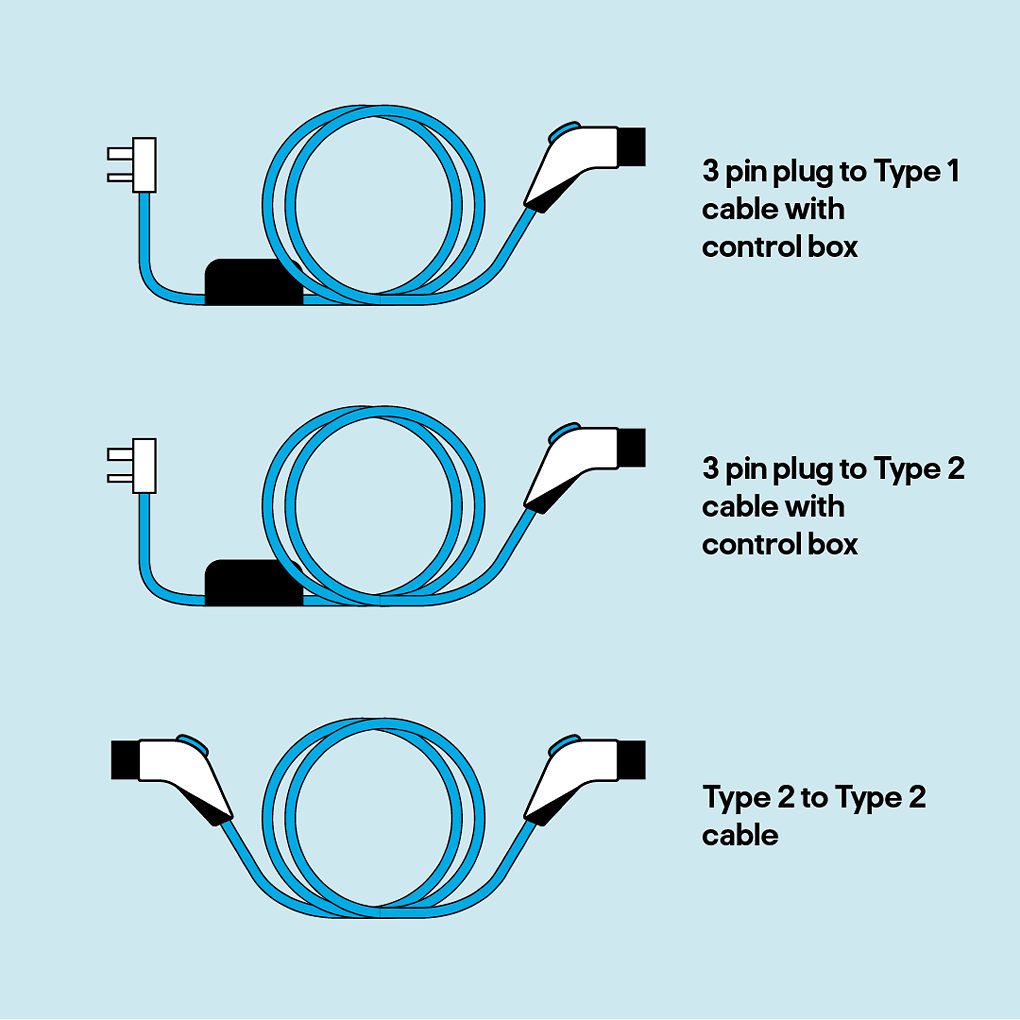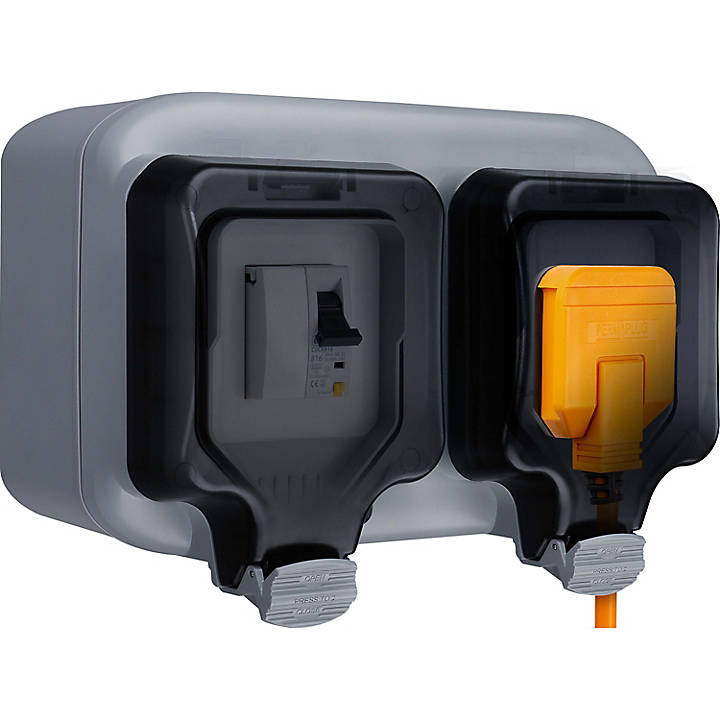 a. Mode 2 socket – domestic/household socket outlet with protection device
The Masterplug mode 2 outdoor socket is a safe and compact domestic electric vehicle charging solution that can be installed and used in your home (usually on an outer wall of the house). It provides 2.3kW charging via a 3-pin socket.
•    For use with Mode 2 EV charging cables (UK 3 pin to Type 1 or Type 2)
•    13A unswitched socket with 16A A Type Double Pole compact RCBO,
•    added safety protection for prolonged charging
•    Water and dust protection to IP66, with covers for each compartment
•    Gives 8 miles per charging hour
•    Compatible with all mode 2 EV charging cables
•    Meets housebuilder EV specification
•    Suitable for use a regular outdoor power socket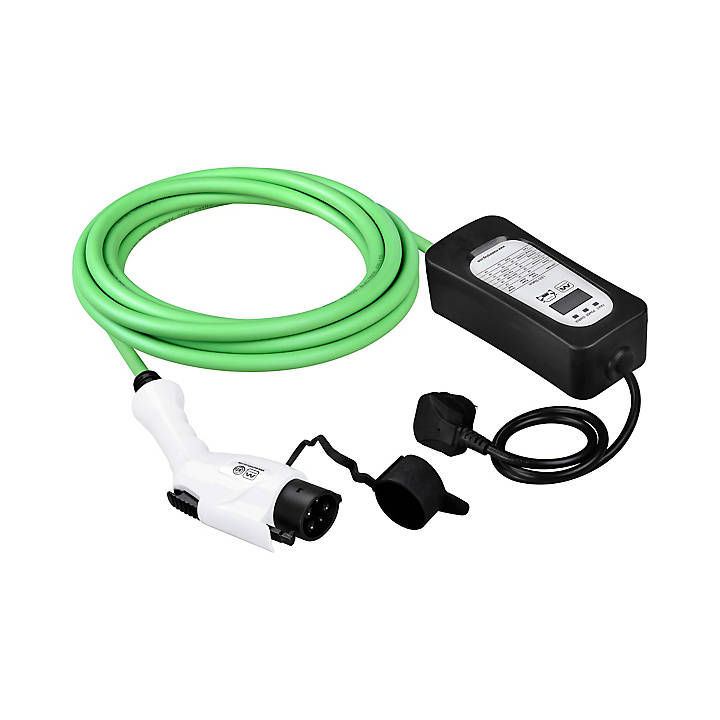 b. Mode 2 charging cable – portable charging cable 
The Masterplug mode 2 EV charger provides a safe and intelligent portable charging solution for all electric vehicles. Unlike the mode 2 domestic EV charger, it doesn't have to be installed in the home.
•    UK 3 Pin Plug to Type 1 or 2 EV plug
•    IP54 rated
•    Charges upto 16A, 3.7kW (14 miles range per charging hour)
•    Angled 2 pin plug
•    Available in 5 and 10 metre lengths
•    LED charging status Indicator
•    IEC 62752 certified
•    Optional Masterplug branded carry case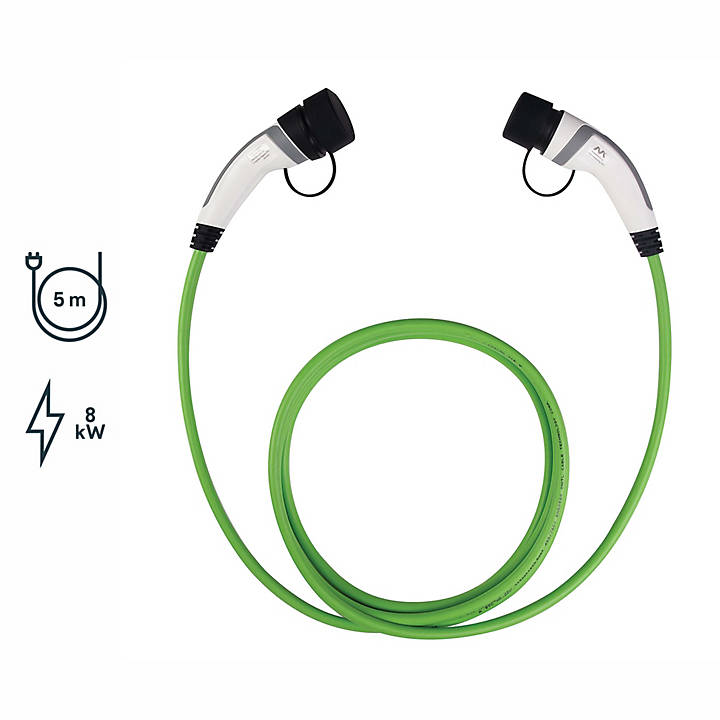 c. Mode 3 - specific socket outlet on a dedicated circuit
The Masterplug mode 3 charging cables provide safe charging connections to Mode 3 power supplies. We recommend reading the list below to find out if your electric vehicle needs a mode 2 or mode 3 charger.
•    Type 2 connection to Type 1 or 2 EV plug
•    IP54 rated
•    Charges up to 32A
•    Singe phase cables rated to 7kW, ideal for home charging use
•    Three phase cables are ideal for public chargers offering twice as fast charging, up to 22kW
•    Available in 5 metre lengths
•    Optional Masterplug branded carry case



3. How long does it take to charge an electric vehicle?
Charging an electric vehicle can take anything between 30-60 minutes and 8-10 hours. Charging your electric car depends on a number of factors: the car's battery size, how many miles you do between charges, and how powerful your charger is. There are three main types of chargers:
Slow - usually rated up to 3kW. These chargers are mainly used to charge overnight at home or workplace. They take 8-10 hours to fully charge. 
Fast - rated at either 7kW or 22kW – they can often be found in car parks and supermarkets. They take 3-4 hours to fully charge. 
Rapid - typically rated from 43kW and found at motorway service stations, petrol stations, and supermarkets. They take 30-60 minutes to fully charge but it's important to note that these chargers are only compatible with rapid-charge function EVs.




4. Where can I charge an electric vehicle?
Charging at home – often the most convenient and cost effective way to charge an electric vehicle
Charging while out and about – the UK has more than 30,000 public chargers, of which more than 6,000 are rapid chargers (source www.gov.uk) – often located in supermarkets, public car parks and service stations. Sometimes they can be free but it's common to need a contactless bank card to access chargers, particularly rapid chargers, which are frequently accessed via an app and/or RFID card
Charging at work – work is a perfect place to leave your car to charge. Usually, people park their cars at work for approximately 8 hours. For an electric vehicle, 8 hours is usually plenty of time to fully charge its battery




5. Our top EV charging picks
We have everything you need when it comes to EV charging. EV charging cables, as well as a range of electrical car charging points, allow you to plug in your electric vehicle at home. Don't forget – Mode 2 charging cables are ideal for domestic or home use, whereas Mode 3 cables are an ideal portable option for when you're out and about. Check out our top picks below...